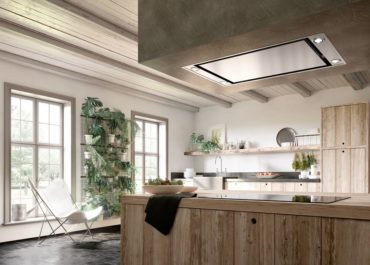 Choosing appliances can be a daunting task but it doesn't have to be if you do your homework by brushing up on your appliance vocabulary. As with any successful project, it is all about planning.
The following is devised to be an overview of appliances, by category, to assist you in selecting the right ones for your style and budget. Be sure to read the items of note before heading off to your appliance retailer or the internet.
Cooktops and Ranges
Built for cooking (burners on the surface of the appliance) and baking, roasting and broiling (integral oven under the cooking surface with ranges/stoves), cooktops and ranges may have coil (electric), smooth top (electric) or sealed burner (gas) cooking surfaces.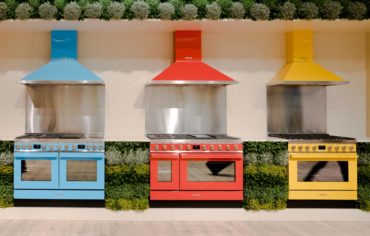 Cooktops: Built into a kitchen countertop with the burner control on the surface, most cooktops are typically 24-36 inches wide and may use electricity (coil, electric-resistant or induction), natural gas or propane. Natural gas and induction are the most responsive and suited to avid cooks while electric coil is most budget-friendly and hardest to clean. Electric-resistant is easy to clean but less responsive compared to gas or induction. Natural gas and propane are less efficient than induction or radiant, taking up to twice as long to boil a pot of water.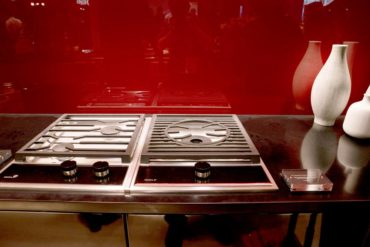 Note: Induction cooking surfaces do not require "special pans," only ones that are constructed of ferrous metal (a magnet will stick to it). With proper planning, cooktops can easily be incorporated into an accessible-design kitchen with ample wheelchair access, especially when paired with an ergonomically installed wall oven.
Dominos: This is a category of cooktop fueled by natural gas or propane, electric-resistant or induction as general or task-specific, single or dual burners for wok cooking, steaming, teppanyaki, griddle, grilling, sous vide, etc.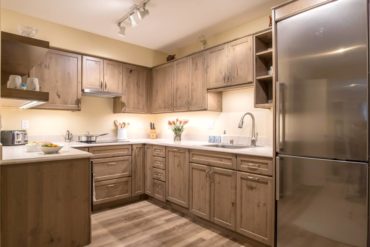 Dominos are an excellent choice for small kitchens and butlers' pantries, or for the avid cook who seeks specialized cooking options. With proper planning, these units can easily be incorporated into an accessible-design kitchen with ample wheelchair access.
Rangetops: Cooktops with the controls on the front of the cooktop cabinet, rangetops are typically natural gas or propane and the Btu output tends to be higher than a standard cooktop. They may be configured with standard burners plus with a grill, griddle or both. With proper planning, these units can easily be incorporated into an accessible-design kitchen with ample wheelchair access.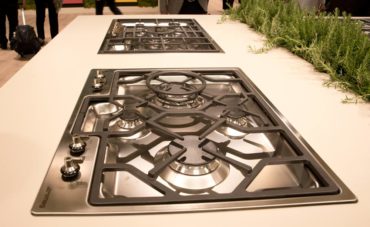 Ranges: These cooking units have a cooking surface and one or more ovens in an all-in-one piece of equipment.
Freestanding models are typically 24 to 30 inches in width and have finished sides. The controls are raised on the back of the unit and there's a storage drawer below the oven. They are the most cost-effective style but have limited features (not available with induction).
Slide-in models are typically 30 inches in width, have the controls in the front (more ergonomic than freestanding) and include either a storage or warming drawer below the oven. They allow for a contiguous decorative backsplash and are available in all fuel sources. The protective side flanges minimize foods from dripping down the range.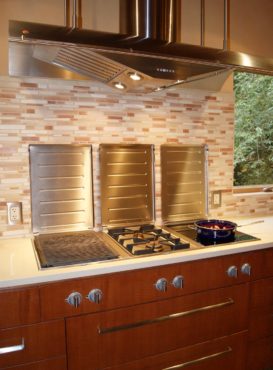 Professional units are restaurant style, freestanding, and range in width from 24 to 60 inches. They are fully finished on the sides in stainless or enamel. The cooking surface can be customized to include burners (gas or induction), grills, griddles, wok burners, French tops or teppanyaki. A more recent trend is custom colors for a professional-style range that provides a pop of color in a kitchen.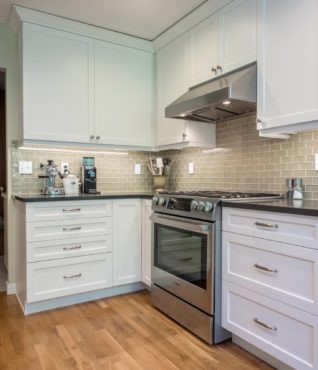 Features to consider for ranges include concealed elements and self-cleaning for minimal cleaning and maintenance, connectivity for busy households, oven probes, bridged burners for efficient use of surface griddles and Dutch ovens. Ranges are a good choice for compact kitchens but as a general rule, they are not a good choice for people with physical limitations like back, hip or even shoulder issues.
Wall Ovens
Built into tall or base cabinetry, they come in a variety of widths (24, 27, 30 and 36 inches) with a wide variety of features including self-cleaning, dough-proofing, baking, roasting, broiling, connectivity, recipe retention and more. Other features to consider include ball-bearing glide racks, smoothness of the door hinge, oven-cavity lighting, ease of reading the control panel and ease of use of the cooking modes.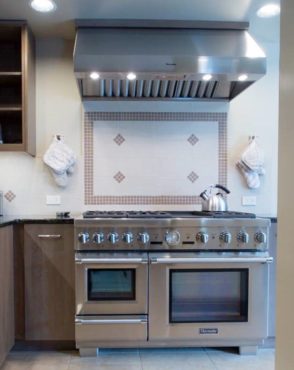 Convection/conventional wall ovens: Built into a kitchen cabinet, convection and conventional (not so common these days) ovens can perform a variety of tasks, such as warming plates, dehydrating fruits and vegetables, baking, roasting, braising and broiling.
Microwave/convection microwave ovens: From countertop to built-in models with drop-down doors and microwave drawers, microwaves have become a staple of the American kitchen, with entire food lines devoted to microwave "cooking."
Microwave ovens offer many benefits for a busy household with their ability to quickly heat and reheat a wide variety of foods. However, microwaves can negatively impact the quality and nutritional value of the foods heated in them. For best reheating results, double the heating time and reduce the power by 50 percent. To get the most oven for the space, consider a microwave oven with convection, allowing you to either roast a chicken or reheat a cup of coffee.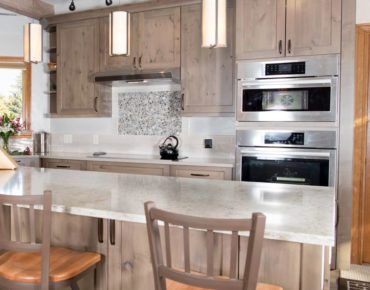 Steam ovens: These are multifunctional units that perform both cooking (rice, steamed vegetables, fish, etc.) and baking (pies, cakes, artisanal breads, etc.), as well as other functions such as sterilizing canning jars and making yogurt. Used in commercial kitchens for decades, they were introduced to the U.S. residential kitchen relatively recently.
Versatile cooking is just the beginning of the steam oven's benefits. The true benefit of steam ovens is their ability to preserve the taste, texture and nutritional value of foods, especially in the reheating process. Steam ovens can be hard- (dedicated plumbing lines) or soft-plumbed (removable reservoir).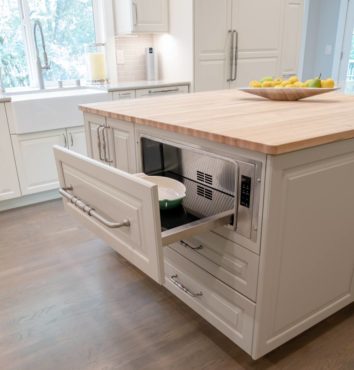 Warming drawers: Available in 24-, 30- or 36-inch width and generally 11 inches in height, warming drawers are typically installed under counter or in a stack with a wall oven. These units are a cook and entertainer's best friend, providing temperature-appropriate storage for dinner parties and delayed dinners in busy households.
They are frequently used to warm plates and serving dishes, as well as proofing yeast doughs. As beneficial as these units can be, think long and hard before devoting limited real estate to a warming drawer.
Sous vide drawers: A low-temperature, vacuum-sealed cooking method that has been used in the restaurant industry worldwide, these units preserve the moisture and nutrient content and flavor of a variety of foods and liquids for ease of storage, marinating and cooking.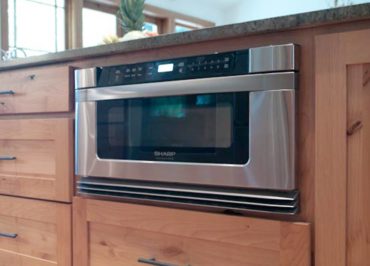 Ventilation
A required building code element for kitchens and baths, ventilation works to not only preserve the indoor air quality of your home but also to protect the many surfaces (cabinetry, walls, etc.) by removing smoke, moisture and gases from the interior of your home. In order for ventilation equipment to perform well and be as quiet as possible, it must be properly sized to the application, installed by a knowledgeable installer, and, most importantly, be turned on in advance of any cooking activity to provide enough time for the air in the room to move toward the ventilation unit.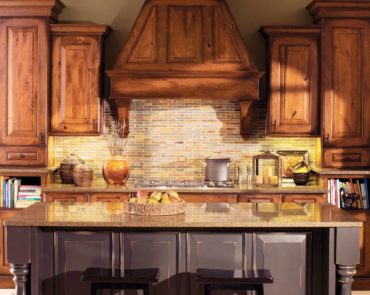 There are two primary components to a kitchen ventilation system: the canopy (visual component) and the blower motor, which can be integral to the canopy or remotely mounted, such as in a crawl space or on the roof. Features to consider in selection of ventilation include sizing of the motor to the cooking surface output, integral lighting, ease of cleaning the filters, option for a remote control (reaching overhead for some homeowners is a difficult task and the remote alleviates the need to do so) and sound (the quieter the motor, the more likely the unit will be used).
Mounting heights and locations for ventilation equipment are detailed in each manufacturer's installation specifications and need to be adhered to in order for the ventilation unit to work properly as well as to uphold the manufacturer's warranty.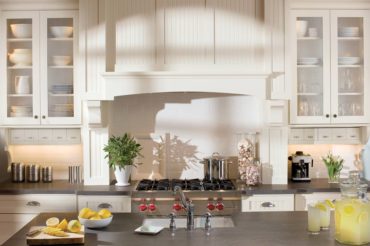 Recirculation-style ventilation, whereby smoke and particulates are captured by a filter and the "air" is returned to the interior of the room, typically only meets code in multifamily housing and is not recommended for any situation where ducting is feasible.
A recently enacted ventilation code, makeup air, requires a port equal in size to the ventilation equipment duct be installed in an exterior wall of the home to replace the volume of air the ventilation equipment extracts, if the cubic foot per minute (CFM) capacity exceeds 400. The code was enacted to prevent "sick home" syndrome in the more tightly built homes of today. Lastly, electric-resistant and induction cooking surfaces have lower CFM requirements and therefore may be the best pairing choice when factoring in makeup-air ventilation requirements.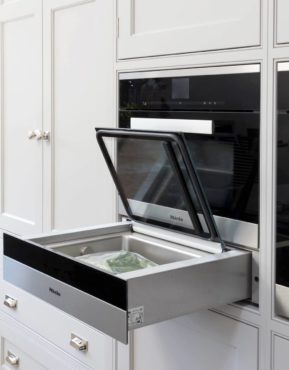 Wall hoods: Designed to be mounted above a cooktop, rangetop or range, wall hoods are vented out the wall behind the hood or up through the roof (in certain circumstances, the ducting is run out the back of the unit, down the wall and through the home's crawl space). They come in four distinct styles: awning, chimney, integrated and mantle (in order of price) and your selection will be based on the overall style of the room and budget.
Island hoods: Finished on all four sides, island hoods should have a width and depth that exceed the footprint of the cooking surface built into an island by several inches to ensure proper capture of steam, smoke and particulates. Chimney style is the most common for island hoods but you can also choose a mantle or integral style.
Downdraft exhaust system: These units are built into the base cabinet behind a cooktop and raise up at the touch of a button to extract smoke and steam. Depending on the model, the motor can be installed in the cabinet below the cooktop, in a cabinet to the left, right or behind the cooktop or in the crawl or roof space.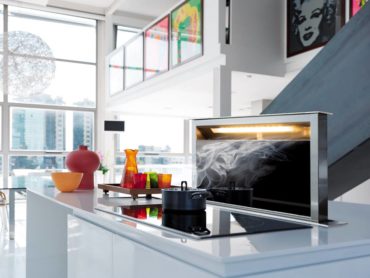 This style of ventilation has historically had a poor reputation, which can primarily be attributable to inadequate planning and poor installation practices. Today's models are taller, provide better capture, and can have integral lights that illuminate the cooking service. They are a great solution for ventilation over a kitchen island and other locations where a wall hood is not an option.
Downdraft systems that are integral to the cooking surface have more downsides than attributes, including inability to efficiently extract steam and smoke, impeding the placement of large pots and pans squarely on burners. They also have difficulty in keeping the exhaust grid free of grease and dirt and regularly suck the flame of gas burners.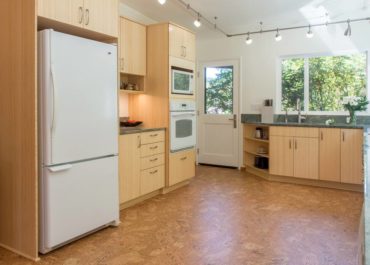 Liner exhaust system: Liners are typically mounted in a mantle-style canopy with only the filters being visible, and the motors are located just above the filters or in the roof space. They lend a vary tailored look to any kitchen design, as the focus is on the decorative mantle.
Ceiling-mounted: This style of ventilation is integrated into the ceiling drywall for an ultra-flush and contemporary appearance. They typically can be used on ceilings up to 9 feet high, with the motor being mounted either in the roof space, on the roof or on the exterior wall of the home. Like all ventilation-equipment motors, adequate access to the motor must be maintained at all times to meet current building codes.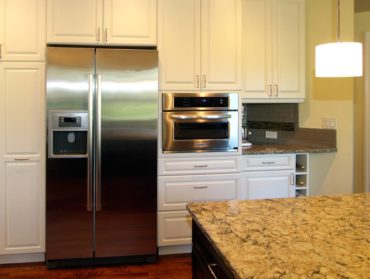 Microwave hoods: These units combine the features of a microwave and an exhaust hood and are mounted above the cooking surface. They have more drawbacks than attributes, including poor extraction due to low CFM. They cannot be mounted higher than 24 inches above the cooking surface to maintain the manufacturer's warranty. Additionally, they create a congestion point at the cooking surface and the integral lighting does a poor job of illuminating the cooking surface.
Refrigerators
In their simplest forms, refrigerators keep fresh food at a safe storage temperature of 40 degrees, and freezers should keep frozen foods frozen at 0 degrees Fahrenheit. Refrigerators can have a variety of features, such as built-in filtered and chilled water dispensing, ice maker, specialized storage drawers and shelves, connectivity and various temperature zones for targeted food storage. Units come as dual-function boxes, fridge and freezer in one, or as single-function boxes, all fridge or all freezer. It is very important to determine whether the refrigerator doors will open wide enough to adequately access produce bins and drawers before you buy.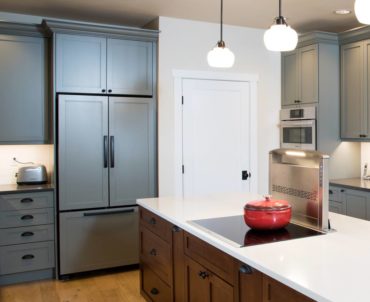 Freestanding: Built to stand on their own without the support of surrounding cabinetry, these units are comprised of a refrigeration compartment and a freezer compartment and are generally 72 inches in height or less. The side walls are finished (but are probably a different color than the doors). They can be counter depth (the refrigerator box is 24 inches deep and is flush with the cabinets) or standard depth (the box is 27 inches or deeper and protrudes from the front of a standard base cabinet). The compartments can be configured to have two full-height, side-by-side doors; a top refrigeration compartment with a bottom freezer; a top freezer compartment with a bottom refrigeration door (the least ergonomic but very budget friendly); two side-by-side refrigeration doors with a bottom freezer compartment (also referred to as armoire or French door); or one single refrigerator or freezer compartment (most often very plain vanilla with simple wire shelving and no bins, used for auxiliary food storage in a garage or mud room).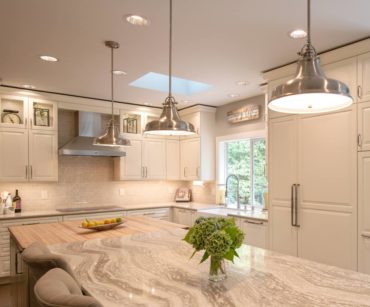 Built-in: Often referred to as food preservation boxes, built-in refrigerators are always counter depth and 84 inches tall, require cabinetry on either side for installation support, and have a single compressor in both the freezer and refrigeration sections that enhances the unit's ability to prolong the consumable life of tender fruits, vegetables and other perishables.
These units have sophisticated lighting, shelving and other customizable features, and all of this comes with a commensurate price tag, often three times the price of a freestanding unit. If you consider the potential for throwing out less food over the life of the refrigerator, the units pencil out as a good investment. They also generally come with warranties that are three times longer than the average freestanding unit.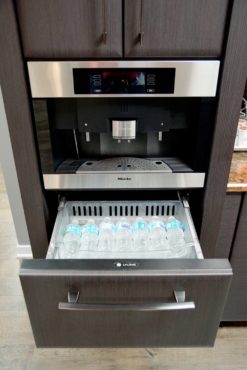 Undercounter: Think minibar or dorm fridge grown up. These units can be structured with a single hinged door and kitted out with shelves and bins. They can also be structured as single or double drawers (refrigerator or freezer), which makes them ideal for both small kitchens and wheelchair users. The drawers are ultimately easier to use but the convenience comes with a commensurate price tag.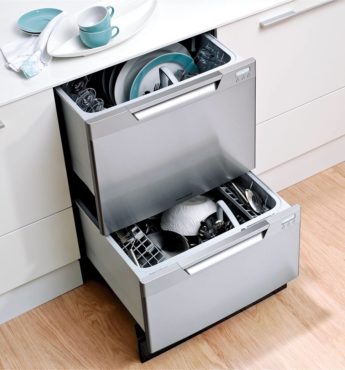 Beverage and wine refrigerators: Designed for the storage of bottles and cans, including water, soda pop, beer, wine, champagne, etc., these units have shelves that are configured according to the storage objectives. They are particularly handy units for dens, bonus rooms, media rooms and wine cellars, as well as the periphery of a kitchen (keeps kids and guests out of the food-preparation zone while providing a convenient thirst-quenching dispensary). They can be undercounter or full height, depending on the storage objectives and the available space.
Ice makers: For people who live in warm, humid locales or entertain frequently, ice makers make a lot of sense, provided the kitchen, bar or butler's pantry can devote real estate to this convenience. The beauty of these units is that they can produce clear, uniform cubes that are never tainted by the content of a refrigerator or freezer.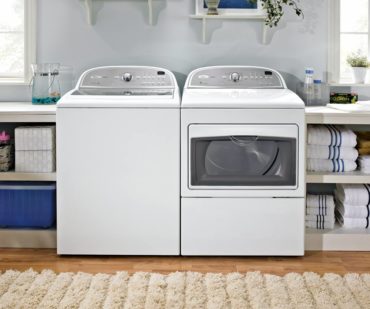 Dishwashers
Energy- and water-efficient, today's dishwashers clean more dishes with less water than handwashing dishes, not to mention they have hygiene benefits, especially during cold and flu season.
Features to seek out in dishwashers include:
Stainless steel interiors because they are quieter and dry dishes more efficiently than plastic tubs.
Triple racks, which make cleaning, loading and unloading dishes easier.
Interior lights to help you store those late-night ice cream bowls without giving yourself away.
Top-of-door controls that are easier to read, especially as we age and our depth perception diminishes.
Handless doors to optimize clearances in tight kitchens.
Special cycles to meet your lifestyle such as china, crystal and pots and pans.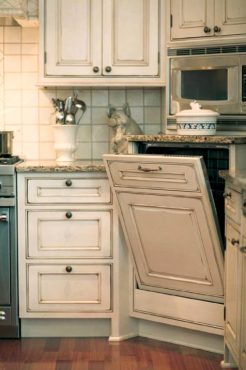 Standard dishwashers: These units are 24 inches in width and 34 inches in height and have a single drop-down door. Depending on the racking, they can wash up to a full place setting for 14 people. The front panel may be stainless, white, black or panel-ready (panels to match the rest of the kitchen are fabricated for the dishwasher to provide a streamlined look). Mounting a dishwasher over a drawer can bring the unit up to a more ergonomic height for people in wheelchairs or those with back issues.
Slim-line: These units, which are 18 inches in width and 34 in heights, have a single drop-down door and can be found with all the features of their larger brethren. But they are compact, perfect for both empty nesters and avid home entertainers, small kitchens, butler's pantries, wet bars, wine rooms, etc.
Drawers: These units have a lot of appeal in concept and are perfect for wheelchair users or people with back issues, as they can be mounted just under the countertop to minimize the need for bending. However, the interior can be challenging to load and is plastic, therefore they are noisier and do not dry dishes as well as standard stainless-steel tub dishwashers. Furthermore, they have been proven difficult to get parts and service for.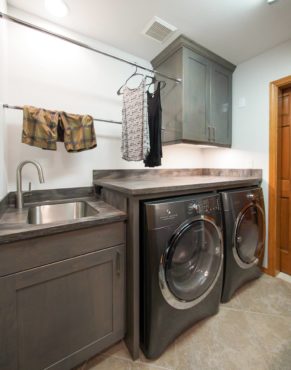 Laundry
Take the drudgery out of laundry by investing in laundry appliances that do the proverbial heavy lifting for you. Questions to consider when planning a laundry machine purchase include:
Do you want the unit installed under counter, stacked or freestanding?
What is the optimal hinging swing of the doors?
What capacity does your household need? Do you need the ability to wash a king-sized comforter or 12 pairs of blue jeans at the same time?
Are you looking for special cycles such as delicates to reduce your dry-cleaning bill?
Should you have accessory pedestals, available for front-loading models, to raise the porthole for the laundry machines to a more ergonomic height for ease of loading and unloading?
Clothes washers: Two styles are available — top loaders and front loaders — each with its own merits. For example, for those crafty people who like to dye their own textiles, only a top loader will do, but if your criteria include using less water and less soap and prolonging the life of your clothes, then a front loader is for you.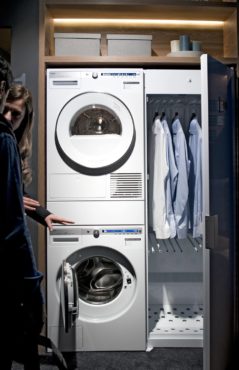 Features to consider include steam (very efficient in removing stains and dirt from your clothes), interior lights and delayed start times for maintaining quiet in the house while also utilizing the lowest utility rates over the course of a day.
Note: Top loaders can be hard on the user's back while front loaders can become odiferous if the door is not left open. It is always a good idea to install a pan under your clothes washer that is ducted to the exterior of the home, to ensure if the unit ever malfunctions that your house is not flooded and your floors and walls are not water damaged. Pans are required by code in multifamily housing.
Clothes dryers: Start your selection criteria with the fuel source for your dryer, gas or electricity. Next, consider the exit point for the dryer duct and how that fits into your home's structure. This decision can be simplified by considering a condensing dryer, which does not require ducting to the out-of-doors (the drying experience from this style is different than the hot, staticky experience of a traditional dryer), and is an excellent solution for installation in a location such as a second-floor hall closet that has no access to an exterior wall for the ducting.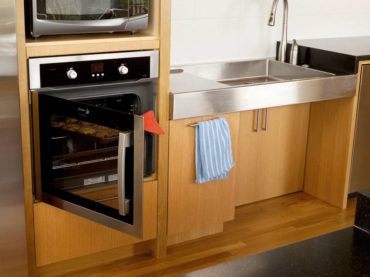 Items of note:
Measure twice, buy once: When purchasing appliances, especially replacement models, make sure you arm yourself with all the requisite measurements you will need to make an installable purchase — height, width, depth, door swing clearances, etc.
Make sure the appliances you are buying are supported by qualified service professionals in your area. Depending on your location, you might find it difficult to get your appliances serviced for both warranty and non-warranty work, so inquire before you buy.
Not all manufacturer's models are made alike. It may come as a surprise to learn that several major manufacturers construct products for independent appliance dealers differently than they do for box stores, hence the price differential. The old adage applies here: You get what you pay for.
Appliance life and malfunction issues can be often directly attributable to the professionalism and qualifications of the appliance installer. Use qualified appliance installers to install your appliances to reduce the incidence of malfunction.
Not all gas-cooking equipment can be manually ignited during a power outage. If using a cooktop or range burners during a power outage is one of your selection criteria, realize that not all models can perform this task due to built-in safety valves. Research carefully for this feature (or buy a gas grill with a side burner).
Your appliances don't all have to come from the same manufacturer in order to have a cohesive look. Choosing appliances based on the available features that suit you best should be your main goal. However, bear in mind that if you are placing a refrigerator next to a double-wall oven, the handles on the doors and finishes should coordinate. Therefore, in that scenario you might consider using the same manufacturer for both appliances, unless you plan on installing a custom handle on the refrigerator, which is an option with panel-ready refrigerators.
Not fond of stainless steel? Consider selecting panel-ready appliance models that accommodate a cabinet panel in lieu of stainless, white or black fronts. You can find panel-ready models across a wide base of appliance manufacturers for refrigerators, dishwashers and warming drawers.