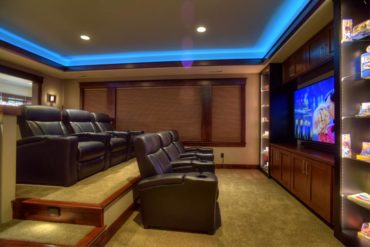 Those wireless devices and the flat-screen TV you own are pretty cool, but your grandparents and great-grandparents were pretty cool in their day too.
In the early 1900s, they listened to the top pop tunes of the day on the technological marvel of the time, the phonograph. (Shoppers checking out the Edison Phonograph in 1906 were enticed by this recording: "When your day's work is done, I can bring the theater or the opera to your home.")
In the 1920s, the radio brought entertainment into the living room in real time ("Think of it!" the Atwater Kent Manufacturing Co. boasted of its One Dial radio. "Merely turn One Dial with the fingertips of one hand, and listen. Whatever is on the air and within range, the One Dial summons instantly. You can't miss!")
The television became available to consumers in the 1940s, followed in the ensuing decades by the stereo, home movies, VHS, video games and the internet.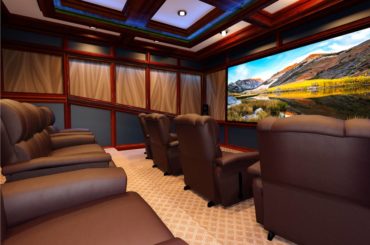 So, the American home has always had a "media room," a place where people gather and enjoy entertainment using the technology of the day. But today's wireless, flat-panel and high-def technology provides the consumer with an enhanced home-entertainment experience and more flexibility in media-room design (Goodbye, rec room; hello, home theater!).
If you've designated a room as your home's entertainment hub, here are some things to keep in mind before you mount that 62-inch flat screen and move the mini-fridge and recliners in.
Plan First
Sharen Borgias, president of Fairbank Construction, shared some of the things she and her clients consider when planning a home media room.
"Many folks are leery of too much technology now. They've experienced new tech being replaced with newer technology, as well as having conflicting technology," she said. "My advice is to keep it simple and understand your real need."
Borgias said she asks the question, "How much time are you really considering sitting down to watch movies?"
"Many clients, when asked that, realize they don't watch movies or TV that much and then recalibrate their focus," she said. "What most folks seem to want is an area that can be away from too much light, and the room can be well-insulated from other rooms and be very comfortable."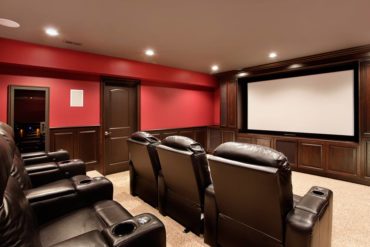 Michele Doyle of MD Design in Poulsbo is designing a waterfront home in Kingston with entertainment in mind.
"It's a high-end home, but it's not a large home," she said. "The owners have planned for where the television will go, where the components will be stored, how it will blend in with the rest of the home."
Today's technology makes it easier to make the most out of any space. Nancy Finneson of DeMane Design in Gig Harbor designed a home media room featuring a drop-down TV that lowers from the ceiling.
"You wouldn't know it was there," she said.
Make sure your media room has cooling and ventilation. Borgias, for example, added ventilation to a media room to accommodate a popcorn machine.
"Components can generate a lot of heat," Doyle said.
Optimizing the Sound
"Sound bounces off hard surfaces like wood floors," Doyle said.
Carpeting, large area rugs, curtains and acoustic wall panels can absorb or diffuse sound and keep neighboring rooms quiet, she added.
In new construction or a remodel, Borgias advised considering double-framed walls, special drywall, special insulation and good acoustical surroundings.
"Working with Definitive Audio or another consultant is helpful," she said.
Lighting Needs
Lighting will play a big part in what you're trying to achieve. Blackout window shades or curtains and dimmable lights may be sufficient. For the full theater experience, Doyle recommends upping the ambiance with recessed lighting and wall sconces controlled by dimmer switches.
Consider the Use
A home media room can serve other purposes as well. Think media room/guest room, media room/library and media room/art gallery.
The media room (aka family room) in Doyle's home doubles as a guest room. The family room is separated from the dining area by a 4-foot entryway and sliding barn door. The family room is comfy, with a sectional and a sofa, a large area rug over cork flooring, windows with blackout shades, a day bed to accommodate overnight guests, and an ample 62-inch TV.
"My husband will say the TV's not big enough," Doyle quipped.
When planning a home media room, Borgias said, think about the ways the room will be used.
"Most folks build a big room as though they'll have 10 folks over to watch [a movie]. The reality is that if you're having a group of people over, they typically want to talk, enjoy each other's company and move about," she said.
Innovations that can disguise the TV as classic art open new possibilities for other uses of the media room. Jim Ray, project manager for Fairbank Construction, talked about the Samsung Frame, a 55- to 75-inch wall- or easel-mounted TV. When the television is off, the Frame displays a work of art from a leading art museum or an image from an influential photography studio. You can also upload your own images for display.
FrameMyTV.com builds custom art frames and art screens that disguise the TV as a work of art. When the TV is on, the artwork slides up behind the frame.
Other features that can be functional as well as attractive include TV wall units, TV wall cabinets and recessed TV mounts in which the TV screen is flush with the wall.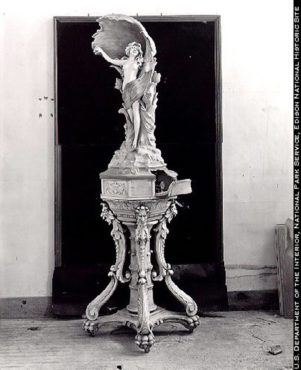 (Disguising a media device as art actually dates to 1912, when Thomas Edison introduced a phonograph cabinet that was an art sculpture. The clockwork portion of the phonograph was concealed in the base beneath the cement sculpture; the sound came from a decorative shell behind the human figure.)
Outside the Box
A media room doesn't have to be indoors. There are hundreds of online images of outdoor media rooms: an indoor room with doors that open to the outside; a covered-patio media room with a fireplace, bar and grill. Each is backdropped by the beauty of the landscape. (This is an ethic found in the Arts and Crafts movement of the 1880s-1920s, which fused home design with natural surroundings.)
"We did a media room in a covered outdoor balcony," Borgias said. "The outdoor room had south- and west-facing opening so lighting was challenging. In addition, the only wall that could be used was a wall where there was a fireplace. The end use of the room was not so much to watch movies on a regular basis but more of a place to watch games on TV while entertaining, so quality of viewing was less critical."
The Bottom Line
Think simplicity and comfort — "a room that can be used to enjoy a movie but also enjoy the company," Borgias said.
Her final tip is, "Make sure it has a wet bar, a mini-fridge and can be used for multiple "purposes."
Evolution of the Home Media Room
1900s: Families gather in their living rooms to enjoy the technological wonder of the day, the phonograph. Among the top songs of that period: "Bill Bailey (Won't You Please Come Home)" by Arthur Collins, "Let Me Call You Sweetheart" by the Peerless Quartet and "Take Me Out to the Ball Game" by Harry McDonough.
1920s: Radio brings live entertainment and news into America's living rooms. For the first time, Americans nationwide listen to the inauguration of a U.S. president — Warren G. Harding in 1921 — from the comfort of their homes.
1940s: Why go out? Consumers begin watching entertainment and news on the television. (And the TV dinner is born.)
1950s: The 16mm home movie projector and the carousel slide projector bring a new level of entertainment — as well as your relatives and neighbors' vacation memories — to the living room/media room. In 1953, the first interactive children's TV program aired: "Winky Dink and You." Each week, millions of children covered their televisions with a piece of plastic from their "Winky Dink" kit and drew on it with markers to help Winky escape from the evil Harem Scarem or Foxey Maxey.
1960s: It's now possible to enjoy television or listen to music from one console.
1970s: This decade sees the birth of cable TV, VHS and home video games.
1990s: Technology marches on with HDTV, DVDs and the internet.
2000s: Wireless connections, flat-panel screens and handheld devices provide more flexibility in where home entertainment is enjoyed — and more flexibility in home media-room design.