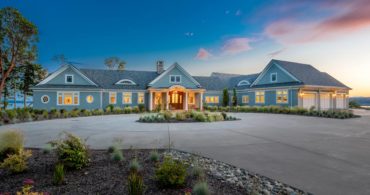 Melanie Dressel was a banker and the CEO of Columbia Bank. She knew values. She knew the value of small towns like Colville, Washington, where she grew up; and the value of her husband, Bob, and their family. She knew the value of collaboration with work colleagues and employees. And the value of giving back through serving nonprofits, civic and professional associations, which she worked on to create dynamic communities.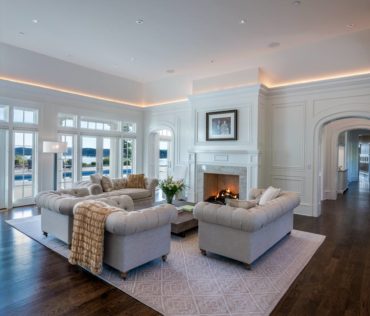 She had a clarity of vision and knew how to hold a focus until the vision became reality. Those who knew her say she accomplished what she did through real relationships with real people in every area of her life. Dressel liked and cared about people, whether they were family or a janitor in one of Columbia's branch banks.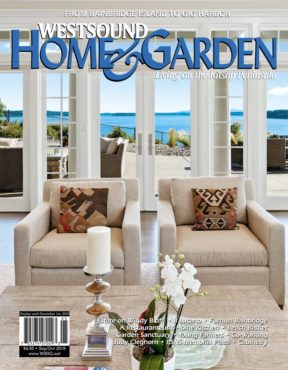 When Dressel died in February 2017, people who never had heard her name were impacted. But she knew them in her bones. She had been them and still considered herself such a person.
Dressel used her hard-earned circumstances and connections to support communities by investing her time, skills, money and love in such groups as the Boys & Girls Clubs, Bellarmine High School, Puget Sound Energy, Washington Bankers Association, Artfund of Tacoma, Tacoma Art Museum, Children's Museum of Tacoma, Mary Bridge Children's Foundation, and many more, regionally, nationally and locally in her town, Tacoma. At her passing, Dressel's colleagues picked up the projects she inspired and carried on with a heavy heart, knowing they had worked beside an incomparable woman.
Bob Dressel honored his wife by completing the project that was closest to her heart at the time of her death. They were in the midst of building a home for their retirement, a home she had been designing for 25 years. She had collected stacks of drawings and photos, along with details she picked up from extensive travels. In fact, the house in the Diane Keaton movie "Something's Got to Give" caught her imagination and helped fine-tune her ideas.
Retirement as Dressel envisioned it — and this was a woman of vision — was not a retreat from life. In fact, her home was designed not only to embrace their family of two sons — Robb and his wife, Kara, as well as their children, Robert IV and Violet; and Brent and his wife, Sophie. This home would also welcome their friends, civic partners and business colleagues for executive retreats, board meetings, holidays, fundraising and other fun events.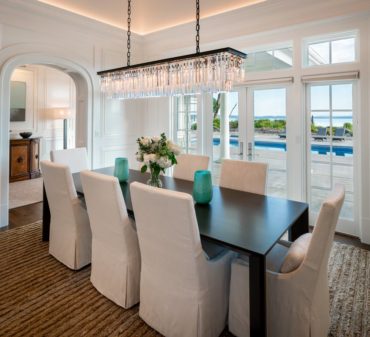 Bob Dressel tells of a time 38 years ago when he was building a road across the bay. Across the water, he could see a cliff with trees showing the wear and tear of extreme wind and knew that cliff was a tough piece of land to build on. He wondered what fool would build a house on such a windy bluff. Eventually, Melanie Dressel found four lots, only a half-mile from their old home, high on a bluff. And guess what? He realized he was the fool who would build on Windy Bluff. So he got his bulldozer out and began shaping the land and gardens for their home.
The path to Windy Bluff winds through a gate and ends in a circular parking area as large as a cul-de-sac. A short walk meanders through a berm — or is that an east-coast sand dune — filled with a variety of windblown Mexican feather grass, fescue, blood grass, penstemons and shrubby nandinas.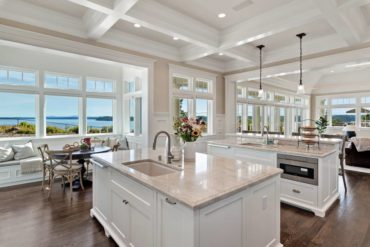 Bob Dressel's hand shows in more than the sculpting of the site. He designed the landscape using 14,000 plants, river rock running along the edges of the concrete and wind-swept madronas while maintaining the world-class view. Curiosity builds to a dramatic level before the first glance of the home appears. And then. There it is!
A beach-style Hampton home with gray shingle siding and bright-white trim, with gabled roofs and a caretaker's cottage nearby stands silhouetted against the sky. A true American classic! The gray shingles (which herald from the Olympic Mountains), demi-lune windows, circular windows, a pillared portico with an arched front door of warm wood and glass.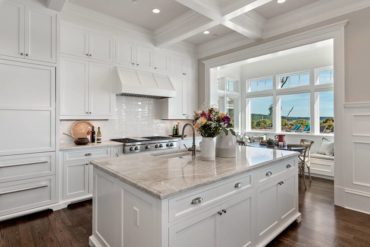 The rippled glass teases with a blurry peek of the entry hall. A gentle push on the bronze knob allows its solid weight to swing open to a most unexpected sight — and experience.
The home was in early stages of construction when Dressel died and in the dismay and confusion, her husband couldn't imagine how to continue the project without her. But the architect, Justin Zier, reminded him that the home's details had been documented in drawings and specifications before the ground was broken.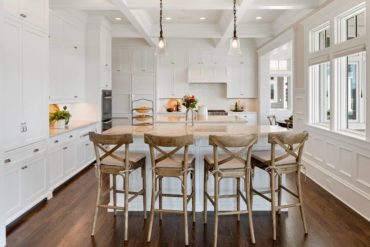 Bob Dressel says that Zier and Melanie clicked from the start. Watching them work together over the two years of sorting through her notes and sketches was pure magic. The two of them were in joy as they defined and redefined every aspect of the house; the floor plan; every finish, color, lighting design; and fixtures, appliances and hardware — down to the last detail — before she died. And that is exactly how the house was built, without a single change.
Windy Bluff or South Sound Estate, as Bob refers to the home, sits high above south Puget Sound on the Key Peninsula, bumped out a bit into Vaughn Bay, which grants wide open views of Herron, Harstene, Stretch and Treasure islands as well as the Olympic Mountains. The main rooms open to the endless horizon through eight sets of double French doors with side lights and transom windows, leading to the pool patio. Light streams into the home in such a way that even on a hazy Northwest day, vision and imagination lift off and fly.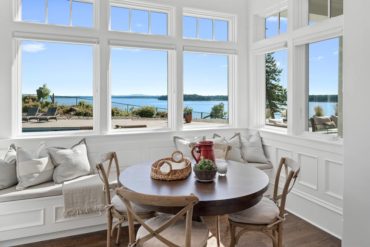 The entry hall sets the stage. It runs the depth of the home to a French door that focuses the eye's attention as it crosses the concrete pool deck and soars into forever land — the shimmer of the Sound, the mist of a distant forest and the mountains blending into sky and clouds.
Exquisite paneling frames this expansive view as it reaches for the 14-foot ceilings and shines in snow-white paint. Paneled arches and cove-lighting soften the strong lines and invite exploration. Bob Dressel points out it took almost a year to apply the many coats of paint needed to obtain the perfect finish.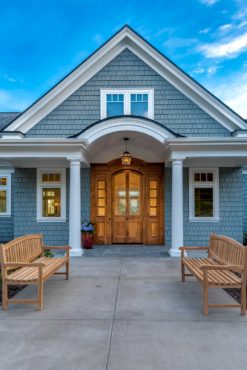 Wayne Parker, the builder, also did all of the millwork and finish carpentry himself. What a craftsman. Truly, the paneling, crown molding, coffered ceilings and exterior trim are stunning, elevating this home into a category of its own.
Two contemporary chandeliers float in the entry hall, with large, octagonal crystals flecking the light into pure magic. Thank goodness for the dark-chocolate finish on the oak floors defining up from down. This is a swoon-worthy entrance.
The dining room to the right can be glimpsed through an architecturally designed buffet, with glass shelves above displaying vases and family treasures. On the sand-colored quartzite top sits a large, white tureen. The interior designer, Sandra Newell, says that Melanie Dressel's colleagues knew that bowl. It held "Melanie's famous soup" that she took to work on a regular basis.
The dining table runs perpendicular to the entry and features another breathtaking chandelier. Stair-stepped 10-inch prisms are contained by a long, narrow and extremely simple rectangle of black wrought iron that stretches the length of the table. A wall of traditional windows partners with the prisms to enhance the excitement of dancing light. This elegant room was designed for the gourmet meals Dressel cooked for the family gatherings each Sunday. An attached butler pantry stores china and dinnerware for every level of entertaining, from formal to casual.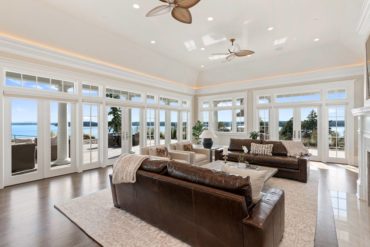 The living room, left of the entry, reigns as an impressive, almost square room centered on a huge, traditional mantel supporting a beautiful portrait of the Dressel family. The ground-hugging chairs and sofa centered on the fireplace are arranged in a massive square on an area rug, anchoring the soaring nature of the room. The sense of calm, light and beauty flows from room to room.
Newell said the furniture had not been chosen before Dressel's death but her treasure trove of Restoration Hardware catalogs and magazines were found, dog-eared and marked. Newell undertook an archaeological dig and pieced together Dressel's ideas. In fact, Bob Dressel says Newell was instrumental in the final look of the interiors and went as far as consulting with his wife's close friends before making final choices.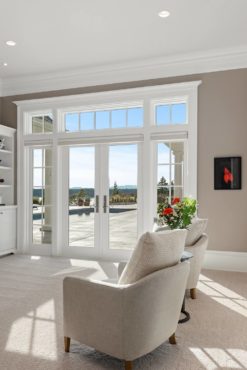 A hallway off the living room leads to the family bedrooms. The formality of the public room's millwork shifts to shining white baseboards and crown molding with plaster walls painted soft linen. Oak floors change to a foot-friendly, plush oatmeal carpet. A narrow changing and shower room for the pool tucks in bright with white trim, shelves and pegs.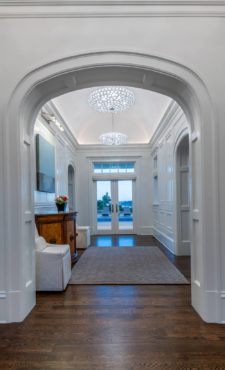 A bedroom on the left faces the land-side sand dune. At the right-hand turn leading to the couple's private quarters, a wonderful "bunkhouse" bedroom with two beds plus a bunk bed, all queen-sized, anticipate a horde of grandchildren. A laundry room next door serves this wing.
Bob Dressel gave his wife full design privileges over his bathroom, telling her, "Surprise me!" Simplified elements define a gentlemanly retreat. Porcelain tiles look like weathered boards on the floors and shower walls behind a glass-front shower. The rich wood of the sink cabinetry mounted at a custom height to fit him is lit from beneath and appears to float.
A rain-shower head centered in the skylight and an inset of beach rock tile delight in the shower. Across the hall is his closet — half the size of the large room designated as her closet.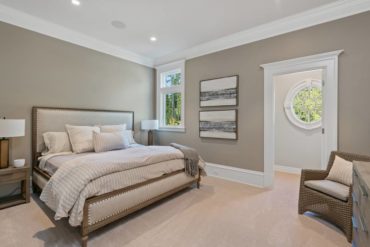 Dressel's bathroom at the end of the hall is drenched in soft light and is defined in crisp, white tiles, some in a curvy arabesque shape — even on the shower's ceiling. There is an oval tub and a built-in make-up table. Her bath, as opposed to his, scores double sinks.
The master bedroom occupies the corner of the wing, with two walls of windows facing southwest. Glossy white cabinetry and shelves filled with life mementos, photos and books surround two comfy armchairs floating around a small coffee table. This room is a dreamy retreat. As a note, there is a "kill" switch for all of the lights in and around the house next to the bed — no need to tromp through the 7,000-square-foot house to turn off a light in the kitchen wing.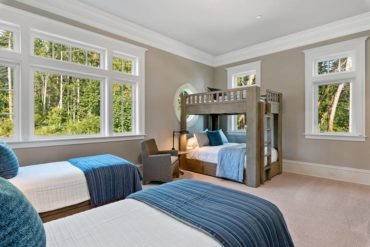 Melanie Dressel's office is close at hand. She designed it to feel like she was at the pool even when she worked at home. White built-in shelves display honors, and framed accolades from civic and professional groups hang on the wall. Clearly, she believed in giving back. Magazine covers celebrate her recognition seven times as one of 25 "Most Powerful Women in Banking." Her leadership style recognized teamwork as the foundation of accomplishment, so she attributed these awards to her customers, colleagues and peers.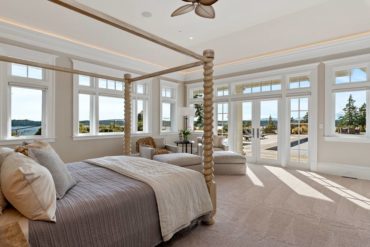 The family wings sits at an angle to the elegant center section of the home. It acts as a buffer to the "wind" of Windy Bluff before it hits the pool area. Diagonally across the pool deck is the casual entertaining area: family room, kitchen and garage. The back elevation is broken up with pillared porticos, giving dimension and depth to the patio.
The dream kitchen stretches out but feels intimate. Incredible millwork shows up in coffered ceilings that echo the open kitchen's divisions. The sunny breakfast nook tucks in near the stove with three walls of windows. A banquette runs beneath them, expanding the number of people possible at the round table with its four chairs or giving a cozy place to read, day dream and drink tea.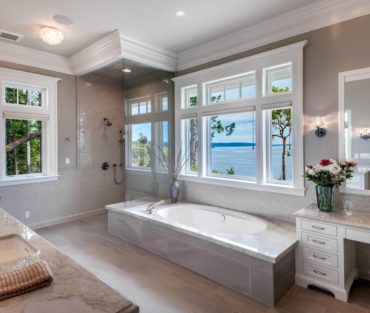 The stately Wolf stove backed by soft-blue glass tiles provides the dramatic axis for the length of the room. Not one but two islands center on it. One island holds the sink reached from the stove by simply turning around. The sand-colored quartzite seen in the bathrooms, dining room and now in the kitchen provide continuity.
The other island features a curved, elevated, bar-height counter where stools stand ready for visiting with the cook or eating casual fare while still taking part in family-room activities. Hidden here and there in the kitchen are two warming ovens and two dishwashers, along with a gigantic refrigerator and an entire baking section disguised as cabinetry.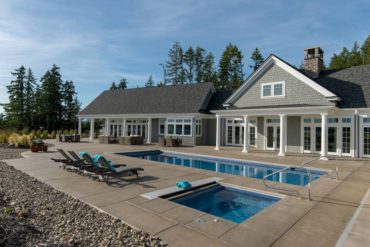 The family room defines casual elegance. Two walls of windows face the sea and sky view. A classic mantel with a large screen television inset above is the focal point of the furniture, which echoes the simple, square furniture seen in the living room. A handy bar with a delightful iridescent sink stands ready to handle drink orders without interfering with the cook's activities.
Outside the family room, a gas fire table stands ready for late-night conversations. The pool is surrounded with chaises and dining tables and chairs. Discreetly around the corner, a gas grill and stainless-steel counters and cabinetry serve up food for casual gatherings. Inside or out, the western horizons are omnipresent and irresistible, and sunsets magnificent.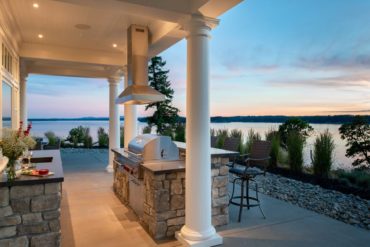 The garage opens into a two-room staging area. Dressel planned one room for projects such as indulging her passion for flower arranging or entertaining. When both the home and the pool area are called into service, catering for one hundred people can be handled from these two back rooms. The smaller room houses a second, huge stainless refrigerator and a tall wine refrigerator.
A nook off these rooms features a sunny window, benches, pegs and storage for outerwear and boots belonging to family or staff. Between the family room and the nook, a lovely half-bath offers a delight: a gold-leaf glass bowl sink embedded with seed pods and twigs.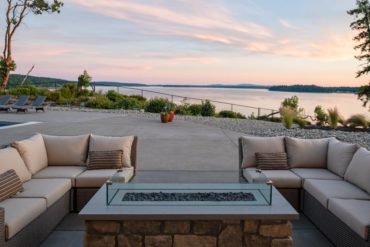 Melanie Dressel knew what she wanted. A career, yes. A family, too. She chose banking so she could be home when her boys came home from school. As they grew, her career expanded, but still she baked chocolate chip cookies and sent weekly boxes off to them at college.
The couple enjoyed extensive entertaining throughout the years. She'd be chatting at a party in her home one night and the next day would be the keynote speaker at the American Bankers Association conference in New York. Bob Dressel says that he was her husband for 48 years, living and working side-by-side with her day and night, but her capacity as a person continually amazed him.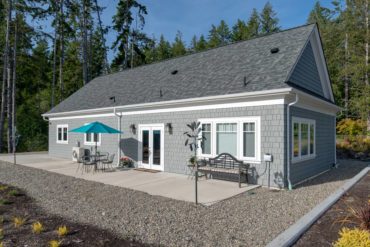 How she managed the family, her work and civic duties was nothing short of a gift. Those who worked with the Dressels on projects were inspired by their partnership and how they respected each other and opinions expressed between them.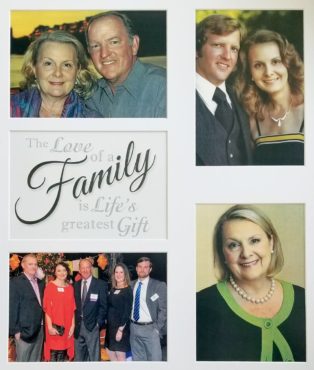 Bob Dressel finished South Sound Estate as a tribute to his wife. It would be so easy to veer off course and muddle a project of this size, or a life of such expansiveness. But that wasn't Melanie Dressel's way. She stayed the course in serving her family, company and communities; in engaging in ongoing dialogues of the values she lived every day as she took the best of the past, wove it into the present and moved toward a visionary future. This timeless home stands as an inspiring testament to Dressel — what she accomplished, what she valued and what she expected to continue serving.