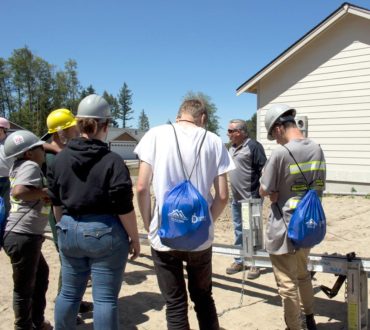 Disney & Associates, one of Kitsap County's premier builders, and the Kitsap Building Association (KBA) recently joined forces for a new educational program designed to make high school students aware of the construction trades as a dedicated career path and an alternative to college.
The first week-long event was an unqualified success, with 24 students from all over Kitsap County participating. The site of the event was Disney's upscale home development in Hansville — The Ridge at Buck Lake — where 32 homes are in various stages of construction, including some that have already been completed.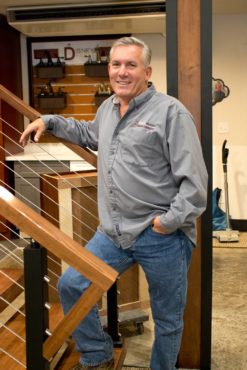 The students spent a day each with assigned and experienced mentors in the carpentry, electrical, plumbing, HVAC, painting and coating trades. Those mentors came from seven different firms working at the site, and provided each student with a specialized, one-on-one opportunity to learn about that trade with both hands-on experience as well as formal training.
"America's future construction needs hinge on our youth," said Bob Disney, CEO of Disney & Associates. "There is a severe shortage of qualified people in the building trades, and in the long term, it looks to get worse. We've lost two generations of people from either leaving the trades or not going into them just since the recession that started in 2008."
For generations, the educational establishment has fostered a focus on going to college, while the building trades offer a career path that is rarely considered when teens are contemplating their future. However, salaries for journeyman trades people start at about $80,000 a year. And if history is any guide, when coupled with the law of supply and demand, salaries will just rise over time.
"Most high school kids are conditioned to believe they can't get a high-paying job without a college education. That's just not true," Disney said. "The construction trades pay more than a lot of computer programmers make coming out of college — and they're not saddled with the high cost of student debt to pay off for years after they graduate."
This is a subject Disney is extremely passionate about, which is why he has undertaken creating this program.
"My goal is for other companies involved in construction to come together so we can start training the next-generation workforce," he said. "We are planting seeds now that I'll never see come to fruition, but those seeds have to be planted. That's why we're embarking on this Trades in Motion program with the help of the KBA."
The program is open to students entering ninth through 12th grades in the 2019-2020 school year.
This program may be perfect for any student who enjoys working with his or her hands and is interested in the home building process.
"These kids all had a great time and we told them we'd help them find a job if they're interested when they graduate. Our goal is to build our industry workforce one trade intern at a time," Disney said.