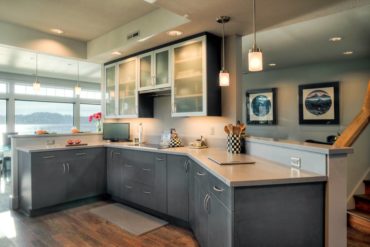 Choosing cabinetry for a remodel project or a new construction home is serious business. Really, it is.
Cabinetry has the biggest impact on a kitchen remodel both visually and financially (for bathrooms, it is usually the plumbing or tile that comprises the largest percentage of the cost estimate), so it is important to understand design features and style options for any project early on in your planning process.
Further, it is valuable to define your focus. For example, some people feel that form (style/aesthetics) should follow function (ergonomics/workflow) while others focus on form, with function being their secondary criteria when it comes to cabinetry layout and components.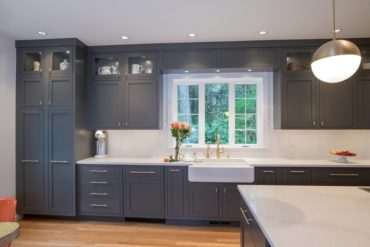 Cabinetry is comprised of a box (carcass), hinges (for doors), glides (for drawers), doors, drawers, drawer boxes, shelves, convenience hardware and decorative hardware.
The boxes can be constructed of all- particle board (furniture board is a common but more robust type of particle board), plywood or a combination of both. Particle-board cabinets are more cost-effective than plywood but have some shortcomings, such as being heavy and harder to install, and the particle board being easier to damage than plywood (and difficult to fix).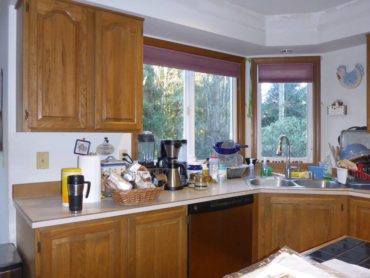 Plywood boxes are less susceptible to changes in humidity than particle-board cabinet boxes. Therefore, it is best to choose plywood boxes for second homes and homes on the waterfront to minimize the impact of changes in a home's humidity.
Cabinet boxes are constructed in one of two ways: face frame or frameless (Euro style). Face-frame cabinets are commonly used in period-specific designs and come in three primary styles:
3/4 overlay — whereby the frame of the cabinet box is visible between the drawer fronts or doors, along with a center mullion between the doors (depending on the width of the cabinet, which makes including rollout shelves difficult) and a recess behind the face frame.
Full-overlay — which has the same characteristics as the 3/4 overlay style; however, the doors and drawer faces nearly touch one another, giving it a more updated look.
Inset cabinetry — whereby the doors and drawers are "inset" into the cabinet face frame, a common style between the 1800s into the 1930s and currently found in "farmhouse-style" projects.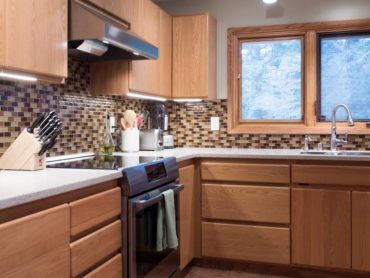 Inset cabinets are a beautiful look but there are a few things to understand before considering this style of cabinetry. They are labor intensive to construct and therefore they are more expensive than standard face frame. Additionally, the interior of the cabinet is less deep than a non-inset one (you can always consider increasing the depth).
This can be particularly problematic with wall cabinets where one would typically store dinner plates — unless the depth of the cabinet is increased, many dinner plates will not fit behind the closed cabinet door. With face-frame cabinetry, the hinges can be concealed or exposed, with the exposed hinges being an integral part of the style statement. Drawer glides and doors can be soft close, or not.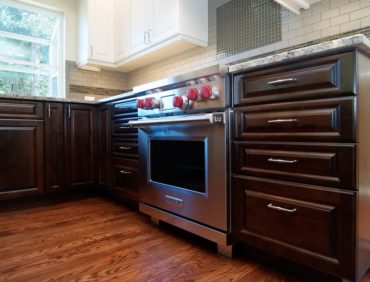 Frameless cabinetry construction originated in Europe, where significant quantities of quality solid wood products were scarcer than in the United States. It has gained popularity over the last 15 years in the United States. With Euro cabinet boxes, the edges are finished with a veneer or a color-matched PVC tape and doors and drawer fronts cover the edges of the cabinet box with a 2-millimeter reveal.
The net result is that you get more accessible interior space behind both the doors and in the drawers and installing convenience hardware is easier as there is no frame to work around. Despite the storage advantages of a frameless cabinet, stylistically it may not be in keeping with the theme of older or "period-specific style" homes unless it is a midcentury modern.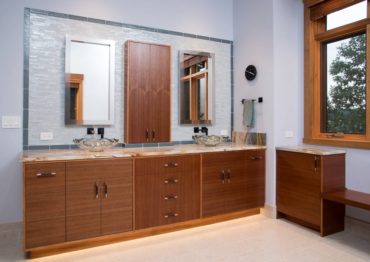 Drawer boxes, whether the cabinet is face-frame or frameless, are constructed in one of three ways: stapled (the least robust), dadoed (stronger than stapled) or dovetailed (the strongest and the most aesthetically attractive). Glides can be side-mounted (these can be noisy and crumbs can catch in the glide and reduce the overall size of the box and thus available storage); undermount (concealed, quiet and can be soft close); or touch-latch, which pop open when you gently press on the drawer and don't require decorative drawer hardware (used in very contemporary styling but can be a bit noisy).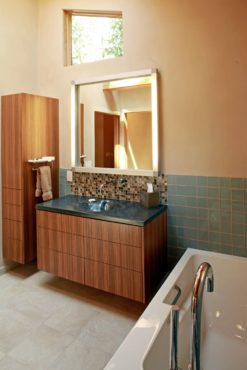 Cabinetry is manufactured and distributed in four primary ways:
Flat pack, typically imported, comes unassembled in a box or shrink-wrapped and assembled on site. They are primarily made of particle board and melamine and have limited sizes, finishes and style options; and are distributed by box stores and discount centers — think college dorm room cabinetry.
Stock cabinets are both domestically produced and imported and come assembled in shrink wrap or boxes. They're available in limited standard sizes but the finish and style options are greater than flat pack. They're typically distributed through box stores and discount centers.
Semicustom cabinetry, produced domestically and across Europe, offers a wide variety of standard dimensions along with customization. Styles and finishes run a wide gamut (with custom finish colors being a common option) along with numerous accessory options. Soft-close doors and drawers are typically a standard feature with no upcharge and come with a "factory finish" from a controlled environment, which tends to be more consistent and durable than other grades of cabinetry. Some semicustom manufacturers offer both face-frame and frameless cabinetry.
Fully custom cabinets, typically produced in small, local production shops, are custom within reason. For example, it is not advisable to build open-shelving cabinets wider than 36 inches, as the shelves will tend to warp. The species of wood used by the fully custom shops is limited only by the customer's budget, and the same goes for the finishes and amenities. However, custom cabinets are often priced on par with semicustom production cabinets. The big difference between the two is the production time, with custom typically taking longer.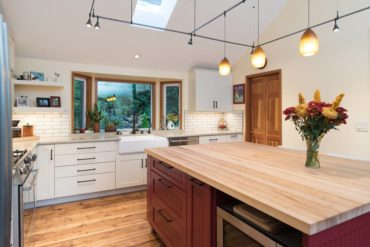 Base cabinets are typically 12 to 24 inches deep and can be installed on the floor with a standard toe recess (about 4 inches high and 3 inches deep), a wheelchair-accessible recess height (8-9 inches high) or wall hung (9-10 inches) above the finished floor with no toe kick. Mounting cabinets on the floor is a traditional method and provides the greatest amount of available storage; however, wall-hung cabinets are suited to wheelchair users as well as those homeowners who are seeking a contemporary or modern aesthetic.
The finished height of base cabinetry with countertops ranges from 28 to 36 inches above the finished floor depending on the usage (28-30 inches being common for make-up vanities in a bathroom, 32-36 inches for sink vanities depending on the homeowners' height and the type of sink utilized — undermount, self-rimming or vessel — while kitchen counters are typically 36-inch high to accommodate standard appliance sizes and can be adjusted up or down a few inches with careful appliance selections).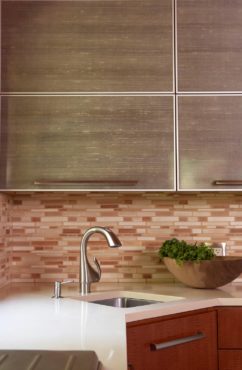 Wall cabinets, generally 12-24 inches in depth, in a kitchen are typically set 18 inches above the countertops and may be augmented with a light valance molding to conceal undercabinet lighting or may have a recessed bottom as an alternate way of concealing the lights.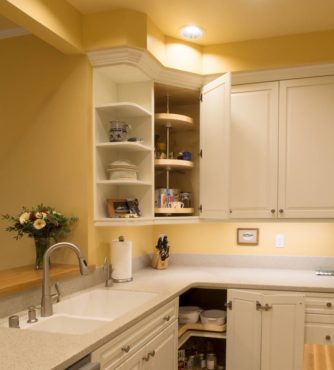 The set height of wall cabinets in bathrooms, laundry rooms or craft rooms will be based on the storage purpose of the wall cabinet as well as other cabinets or fixtures that may be below it. For example, an optimal height for a wall cabinet above a front-loading clothes washer is approximately 52-54 inches, with a depth of 15 inches. Tall cabinets such as pantries and utility cabinets are typically 12-24 inches deep and 78-96 inches high (taller dimensions are available for an upcharge) and vary in height depending on the height of the ceiling in the room, the size of the crown molding and items to be stored in the cabinet.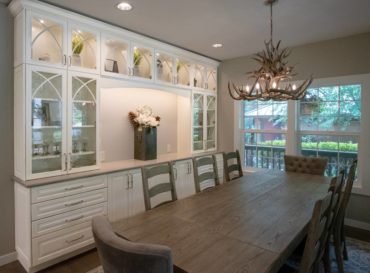 Cabinet doors and drawers come in three primary styles: raised panel, which is considered traditional and can range from simple to ornate; recessed (flat) panel, considered transitional boarding on contemporary depending on the amount of applied molding; and slab, considered contemporary or minimalistic. Mullioned doors are designed for glass or other nonwood inserted panels such as Lumicor or stereo speaker fabric.
When it comes to cabinet finishes, your decision should be based on what makes you happy and fits your budget. Stained-wood cabinets are more budget friendly than painted cabinets (add approximately 12-15 percent to the cabinet cost for paint) due to the labor-intensive process of painting. Keep in mind that painting previously finished cabinets in place rarely delivers a quality, lasting finish.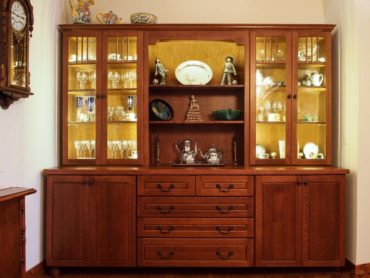 Wood species run from budget-minded red oak to expensive exotics such as mahogany and figured anigre, with many species and price points in between. Common wood species offered by production cabinet manufacturers (in order of price point) are: red oak, alder, hickory, maple, cherry, white rift-cut oak, mahogany and walnut. It is important to match the durability of the cabinet finishes to your lifestyle to avoid disappointment.
In the Pacific Northwest, Douglas fir cabinetry is popular but not well suited to a high-volume, active kitchen, as it is prone to denting and scratching. According to George Bashkingy of Quest Partners, a manufacturer's rep for the cabinet industry, "consumers are veering away from recessed-panel Shaker doors toward slab doors in order to have a more consistent grain pattern, with the veneers typically utilized on a slab door along with lighter stain colors than what has been popular over the past five years or so."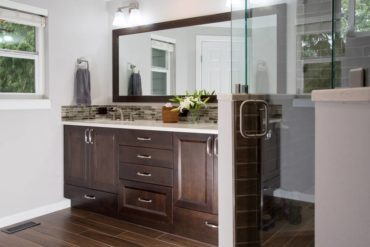 Lastly, if you like your current kitchen layout, countertops, backsplash and appliances, you might want to consider refacing your cabinetry. Refacing is somewhat less expensive and definitely takes less time to complete than replacing cabinets. But refacing, in general, can't overcome poor storage and workflow.
"Painted finishes have been trending strong for quite some time and the current trend is away from bright white to softer whites and grays," says Mandi Juskiewicz, marketing and communications coordinator for Dura Supreme Cabinetry. "Dark blues have also been trending strong but that trend is opening up to blue-greens and neutral greens."
Bashkingy notes that painted wood species with a pronounced grain that can be seen through the paint are also trending.
Additionally, "many homeowners are selecting nonstandard paint colors from a national paint manufacturer or one they have created themselves to individualize their home environments," he says.
In addition to straight paint or stain, there are several finish options to augment a paint or a stain, including distressing, glazing and accenting. Traditional door styles lend themselves best to specialty finishes due to the quantity of crevices that "catch" these finish options.
Laminates and foils are two more finish options for cabinetry. These finish styles typically come from Europe and are commonly associated with a contemporary or minimalist-style project. From high-gloss white, red or black foil cabinets, to textured laminates that beautifully mimic barn wood, and more. They come from the factory with a protective film on the doors and drawers, which is indicative of how easily they scratch, so think long and hard about whether this style of cabinet finish can withstand your household's lifestyle.
Decorative cabinet hardware comes in a wide variety of styles, finishes and sizes and there are two important aspects to consider. The first is, can you comfortably get your hands around hardware and if so, does it feel comfortable in your hand? And second, will the hardware fit on the door and drawer faces? It is not uncommon to mix slab and either raised-panel or recessed-panel drawer front styles, as the hardware, especially cup pulls, do not fit well on a raised panel of a standard 6-inch drawer front. Bashkingy says he sees "a growing trend toward hardware-less and minimalist cabinet hardware such as C-channels."
Moldings and millwork lend a tailored look to any cabinet design. From simple to stacked, crown molding is the finishing touch and is often complemented by a light valance. Other moldings, such as turned legs, pilasters and corbels, can be both functional and decorative. Keep in mind that molding can add a significant cost to a cabinet.
There is a plethora of convenience hardware and storage options today for nearly every room of the house. From mixer lifts, to vertical knife blocks, to chef's pantries, laundry hamper, grooming stations and more, it is important to consider what you want to store and where. Additionally, it is advantageous to fully understand how convenience hardware is installed, what types of clearances are required and how they will impact your cabinet budget.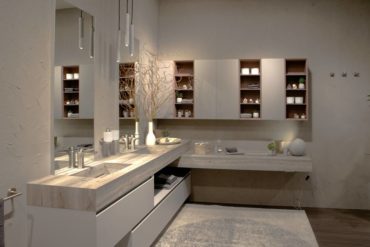 For these reasons, it is best to work with a cabinetry or kitchen and bath specialist to get the most from your cabinet package.
"Designers and homeowners are redefining how we store stuff in our homes with custom-configured pantries/larders, closets and more with an emphasis on designing in zones," Juskiewicz says. "For example, in a kitchen, you might find a 'baking zone,' a prep zone, a cleanup zone, etc. Further, a seasoned designer can utilize stock cabinet components to create 'custom' storage options for any homeowner."
Another trend Bashkingy identified is "the increasing popularity of 'powered' cabinets, from concealed charging stations for phones, etc. to fully automated trash receptacles and cabinet doors that open and close at a touch of a button."
Most convenience hardware should be installed at the cabinet factory or cabinetmaker's shop but certain pieces can be installed on site. Understand your options before you buy.
Working in any room with well-laid-out fixtures, appliances, cabinetry and storage (keeping countertops clutter- free) can make mundane tasks like washing dishes and folding laundry more of a joy than a chore. You owe it to yourself to make the most of your cabinetry selections to ensure you derive a good return on your cabinet investment.