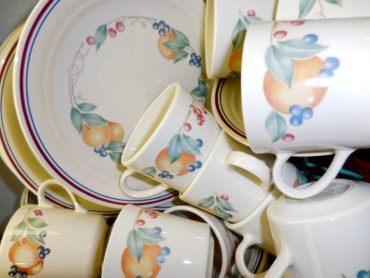 "Abundance" is the name of a Corning pattern on dishes, bowls, casseroles and compatibles. "Abundance" merits product analysis.
Think back 27 years when NAFTA was in the wings waiting to enter the trade arena, and Bill Gates was professing to a skeptical audience that some day every home and every person would have a computer.
Grandma's '70s and '80s avocado-green and gold Pyrex kitchen bowls had long ceased being made. New Corning and Pyrex dishware and cookware that was cheaper to make entered the scene, made in Japan dishware was still being produced and China did not dominate the market as it does today.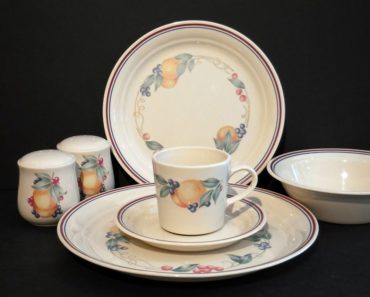 Recently, I entered a fascinating journey pertaining to that period of our history. It started while at the Faith in Action Thrift Shop in Belfair. There was a complete set of dishes that seemed somewhat familiar. In this day and age of downsizing and accommodating minimalist styles, one sees a lot of dish sets in thrift shops and the secondary markets. This particular set was not my personal style, but I've been dealing in the Corning and Pyrex business for many years, so this pattern piqued my curiosity.
The last thing I needed was another set of dishes, but I couldn't resist, bought them and toted the big box home — not even knowing what all was inside.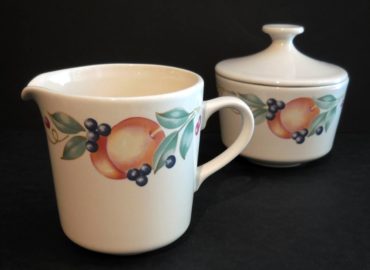 Bottom identification indicated that they were made by Corning. Further investigation showed that the flowery/fruit pattern was called "Abundance" and was introduced in 1991.
It was a complete set. There were over 40 "Abundance" pattern pieces, from salt and pepper shakers to varying sizes of plates. The adventure took an interesting turn while I cleaned and examined the identifying marks and labels — realizing that not all the pieces were made by Corning in the United States.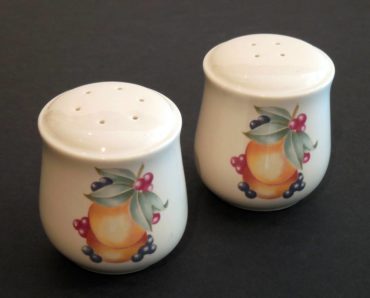 The salt and pepper shakers had small, oval, gold labels attached that read "Made in Japan" and the tall carafe/thermos read "Made in Taiwan." The cream and sugar vessels had production-adhered labels that indicated they were "Corning Made in the USA." The cups, on the other hand, also indicated they were made in the USA, but the letters were raised as a condition of the production product mold.
The plates, saucers and salad bowls were entirely different — having the same pattern but made of a different glass and brand called Corelle.
Corning is the name of a company that produced three types of glass: Corning, Pyrex and Corelle.
The reason I was originally attracted to the set of dishes was that I remembered seeing that pattern on several serving bowls and casseroles in my Pyrex Museum. This presented another mystery, as the two bowls in the gallery had the same or similar pattern but were made in China. The bottom wording was that they were "Corelle Compatibles," yet the bowls were not Corelle glass.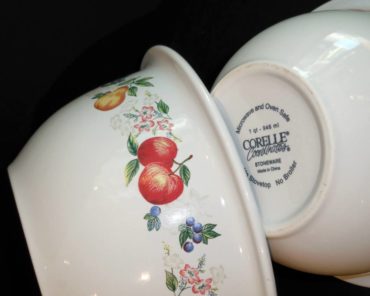 The two big bowls were a ceramic ware. Also the white shade did not match the creamy-white of the dish set. Maybe they were presented as Corelle compatibles, but the color difference made it visually awkward to display the bowls next to the set.
Do you see the stage here? In 1991, over 25 years ago, it seems our steadfast all-American brand, Corning, was changing. It was like a measuring point in U.S. history. Product analysis indicated change that would lead to unexpected consequences. Even the most steadfast U.S. companies would eventually meet NAFTA and its thirst for outsourcing.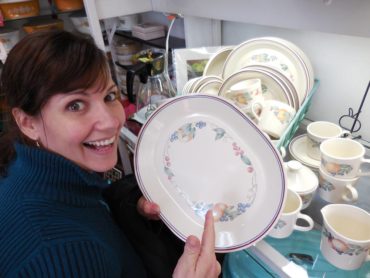 I would say having this pretty set of dishes was like standing in a familiar, partially open doorway watching as new folks are moving into the neighborhood.
Those pretty dishes, "Abundance," had expansive tentacles interlocking with other styles, countries and companies. One of them was Gemco, a New York company that dispersed an array of glass food containers and dispensers with look-alike versions of Corelle, Pyrex and Corningware patterns.
When the Pyrex Museum closed its not-for-sale museum status, it merged retail with mid-century kitchenware items and became part of the Amy Burnett Gallery sales and staging. As I was displaying the curiously fascinating "Abundance" dishes, a group of gals came in the gallery. One became extremely excited. "Mine! Those were mine," she said, sharing with us that "Abundance" was on her wedding registry. She received them as a gift in 1995.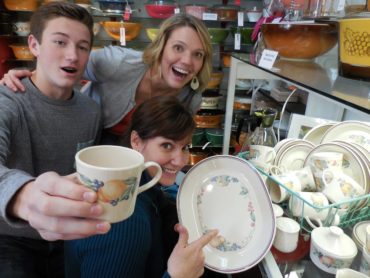 Everyone began taking pictures and sharing stories, which often happens when seeing and remembering kitchen items from a family's past. For 10 years while the Pyrex Museum was in existence, thousands of visitors viewed the 1,500 pieces of vintage Pyrex and some vintage Corningware and shared stories.
Those old Pyrex bowls and cookware that we recognize were primarily produced before 1987. There were a lot of production changes after that. Just examining the Corning "Abundance" dishware that was introduced in the early '90s gave rise to so many questions.