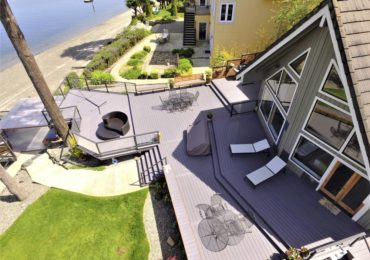 After surviving last winter, who isn't contemplating how to get more summer out of the months ahead? According to Doug Woodside of Decks and Patio Covers in Kingston, it's simple — create an outdoor living space. He says clients call him years after having one installed and report it's added months of outdoor activities.
Want a party before July 4th or after the end of August? Go for it. Predictability is yours! Think way outside the cabin fever box and plan a Thanksgiving or Super Bowl party under covered and heated outdoor living rooms.
Decks of the past were an afterthought. Plop a small wooden platform out the back door and that'll do. But modern exterior living spaces add significant value to a home. Some realtor magazines say a high-quality exterior living project can return up to 83 percent of the investment.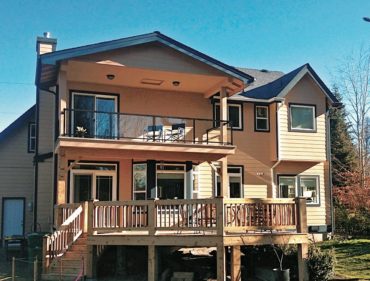 Contemporary products expand the functional use of outdoor spaces surrounding your home and make maintenance a snap. Instead of a three-day weekend project of pressure-washing, sanding and staining, look forward to outside leisure hours with friends and family.
Woodside and other future-focused professionals search out the most durable and easiest-to-maintain products for their clients. In the past, recycled products that seemed good at the time didn't hold up to expectations. The evolution of exterior home products borrows from the tried-and-true materials of commercial building, so longevity is assured.
Cedar, which used to be the pride of Northwest deck products, needs major repairs or replacement every 10 to 12 years, plus constant upkeep. David Godbolt of Sentinel Construction is gravitating toward man-made products like steel framing. His business encounters expanded exterior areas mainly in the process of building or remodeling. He's intrigued with a product that looks like older homes' covered porches but is engineered for easy-care and longevity.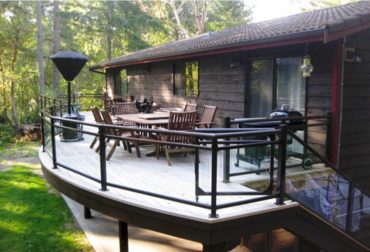 The latest PVC decking products are leading the parade of durable materials in 21st century products. Fading, flexing or warping issues are long gone as building materials manufacturers turned to auto industry products long used to save dashboards from cracking and paint from fading. Woodside's excitement about time-proven, sturdy materials like those culminates with the astounding fact that some manufacturers are so certain of their products, they guarantee not only the product but also the labor. That is unheard of.
Truly, alternative decking and patio covers have become an art form and a true living space outdoors is a solid reality. Other products turning the deck world upside down are the colors and textures of powder-coated railings, the sparkle of stainless steel cables and tempered glass. Modern, laser-cut privacy screens and powder-coated extruded-aluminum lattices act as walls for privacy and protection while providing vertical walls for art and sconces. These finishes make the functionality and design possibilities used in your home's interior available for stylish outdoor living.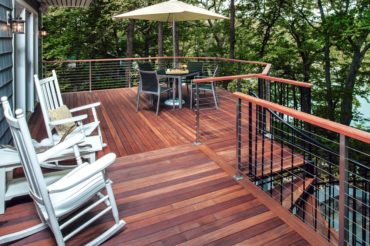 Modern products scoff at Pacific Northwest weather and last, well, almost forever. In fact, Woodside says they'll last a hundred years — and he's not kidding. His "done once and done — forever" philosophy is about as green as building can get because durability is the new green.
With products that last (and last), no energy to remanufacture products is required, nor are they hauled off to mountainous landfills before the house itself is torn down. They aren't using toxic cleaners, stains and paints either. These gorgeous living areas only need a garden hose for maintenance.
Contemporary decks expand the pleasures of daily life. Anything done indoors can be done on a well-designed deck. Floor plans can be one level, with soldier boards defining areas or steps leading to outdoor areas farther down the lot's slope. Human comforts like sightlines to the view, protection from the wind or neighbors, and warmth and light are designed for functional use exactly as in an interior space. But fresh air, gardens, sky and water provide the background.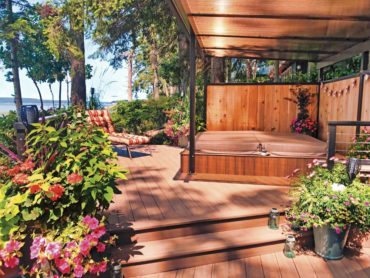 Outdoor fireplace tables under a patio cover make the endless mists and rains of the beautiful Northwest weather romantic rather than a problem for living beyond the normal "four" walls. "Glamping grottos" with comfy beds under see-through canopies make star-counting a nightly possibility. This has staycation written all over it.
Whether entertaining is a private morning coffee, a sit-down dinner for the extended family complete with Grandpa grilling on the barbie, or a few friends and a pitcher of sangria, up-to-date, overhead patio covers wrap the occasion in comfort. Soft, dimmable LED lights hanging in them extend activities deep into the night and small heaters knock the chill out of the air.
Your outdoor living area could become a point-destination where friends come bearing potluck dishes and beers for the old-fashioned pleasure of face-to-face socializing. Woodside calls these spaces the ultimate place to unplug from the art of the deal, where social media can take a snooze.
A potting bench, dreamy hot tubs and furniture ranging from small bistro sets to an entire living and dining room are more pleasurable under a protective cover. Dry patio furniture saves everyone from plopping down into a squishy, wet cushion. A few spaces have been specifically designed with the family pet in mind.
Deck covers with impact-resistant acrylic panels not only keep you dry but also bring soft, filtered light into the home. Acting as deep eaves that keep weather off the home's windows and siding saves on home maintenance, too. Surprisingly, some of the latest patio covers can be packed up and taken when you move.
Professional builders open the door to resources not found in big-box stores. Since smaller companies often make the newer materials, builders know which companies have the longevity to back up their products. The major expense in a deck is in its materials and products. Labor costs are standard but expertise in working with new materials varies. Be sure to hire a professional experienced with proper installation methods.
When you subtract the maintenance, repair and replacement costs of old-fashioned decks, and add in the return on investment paid out when the home sells, new decks are competitive. In fact, they are one of the most inexpensive home remodels.
Interior remodels are great, but most homes have functional kitchens and bathrooms. The questions is, how many Pacific Northwest homes have functional outdoor living spaces? Considering short summers and drippy weather, how has this area been so long coming to the outdoor living party?
The personal enjoyment value of a contemporary, covered deck is hard to imagine. The lifelong memories of events and happenings on your outside living space may be priceless to your family. It's a personal lifestyle revolution.