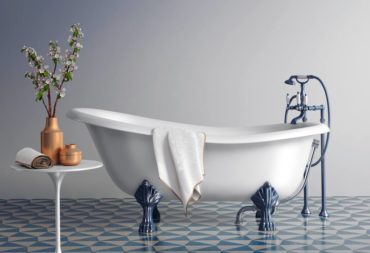 These brilliant baths are filled with inspiring ideas (and incredible photographs) that will have you rethinking the form and function of your own baths. We're highlighting styles ranging from quiet and modern to timelessly traditional. But, they all have one thing in common — luxurious touches that turn a simple bathroom into a private escape.
---
Earth, Water, Fire and Sky Remodel
Total Spaces Design, Eleanor Olsen, AKBD
Photography courtesy Ian Bell
When a talented DIY artisan hires skilled NKBA kitchen and bath designer Eleanor Olsen, AKBD, of Total Spaces Design to collaborate on his own master bath retreat, the results are far from cookie cutter. This Asian-inspired design incorporates solid-surface counters, Duravit fixtures, wall-mount faucets, rare Port Orford Cedar custom cabinets with insets of frosted bamboo embossed glass, Chicago glass accent tiles, textured wall coverings, Ardesie tiles that look like sandstone walls in the shower and a wall-mount gas fireplace — when all combined, it evokes a perfect blend of the four elements.
---
A Modern Northwest Bathroom Redesign
Catherine Shively Interior Design
Laird and Julie Pisto's master bathroom needed updating. There were three considerations: replacing the jet tub while maintaining the current tub deck, keeping the shower as is, and working with the white-and-black tile already in the bathroom.
The couple wanted everything else in the bathroom replaced. They wanted a simple, modern Northwest look to blend with the interior and exterior of the home.
With these considerations in mind, Catherine Shively of Designs By Envision selected the colors and products that would work best with the existing tiles, creating three design concepts. Each had products, colors and lighting that worked with the bathroom. Once the Pistos selected a design concept, the project moved forward quickly.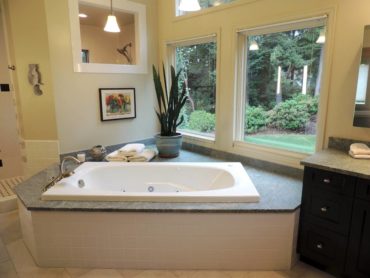 One of the design decisions was black cabinets, which can be a bold move for some homeowners. To complement the cabinets, as well as the black-and-white tiles, Shively selected a very neutral, blended white-and-beige 24-by-12-inch tile for the flooring and tub deck. With this color palette in mind, the Pistos visited the Pental Showroom in Fife and chose a solid granite slab with subtle greens and whites. It was a great choice to add a Northwest color to the bathroom.
Lighting was also a big consideration. The bathroom did not have good lighting, and with better and more technical lighting available for bathrooms, Laird and Julie Pisto chose the Kohler lighted vanity mirror. It's a perfect fit for "his and hers" vanities. Lighting was also added above the mirrors, along with pendant and sconce lighting over the tub.
As the project progressed, it became evident that the color and product choices were a perfect fit for a fresh, modern Northwest look that the homeowners wanted.
---
A Timeless Remodel Design
Tabazadeh Bath
When Afshan Tabazadeh and her husband, Amin, purchased their home, she knew they would need to remodel the master bath down to the studs. She decided to move everything around with a complete redesign.
The back wall was moved to expand the view for Tabazadeh's mirrors. Even the plumbing had to be moved. Having a construction family background helped — as she hired all of the subcontractors herself. Tabazadeh acted as her own general contractor, with the original builder doing the framing.
Magazines and Pintrest gave Tabazadeh ideas to put together the master bath she wanted.
She knew she wanted a checkered look in the bath. The white and gray she chose looked wonderful — and the concept of the light-gray palette for the entire home remodel grew from there. All the tiles are natural stone and marble.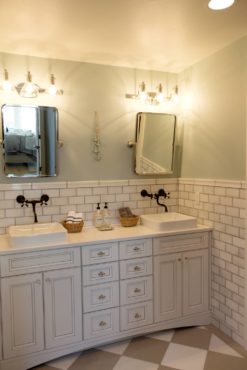 Tabazadeh's advice to anyone considering a remodel is to get a really good, experienced contractor. Use a company that has been in business a while. You may have to pay more, but you'll get years of experience.
When moving things around like plumbing, you need to have an experienced plumbing company with longevity in the industry. As for cabinetry, she loved working with Brad Moore from Creekside Cabinet & Design. She says that Moore is patient and thorough.
Tabazadeh is absolutely thrilled with the results. She says her bath is light and timeless, and she loves getting ready in the morning with the beautiful view behind her in the mirror.
Partners:
Cabinetry: Creekside Cabinet & Design
Floors: All Floors & More
Countersurfaces: Cambria Quartz
Paint: Moran Painting
Electrical: Bird Electric
Plumbing: Swift Plumbing
---
Zen Bath Haven — "Lovely, Calm, Peaceful"
A Kitchen That Works, LLC
Barb Pettit, a recently retired architect, purchased a light and bright condo located in a walkable location close to shops, restaurants and entertainment. Built in the '90s with builder-grade finishes such as a cramped fiberglass shower and tub, the master bath had some suspicious characteristics, such as multiple cracks in the tile floor and oddly conceived storage.
Having taken some time to settle into her new home, she embarked on conceptualizing how she wanted to improve the functionality and feel of her master bathroom with an eye toward aging in place. With rough layouts in hand and a soft-gray color palette selected, Pettit contacted the residential design-build firm A Kitchen That Works, LLC, to assist her in bringing her vision to fruition.
Once the design and material selections were nailed down, it was time to open Pandora's box and find the origin of the suspicious cracks as well as the purpose of the odd bump-out in the wall behind the shower. As it turned out, the floor was out of level by a significant margin, while cast iron plumbing pipes protruded past the framing of the wall behind the shower and by the toilet.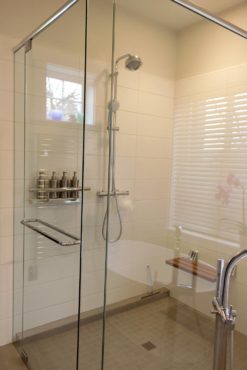 To remedy these issues and ensure the materials installed would not experience the same problems, the entire gypcrete floor was replaced, allowing for the requisite leveling of the floor and fulfilling the desire for a zero-threshold shower. It was very important to maximize the size of the shower; therefore, a small shelf was built just above the shower pan to conceal the ill-placed cast iron pipe. Pettit was genuinely appreciative of how A Kitchen That Works and its team tackled each problem in a timely manner with optimal results and how they included her in each decision.
The updated painted cabinetry provides added storage and clutter-free countertops; low-maintenance, porcelain floor tiles and beautiful, textured ceramic wall tiles. The spacious zero-threshold shower with frameless glass, flip-up shower seat, thermostatic dual-head shower pipe from Grohe and shampoo shelf and grab bar are a nod to Pettit's desire to age in place.
The elegant, freestanding soaker tub by MTI with floor-mounted roman tub filler by Grohe allows her to soak away any aches after a day of running around with her beloved grandchildren. Lastly, heated floors and a heated towel bar add a bit of luxury but also safety and comfort to this revitalized bathroom.
partners:
General contractor/designer: A Kitchen That Works, LLC
Countertops/tile: Creative Countertops
Cabinetry/millwork: Nyman Construction
Shower glass: August Glass
Drywall: Apex NW
Electrical: Agate Pass Electric
Plumbing: West Sound Plumbing
---
A Bainbridge Master Bath Renovation
Kitsap Kitchen & Bath Co.
This master bath was in need of additional light in both lighting fixtures and materials. The darker floor and narrow, linear wall tiles contributed to a cave-like feel. Better functionality of the space was also needed: The obsolete bathtub was removed, creating a welcomed space next to the shower to display wall artwork. Additionally, too many doors created obstacles and took up too much space, so two were removed in the bathroom; plus the bedroom entry door was replaced with a barn door. This created better access between both areas.
The vanity was tired looking and needed a lift. The new Cambria quartz Oakmoor vanity top has a stunning, wave-like pattern with soft taupes on a creamy background. It's reminiscent of a sandy beach and coastal theme. The dark brown stained doors and door fronts were restained with a medium-toned taupe stain on maple, called, appropriately enough, "Coastal Fog." Chrome-finish Kohler Purist plumbing fixtures and accessories were selected for a contemporary feel and contrast.
Kohler LED vanity mirrors on dimmers solved the vanity lighting problem. An LED recessed can light was also added in the shower, and two more next to the shower area, where the tub was, to focus on wall artwork. The shower features a small, triangle teak bench; Kohler Purist grab bar and a Moen grab bar and soap shelf.
The creamy, large, 18-inch-square wall and floor tiles are Happy Floors Monaco, a positive improvement, opening up and increasing the light in this space. A smooth and soft, flat-cut pebbles mosaic tile from Daltile in multitoned creams and grays was selected for the shower floor, complementing the coastal theme.
Partners:
General contractor: Kitsap Kitchen & Bath Co.
Project manager: Mark Thomas
---
A Bath With Its Own Character
Ritzman Construction
Photography courtesy David W Cohen Photography
Putting all the pieces of a new construction home together requires so many choices that it can be overwhelming. Homeowner Julie Vaughn's thought was that each room should have its own identity and character, but blend well with others. She feels that the rules of decorating have expanded and you no longer have to carry the same plumbing and lighting finishes throughout the entire house.
Magazine pictures were her most useful resources. She scours them for looks she likes for each space, then expands on them with her own choices and details, such as colors and finish selections. For her master bath, Vaughn was determined to find a soaking tub with a European flair — then all the other choices would follow.
Subcontractors such as the tile and hard surfaces suppliers Works Granite and Stone and Floor Decorators Carpet One gave her all kinds of input and support and she found them invaluable. She believes they know the uses and creative potential of their products and can really guide you in putting them all together. She relied on them and on the experience of her contractor, Ritzman Construction.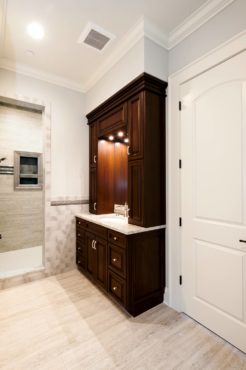 For her master bath, Vaughn wanted a special tub to be the center focus. She found a bath that she really liked and that began the style and her color palette, followed by the traditional look of the Kohler faucets and sink and the style of the cabinet fronts. She likes to mix tiles according to how they will be used and the traffic they endure.
Vaughn loves her master bath, and appreciates the beauty of the craftsmanship that went into it and the selections she made.
Partners:
Ritzman Construction, LLC
Preston Plumbing
Floor Decorators Carpet One
Works Granite & Stone
Sunlight Woodenworks
Four Aces Drywall
Ecklund Drywall & Paint
Cabinets: Cherry with walnut finish
Countertops: Bedrosians Colonial White
Master floor and shower walls: Tierra Sol Mediterranea
Tile wall wainscot: Florida Retroclassique
Vanity sinks and faucets: Kohler
Shower fixtures: Grohe
Bath tub: Penhaglion
Bath faucet: Rohl Perrin & Rowe
---
Refreshed Energy for Port Ludlow Master Bathroom
Kitsap Kitchen & Bath Co.
Bob and Betty Humphries wanted to completely remodel their master bathroom to suit their newly retired life. Their home has beautiful, warm wood trim and furniture throughout, as well as art that is very true to the Pacific Northwest culture. The bathroom needed to emulate the style and energy of the rest of the home.
Subtle, natural tones were selected for the hard surfaces to keep a tranquil and relaxing vibe.
The remodel included:
New double vanity, linen cabinet and above-toilet cabinet for extra storage that the space was severely lacking
Maple cabinetry with a cayenne stain, and toe-kick lighting on dimmer for extra ambiance
Cambria quartz countertop and half wall cap
Vanity sconces (Seattle Lighting)
Beautiful Kohler tub with hydrotherapy options (Whirlpool + BubbleMassage Air Bath) and hand shower
All Kohler plumbing fixtures throughout the bathroom
Curbless tile shower, one glass panel, large recessed niche and teak wall mounted bench
Heated towel rack
Partners:
Interior designer: Natalie Collins Shaw
Project manager: Randy Torres and Lacey Collins
Contractor: Kitsap Kitchen & Bath Co.
Sunset Electric
Swift Plumbing
Stonehenge Custom Tile & Stone
Bill's Glass
August Artisans
FloForm Countertops
---
Reflecting a Blended Lifestyle
A Kitchen That Works, LLC
Photography courtesy A Kitchen That Works, LLC
Great design is about the details but more importantly, it is about the people for whom the design is being created. A year after a blended family moved into a new home, it was time to start personalizing their new digs. The first project on the list was the master bath (which is occasionally used by family and guests as a powder room).
The parents, who are both working professionals with highly demanding careers, were looking for a sanctuary space that would kickstart their quest for defining their new home as a reflection of their lifestyle as a couple (with the more public spaces in the home defined for them as a family).
The top priorities included replacing the claustrophobic, unattractive, space-age looking steam shower with a shower for dual bathing to streamline the couple's hectic morning routine; adding a variety of storage options to keep linens, toiletries and grooming materials close at hand for maximum efficiency and clutter-free countertops; utilizing high-durability, low-maintenance materials to minimize cleaning and maintenance requirements; and incorporating invisible features to facilitate aging in place.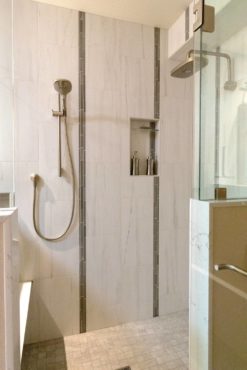 After demolition and before the wish list could be addressed, there were several surprise obstacles to overcome. The overall quality of the home's construction was excellent; however, some ducting and plumbing runs needed to be moved or receive a design workaround (such as the soffits over the shower and the barn door) before the remodel could proceed.
To increase the bathroom's storage, a drywall niche in the bedroom wall common to the bathroom was reversed. By flattening the bedroom wall, two niches were built in the bathroom wall across from the vanity to house a heated towel bar and storage shelves.
The net result of this project was a spacious, light-filled, zero-threshold shower for two, complete with his and hers shampoo niches, built-in bench and dual showerheads and thermostatic shower valves. Features include beautiful cherry cabinetry with oodles of storage in the vanity, surface-mounted medicine cabinet complete with charging station, tall linen cabinet with laundry hamper and concealed storage shelves behind the cherry barn door. Lastly, the quartz countertops, wall caps and shower bench and porcelain tile floors with electric-resistant heat fulfill the desire for low-maintenance and beautiful, slip-resistant surfaces.
Partners:
General contractor/designer: A Kitchen That Works, LLC
Countertops: Creative Countertops
Tile: Stonhenge Tile
Cabinetry/millwork: Nyman Construction
Shower glass: August Glass
Drywall: Apex NW
Electrical: Agate Pass Electric
Plumbing: West Sound Plumbing
HVAC: Air Masters
Painting: Just Like New Painting
---
Functional Yet Glamorous Master Bathroom
Catherine Shively Interior Design
Leeane Skansi had a very dated master bathroom that no longer worked with the interior style of the home. Originally, she wanted to keep the jetted tub while updating the shower. The tub and the shower shared a common glass-brick wall, which would have made replacement of only the shower a difficult and costly choice. To solve this, a new standalone tub became a better option. With that in mind, Catherine Shively of Designs By Envision created a design concept for an organic, glamorous bathroom with a masculine influence.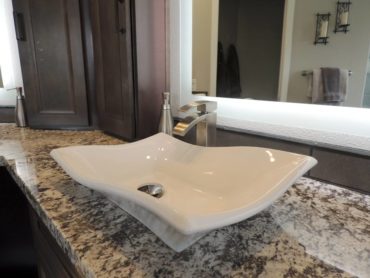 The project had several challenges, including:
The vanity cabinets were on walls that were set at an angle.
There was space above and below the fireplace insert.
The tub and shower area were to remain in their current space.
The toilet space was not changing.
Shively selected colors that complemented the rest of the house and had a rich Northwest feel. Design challenges included three different tiles on the floor, a curved 8-inch border between the tub and shower area, and the vanity/toilet area creating separate zones in the bathroom — one zone was more spa-like and the other more functional for dressing and vanity use.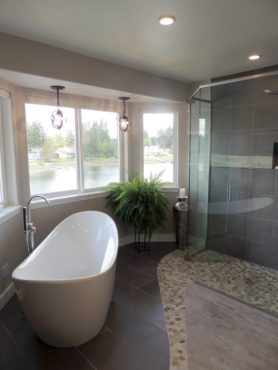 After selecting chocolate-brown cabinets, Shively decided on three tile choices to complement that color. One tile was a mix of light gray and beige and the other a gray brown, both 12 by 24 inches. The third was a flat river rock blend of creams, grays and browns for the floor and shower floor. The river rock was designed to be the band of tile separating the tub area from the vanity area as a great transition.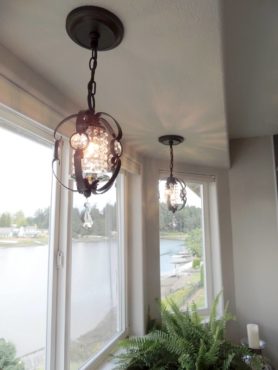 When creating the vanity cabinet space, Shively proposed two cabinets (his and hers) on top of the counter, with outlets inside to store electric toothbrushes, water piks and other items to keep them off the counter for a clean and uncluttered look. It was a good use of wall space and storage.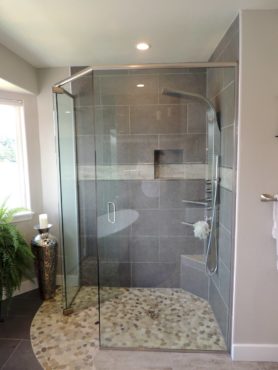 Keeping with the organic look, the new sinks have curved lines to match the floor and the curves of the freestanding tub, providing a consistent look. Completing the look, the counter top is solid granite with a mix of chocolate browns, silvers and whites running throughout the slab — a great match with the cabinets and tiles.
Lighting was the next challenge. Kohler lighted mirror cabinets with canned lights overhead provide task lighting for the vanity, as well as improved lighting to the rest of the bathroom. Chandelier pendants over the tub create a special area (for soaking in the tub) while adding a touch of glamour.
To finish up the bathroom, the fireplace needed to be updated. The space above and below was opened up for visible towel storage and a TV above, a perfect fit for the bathroom.
The end result was a very functional and glamorous master bathroom.
---
A Modern and Traditional Blend
William J. "Bill" Chester, Architect
Most aspects of the owners' original master bath were less than optimal: poor lighting, small sinks, dated tile and fixtures, inefficient storage and a deteriorating shower. The couple's next-door neighbors had recently redone their master bath, and recommended architect Bill Chester for the project.
Chester listened to the list that the owners wanted and viewed photos of bathrooms they liked. They wanted something similar to their neighbors' bath, with a few additional requests: a freestanding tub, a curbless shower and apron front sinks. They liked the Craftsman style generally for their house but in an updated version. Chester came up with a modern and traditional blend Craftsman bathroom with floating vanity and marble wainscoting. He proposed the color scheme, the layout, the lighting, etc. and designed it all.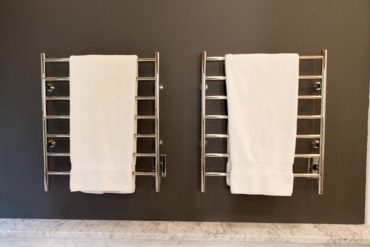 The closet and bathroom switched places, which allowed for more light to come into the bathroom and for a better traffic pattern. He suggested the fixtures, which the couple liked right away, as well as the Carrera marble.
The owners believe without Chester there to guide the decision making process, it would have been overwhelming. The couple are pleased with the results.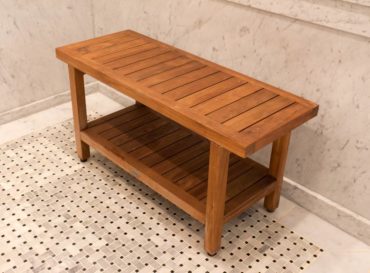 Partners:
General contractors: Scott Lawrence Studios and Failla Carpentry
Architect: William J. "Bill" Chester
Countersurfaces and marble wainscoting on wall: Creative Countertops
Cabinetry: Northwest Cabinets
Electrical: Mathews Electric
Plumbing: Weathers Plumbing
Sinks: American Standard
Toilet: TOTO
Tub: Badeloft
Sink and shower fixtures: Grohe
---
Master Bath New Construction Project
Alinda Morris Interior Design
Photography courtesy William Flanagan Pash-uhn
This was a spec home that became a custom home. Most of the standard finishes were kept, but upgrades were made in areas that would bring the most return on investment.
The designers became part of the project a little later than they would normally do, but they jumped in and helped the clients make some big decisions. The clients were suffering from selection fatigue and feeling very overwhelmed.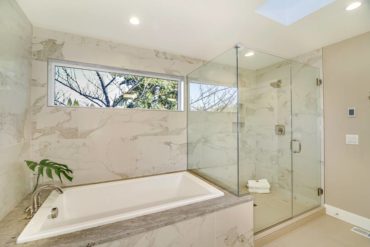 With the designers' help, the clients were surprised how easy the process was, including the selections of cabinet design, surface materials, lighting, plumbing and color, as well as all the finishing touches.
Design features included:
Unique touches, like bringing the vanity backsplash up higher than normal and adding a stunning polished nickel lav faucet to personalize the space.
A lit bottom on the floating vanity cabinets to add visual interest.
Large-scale (36 by 18) Calacatta by Vallelung ceramic tile from United on the wall and shower for visual impact and easy cleaning and maintenance — the color, veining and movement is perfect, and it has a stunning lappato finish that looks like honed stone.
Granite was selected for its depth and variation instead of engineered stone.
Partners:
---
Small, Yet Functional Bath Remodel
Total Spaces Design, Eleanor Olsen, AKBD
Photography courtesy Paul Rodriquez
The "before" space had lots of color contrasts and patterns in the floor, and walls and shower curtain that took up space visually and made the small bath confining. The new, monochromatic color scheme avoids contrasts, except for the gray tiles that pick up tones in the wood and ground the space.
Instead of color, the focus is on textural layers to create interest. The new tile floor is heated from below to make the floor very warm and comfortable. The lighting is minimal, with the ability to be fully controlled to set a mood or be brightly lit to apply cosmetics or read in the tub while soaking.
The glass block window in the shower was replaced with a vinyl window that can be opened, and was sealed well to prevent leaks. Pull-outs were added in the cabinet to make access easier and a grab bar in the shower to aid in getting in and out of the bath.
The back painted glass countertop and backsplash give a very clean, elegant look to the once overly busy small space. A simple faucet adds to the clean look of the small yet very functional bath. The medicine cabinet from Robern has lights in the glass and electrical outlets inside to charge the small appliances that were once housed on the countertop.