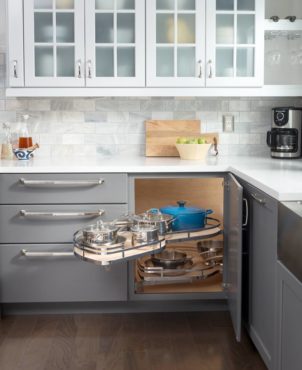 When embarking on an update or remodel of the hard-working rooms of your home (kitchen, bathroom, laundry room or closet), it is wise to familiarize yourself with the many options available in convenience hardware. This will ensure you are creating spaces that maximize your storage, keep you organized and, most importantly, bring the content of your cabinets to you — eliminating the need for digging into the backs of cabinets and closets. The net result will be a safer, more ergonomic space that you will enjoy for years to come.
Kitchen Convenience Hardware
Corner base cabinets: Wasted, inaccessible corners can be remedied with lazy susans, super susans, their newer cousins the corner swingout or the magic corner. These pieces really bring the contents of the cabinet to you.
Standard base cabinets: Chef pantries, tandem trash/recycling units, mixer lifts, pullout pantries, pullout vertical knife blocks, pullout tray/cutting board organizers and rollout shelves are just a few of the many options that will help maintain your counters clutter free, reduce food spoilage and keep Fido out of the trash.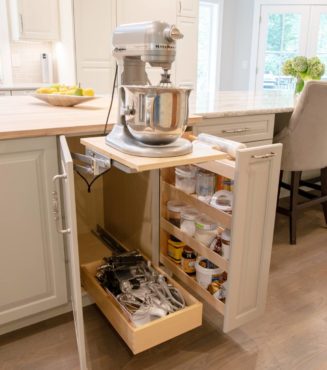 Drawer organizers: Single and double cutlery drawers, dish pegboards, horizontal knife blocks and utensil organizers will keep your drawers well organized and your counters clutter free, while toe-kick drawers will ensure you are making the most of your available space. The ergonomics of a dish pegboard are indisputable — it is much safer to lift a stack of plates up from a drawer than it is to get them down from a wall cabinet.
Wall and tall cabinets: Installing tray dividers over a refrigerator or oven is a great way to use a high, deep space, while door-mounted spice racks keep small bottles vertical and easy to read. Corners are difficult to access most of the time, so make the most of a corner wall cabinet by adding a lazy susan.
Have a few spare inches to fill? Consider a wall pullout pantry. For the ultimate in organized pantry storage, consider a pullout pantry or foldout chef's pantry (note this unit requires cabinet doors that can open out past 90 degrees for full accessibility).
Backsplash: Realize there is valuable real estate in your backsplash. Check out the backsplash rail system whereby you can customize your storage with cookbook holders, hooks, shelves, knife blocks and more.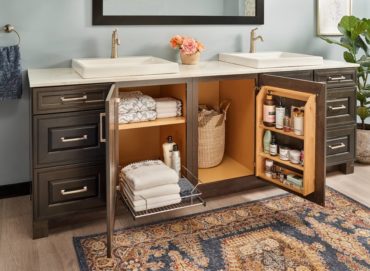 Bathroom Convenience Hardware
Base cabinets: Plumbing drawers (where the drawer box wraps around the plumbing pipes) with built-in organizers and charging station will streamline anyone's morning routine, as will a pull-out grooming-tool organizer. Reduce the need for bending and digging in the backs of cabinets by including door-mounted toiletry organizer (in a kitchen, we would call it a spice rack) and rollout shelves by bringing the content of the cabinets to you rather than you to it.
Bathroom walls: Custom medicine cabinets with built-in receptacles help keep countertops clutter free and grooming tools well charged. A hair-dryer holder keeps this appliance at the ready for rushed mornings. Wall-mounted grooming mirrors that articulate out from the wall make for an ergonomic grooming experience without taking up precious floor or counter space.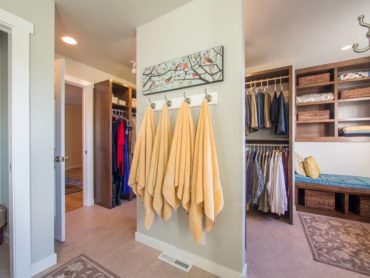 No need to sacrifice style for safety with foldup shower seats (ladies, these are great for shaving your legs!), fold-up grab bars and accessories such as shampoo shelves and tissue holders that double as grab bars — who doesn't love a "twofer"? Lastly, don't overlook the versatility and affordability of a simple hook for hanging towels and clothes.
Closet Convenience Hardware
Beyond the rod: Closets can make or break a morning routine and are a common subject of television makeover programs. Make the most of your closet space with carefully selected convenience hardware and a well-thought-out plan.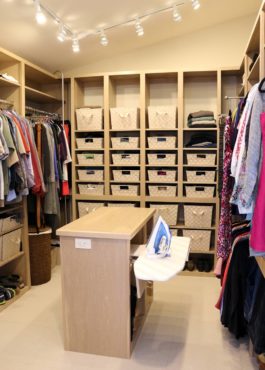 Small items like pullout belt/scarf racks and accessories drawers allow you to see all your options at a glance. Valet bars assist in organizing the perfect outfit as well as staging recently laundered clothing items. Flexible and adjustable shoe racks make shoe storage highly visible and accessible.
Need to touch up a garment? A folding, retractable ironing board is a great addition to any closet (just make sure there is an accessible outlet nearby for the iron). Have tall ceilings? Make the most of the vertical space with pull-down hanging rods. Last but not least, do your level best to save room for a clothes hamper to really keep things tidy.
Laundry Room Convenience Hardware
Base cabinets: Many kitchen convenience hardware products can be incorporated in a laundry to up the room's functional game. However, pullout laundry hampers, pullout (and portable!) cleaning-supply organizers, pullout waste bins and docking drawers are an excellent start toward a well-organized laundry room.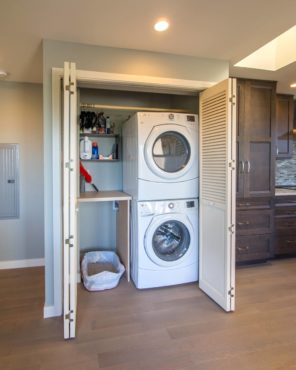 Tall and wall hardware: Drying racks/clothes rods, built-in ironing boards and tall cabinets with rollout shelves will help you get your laundry jobs done with comfort and convenience.
Garage Convenience Hardware
Wall hardware: This is not your grandfather's pegboard wall! There are many options for keeping your garage organized but one of the most comprehensive is the Hafele Omni Track system, with several kits designed specifically for garden tools, sports equipment and woodworking to keep your garage organized and the contents accessible.
A Few Items of Note
First, many of the convenience hardware items featured are typically installed inside cabinets at the cabinet factory or at the very least on site before the countertops go down. It may not be feasible to retrofit certain items into existing cabinetry. Check with a designer, contractor or the hardware manufacturer before you purchase the hardware items.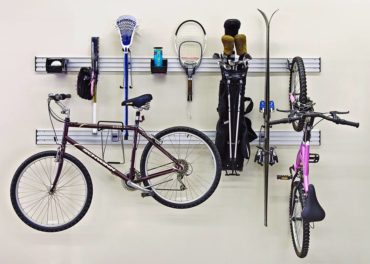 Second, many convenience hardware items come in more than one size. Make sure you read the required size specifications carefully to ensure the items will fit properly within the interior dimensions of your cabinet.
Lastly, like cars, convenience hardware is available in different quality tiers. When selecting hardware that is secured to the interior of the cabinet and has pullout or swinging parts, select the best-quality items your budget will accommodate, as it can be difficult to adjust or repair these items once installed.
The world of convenience hardware is constantly innovating, helping consumers live safer and more organized lives. Consider how convenience hardware can enhance your life and create the space of your dreams.