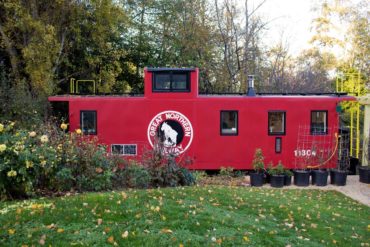 When you arrive at the home of Bainbridge Island artist Claudia McKinstry, you immediately notice the gardens. They cover most of the 2-acre-plus waterfront property where McKinstry and her husband have lived for more than four decades. Then you see the red caboose that's one of McKinstry two art studios — and you hear the happy clucking of her 20 or so chickens.
All those things — trees, gardens, chickens, the sweeping view of Puget Sound — are inspirations for her paintings. Every painting tells a story.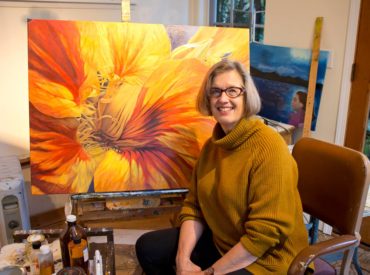 With the eye of a prolific artist, McKinstry sees the tiniest details: trees swaying, reflected on the fender of a shiny car. Children's profiles against the caboose. The antics of a chicken. The texture of cabbage leaves. Light shining through a sunflower. Things that other eyes might overlook or take for granted.
McKinstry has been making art since she was a child.
"It's what I always have wanted to do," she said. "I just have to make art."
Travels to Mexico, Romania and other European countries also provide material. She's always on the lookout for opportunities and inspirations — the "painting alerts," as she calls them.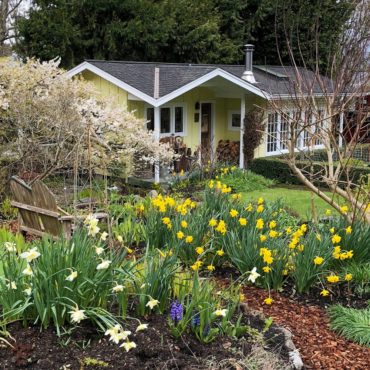 She paints primarily in watercolor and in oils and occasionally in egg tempura. She's probably best known for her garden-inspired botanicals and her beloved chickens.
McKinstry uses the caboose studio for painting watercolors. The other, larger studio, is for "the stinky stuff" — oil painting — and bigger pieces.
"I'm not a fast painter," she said. "'I'd love to be able to make a painting in a day, like some other artists I know, but it usually takes me three or four months to finish something."
The larger studio also functions as an art-filled bed-and-breakfast apartment that McKinstry calls the Artist Studio B&B. Occasionally guests can add a personalized art lesson to their stay.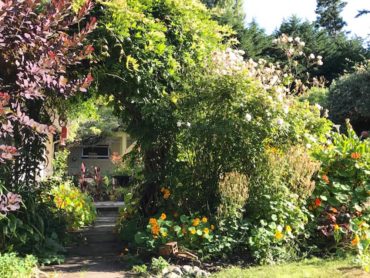 "I like for it to be more of a 'retreat' than the usual B&B experience," she said.
In addition to being known for her paintings (she has had numerous exhibitions at Bainbridge Arts & Crafts gallery, which is now called The Art Project), McKinstry is well known as a teacher. She has taught art at Olympic College and at the alternative high school on the island, and also offers art classes in her two studios.
"I call it 'mentoring' more than 'teaching,'" she said. "I try to find out what style or subject matter the person is most interested in, and then I try to balance teaching the basics of art with the student's individual style. If all my students' work looked like mine, I'd be pretty disappointed."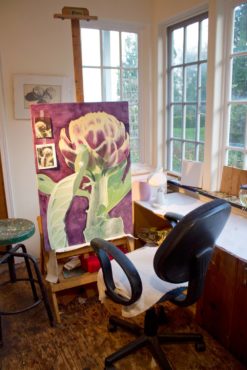 McKinstry and her husband recently completed a yearlong project building a small, cozy second home on the property, which is located next to Fay Bainbridge Park.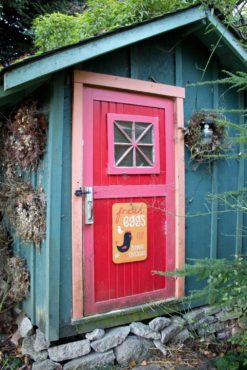 "We tore down an old double-wide and replaced it with a little house. It was fun but it was a lot of work, with a lot of decisions to make," she said. "I was the contractor, so I didn't get to spend much time in the studio. And I really long to be in the studio when I'm not there."
The new house will be used as a wintertime rental or a family-size bed and breakfast.
Every painting she makes speaks to her personally, "and the message continues for whoever will stop and listen," McKinstry said.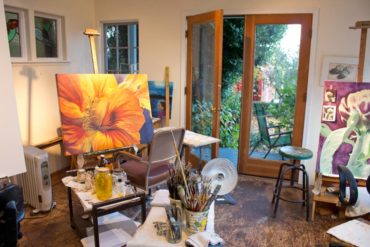 "Every painting is a teacher, not only teaching me about color and form and the technical problem-solving that each one provides, but about appreciating what is here, before me, and listening to the hidden message, the mystery and beauty of life," she said.
The beauty of life is one of the things that keeps her coming back to botanicals as her subject matter.
"I don't seem to be able to go for very long without painting a flower," she said with a smile.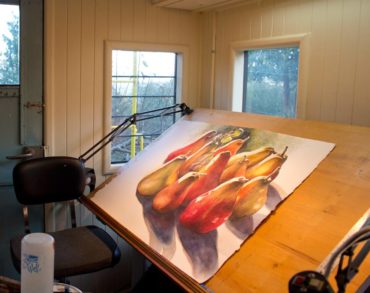 The beauty of life also entices her to paint for hospitals and hospice facilities.
"What my heart really loves is to make art that promotes healing," McKinstry said. "I love painting things that are living, vibrant and full of life. I think art can be so important to the healing process or giving comfort."
Before the Great Recession, many of McKinstry's paintings went to hospitals in Texas, Chicago, Portland and elsewhere. One of her larger paintings is in the Narita airport in Japan.
McKinstry's artistic talents have rubbed off on some of her kids. A daughter in Seattle recently opened a shop called Studio Life where people can do creative things like making greeting cards. Another daughter in Tennessee is a professional photographer who specializes in unique wedding photos.
McKinstry never ceases to be grateful that she's able to do what she loves — to have found, as the Russian expression says, "the blessed work" — and to live in beauty.