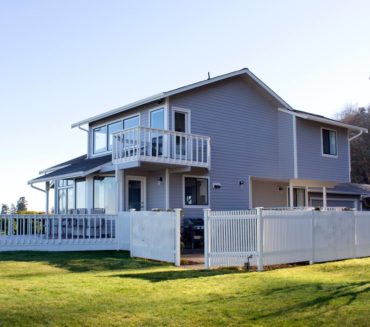 From Joe and Cheryl Falk's Point No Point home, the setting sun flares coho pink against the Cascade Mountains and the lighthouse to the east. A seagull skims over the darkening water. As the first stars shine through, the only sound is the waves rolling against the shore.
The beauty, says Cheryl, is enough to make a person weep.
It's hard to compete with a view like this. So, when the time came to plan the interior of their beach-side home, the Falks chose to let the view take center stage. Simple, sophisticated and uncluttered: Their home's living spaces provide a serene backdrop to nature's ultimate décor.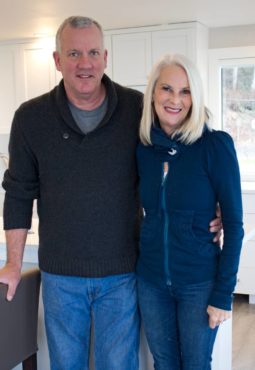 Getting to the Point
Joe Falk's connection to Point No Point stretches back to his childhood. Family photos from the 1960s show him playing on the beach at Hansville, a popular fishing destination. Six generations of his family have been commercial fishermen, going back to Norway.
Not content to fish just to make a living, his parents preferred to spend their time off fishing as well. At first, they rented cabins at the Point, but eventually purchased a vacation house. When their parents died, Joe Falk and his siblings inherited the house.
While spending time at the cabin, Joe and Cheryl Falk became close friends with neighbor and longtime Hansville resident Bob Henry. Henry's home, which he and his wife designed and had built in the 1980s, sat close to the beach with one of the best views on the Point. When Henry decided to sell, he approached his friend and neighbor, Joe Falk.
The Falks didn't have to think twice about leaving Seattle's Ballard neighborhood to make the Point their full-time home. The area, Cheryl Falk says, has so much to offer. The couple enjoys fishing, crabbing and beachcombing. They have their own boat launch. Eagles are frequent visitors to the beach, and the occasional orca pod comes close as it travels around the Point. She also enjoys the inland pleasures of Hansville's many trail systems.
Remodeling for the View
The Falks' new house had a lot going for it. It's well-built and well-situated to the site and the view. No space is wasted. Off the kitchen, a bayed-out breakfast area opens to a view deck that extends for half of the front wall. The other half, fronting the living room, has no deck — focusing all attention on Puget Sound.
The only structural changes the couple would make were to further open the main living areas to the view. The Falks removed a lighthouse-blocking fireplace, then built a new fireplace of black quartz in a less obtrusive location. Walls separating the kitchen from the view were removed in favor of a kitchen island. Dave Godbolt of Sentinel Construction in Kingston brought his expertise to the project, making these improvements and others, including a comprehensive kitchen update.
The Beauty Within
It's only natural that someone as seriously creative as Cheryl Falk would design the interior herself. For 38 years, she has served as the artistic director for the Island Choral Experience of Mercer Island. In her role with this all-girls performance organization, Falk designs costumes, composes music, choreographs and conducts two shows a year. She approached the design of her home with one underlying theme: Zen-like simplicity.
"I don't want to distract from the beauty outside the window," she explains.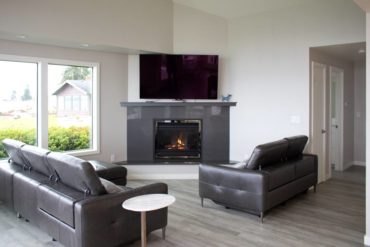 Falk was done with wood tones. She describes their Ballard home of 40 years as being overwhelmingly "woody." Enough was enough; her new home would be predominantly white and pale gray. In her search for the perfect wall color, Falk eventually discovered silver-gray Pediment by Sherwin Williams: a shade that she admires for never taking on overtones of green or purple.
In the kitchen, Sentinel Construction removed the old cherry cabinets and recycled them to a used building materials dealer. They then installed new cabinetry, which was painted Benjamin Moore Dove Gray. Backsplashes are white subway tile. For a subtle bit of bling — and in homage to the surrounding water — Falk chose glass cabinet pulls with trapped bubbles.
The style is repeated in the glass light globes above the kitchen island. The island itself is a grand isthmus of white quartz countertop overlying plenty of storage. The tall Falk family set the counters at 38 inches, which works well for Cheryl, who often uses the island to cut fabric for costumes and props.
Falk prefers the countertops to remain uncluttered. She doesn't keep a lot of superfluous "stuff." What she does have, she knows where it is.
"I don't want to spend time looking for the pliers," Falk says with a smile. "I want to be on the beach."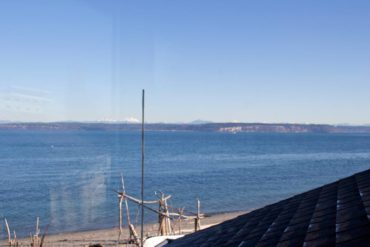 Setting the Stage
Falk carefully researched elements for the home. Her choice of kitchen flooring is an easy-care luxury vinyl by Armstrong in SoHo Gray. Its beachy look hides sand and resists damage. In one bathroom, she employed a shower insert by Kohler that has the look of tile, without the grout. Jack Holt of Poulsbo tiled another shower, with expert results.
When furnishing their home, the couple differed in their idea of furniture color. They compromised on Joe's dark-gray couches in the living room and Cheryl's favorite white everywhere else. She refinished some pieces, including a wicker set that once belonged to Henry, the home's former owner. After spray-painting the wicker white, she sewed nubby designer-corduroy cushions.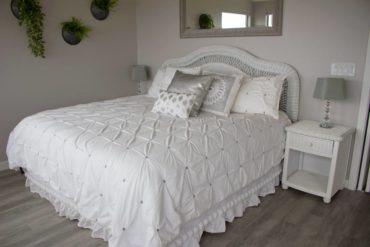 Nightstands that Falk laughingly calls her "Whoville" furniture, owing to their swoopy asymmetry, date back to the 1920s and came from a consignment shop. She painted them white as well. One piece to escape Falk's passion for white is the guestroom headboard, a tole-painted heirloom handed down by her husband's family.
Color finds its way into the home via a collection of watercolors by Alaska artist Rie Munoz. The artist, once a neighbor of Joe's aunt, created idyllic Alaska scenes of fishing boats, village life and Northern wildlife. Joe Falk collected the pieces over his many years fishing in Alaska.
Needing a dedicated space in which to create her original designs and compositions, Cheryl Falk contracted Better Bilt Storage Barns of Silverdale to construct a 10-by-20-foot "she shed" in the side yard. Inside is a comfortable nest with a loft, work counters, a keyboard and a wall of cupboards filled with her materials of theatrical creation.
At Point No Point, the couple feels as though they've found paradise. Even when they have the opportunity to vacation in Mexico or Hawaii, they prefer home. When nature provides such a majestic setting, it's hard to get enough.
"Living here is a serious blessing," Cheryl Falk says.