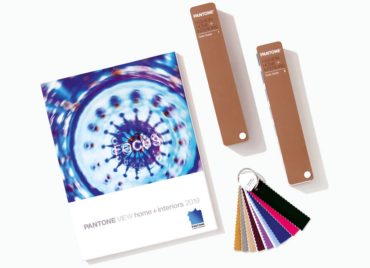 Amidst the infinite choices of the 21st century, it is essential to deliver the color choices consumers want. PANTONEVIEW home 2019 focuses on the colors that are next: the colors we will crave, the colors we will demand, the colors that will engage our imagination and appeal to our emotions, the colors that will capture our roving eye and convince us to make a purchase. Containing visual inspiration, key color direction and suggested color harmonies, PANTONEVIEW home 2019 includes eight themes with 72 forecasted colors.
Musings
Quietly reflective, Musings is a contemplative palette filled with somewhat muted shades that are both easy on the eye and easy to live with. This is a grouping evocative of the variegated greens of an herbal garden under a golden or grayed mist, or a pale lilac tint highlighting a warm rose tone, contrasting with the sophisticated subtlety of shadowy purple and two distinctive and supporting shades of gray.
Cravings
Cravings is a palette that tempts our eyes as well as our taste buds. Spicy reds, flamingo orange and provocative purples broadcast an irresistible message that commands us to pay attention. Tasty Butterum and Cappuccino call out a delectable warming presence while grassy green promises a cooling respite from the heat of the surrounding shades.
Proximity
The palette called Proximity gathers together the sister shades of tropical green-blues and blue-greens that blend fluidly into royal blues and clean, crispy greens. Sparkling grape, a clear violet and a calming gray with a hint of lilac complete the well-integrated, harmonious and closely related color families.
Cherish
Cherish represents the colors of those recollections offering comfort, enjoyment, affection and contentment. Included in this wistful palette are romantic rose and dulcet mauve, wispy white, opal gray and a glimmer of frosted almond. There is a suggestion of nostalgia in this grouping, deftly punctuated by the unexpected contrast of voluptuous fuchsia and deeply grounded green.
Syncopated
A palette buzzing with excitement and all the right moves, Syncopated is charged with energy and exhilaration from brilliant white, high-voltage yellow and a hot yellow-red to light the way. Love Potion red sings against an Aquarian-age turquoise, while vibrant green blends with true blue. A resounding and final note is added with black, appropriately named Tap Shoe.
Paradoxical
The Paradoxical palette proposes style and design that are unconventional couplings, an eclectic mix of traditional and modern, high-style and low-brow. It is the incongruity that provides the possibility of compelling groupings. The colors are as disparate as the deepest green with the most vibrant red-pink, or as relatable as a dark galactic blue combined with light serene blue, or plum wine and lavender crystal. A shower of shimmer in gilded beige, silver and pale gold add to the intrigue.
Clássico
Just as the name implies, Clássico is redolent with hues that are fundamental, basic and everlasting, while at the same time, elegant and forever fashionable. This is the palette where a graceful swan white and camel-colored tan co-exist effortlessly with deep teal, chic gray flannel, burgundy red and caviar black. Rich gold and apricot brandy provide the finishing touches.
Meanderings
Traveling to destinations known and unknown, Meanderings implies a winding course done at a leisurely pace that often reveals unexpected treasures and pleasures. The names of the colors included in this palette conjure up the various ports of call: tropical Island Green, Brilliant Blue, Wild Orchid, a composed Canal Blue joined to a robust Cabernet, an exotic russet tone called Spice Route sweetened by a honeyed Chai Tea, the intense red found in the Aurora Borealis viewed in the northern climes.