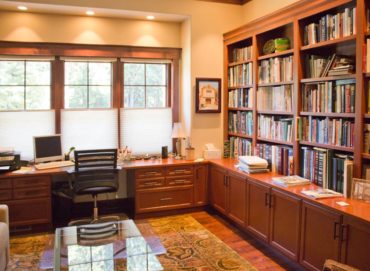 The life of a remote worker is the envy of every I-5 commuter. Who doesn't dream of working from a home office, where every day is casual Friday and the commute is a 30-second stroll?
It turns out, in West Sound, many people are snatching that sweet dream. According to a 2017 report by Global Workplace Analytics and FlexJobs, the Bremerton-Silverdale metro area was second in the country in the highest growth of telecommuters between 2005 and 2015, with a 273 percent increase.
If you're thinking of joining this local army of remote workers, you'll want a dedicated home office — it's not only more productive than the kitchen counter or the couch, but also provides a physical barrier that forces you to "leave" the office and have a life.
Many people find that they can get a lot more work done outside of the traditional workplace. It helps, of course, that your office mate, whether it's Fluffy by your feet or Whiskers in your lap, aren't very chatty.
But having fewer interruptions and working in a quiet (read: lonely) space is not enough to make you zoom through your day. No amount of caffeine will help you get through that next project if you haven't designed your space to maximize productivity. The following steps, should help.
Step 1: Location, location.
A productive office starts with a good location.
Thinking of setting up shop in the first empty room in the house? Not so fast, says Michele Doyle, owner of MD Design Group in Poulsbo.
"Just because you have an empty room, it doesn't make it the ideal office space. Maybe you need to relocate to a different room," she says.
That's exactly what Sheila Perreault did. A professional organizer who owns Blue Nest Home in Silverdale, she originally ran her small business from the space that was designated in her home plan as an office. But no matter how she organized the layout, Perreault and her assistant couldn't get a good flow.
With the help of Kristin Alvarado of MD Design Group, Perreault relocated the office to the formal dining room. But since the office now opens to other areas of the house, she didn't want it to be obvious to guests.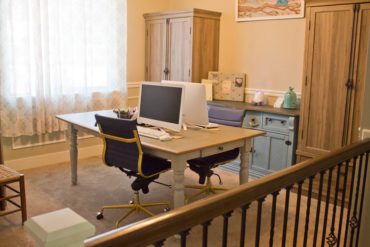 "When I have company, everything can be cleaned out and tucked away," she says.
The main criteria Doyle uses in determining the location include the desired level of privacy and the specific use of the space. Not everyone needs a door, for example.
"Some people aren't productive if they're too isolated, so it's important to understand how they work, and what constitutes a productive and happy work environment for them," she says.
Step 2: A layout that flows.
While the function of the home office depends on the kind of work you do, your work surface — usually a desk or work table — is the main focus of the layout. Often times, a window may be the deciding factor on where to place the desk.
Doyle notes there are several reasons not to have your desk by the window:
If you're working at a computer, facing the window will cause screen glare and consequently, eyestrain.
Natural light may produce heat, which will cause discomfort. (If your office has several windows or a window that gets a lot of sun, consider heavy blinds and air conditioning. Blinds also hide your expensive equipment from outside views.)
Those who need substantial mental focus may find a window view too distracting.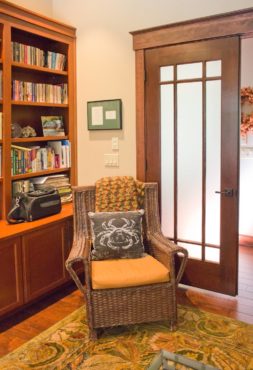 Janet Weber, owner of Janet Weber Interior Design in Poulsbo, says she likes having the desk facing the door or open into the space.
"Not only does this allow you to see people entering the space, but it is a commanding position and is good for feng shui," she says.
But, she admits, she also likes a desk that faces a window, which is "not necessarily good feng shui."
"It's just nice to be able to take a break from work and look out of the window once in a while," she says.
There's no rule of thumb that will work for everyone. Plus, there are more variables to consider, such as what other furniture you may need and how everything will flow together.
"It's important to have items close by you when you're working so you don't have to keep getting up for things you need," Weber says. "For instance, easy access to your printer or files close by so they're easy to get to."
Having everything at hand is one of the reasons Perreault likes her new, relocated office. She bought a $30 table from a thrift store and refinished it — and it's perfect for her and her assistant to sit across from each other. The printer is close at hand, as are the office supplies, which they can now share instead of buying in duplicate.
"You have to consider the functionality of the space and how it's working — is there good energy," Perreault says. "If you constantly feel like it's not organized or the flow is off, it's really hard to concentrate in that area."
Step 3. The right furniture.
Chair: Just like a good desk, a comfortable chair can make or break your home-office zen. You don't need to compromise aesthetics for comfort — shopping around will likely turn out some choices that please both your aesthetics and your productivity needs. (Perreault, for example, found some stylish blue-and-gold chairs she loved.)
Before you happily hand over the cash for your find, there's one more thing to remember, however: Your chair also needs to play nice with your flooring.
"If you have to roll around, do you have the correct surface to roll on? Can the base of the chair handle the surface and not damage it? Floor mats don't always work," Doyle says.
With a plush carpet especially, the base of the chair is just as important as the cushy seat.
If you're remodeling the space, Weber recommends using flooring that's easy for rolling a chair, such as carpet tiles or luxury vinyl tiles.
Organizing aids: Next on the furniture list are those things that will keep you organized, depending on the kind of work you do. This may be a filing cabinet, a shelf, a cabinet for supplies or samples, and so on.
In Perreault's case, a filing cabinet, a converted buffet for office supplies and armoires on each side of the buffet did the trick. She says people often tend to overcomplicate their home office while it's best to keep it minimal.
"Keep it to the things you're truly going to use," she says.
Adjustable desks: Both Weber and Doyle note that adjustable desks (a.k.a. standing desks) are very popular. This reflects a workplace trend: In 2017, a Society for Human Resources Management survey of more than 3,000 HR professionals found that out of 300-plus benefits, standing desks showed the biggest increase in the past five years.
One reason these desks are all the rage is media awareness around the negative impacts on health and productivity from sitting at a desk all day. Anecdotal evidence suggests that standing at your desk has various benefits (such as improving posture, boosting productivity and eliminating back or neck pain). However, little research has been done to prove that standing desks, specifically, improve health or productivity.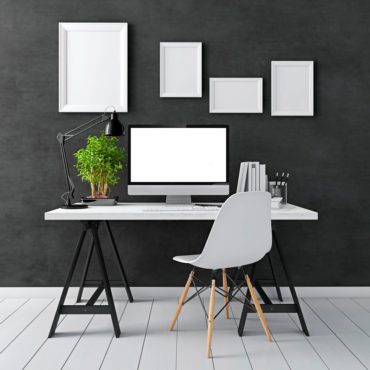 The best recommendation that health, workplace-ergonomics and productivity experts have is to vary sitting and standing throughout the day. That means if you give into the trend, you won't want to donate your existing desk any time soon.
You'll either want an adjustable sit-stand desk, a sit-stand workstation that sits atop your desk, or two desks — one for sitting and one for standing so you can alternate between them, assuming you either use a laptop or can do noncomputer work at your standing desk.
In the latter scenario, the standing desk can be a simple bar-height table, Doyle suggests.
"Adjustable desks are expensive and adjustable tabletop stations take up a lot of space," she says. "Sometimes it may be easier to allocate a corner where you can just stand with your laptop."
Other furnishings: A few other pieces you could work in are a bookcase, an additional work surface, an overstuffed chair or sofa and a coffee table. Just like a standing desk, a secondary work space or a cozy chair or sofa in another part of the room can help boost productivity.
People in creative professions know that the so-called writer's block can be "cured" with a change in the environment. Some research has shown that a disruption in the routine or a change of setting stimulates the brain, improving focus. Moving to another work area or a cozy seating area away from your desk provides that temporary change.
"You have to stimulate your brain regardless of the work you do, and it helps to get a fresh perspective and reorient your body," Doyle says.
Step 4. Personalized décor.
You need to love the space where you're spending most of your day. Besides the perfect workflow and great furniture, you can make the space more "you" by showing off your personality.
If you're remodeling (and even if you're not), consider repainting so the color sets the right mood.
"Paint colors are an important aspect of office design," Weber says. "Something warm and inviting and also stimulating is a good choice for a home office."
She also likes using functional décor such as:
Plants (which have also been shown to improve productivity)
A desk lamp for a "homey feel," plus other task lighting
A bookcase filled with favorite books
Baskets for storage
Other decorative touches can run the gamut from family photos and artwork to commendations and framed college degrees. Doyle recommends considering not only your profession but also whether you receive clients or may have colleagues dropping by.
"The décor depends on the message you're trying to send, like being serious and streamlined vs. fun and funky," she says.
Perreault kept her personalization simple: a wall shelf with books and a painted wood sign from a client with her Blue Nest Home logo. She walks her talk: Keep things minimal.
"I'm trying to practice minimalism so I feel like having a lot of stuff around clogs the thought process," she says. "Don't overcomplicate your home office — but do have it show off your style."