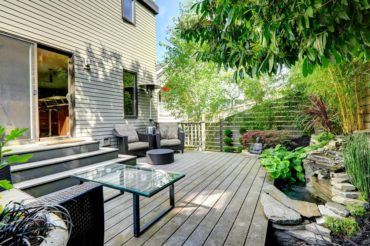 Outdoor living spaces for cooking and relaxing are gaining popularity in West Sound. Custom homes are being built with these spaces in mind during the design phase, while owners of existing homes are adding them when time and budgets allow.
"Everybody likes outdoor spaces when the weather's nice, especially on the waterfront," says Judy Gates, co-owner with her husband of Joe Gates Construction in Poulsbo. "We see more and more people wanting an outdoor space in small as well as spacious homes."
Outdoor spaces — usually an extension of a home aimed at capturing a view, a sunny spot or a secluded area — run the gamut from minimalist to elaborate.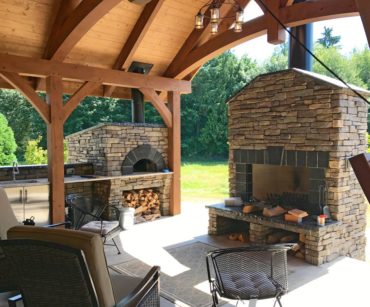 Some folks go to Costco and buy a pizza oven, or a fancy barbecue or smoker (anywhere from $630 to $4,800,) place it on their patio with their existing outdoor furnishings, and call it good. Others go the extra mile, attaching the space with roof and support beams and adding features such as wood-brick fireplaces, tile flooring and walls, waterfalls, piped-in music, soft lighting, traditional indoor furniture and other creature comforts.
"Some families are designing their whole homes around it," says Adam Clark, owner of Choice Construction in Gig Harbor. "They're taking it to another level. Indoor-outdoor is a major design trend."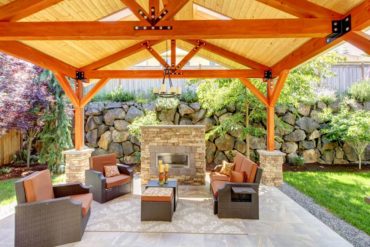 Clark, whose company specializes in constructing new custom homes, mostly in the Gig Harbor and Port Orchard areas, figures he's built nearly a dozen houses with outdoor spaces since 2001, when he got started in the business.
"All homes are a little different," he says. But with an outdoor space, it's an "opportunity to create another room."
Depending on the homeowners' budgets and uses, outdoor spaces range from $30,000 to $50,000 on the low-to-middle end, to more than $200,000 for a significant add-on, says Gates, whose firm does mostly custom homes and renovations. She and her husband's company have completed "four or five" outdoor spaces over the past several years, plus jobs where customers agreed to rough in water pipes and electrical conduit in anticipation of some day building their extra dream space.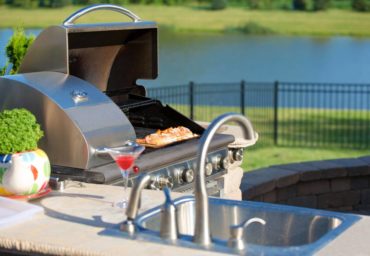 "When they're ready, they'll do it," Gates says. "It's sort of a luxury add… Honestly, it's the first thing that gets cut from the budget. The tile in the bathroom and the pretty stuff in the house usually make the cut. The husband can wait a few months (or so the thinking goes)."
Gates says many outdoor spaces tend to be a bit man-centric.
"It's an outdoor man cave," she says with a grin. "It's all about cooking, meat, drinking beer and smoking cigars."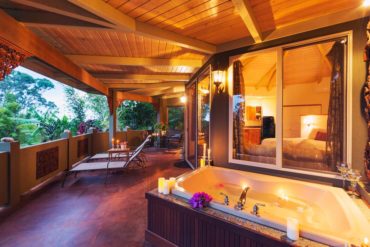 It's also about taking in views and engaging with friends and family. Many folks in the Pacific Northwest want to spend as much time as possible outside when the sun shines, so creating an outdoor space is essential to those who can afford this extra bit of luxury.
"It's great for entertaining and sitting with a bunch of people looking at the water," Gates says.
Or, in the case of one of her clients, it's great for taking in the restive view of a 10-acre estate. The clients, who declined to be interviewed for this story, wanted to add an outside space to their existing home that Gates Construction had previously built. The couple travel for work and play, and envisioned walking out of their home and into a covered outdoor space to cook, entertain and hang out.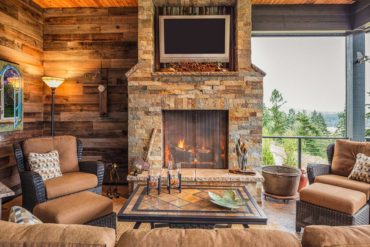 In order to accommodate those wishes, Gates Construction had to excavate a hillside and create a level area before they could begin building the attached space. They also had to match the elevated roofline of the outdoor room with the existing house and build a rock foundation for the deck.
The pricey renovation included a metal roof, sky windows, timber-ware trusses, car-deck ceilings, a masonry block fireplace — covered with culture stone — and a ceramic tile floor that perfectly matches the interior flooring. This gorgeous outdoor space also includes a brick oven for making pizzas, a stainless-steel sink and cabinetry, and hanging fans and chandeliers.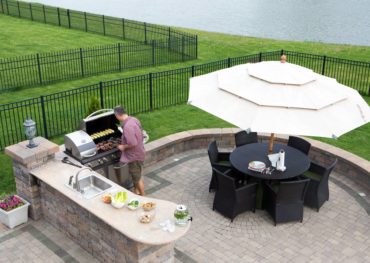 "We had construction challenges, with wiring, conduit, switches and the ceiling fans," Gates recalls. "You have to think carefully about all that in advance and consider the elements — sun, wind and rain."
Clark of Choice Construction agrees. He relies on designers and structural engineers to ensure his outdoor spaces are seamlessly wedged into his custom homes.
Take outside room wall systems, for example. "They need to be engineered by a good designer (who) understands the structure, the walls, the header heights, the traffic flow and what not," he says. "There's a lot behind the structure and architecture. It starts with a talented designer to make sure it works well and looks good in the house."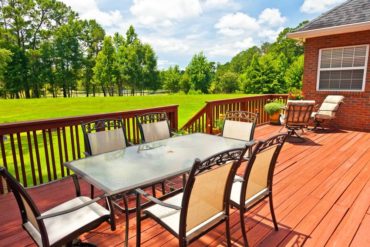 Clark says building trends like using NanaWalls (a large-panel, sliding-glass wall units) and pocket doors are making outdoor rooms and spaces more appealing. "A lot of thought goes into this from day one," he says.
Features such as customized lighting and sound systems — often times controlled by mobile phones and electronic devices — linear fireplaces, and the use of comfortable furniture versus old-school lawn chairs and tables are becoming more standard for these relaxing spaces.
It's all about "creating that atmosphere and ambiance," Clark says. "There's a lot of different options now."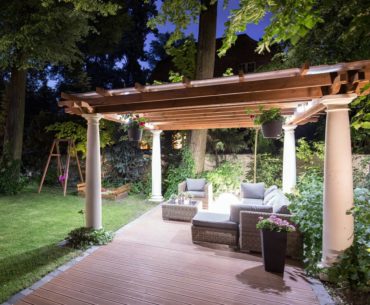 But not everyone's into creating a permanent outside living space. Even Judy and Joe Gates have shied away from doing so. After moving into a new house in Poulsbo a year ago, they mulled plans to build an outside kitchen space but opted instead to purchase "pieces they could move around," such as a barbecue, a pizza oven, cabinetry and so on, Gates says.
Still, she says, "the sky's the limit" on what someone could do with an outside kitchen or living space, as people continue to watch food and wine programming on television and enjoy entertaining, especially in the warmer months.
She believes the trend is "here to stay" — and there will be "a lot more people using patios and decks as extensions of their homes" for years to come.