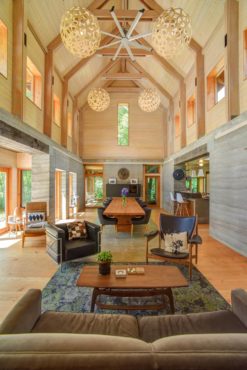 Walking into Heron Hall on Bainbridge Island is like ambling into a laboratory of building sustainability.
Almost everything you eye, touch or feel in this lovely 3,000-square-foot experimental home of Jason and Tracy McLennan is salvaged, reused or repurposed.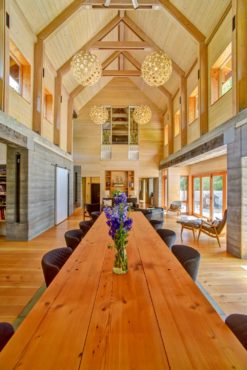 Take the front entrance. The massive, hand-carved door is from Afghanistan and is more than 50 years old. A smaller cousin hangs in the entrance to the master bedroom closet.
Inside the house, 100-year-old timbers — salvaged from a Tacoma warehouse — help support the structure together with 2-foot-thick rammed-earth concrete walls. Hanging from at least two walls are repurposed, century-old, stained-glass windows that are at least 6 feet tall.
Everywhere you look — from the walls, floors, ceiling, countertops and staircases to the decking, lighting, porches and gardens — you see wood, siding, cabinetry, concrete, tile, glass and other salvaged materials that have been reused or reimagined to create one of the world's greenest single-family residences.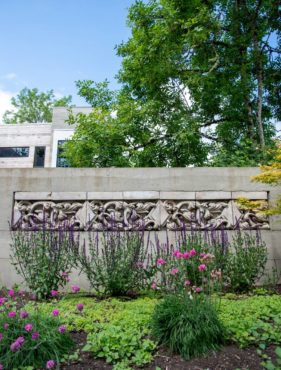 "With this home, we want to demonstrate sustainability on the island," says Jason McLennan, a designer nationally renowned for green building. "We want to create something that proves sustainability can be both beautiful and wonderful to live with."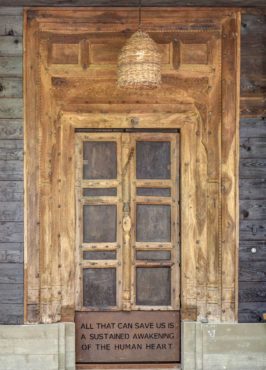 The house, situated on an acre of property just off Point White Drive in the Lynwood Center neighborhood, is both comfy and futuristic.
The hallway that leads from the home's great room to the downstairs master bedroom has two built-in, west-facing window seats that McLennan says are perfect for folding laundry or reading a book on a rainy day.
The bathrooms have composting toilets that use half a cup of water per flush versus a half gallon of water in traditional toilets. McLennan is beta-testing a showerhead in the master bath that uses "significantly less" water than leading-edge products currently on the market.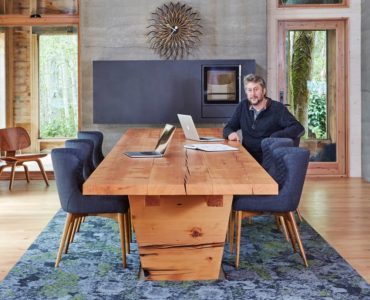 Outside the kitchen window stands an 18-foot-tall, corrugated-metal water tank that can store 15,000 gallons of water – "probably cleaner than most city municipal water systems," McLennan points out — all of which comes off the grass roof of the McLennan house.
The kitchen has concrete countertops, an induction cooktop and cabinetry designed by McLennan and built by Neil Kelly. All the wood in the kitchen and throughout most of the house is from Bainbridge Island, including cottonwood used on some of the walls, harvested from trees that once stood on the property.
If you think Heron Hall is a bit over the top in its quest for ultimate sustainability, you're right.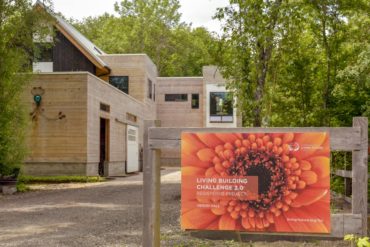 The design, layout, materials and approaches are a culmination of McLennan's experiences and creativity as a designer and green-building expert. It's probably not too far of a stretch to say that the beautifully crafted home is McLennan's Mona Lisa.
"I had to walk the talk when I decided to build this house," he says. "We're trying different things, different combinations … using lots of materials people haven't used before. You can't just run down to the (local) hardware store and pick up some of this stuff."
Heron Hall is considered one of the "healthiest homes in the world" because of its extreme energy efficiency and its use of nontoxic materials.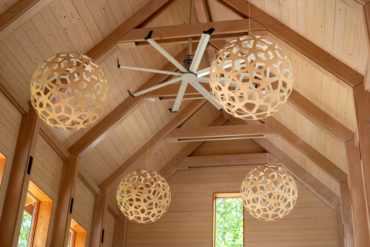 McLennan himself was drawn to sustainability while growing up in Sudbury, a small, former mining town in the far reaches of Ontario, Canada, some five hours north of Toronto. Years of nickel mining had ravaged the town's landscaping and natural environment.
But McLennan and some friends became part of the solution, "re-greening the community" over many years. "It was a childhood passion," he says.
After securing his master's degrees in architecture from the University of Kansas, McLennan ended up in Kansas City, where he met his wife and worked for a time with Bob Berkebile, one of the industry's foremost green-building gurus.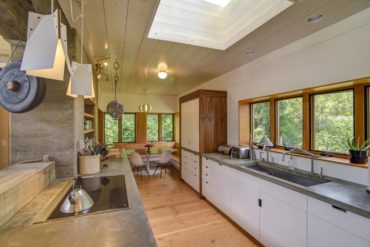 He later launched the International Living Institute and its Living Building Challenge, which brought him to Seattle. The latter program is the so-called gold-standard for green building, even going beyond Platinum LEED (Leadership in Energy and Efficiency Design) certification in its effort to push the sustainability envelope as far as possible.
To qualify for McLennan's Living Building certification, a building project must meet some 20 imperatives organized into seven performance areas centered on things like energy, health, materials, place, water, beauty and so on. It goes without saying that Heron Hall meets those criteria and then some.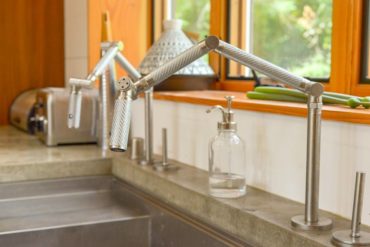 But even before McLennan began his signature home-building project a little more than two years ago, he was already recognized as a world leader in Earth-friendly design and green architecture.
He's the recipient of the Buckminster Fuller Prize for socially responsible design, the author of six books on sustainability and green building, and one of Yes! Magazine's (based on Bainbridge Island) "top 15 people reshaping the world."
McLennan also designed the green-built protocols for the prestigious Bullitt Center in Seattle — considered one of the greenest commercial buildings in the world.
Through his McLennan Design on Bainbridge, he consults with manufacturers on eco-friendly products, works on master planning with communities and consults on topics such as sustainability education with the likes of Boeing and Microsoft.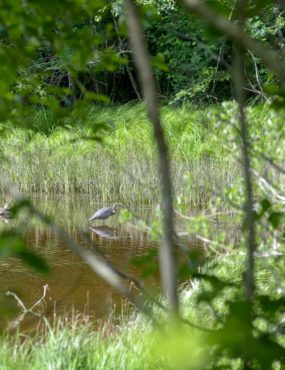 But what truly excites McLennan is his own terra ferma.
The land Heron Hall sits on is adjacent to the manmade Schel-Chelb estuary. Part of the property includes a piece of the beach on nearby Rich Passage, and an easement through the west boundary leads to an extensive Bainbridge parks trail system.
"The property really spoke to us," McLennan says. "It's beautiful being connected to nature like this… It's healthy for the kids to be in nature as much as possible, being exposed to multiple eco-systems. We think that's important."
You can stand at the far end of Heron Hall and see a beautiful pastel of trees and forest through large windows on the other end. A screened-in porch sits over a creek and looks into the nearby forest.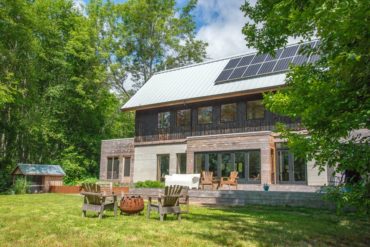 "We looked at other places," Tracy McLennan recalls, "but this (piece of property) felt like home and it was part of the community we wanted to be involved in."
The two-year-long building project was no walk-in-the-park for Smallwood Design & Construction. The Bainbridge Island general contractor — which previously built the first Platinum LEED certified home in Washington state outside of Seattle — spent hundreds of man hours on every aspect of the McLennan home, from prep work, to assisting with the 2-foot-wide rammed-earth walls, to creating the structure's substantial footings.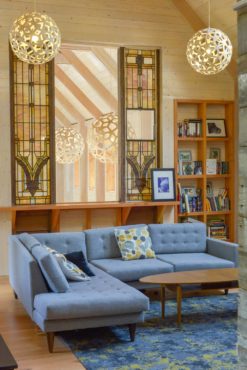 "Living Building Challenge is a net-zero home," says owner Rob Smallwood. What that translated into was getting final approval from McLennan on every product — wood and lumber selection, adhesives for insulation, paint and so on — before it was applied or installed.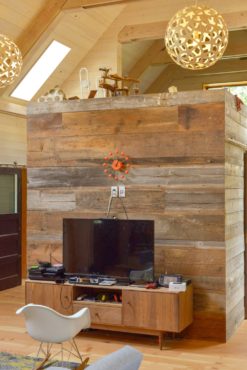 Lots of samples were researched and tested before they were given the green light. What's more, Smallwood and his crew had to continuously separate waste and get approvals from city and county officials to do certain things, such as installing the home's composting toilets.
Heron Hall is "kind of the top of the heap in this process," Smallwood says of green building. "This is (Jason McLennan's) showpiece… A lot of what we did went above and beyond normal construction."
Indeed, the house, which the family moved into more than a year ago, is a cornucopia of design and material surprises.
The downstairs bathroom includes a little library stacked with classic literature. The all-purpose wood table — some 20 feet long and 4 feet wide — in the nearby great room was salvaged from a maple tree on Bainbridge and milled and designed by Bainbridge's Coyote Woodshop.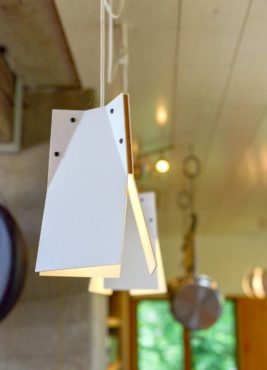 Look out the window of the master bedroom and you'll spy the "Secret Garden," which has an Italian veranda feel to it, complete with tiles McLennan designed and a living tree he found on Coyote's back lot.
"I liked the arm," he says.
Glance to your right while you're in the master bedroom and you'll see the living roof that tops the home's bike-and-canoe shed. Pass through the bedroom to the living room and you'll walk on nontoxic carpeting, also designed by McLennan, that has a pattern he calls "lichen on rocks."
"I use nature as inspiration," McLennan says. "There's no sheet rock in this house. It's all wood and earth."
The supporting walls, made by a company called Sirewall, contain sand, gravel and dirt taken from the site. The aggregate was mixed with cement and reinforced with steel rods. The results are 2-foot-thick walls that are two to three times more efficient than most new houses.
"Even if we lose power, the walls will radiate heat for hours," McLennan says.
With four kids (three of whom are still at home) and two dogs, it not surprising the McLennans built a kids' loft upstairs. And, like the rest of the house, it's filled with unusual touches and surprises.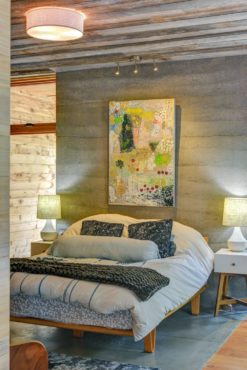 Each sibling has a small bedroom but they all share a bathroom and a cleverly designed study nook in the loft's center that feels a bit like a tree fort. Nearby is a comfy family room that overlooks the great room below.
A cathedral ceiling, supported by salvaged beams, sets apart the great room. But what makes it really special — especially when peering down on it from the loft — are the six enormous David Trubridge hanging lamps and the Big Ass Fan attached to the center beam over the table below.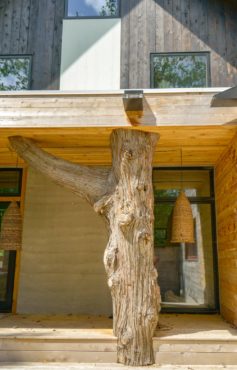 Outside, the driveway is made from permeable materials that McLennan designed, and there is an electric recharging station across from the garage.
In the near future, he hopes to buy a more environmentally sensitive Tesla battery to support the home's 10-kilowatt photovoltaic solar panel system.
McLennan is a deep thinker and innovator. You can see that by the level of detail he has put into creating Heron Hall. But what may be more telling are the philosophical musings he has permanently etched on his front door and on the wall next to his driveway.
"All that can save us is a sustained awakening of the human heart," the door says. And on the wall, "Whatever you can do, or dream you can do, begin it. Boldness has genius, power and magic in it!"
No doubt we will hear much more from Jason McLennan as the green-building movement grows bigger and stronger and his reputation blossoms.