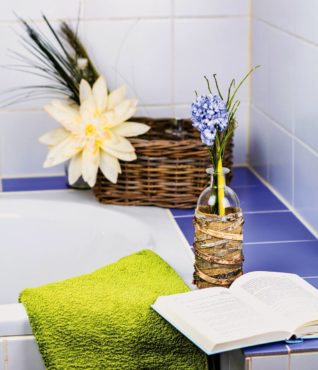 Thinking of building or remodeling? Now is the time to make that dream bathroom a reality. You have many choices and options, bringing luxuries and new innovation to a room in your home. Sinks, toilets, showers, bathtubs, cabinets, lighting, flooring and more — the possibilities are endless.
Peruse the eight baths shown on the following pages — each designed based on owners' preferences. Some are large projects and others medium to smaller. All are beautiful!
---
For the Love of a Tub
Tammy Byergo wanted a bathroom designed around a tub she had purchased two years earlier. She didn't want a new floor, as it already had heat and the color of the tile worked within her desire for natural warmth. A countertop was chosen to complement the existing floor — Cambria Natural Quartz, color "Nevern." A porcelain field tile in the shower and pebble tile were incorporated to accent.
To add more storage, a full, luxury tub area was designed with two built-in cabinets on either side of the tub, with pull-outs for her bath salts, oils and candles. The tub deck is quartz, surrounded by pebble tile accents at the top and face of the tub deck.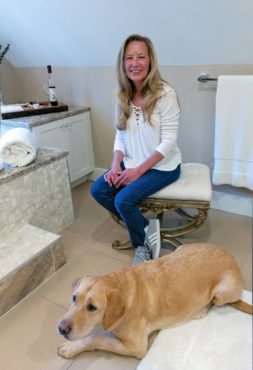 Other changes included cabinetry to tie into her existing vanity cabinet, which was refaced with new doors, drawer fronts and hardware; and new quartz countertops and matching backsplash with new Kohler fixtures. Also added were two tower cabinets on matching quartz plinths to protect the cabinetry from any water on the countertop. In the shower area there's a new half wall for privacy, a corner bench, a large recessed niche and metal shower hooks for hanging accessories. All new Kohler plumbing fixtures and grab bar were added.
The crown jewels are the cabinet door and drawer crystal knobs, crystal pendants and Tammy Byergo's favorite, the crystal chandelier. The inspiration behind these fixtures came from a set of candleholders she had in mind for decorating her new bathroom. The entire project was a complete joy for all parties involved.
Partners:
Sunset Electric; Swift Plumbing; FloForm Countertops; Bill's Glass Co. and August Artisans (glass fabrication and install); Stonehenge Custom Tile & Stone; Kitsap Kitchen & Bath Co. for all design, demo, framing, trim and cabinetry installation. Randy Torres was the project manager, assisted by Lacey Collins and Natalie Collins Shaw, designer.
---
Seaside Solitude for a Master Suite
This master bath suite was in need of an update. The homeowner wanted her space to feel like the waves and sea were at hand, while including luxury and function at her fingertips.
The shower was a complete redo — everything was replaced. It now has a glass surround with a wide door for easy access. The shower floor is curbless, so there's no more stepping over a 4-inch bump. The floor material in the shower is flat-top pebbles, with the homeowner's beach glass puzzled in for fun. The drain was also selected to go along with the beach theme. The new tile on the walls and around the tub has a sandy-beach look with a wave relief in a large-format tile, accented with shimmering glass.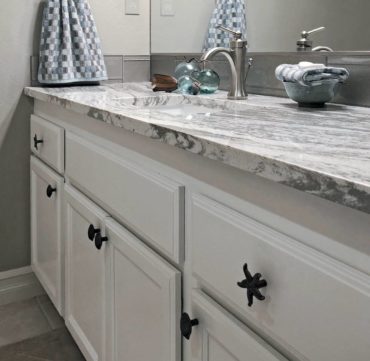 Special personal touches were incorporated into every piece of the bath. Inside the new niche, which can accommodate all the shampoos, a carved lighthouse made of stone and beach glass were united into a design so the homeowner could recall memories while she is sitting on her new shower seat.
The star of the vanity is the new countertop. It waterfalls down one side to the floor, with a perfect book-matched pattern. Made of quartz, it's easy to maintain and has multihued streams of copper gold, fog and greige, plus wisps of warm earth tones against a soft white background. You have that feeling of sand drifts, which the homeowner fell in love with.
The same quartz was also used as accents in the shower for the seat and by the tub. The vanity itself was in tip-top shape and functioned well, so it received a professionally applied coat of paint for a fresh look. New sinks and faucets with single levers were added. For another personal touch, there are beach-glass knobs.
Good lighting is very important and sometimes forgotten, so the sconces above the vanity were replaced, and recessed lights were added throughout the bathroom.
The homeowner now loves getting ready for her day in her new suite. She has her beach theme, but it was designed thoughtfully so it's not overdone. Her personal touches make the new space unique, functional and fun.
Design by Nancy Finneson, DeMane Design
---
Lavish Master Bath Suite
A move to a new city and home deserved a fresh, new master bath. The prior style and function of the bath didn't meet the new owner's lifestyle and taste. The bath had a large jetted tub with Tuscan tones. The desired new look was for fresh whites and touches of blue and gray.
A lavish shower takes the place of the bathtub the new homeowner didn't want. The new shower imprint is spacious. It has multiple shower heads, one for everyday showering and one to use while relaxing on a long, floating bench made of quartz. The bench will also allow the homeowner to easily wash her beloved dog without having to bend down.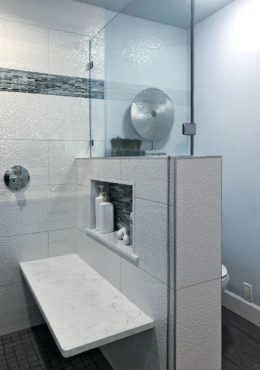 At a convenient location is a large niche that can hold shampoos, soaps and all those bathing accessories everyone needs. A glass surround with a large door fills the space with light and makes it feel open. There's a new, better functioning vanity in a soft white color. For the closet at one end of the bath, the door was removed and a large mirror was placed inside to open up the space more.
The new finishes complement each other well. The walls are in a lovely shade of blue, which is very relaxing and soothing. The floor tile is a large-format porcelain in a gray tone. The shower tile is simmering with a luminating glow in a pearly white that has a relief to it for texture. A unique, handmade glass-tile mosaic was used for accents that tied in the overall feel of this tranquil master bath.
The homeowner loves getting ready for her day in her new suite. Moving was a new adventure and now she has a new master suite that functions and complements her style and needs.
Design by Nancy Finneson, DeMane Design
---
Creating a Spa-Like Master Bath
The Block residence master bathroom originally had a 1980s vibe to it. With white tile everywhere, oak cabinetry and a neo-angled shower, the home was stuck in another time period. There was a jetted tub in the current vanity location and a dated single-sink vanity in the area of the current tub.
Upon hiring the contractor, Fairbank Special Services, LaVonne Block decided to bring in Janet Weber to assist with color and interior design.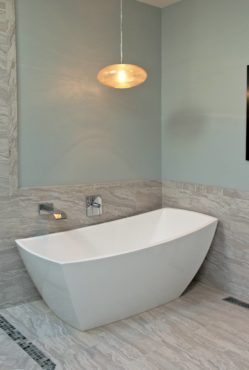 After some space planning and on-site meetings, Weber and the Blocks came up with the current bathroom configuration. They decided to locate the new, double-lavatory vanity between the windows. This allows for natural light and is lovely to see when you walk into the space.
To enhance the floating vanity, toe-kick lighting was added for more drama. The slab quartz countertop, specialty mirrors and wall-hung sconces completed the new, spa-inspired look.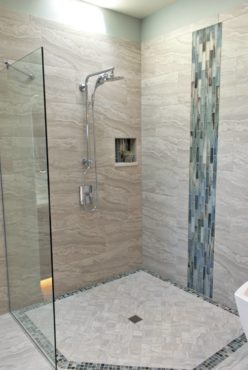 The Blocks decided to install a shower with no curb or door for "aging in place." A clear pane of glass was installed to separate the shower from the rest of the space.
The glass accent tile is used on the far wall and conjures up images of a tropical waterfall. This same glass tile, in a different size, is used as a border tile to designate the shower floor. This tile is also used in a different size and direction on the shower floor.
Originally, there was another lavatory located just outside of the closet door. It was cramped and awkward so it was replaced with a dresser, which added much-needed storage and countertop space.
The contemporary, freestanding bathtub; wall-mounted tub filler; and floating, oval light fixture over the tub enhance the spa feeling of the bathroom. The sand-inspired tile and the soft-green wall color (called beach glass) help create the soothing overall feeling of this bathroom.
Partners:
Interior designer: Janet Weber Interior Design
General contractor: Fairbank Special Services
Cabinetry: Creekside Cabinet and Design Inc.
Painting: Lyons Painting
Interior finishes: Creative Countertops, Inc.
---
Hotel-Chic Master Bath
Photography by Brian La Freniere
This master bathroom en suite addition was a labor of love. The clients had remodeled the rest of the condo and they, along with interior designer Alinda Morris, had selected a collection of finishes that they were able to take to the next level during this project.
Creating a hotel-chic vibe meant using materials and finishes that had an understated luxury to them. They also needed to transition seamlessly to the existing space.
The layout and overall space is very functional. The custom Kohler vanity cabinets have plugs inside, so personal items can be stored out of sight. The custom closet features a washer and dryer and personal touches such as a handy pull-out hamper and "his" and "hers" storage.
Design by Alinda Morris Interior Design
---
Log Home Bathroom Remodel
Photography by Tom Woltjer
This renovated log home embraces its surrounding of woodlands with a mixture of wood cabinetry and natural materials throughout the home. VG fir doors and trim, as well as hardwood flooring, also complement the log walls.
Full-length mirrors, installed wall-to-wall, give each of the bathroom vanity areas a seamless, almost infinity landscape. Instead of having a typical medicine cabinet in the two main bathrooms, vintage, full-length storage cabinets run the length of the vanity countertops installed below the full-size mirrors, each with sliding doors.
Why install just a sink and a faucet, when you can install pieces of art that are also functional? Embossed dragonflies adorn a pair of hammered-copper sinks in one bathroom, complemented by vintage copper fixtures. The other bathroom has a spun-copper sink that has been paired with a squared-off waterfall faucet.
Design by Connie LaMont, LaMont Design
---
A Very Inviting Bath
This inviting bath is ingenious with its creative floor plan and use of materials. The owners wanted a functional yet distinctive and artistic space. Since the space is small and the homeowners needed a full bathroom, making the room feel large was an important part of the design layout.
The remodel started with moving some walls and adding a skylight. The original bathroom was without windows and had poor ventilation. The skylight lets in natural light and fresh air. It operates with a remote, so when it rains, it closes automatically thanks to a solar-powered sensor.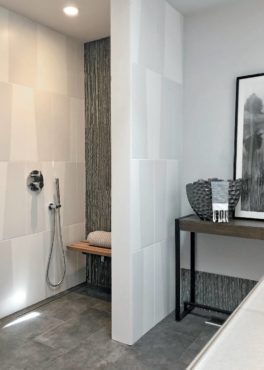 To achieve a broad visual footprint for the small space and an open feel, many pieces were raised off the floor. To start, a wall-hung vanity was installed to look like it's floating. The vanity has glass-laminated panels and doors, and fabric was laminated in the glass for a one-of-kind surface. The countertop and sink are molded from one piece of glass. A high-arc faucet enhances the sleek look of the vanity. Above, sconces that look like rock crystals are on either side of a recessed medicine cabinet with a large mirror. All these features increase the open feel of the bathroom.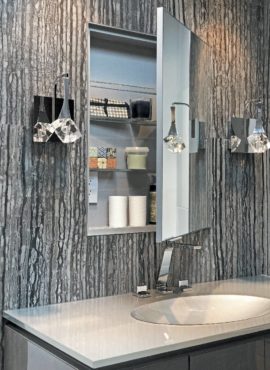 Keeping with the plan, a wall-hung toilet was used. The new toilet also includes a washlet with an array of automatic features that are fun and functional, such as a night light, auto flush and more. The floor is always toasty warm with in-floor heating that even reaches into the shower.
Currently, a simple console table has been placed with artwork above it. Later, a wall-hung cabinet will be installed for some extra storage.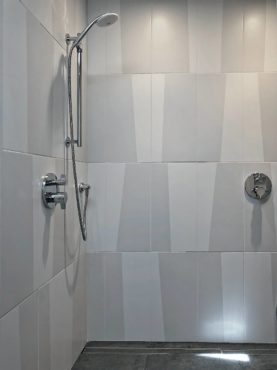 The shower is generous in size and comfort. A folding bench is an enjoyable feature — the seat can easily be up or down as needed. It also has a hand shower and its own set of controls conveniently close to use while sitting. The bench is made of teak (warm to sit on and easy-care). A convenient niche with shelves can accommodate numerous items. The glass door is wide for easy access, with a curbless entry and an infinity drain so the floor seamlessly blends with the rest of this space.
All the finishes are distinctive. Zebrano marble, a very striking stone with rivers of veining, accents the vanity and a wall in the shower. The floor tile is a porcelain tile that mimics the look of leather, with a very tactile look and feel. The other tile used has a unique geometric pattern that complements the other materials exquisitely.
With thoughtful design and planning, this space feels open and uniquely personal to the homeowners.
Design by Nancy Finneson, DeMane Design
---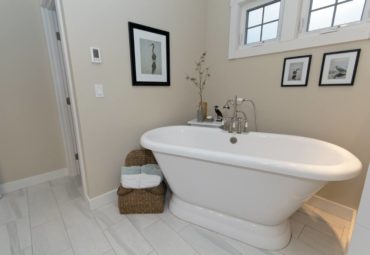 Coastal Living Style
Photography by Tom Woltjer
This Indianola home went through an extensive renovation, and the master bathroom was a large part of it. The goal was to create a "tailored organic" interior.
The foundation of this five-piece bathroom is the 12-by-24 porcelain tile, which has the look of white-washed shiplap. It's a durable "organic" foundation for the white cabinetry. There's also a white-enameled, free-standing slipper tub. It's a tub for two, with a brushed-nickel, vintage-inspired fixture, sporting a hand-held wand that's not just a faucet but a functional piece of art.
A tailored look was achieved for the double vanity with a "Oyster" PentalQuartz countertop with two undermount Kohler "Archer" sinks. The "sliced pebbles" backsplash was done in a freeform layout, creating that organic feeling as it meanders its way across the back of the countertop and spills off the ends.
The large, walk-in shower has the same sliced pebbles on its floor, pulling together some of the flair from the vanity area. The shower walls have been installed with a 3-by-6 white subway tile.
A large window gives an even more expansive feel from within the shower. And, the radiant heat, installed throughout all the flooring, found its way up onto the bench seat, adding even more attention to detail.
A few simple accessories adorn this peaceful setting, including some original seaside photographs taken by the homeowners and framed simply in the tub alcove.
Design by Connie LaMont, LaMont Design