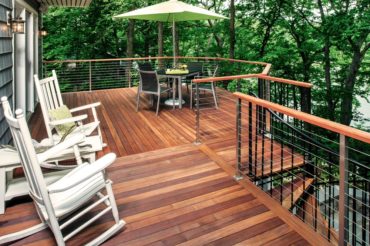 Successful entrepreneurs often have an "ah-ha" moment or two that can change the course of their company. Angelo Toglia's epiphany occurred one hot summer day 15 years ago while he was returning from Seattle on the Bainbridge ferry.
Toglia, co-owner of Bainbridge-based AGS Stainless Inc., and his crew had just spent the day constructing a tricky staircase railing for an upscale home on the East side. It was exhausting work, cutting the stainless steel to its exact width and length, making precise welds, bending the product to fit the space and dealing with a finicky customer.
When Toglia finally began to unwind in his truck on the ferry, a brilliant thought passed through his mind: "What if we could do this all by mail order?"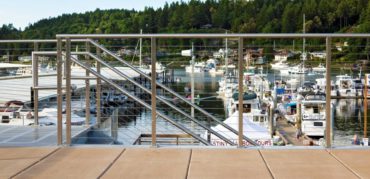 When he returned to his office, he ran the idea past his longtime partner, Gary Giffin, who loved it. Together, the two set out to transform a small, specialty shop with four employees, focused mostly on custom jobs for high-end clients, into a worldwide manufacturer and distributor of stainless-steel railings for homes and businesses.
Today, AGS is located in a cozy, 9,000-square-foot building in the Day Road Business Park on Bainbridge and has 50 employees. Its customer base stretches from Bainbridge Island and the Kitsap Peninsula to Canada, Guam and the Ivory Coast.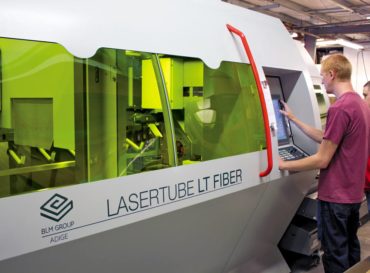 "We determined that if we could eliminate the welding aspect of the process, then anyone could install the system," recalls Toglia with a gleam in his eye. "As we were loading onto the ferry, we came up with the preliminary component-system idea. It was very crude at first but it was quickly refined to an assimilation of our present system."
Translation: Toglia, Giffin and their team produced a simple way for do-it-yourselfers and contractors to install the AGS railings with few tools and little, if any, sweat equity.
"We've done away with the learning curve," Toglia says. "We only do stainless-steel railings. What separates us from the rest of the herd is there's no precutting involved [or welding]."
AGS manufactures its own trademarked line of custom-made, prefabricated stainless-steel railing systems for decks, porches, balconies, stair rails, hand railings, gates and other residential and commercial applications. Simply put, company designers take a simple sketch of a potential job provided by a customer and turn it into a computer-aided drawing that AGS' manufacturing team then uses to assemble, package and ship the product.
It wasn't always that easy. When Toglia and Giffin set out to reinvent their company 15-plus years ago, they used a white board instead of computer-aided drawings to fill orders and learned the critical fulfillment aspect of the business on an almost daily basis.
"The company's evolved," Toglia says. "It's like Rome — we weren't built in a day."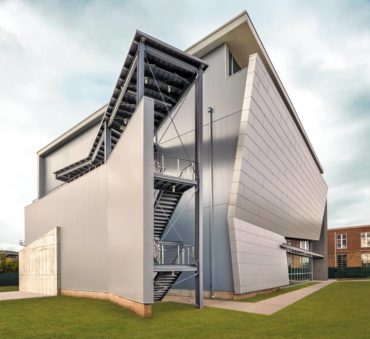 Toglia is a bear of a man who stands about 6-foot-3 and is a commanding presence in his domain. He spent his formative years in Rome, Italy, before his family migrated to White Plains, New York, when he was 11 years old.
The now-73-year-old got into the metal fabrication business working in an iron shop in New York City in 1970. After five years, he went out on his own and eventually migrated west to Tucson.
In 1990, he moved farther west and opened a shop in the sprawling Kent Valley. Soon after, he followed his brother and moved his family, and eventually his business, to Bainbridge Island.
"There was nothing to do at night (on the island) when we moved here," Toglia recalls happily. "That's why we liked it." Plus, the "Northwest had real jobs compared to Tucson."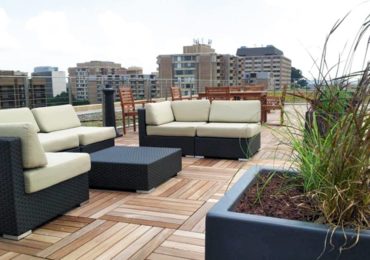 Toglia and the low-key Giffin teamed up 25 years ago to share each other's expertise in metal fabrication, stainless-steel manipulation and railings.
"At one time, we thought of selling the business," Toglia recalls. "(But) that's when we found out that we had no business to sell, as 'we' were the business."
This was back in the day when AGS and other competitors were primarily doing custom work for a mostly high-end clientele.
"It was real labor intensive," Toglia says. "Those people (customers) were very demanding."
However, a number of trends began to converge a decade and a half ago when AGS started re-engineering itself into a one-stop shop for stainless-steel railing systems. Stainless-steel cable was emerging as a more practical product alternative to acrylic glass for both commercial and residential deck and staircase uses.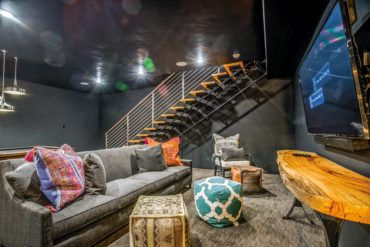 At about the same time, the internet was becoming a very user-friendly and affordable marketing tool for small companies like AGS to promote themselves.
"That was the impetus," Toglia says. "Folks found us on (our) website… We went from doing (mostly) mom-and-pop work to doing office buildings, university work [and so on]."
Another factor that's aided the company's rapid rise is that it no longer needed to rely on a trained labor force.
"Because we prebuild everything and ship it out, the quality goes up," says Kevin Harris, director of sales and marketing. "We made it affordable. We used to hire someone, and it would take two years to train them (to do welding and metal fabrication work). Now we can do it in two weeks."
Not surprisingly, automation is behind the company's increased efficiency.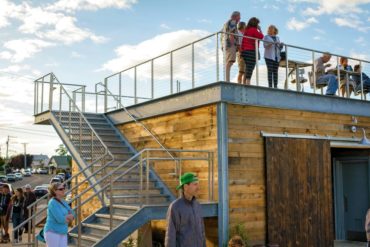 A few years back, AGS invested $1.2 million in a state-of-the-art machine using a fiber-laser-tube process that cuts and fabricates railings and cable to the exact specifications outlined in the company's computer-aided customer blueprints.
Operators plug in the numbers and let the machine's laser cutters do the rest.
"It does everything we used to do manually," Harris adds, "(but) in less than one-10th the time."
The innovations have paid off handsomely. AGS has grown an estimated 7 to 10 percent annually in the past 15 years and its annual gross revenues have jumped from just under $1 million back in the day to $7.4 million in 2017. It handles about 1,500 jobs a year, including many in the West Sound.
And AGS customers are happy with the results.
Steve Klinger runs SK Construction in Juneau, Alaska. Last spring, his crew, which had never used AGS products, installed a rail system for a local customer.
"Not only are they still raving about the quality of welds and machining," he says of his employees, "they love the ingenuity of the splice plates and were impressed by the overall quality. Best thing for me is they were able to install the whole railing in one day and the client is very happy."
Toglia, whose two sons work alongside him in the business, says the properties of stainless steel provide durability and make it suitable in almost any climate. That's one reason why AGS has installations in Florida, on the campus of Princeton University in New Jersey, in the desert climes of Arizona and, of course, throughout Seattle and the Pacific Northwest.
"Iron has to be painted," he says. "Aluminum coated. But as long as you keep (stainless steel) clean, you have the same product you started out with."
Toglia and AGS weathered the recession by finding customers half way around the world — thanks to the internet — and by continuing to innovate.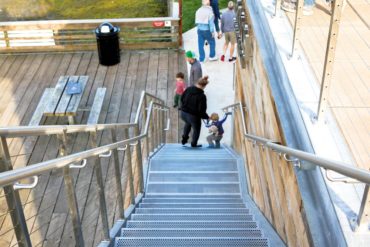 Amazingly, one of those far-flung clients was the owner of a vacation home at the exclusive Oil Nut Bay Resort in the British Virgin Islands, where AGS installed $130,000 worth of railings.
Today, to maintain a competitive edge, AGS orders steel by the container load and buys cable a half-million feet at a time. The railings now come in top and side mounts and are available in brushed finish and powder-coated colors to complement decks, staircases and balconies.
The company has also designed and built a solar-powered LED accent light — dubbed Starlight — that includes a stainless-steel shell casing and is aimed squarely at consumers who want to save on outside energy costs.
But what Toglia is most proud of is the ease with which his products can be put in place by the average homeowner or any contracting crew.
"We supply all the tools you need," he says, noting that AGS also rents out extra tools. "If you can hold a level and use a battery drill, you can install this system. It's that simple."