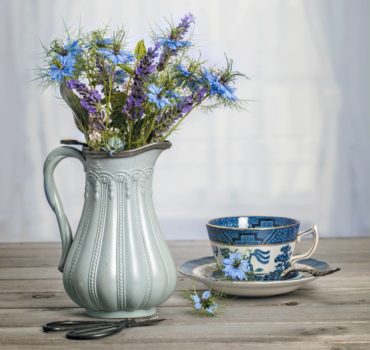 The kitchen is a cornerstone in any home. It's where we cook dinner and where we gather with friends and family for holidays. Everyone wants a beautiful kitchen, but remember, this is a functional space, as well. Choose finishes and materials that will stay on trend for years to come.
---
Contemporary Farmhouse
The homeowners knew at the time they purchased their house that they would need to remodel the kitchen and the laundry/mud room. In fact, they didn't even unpack the majority of their kitchen items.
Each spouse had a list of specific criteria for the project but with a symbiotic sense of style. Cabinets and counter surfaces were important to the wife, spatial relationships were critical to the husband, and lighting was important to both. They planned to live in the house through the entire winter remodel, along with their two preschool-aged children.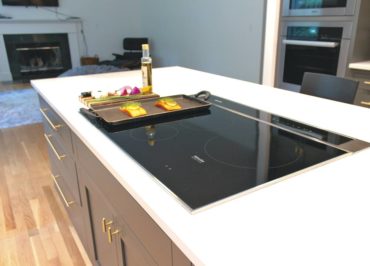 There was an enormous amount of wasted space, very little storage in the kitchen, and a severe shortage of space in the laundry/mud room. Adding to that were failing kitchen appliances, a hard-to-open garden window and tired vinyl flooring in the laundry/mud room.
The project criteria necessitated the moving of a load-bearing wall and a portion of the heating system. As extensive as this remodeling project was, general contractors Molly McCabe and Clive Pardy of A Kitchen That Works, LLC know that good planning is the key to a successful remodel. Ultimately, moving the wall provided the necessary cavity depth for the refrigerator and ovens in the kitchen, as well as a coveted boot bench in the laundry/mud room.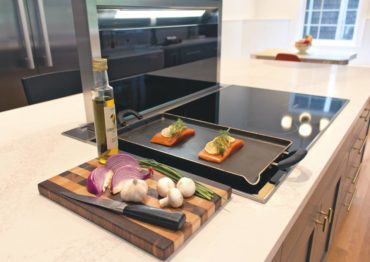 By removing the kitchen peninsula, the homeowners' goal of creating a better relationship with the family room was achieved and a kitchen island was born, providing the perfect location for the cooktop and ventilation, cooking equipment storage and casual seating.
Taking the wall cabinets to the ceiling eliminated the dust ledge, provided more storage and gave the homeowners a place to express their decorative talents. The built-in banquette provides a location for afterschool snacks and homework supervision (in the not too distant future). The owners both enjoy good food and entertaining. Now they have everything they need — a steam oven, wall oven, induction cooktop and refrigerator/freezer — to host their large, extended family and friends for a variety of celebrations.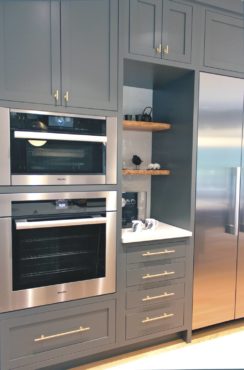 The remodeled laundry/mud room is more ergonomic, with an expansive countertop for setting down shopping bags as well as folding laundry. And, it is undeniably more welcoming. Shoe storage, coat and backpack storage, a built-in drying rack over the sink and taller and deeper cabinets help keep this room — and the homeowners — more organized.
After the start of construction, the couple concluded that the plain-vanilla powder room would look out of place with the adjacent remodeled spaces. A new toilet and wall-hung sink and faucet were paired with tile wainscoting and custom millwork for a built-in mirror and medicine cabinet, resulting in a beautifully cohesive look.
Lastly, by combining LED recessed can lights, LED undercabinet lights, LED puck lights and pendants with dimmers, the homeowners were able to achieve the right lighting scenario for every occasion.
What was once just a house is now a home.
Partners:
Contractor: A Kitchen That Works, LLC
Countertops: Caesarstone Calacatta Nuvo (kitchen) and Corian Modern White (laundry) by Creative Countertops
Live Edge Floating Shelves: Madrona by David Kotz of Coyote Woodworks
Appliances: Miele
Inset Cabinets: Dura Supreme Cabinetry in Storm Gray with brushed brass pulls
Tile: Stonehenge Custom Tile & Stone
Cabinetry & Millwork installation: Nyman Construction
Pendant lights: Cedar & Moss
---
Operation: Redo
A few years after completing their master bath, the homeowners asked A Kitchen That Works, LLC to return and make their very dysfunctional kitchen…functional. Failing appliances, tile countertops with large grout joints, inadequate lighting/storage and terracotta tile floors made for an unattractive space that was difficult to work in.
On the top of the wish list was more functional storage (pull-out pantries, chef's pantry, pop-up mixer, tray dividers, pull-out trash, pot-and-pan drawers, roll-outs and more), more counter space with electrical outlets on the island, a beautiful end-grain maple butcher-block counter across from not one but two sinks, an induction cooktop, a steam oven and more lighting options (cable and rail and undercabinet lighting ensures there is a good light level for every task).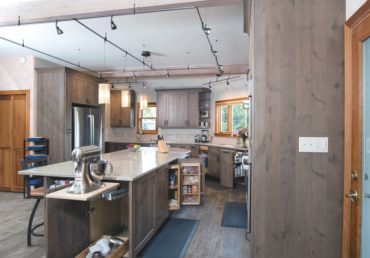 The kitchen had been designed and built by the original homeowner, and needless to say neither design nor building was his profession. What's more, the entire house has hydronic tubing in gypcrete for heat, which means no utilities (water, ventilation or power) could be brought up through the floor or down from the ceiling except on the the exterior walls.
The current homeowners love to cook and have a seasonal garden that generates a lot of lovely fruits and vegetables for both immediate consumption and preserving; hence, kitchen counter space, two sinks, the induction cooktop and the steam oven were all "must haves" for both the husband and the wife. The beautiful wood-plank porcelain tile ensures a slip-resistant floor that is sturdy enough to stand up to their three four-legged children.
Utilizing the three existing j-boxes in the ceiling, the cable-and-rail system combined with the undercabinet light illuminates every corner of this formerly dark kitchen.
The rustic knotty alder cabinetry, wood plank tile floor and the bronze finish hardware/lighting all help to achieve the rustic casual look the homeowners craved.
Partners:
Contractor: A Kitchen That Works, LLC
Cabinets: Dura Supreme knotty alder Nyman Construction
Countertops: Creative Countertops
Tile: Stonehenge Tile & Stone
---
Spacious and Light
After living in her home for a few years, Katie Wainio knew her kitchen just wasn't what she wanted. There were mixed materials, it was dark and the dining room was not functional.
Wainio and her mother, Amy, had previously hired Kitsap Kitchen & Bath for other projects, so they knew who to call.
After Wainio and Mark Thomas (project manager) drew up the plans and chose the materials, the first order of business was to remove a wall, which opened up the kitchen and dining room. The dining room was converted to a common space adjoining the kitchen.
New cabinetry by Kitsap Kitchen & Bath was installed — raised-panel alder with Beachwood stain. The countertops and backsplash are Cambria; the flooring was replaced with 8-by-40-inch porcelain tiles from Bedrosians. The new flooring would hold up well under Wainio's two active children and their dog.
Lighting was reworked with canned LED lights and concealed undercabinet LED lighting.
The walls were repainted with Benjamin Moore's Regal Select paint.
In addition to a total kitchen remodel, other areas were also addressed:
Front door relocated and replaced with French doors
Remodeled powder room
Laundry room remodeled for functionality
Revised stairwell landing
Relocated two windows
Corner eat-in nook and window seat created off the kitchen
In the end, Wainio was pleased with the remodel and happy that the two chandeliers she already had were incorporated into the new design. A beautiful transformation from start to finish.
Partners:
Contractor: Kitsap Kitchen & Bath — Mark Thomas, project manager
Cabinetry: Kitsap Kitchen & Bath
Flooring: Porcelain Tiles
Countertops: Cambria
Appliances: Nilsen's Appliance
---
Creative Metalwork
When PJ and JoAnne Zellinski decided to remodel their very tiny kitchen (which had only one window overlooking the driveway), they knew just whom to call — Dale Armstrong of Orca Remodeling. Armstrong had remodeled other parts of the home over the years.
The couple wanted to vastly expand the kitchen by taking over the small family room and to open it up to their waterfront view. Armstrong and architect Frank Knox created the original design with input from the homeowners, who both wanted an industrial-type look.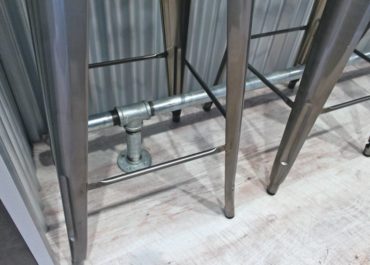 The entire project took 10 to 12 months, and included a new concrete patio. The project was completed in time for the couple's waterfront wedding and reception.
Partners:
Custom cabinetry: Creekside Cabinets
Custom metal backsplash: JPL Habitability
Appliances: Nilsen's Appliance
Metalwork on deck: Dale Armstrong and Kitsap Powder Coating
Paint: Sherwin Williams
Outside bar: Miller Sheetmetal
Concrete: Kitsap Custom Concrete
---
Stunning Contemporary Kitchen on a Budget
Ed and Sarah Lisinski purchased their home in December 2013. The entire house was neglected so they had to do some expensive, but not-so-fun projects first (roof, hot water heater, heat pump, etc.). Though the home was built in 1992, the kitchen was outdated and bland, but they knew they could make it special by carefully choosing the right appliances, materials and tones.
The kitchen had to be done on a budget, be contemporary by today's standards and incorporate a couple of "wow" features. It had to have storage and a pantry. It also had to stay in the same footprint because even though it could have been grander by moving appliances and plumbing around, there wouldn't be enough of a positive effect to compensate for the expense.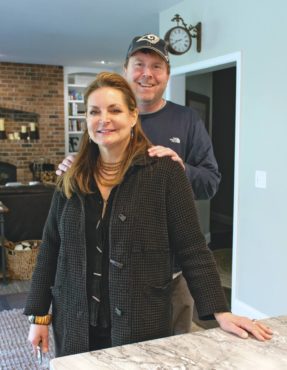 Sarah's parents were Italian and Greek and cooked very ethnic and tasty food. She agrees now that after having a nicer kitchen to cook in, she does feel more inspired. The couple added a gas range that they're very pleased with. Now, they do cook a bit, and for the dogs too!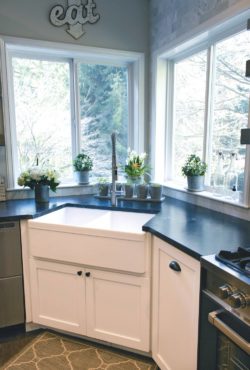 The only things Sarah would have done differently is open all appliances as soon as they were delivered (they were stored in the garage and the Lisinskis didn't know there was a broken door on the microwave before they were ready to install and at that point, it was too late to return). Ed notes he would consider purchasing the cabinets unpainted and have them painted after installation.
The counter on the island is a marble called Super White leather and the perimeter counters are titanium brushed granite. The tile backsplash is marble, as is the mosaic behind the stove. Paint on the cabinets white Chantilly lace and the island is Witching Hour.
Partners:
Cabinets: Markay Cabinets, installed by Corey Barcus
Countertops: Creative Countertops
Floors: Salisbury Floors
Tile: Tile for Less, Seattle, installed by Jack Holt Design
---
Multigenerational Kitchen
Kitchens come in all shapes and sizes. A young, professional couple, looking to start a family, were hoping to flesh out their empty slab-on-grade daylight basement with a fully functioning kitchen while improving the overall comfort of the basement area. The plan was for their parents to help with child care for the new arrival while they are away at work.
Both the husband and the wife come from cultures that embrace multigenerational living. The wife's parents were already living in the home, while the young couple were living in the city in an apartment, but coming "home" on weekends.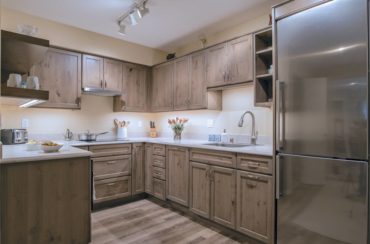 After design collaboration with A Kitchen That Works LLC, the work began. New, LVT flooring with a thermal backing was installed throughout, with the exception of the two bedrooms, which received new carpeting, making the space much more comfortable. Four energy-efficient wall radiators were added to supplement the forced-air heating system, and much of the daylight basement was repainted.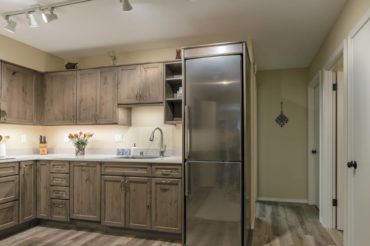 Three blank walls, comprising a total of 84 square feet, were transformed into a spacious, fully functioning, self-contained kitchen. Existing water supply and waste lines from the adjoining store room (originally designed to be a darkroom for the previous owner) were utilized to provide water to the refrigerator, sink and dishwasher.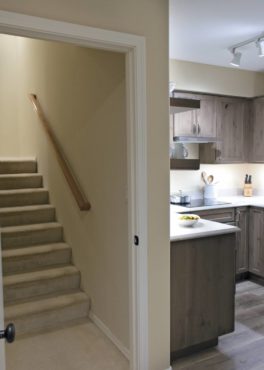 Electrical and exhaust ducting was also routed through the adjoining store room, avoiding the need for drilling into the slab or foundation walls.
The new kitchen has been a big hit. Now the families gather around the smaller basement kitchen rather than the main kitchen upstairs.
The parents can finally feel like they have their own space, and the young couple has a great venue for future entertaining in the backyard.
Kitchen features include:
Three-burner induction cooktop
24-inch retractable exhaust hood
24-inch microwave/induction oven
18-inch dishwasher
24-inch counter-depth refrigerator/freezer
Undercabinet LED lighting
LED track lighting
Partners:
Contractor: A Kitchen That Works, LLC
Cabinets: Dura Supreme knotty alder
Cabinetry and Millwork: Nyman Construction
Flooring and Countertops: Westshore Interiors
---
Transitional Craftsman Kitchen
Blair Nichols is a master at making a house a home but the dark kitchen finishes in the first "together" home she shares with husband Mark had her flummoxed. Limited storage (resulting in counter clutter) and the lack of lighting options in the combined dining-kitchen space were adding to her cooking and decorative challenges. Having spent a fair amount of time deciding what wasn't working for them, the couple decided the only remedy was a remodel.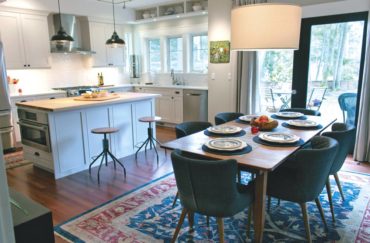 They had a good idea of what they wanted and needed but recognized the value of working with design-build professionals to help guide them through the process. They turned to Molly McCabe and Clive Pardy of A Kitchen That Works LLC to help them make their dreams a reality.
The new cabinets and countertops are light and bright — Dura Supreme cabinetry in linen white are paired with Cambria Quartz in Newport. Previously tiered and covered with granite tiles, the island was moved and enlarged and is now covered by a single-level, maple, butcher-block top. Blair Nichols appreciates the microwave/convection oven built into the island.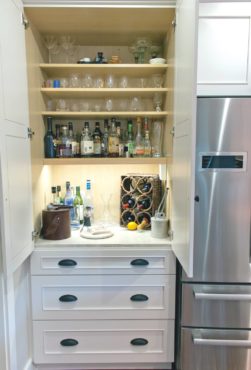 A variety of lighting options ensures that there is the right light level for every task and every mood. LED undercabinet lights, recessed can lights, puck lights (embedded in the open-shelf cabinet above the sink) and the cable-and-rail system are supplemented by incandescent pendant lights over the island and a drum pendant over the dining room table.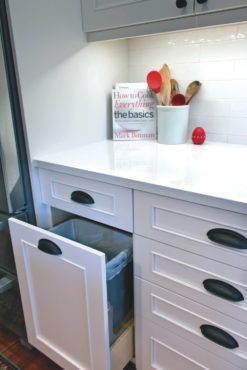 The chimney-style hood, surrounded by textural wall tiles, provides good ventilation for the propane range below. The counter-depth refrigerator keeps the kitchen feeling spacious. The Kohler cast iron undermount Executive Chef sink in white is paired with a Moen Motion Sense Arbor Faucet.
The kitchen desk was replaced with a more practical pantry, providing even more storage.
The corner fireplace was replaced with a more contemporary model — and it's taller, so when you are seated at the table, you can enjoy a view of the flames.
Mark and Blair Nichols have been able to create a space that represents them as a couple. They were delighted that the project finished on time and they were amazed at the quick response from A Kitchen That Works and their team.
Partners:
Contractor: A Kitchen That Works, LLC
Backsplash: Stonehenge Tile & Stone
Island butcher block: Creative Countertops
Windows: Hager House
Paint: Benjamin Moore by Apex
Plumbing: West Sound Plumbing
Quartz countertops: Cambria by Floform
Cabinetry and millwork: Nyman Construction