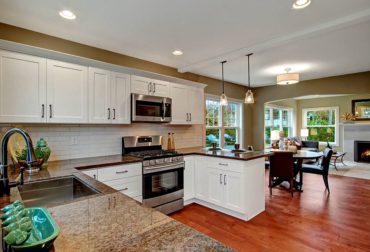 The arrival of an AARP invitation in the mail can be a trigger that sends a person off like the proverbial dog looking for its forever home. It may come as a shock —"What?! I'm nowhere near old enough for retirement!" — but that one little invitation turns the idea of aging into a personal reality, and a subtle process begins. High on any wish list for aging is continued health, which directly impacts self-sufficiency and autonomy.
For many people, those desires are now fulfilled by staying in their homes — forever.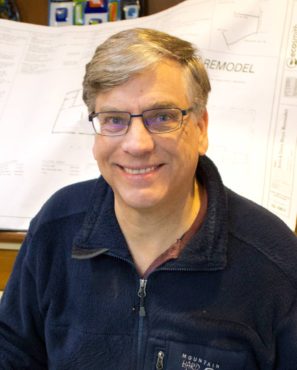 In a wide-ranging conversation about designing "forever homes," Bainbridge Island architect Christopher Gutsche of Ecosmith Architecture + Consulting points out the obvious: Aging never stops. From babyhood to elderhood, needs change, but many issues relegated to aging are encountered throughout life.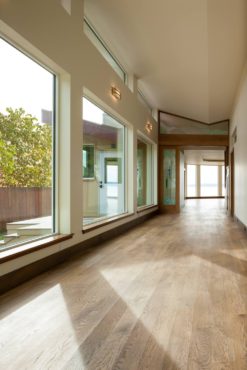 Consider walking with a sprained ankle or carrying a baby with a toddler hanging on your leg, and how that changes your approach to stairs. An illness or injury makes a long hall between a bedroom and bathroom or kitchen seem like an impossibility. Permanent or temporary disabilities requiring wheelchairs, walkers or crutches demand environments with open areas throughout.
Gutsche (pronounced Gucci) uses a thoughtful approach to environments by considering community design and how it helps or hinders socialization and movement through neighborhoods and towns in ways that support self-sufficiency for all ages and abilities.
Thanks to the 1960s activists who advocated for children, the differently abled and elders, public buildings and spaces must conform to accessibility standards that allow more people to participate in life. Since the Americans with Disability Act (ADA) was signed into law July 26, 1990, accessible routes of travel into and throughout buildings and accessible bathrooms are mandatory. Ramps, elevators and curbless sidewalks at intersections are accepted as the norm.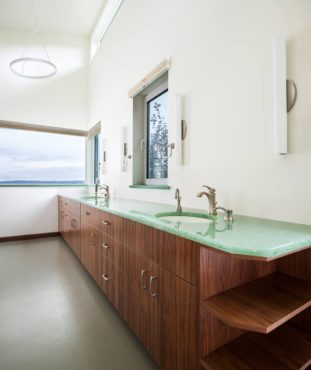 The towns' links to nature through parks, paths, waterfronts and squares create gathering spots and invite social interaction. People settle in towns where safety, access and social and emotional needs are met and turned into full lives and personal activities.
"We are integrated into towns in ways we overlook until it is gone," Gutsche says.
A simple move to the other side of town disrupts these hidden joys and creates problems for elders who lose daily social and family contacts that maintain mental and emotional health. Who will drop by with groceries or homemade soup delivered with a hug?
"Some of the principles of accessible design in public buildings have begun to migrate into residential design, particularly as we consider aging-in-place," Gutsche says.
A level transition from outside to inside of the homes and curbless showers in the bathroom allow easy access whether the issue is a knee, a hip or a wheelchair. Benches installed in showers assist with physical challenges like broken bones, an illness or recovery from an operation, or simple aging. Avoiding hard, slippery surfaces, especially in bathrooms, enhances safety for all ages. Wheelchairs and crutches benefit from new standards for wider doorways and halls.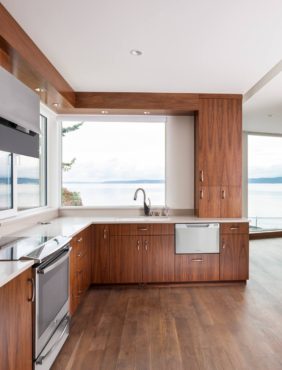 Increased lighting in task areas like bathrooms and kitchens can be designed into homes, as well as flooding interior spaces with natural light. Connections to gardens improve mood and encourage exercise. Front porches act like public squares, inviting contact with neighbors who may notice a change in routine as a signal for help.
Other features that aid in moving through the home are lever-style door handles rather than knobs. These are easier to use for toddlers as well as arthritic hands, broken arms and aching rotator cuffs.
Pull-out shelves or drawers in base cabinets provide access for children and individuals in wheelchairs. A built-in kitchen desk or chair-height island morphs into places to sit and prep food if you can no longer stand for extensive kitchen tasks or hop up onto bar stools to socialize.
These helpful, flexible designs can be incorporated into homes when planned ahead. If they aren't there when needed, the expense of remodels to put such items in place often surprises homeowners, Gutsche says. "Adding grab bars and ramps are straight-forward additions. Remodeling kitchens and baths is a different story."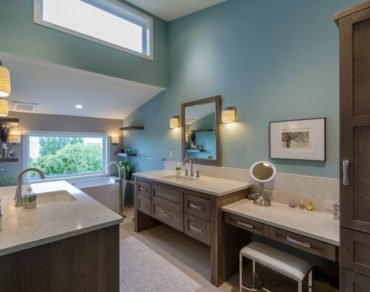 If the decision is made to forego a remodel and move, expenses associated with selling and buying homes come into play. Either option is stressful and disruptive to an active retiree, much less one experiencing day-to-day living and health challenges.
When all these considerations are taken into account, a forever home begins to seem like a necessity instead of a luxury.
"This is the job of architect and designers, to enhance our quality of life — throughout our life — in the buildings we inhabit. Every home can be a forever home," Gutsche says.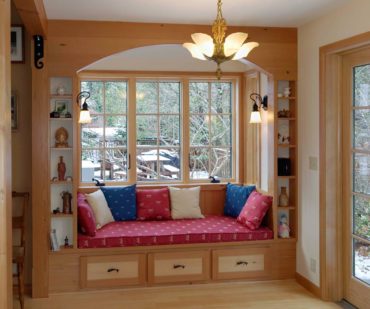 The requirements of the people who live together in a home change over a lifetime, too. Small children have their own needs. Some come with nannies and some with grannies. Is there a separate bedroom and bath to support their privacy?
Parents want to give teenagers freedom from constant supervision, but want them close at hand. Are there active spaces for both children and adults? The nanny suite shifts to a teenage haven.
Parents juggling home and work seek efficient spaces. Children leave home and their bedrooms then change into craft rooms or spaces for visiting grandchildren. Later, the nanny/granny/teenager suite houses a caregiver or an adult child who makes longer, more frequent visits to aging parents. It's like building a house for Goldilocks: It needs to be not too big and not too small, but just right.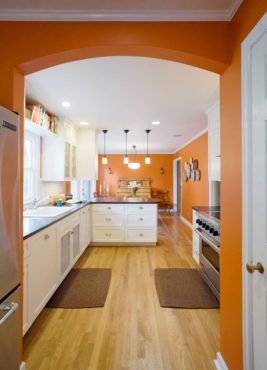 Ecologically, Gutsche says that consumers who advocate for personal and planetary health pushed the building industry into making safer products. Mechanical systems impacting health, comfort and maintenance like generous eaves, enclosed crawl spaces, efficient heating systems, weatherization and insulation must be built into the building itself. These features save money over a home's life but are expensive to upgrade in remodels.
With the right professional, designing a forever home early in life can be the most economical, ecological and emotional solution to the ultimate concerns of elderhood: continued self-sufficiency, autonomy and engagement in the community.
And any dog can tell you: Finding your forever home sooner rather than later brings a lifetime of pleasure and security.