Trends in home design for 2018 run the gamut from simple and strong to stunning and dramatic.
Just like in fashion trends, there are always hot new colors and styles — and it's tempting to feel like you need to revitalize your home every year to keep up. Colors are running from dark and murky to a few pastel shades.
But as any good designer will tell you, trends are simply a guideline for possibilities.
The best trend is the one that suits your personality and lifestyle.
We've asked our designers what they see as some returning and emerging trends this year — and for advice on how you can incorporate some of the fresh ideas into your home.
---
Alinda Morris
Alinda Morris Interior Design LLC
Gig Harbor • 253-579-8431
alindamorrisinteriordesign.com
alindamorris [at] gmail [dot] com
Alinda Morris is a nationally published, award-winning interior design professional, habitual remodeler, adventurous creative, entrepreneur, wife and mom, specializing in full service, luxury residential interior design: Custom furnishings, unique kitchens and artfully designed bathrooms, attention to details, and clean, updated spaces are her specialties. She has the experience, education and talent to provide interior styling that includes furniture procurement and installation. She also offers thoughtful space planning, detailed floor plans, elevations, sketches, finish selections, cabinet drawings and furnishings to take your remodeling project from beginning to magazine-ready completion.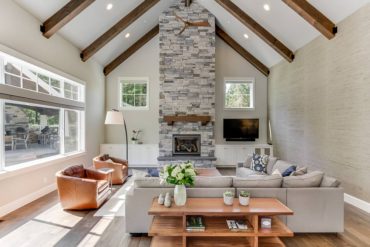 Durability and practicality are the new trend — the bold, eccentric, often expensive decorating ideas of the previous year are gone. Reasonably priced, practical and comfortable are the design trends for 2018. "Layering a few new things can update your home with luxurious and trendy comfort," Morris says.
First and foremost, she recommends making the most of what you have. Decluttering and decorating all the areas of your home, including small areas, often called micro-zones (think reading nooks, meditation spaces and home offices), can make a big impact.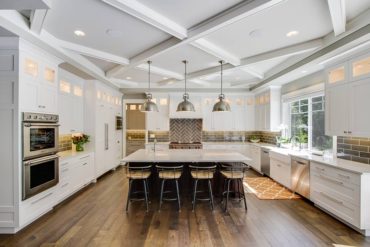 Windows and doors: In materials, wood windows and entry doors still maintain a strong presence. Water-resistant technology is giving homeowners more options for wood entry doors.
The "moveable wall" trend has produced lots of multipanel products in both pocket doors and accordion styles that offer expansive interaction with the natural environment. "This trend is an investment and will be seen in luxury and high-end applications," she says.
Interior barn doors will still be popular for their versatility and visual interest.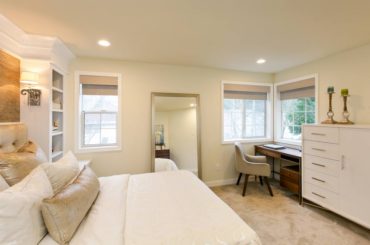 Lighting: Layered lighting is in. Bright and spacious interiors feature unique lamps and creative lighting inspired by nature, with lots of textures: gorgeous handmade rattan lights, laser-cut plywood, natural-fiber pendant lights and even concrete.
"We are still seeing lots of ultra-glam fixtures, burnished brass and muted tones, like rose gold, being incorporated into interiors in every way," she says. "It plays well with other metals and can add a touch of luxury. We will see this mixed with dark, rich wood tones and hues brightly lit. It is both dramatic and lovely."
Finishes: Driftwood and cerused oak finishes are trending right now and texture is key. In fabrics, velvet is going to be everywhere.
Tiles and counter surfaces: Durable surfaces are in. Sintered stone (also called "ultra-compact surfacing") products like lapitec and neolith are extremely high quality and durable. "They can be pricey but they won't melt, crack, split or fade. They are abrasion resistant, and will also help keep your kitchen bacteria-free. They are ideal for countertops as well as exterior cladding," she says.
Natural-quartzite stone countertops are beautiful and extremely hard, so they do not scratch or etch the way other natural stones can. "These natural surfaces are not to be confused with manmade, engineered stone products," Morris says. "While popular for their consistency, these countertops can scratch and are not rated for outdoor use."
New technology: Scientists have developed synthetic fabrics that are stain-resistant at a molecular level, light-resistant so that they won't fade in sunlight and breathable so that they wick off moisture rather than absorbing it. "These fabrics are soft and have a wonderful feel," she says. "I do not recommend stain repellants that are applied to fabrics, as they are not bulletproof and cannot protect against oil-based stains."
Advice for millenials: Beware of trends like fast furniture. Invest in well-made pieces but appropriately scaled — you may move every couple of years. "Buy nice things — you will always be surrounded by beauty," she says.
Advice for the novice: Frugal ideas and originality are trending right now. Pinterest and Houzz are great tools for inspiration.
Case goods are a great area to practice refinishing techniques. Fresh color combinations can give antiques a new life. Mix things up by adding a few newer decorative accessories.
"Blend textures creatively and attractively," Morris says. "Don't be afraid to invest in upholstery — it is something you touch every day."
---
Nancy Finneson
DeMane DESIGN, LLC
Gig Harbor • 253-973-8442
demanedesign.com
nancy [at] demanedesign [dot] com
Nancy Finneson, AKBD, CAPS, CLIPP, Allied ASID is an award-winning interior designer and kitchen and bath designer. She attended the Art Institute of Chicago and later received a degree in interior design. She is a certified associate kitchen and bath designer with the National Kitchen and Bath Association, a certified aging in place specialist, certified living in place professional and an allied member of the American Society of Interior Designers. After spending many years in the San Francisco Bay area, Finneson now makes her home on the beautiful Puget Sound. She loves working with people and enriching their lives by helping create spaces that inspire, entertain and function brilliantly. One of her favorite projects has been adopting and creating a room for the new YMCA domestic violence shelter in Tacoma. Recently she was honored with three first-place and one second-place award for design from the prestigious American Society of Interior Designers.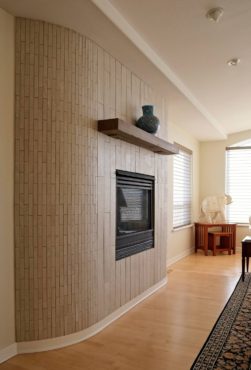 For new trends in kitchens, Finneson says that upper cabinets are no longer the standard. Open shelves are in — some are floating or made of unique materials such as reclaimed wood, hammered metals or glass.
Other trends include chandeliers in unexpected spaces. "They are making appearances in bathrooms, walk-in closets, kitchens and even the office," Finneson says. "They are fun; some are mini in size while others are oversized, and anything goes."
Doors: Pivot doors are not for everyone, but the wow factor is fresh and innovative. It makes a statement for an entrance.
"Consider glass in doors; however, use it with other than clear glass," she recommends. "We definitely are seeing a trend toward using diffused glass in doors. Diffused-glass doors are a useful tool so light can pass through rooms, yet allow privacy. They can incorporate etched white glass, patterned, fluted, stain-colored glasses, etched pictorial glass with abstract or scenes."
Finishes: Finish trends vary a bit in different parts of the country. Mixing metals like golds and stainless steel is common. But black fixtures have big impact this year. They go well both with soft gold and stainless steel.
"Not overdoing is the key to success with mixing metal finishes," Finneson says.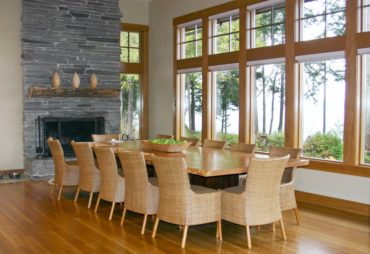 Natural materials: Old is the new naturals — recycled materials such as reclaimed wood, exposed brick or metal can be beautifully integrated into a variety of aesthetics, contributing a soothing, natural vibe in interiors.
Tiles and counter surfaces: Tiles are big and bold and have texture and reliefs. Giant swirls like waves or Cor-Ten (weatherized) metal tones are a few of the trends. Nomad textile looks in tile in geometric shapes and large hexagons as big as 48 inches are a great way to change a room. Backsplashes in kitchens are bold, with book-matched slabs of thin quartz in marble patterns. Backlight glass is now available for an enticing look for a backsplash, and some have the option to change color with a simple switch.
"Quartz is the first choice now for countertops, with many looking like natural stone. Glass and recycled wood are also popular for countertops," she says.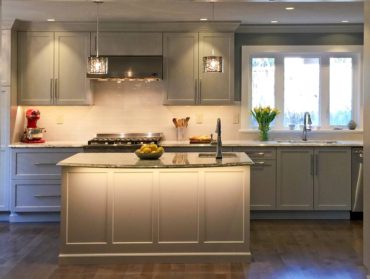 New materials: Walls are not just colorful; they have function now. Chalkboard paint, corkboard and even dry-erase paint is being used in many places: laundry rooms, kitchens, offices, kids rooms — the list is endless.
"Large panels (fabric, art, murals) are a wonderful way to make a statement that is easy to change," she says. "Use them in an entry, powder room or a library."
Flooring: Gray wood has become the new neutral for flooring in all materials: wood, tile and carpet. Porcelain plank tile designed to look like wood is being used in bathrooms, laundries, entries and other areas that are prone to dampness.
There are many sizes; wide plank is very popular with new patterns that look and have the touch of leather.
Cork has been around for years, but people are more appreciating its durability and springy touch.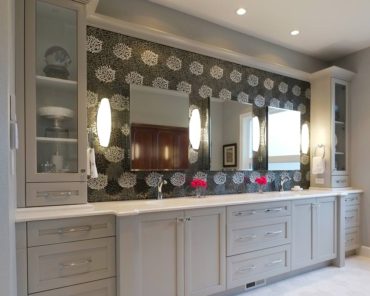 New technology: Technology is being used in wireless lighting and security control systems. "Everyone wants to know who's at their front door when they're away," she says.
Many systems make it easy to view your home from anywhere you have internet or cell-phone access. "What's important to consider before you purchase a product is how it will be installed — consider possible electrical needs," Finneson says.
Advice for the novice: "I tell my clients, 'You want your space to be livable and approachable. Something personal needs to be reflected in a room or it can look staged,'" she says. "The bottom line, get inspired. Regardless of your style, layer the textures, colors and lighting with purpose, not haphazard or random. Look at your art and put it in places that make you smile. Don't be afraid to seek assistance; collaborating with a designer can help make your design dreams come to reality."
---
Connie LaMont
LaMont Design, Inc.
Poulsbo • 360-779-7227
lamontdesigninc.com
connie [at] lamontdesigninc [dot] com
Connie LaMont has been an interior designer and colorist in the Pacific Northwest since 1993. She holds a bachelor's degree in arts from the University of California in Irvine and a second bachelor's from the Interior Designers Institute in Newport Beach, Calif. LaMont and her architect husband, Wayne, own LaMont Design Inc. in Poulsbo. Some of their joint projects include Austin Towers in Poulsbo and Elkhorn Place in Sequim.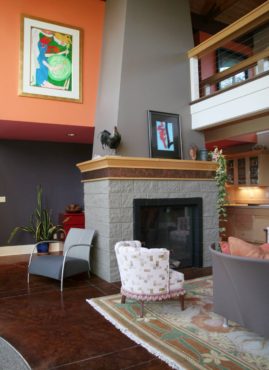 Simplicity within movement is what LaMont sees for interiors in 2018.
"Simple color layouts, as well as simple furniture layouts, will calm our souls within our homes and workplaces," she says. "With that simplicity will come the ability to move throughout our interiors smoothly, without interruption. Whether we're actually moving through our homes or being still, and taking in the calm of our homes, we want to enrich our lives as well as our lifestyles. Too much can be just that, too much."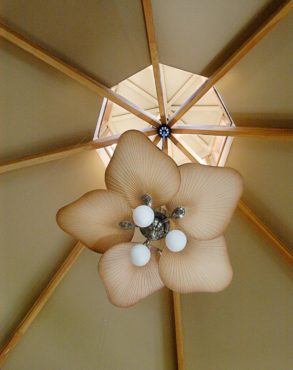 Lighting: Vintage light fixtures and industrial light fixtures are all the rage. LED bulbs now come in old-fashioned filament bulbs, also known as Edison bulbs. You can spend a lot of your budget with these fixtures or search them out at the big-box stores, or even IKEA.
Colors: Simple color palettes will be quite soothing to the psyche in 2018. Soft-putty and taupe will warm up the soft-gray palettes that were prevalent in 2017. Crisp white will be important to incorporate, to continue giving a crisp, tailored appearance within interiors.
"There still (and I hope always) will be opportunities to bring in strong, bold colors, too. But, in very thought-out areas," LaMont says.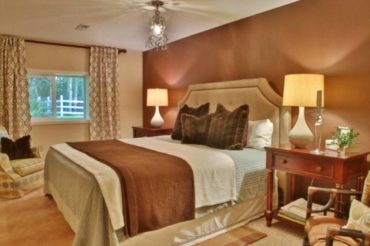 Finishes: Matte finishes are found everywhere. Oil-rubbed bronze, blackened iron, gun metal, pewter, brushed nickel, aged bronze — the list goes on but it's all in a matte finish, whether it's in plumbing fixtures, light fixtures, furniture or hardware.
Tiles and counter surfaces: The sky is the limit with regards to countertops. "Quartz, granite and marble are, of course, wonderful solid-surface materials. But concrete, copper, stainless steel and butcher block are also incredible solid surfaces," she says. "Not to mention 'live-edge' slabs of wood."
LaMont feels laminate is probably the most cost-effective solid-surface countertop material around, and it's nothing like it used to be. "It has gorgeous designs that look like rusted steel, pressed linen, reclaimed or painted wood, and the list goes on," she says.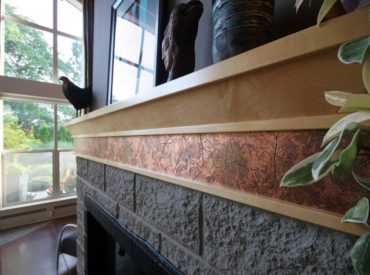 She recommends pairing any type of countertop with gorgeous mosaic tiles of glass, stone and metals, or simple subway tiles, not just in the old-fashioned 3-by-6 size.
"If your budget allows, do entire walls of either tile, glass, metal, concrete or wood, and enjoy the amazing impact that it gives to you and your home," she says.
New materials: Wallpaper is back — and, the bolder the better. Textured wallpaper, like grass cloth, will bring a very calm and "organic" feel to any space. "But, if you want real impact within your interiors, be brave and go for a huge patterned wallpaper," she says.
Flooring: Luxury plank vinyl is still really hot, and it comes in all different species and sizes of "wood." You can also create the look of concrete, slate, steel and more.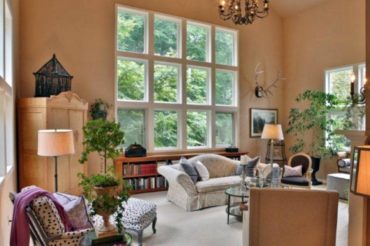 Technology: New technology is used in everything: light fixtures, light bulbs, heating and cooling, security systems, etc. — and, all with an app for your phone or laptop.
Advice for the novice: "I believe that 'good design' inspires people. And, I believe that a 'good designer' is inspired," LaMont says. "Inspiration can come from just about anything that interests you. It could be a sunset, and all the splendor of the colors. It could be the textures from nature or some interesting geometry."
Whatever the inspiration comes from, she recommends going with that and exploring. Mix up different — and possibly odd — color combinations. Hang up artwork to create the symmetry — or asymmetry — that your rooms need. Explore different mediums with your accessories, like a fur throw pillow, a hammered copper table lamp, an interesting tree stump used as an end table or an old iron gate for some architectural wall art.
"The important thing when creating something is to put your signature on it," she says.
---
Cate Adams
Arnold's Home Furnishings
Bremerton • 360-377-5582
arnoldshomefurnishings.com
Cate Adams has a degree in art and design from the University of London and has worked in London, Paris and Spain. Adams eventually settled in the Pacific Northwest. She currently serves as an interior designer with Arnold's Home Furnishings. She lives with her husband, Jack, in Silverdale.
Adams says that smaller is definitely bigger in the home market, and hence the scale of the furniture follows suit. "Trimmed-down contemporary lines are being chosen not only by the 20- to 40-year-old age bracket, but also by retirees," she says.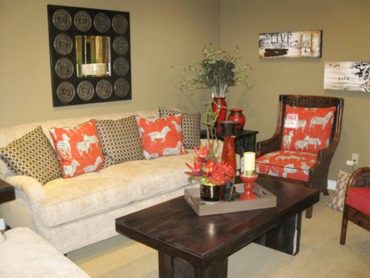 Natural neutrals in grays and taupes are still popular, and they are spiced up with pillows and accessories in persimmon and paprika. Navy blue is dominant, with a good sprinkling of aqua and teal.
"Pastels are peeking around the corner once more — blush tried for dominance, but locally didn't materialize," she says.
Adams predicts there will be a lot of green in coming years, "particularly a delicious tone reminiscent of a Tuscan olive grove (dare we say soft avocado?)." This will pair well with pale-smoky blue, natural linens and the gold metals seen in lamps and tables.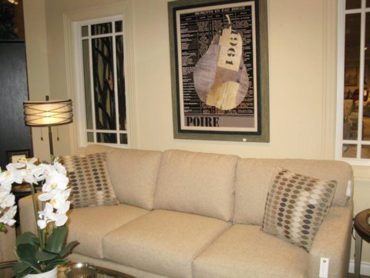 "Rustic finishes and industrial elements are also quite popular. We see everything from iron-bound side tables with distressed finishes, to wire-brushed dining sets and lamps with Edison bulbs," Adams says.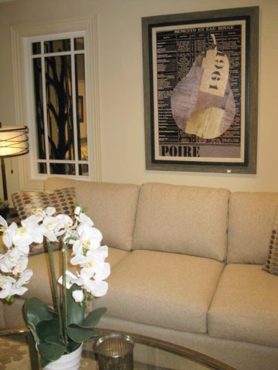 Top-grain leather is on the rise, while the discerning consumer frowns upon anything of "bonded leather." In general, all consumers are becoming more discerning, as the internet educates them in buying furnishings.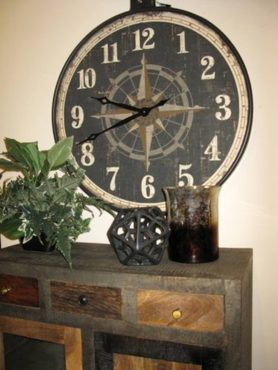 "Fortunately, nothing can replace the 'sit test' and the help that a knowledgeable sales associate can give a cautious customer," Adams says. "Quality home furnishings are a major purchase and one that will not be replaced lightly. If professional help is available, use it, and use it as much as possible. Having a good eye for color and style is a great asset to the homeowner, but an interior designer can also help with scale, flow, maxing the budget and, above all, steer you away from costly mistakes."
---
Michele Doyle
MD Design Group
Poulsbo • 360-689-4156
micheleinteriors.com
Michele Doyle founded Michele Interiors, Inc. in 2005 after completing her interior design training at the Seattle Art Institute. She has been successfully serving Kitsap, Jefferson, Pierce and King counties ever since. Fast forward 10 years and her business is now MD Design Group — a team of talented and service-minded collaborators ready to guide clients through the interior design process and getting to the heart of the clients' needs to create spaces that feel natural to them.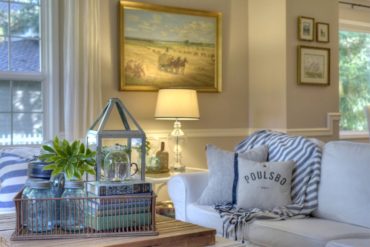 Trends are a matter of personal style. On one end of the spectrum, there will be the combination of a light and clean aesthetic with warm natural textures — airy, open and "uncluttered"; simplified, streamlined aesthetics.
On the opposite end, there will be darker, more saturated spaces that "feel moody and sensual" using plums, oranges and indigo. "Paired with worn, organic patterns or bold, overscaled patterns, these rooms are dramatic," Doyle says.
Lighting: LED is becoming mainstream, which allows lighting to become more of an artistic focal point. "As a result, we're seeing asymmetrical, metal and glass, tinted glass, organic modern 'branch' shapes and new takes on 'vintage' designs," she says. "Just make sure that you're getting enough light from your new fixtures. Light output from LED lighting is not the same as halogen or incandescent. Also, indirect lighting does a lot in setting a mood."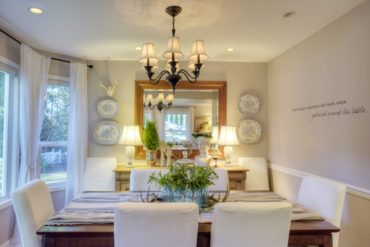 Color: Inky, dark hues, along with grays and other versions of darks in turquoise and blues are popular. There's a resurgence in pinks, salmons, rusts and creams in other parts of the country. "I don't know if they'll make their way to the Pacific Northwest just yet, but did you notice some of your favorite catalogs are featuring that palette? They were big at market this past year," she says.
Finishes: Natural-looking finishes like warm woods and metals are quite popular. Matte black for plumbing fixtures brings a nice pop against the vast amounts of white seen in cabinetry and backsplashes.
"We're mixing metal finishes like never before — blacks with aged brash or polished chrome, or oiled bronze with polished nickel or copper," Doyle says.
New materials: There are new technologies in porcelain or manufactured surfaces for large-scale installations. Dekton, for example, is a solid surface that can be installed on counters, floors and walls for dramatic effect — it's green and beautiful, and does a great job of mimicking natural stone.
Flooring: Technology has made luxury vinyl tile versatile and attractive enough to use from commercial applications all the way up to high-end residential.
"Pet owners and waterfront homeowners love it," Doyle says. "Its price has come up with its popularity. However, purists are still loving natural wood floors for the richness — if you're not afraid of maintenance, then it's still the way to go for the classic forever home."
For carpeting, Doyle recommends good-quality wool, which with proper care can last many years. "Its natural resistance to staining and crushing, along with being flame-retardant and hypoallergenic, makes it a great choice," she says.
Doyle adds that some manufacturers have developed ultra-stain-resistant carpeting that acts like Teflon. "You literally can't stain it and nothing can penetrate to the cushion below," she says. "For busy households where you want a softer step, there are carpets that can meet your needs."
Advice for the novice: Hire a pro to help spare you costly mistakes and give input to your design. "A pro will help you balance your investment and value and prevent you from making impulsive decisions based on aesthetic or some other single emotional response," she says. "Pros know how you can get your money's worth and assist you with planning so that you can avoid working backwards and have a vision for the ultimate end goal."
She also recommends collecting art and adorning walls with pieces that speak to you, as that will never go out of style. "There's always a way to arrange your art throughout a space that will be balanced and pleasing," she says. "Anything that speaks to you is valuable, regardless of price tag."
---
Janet Weber
Janet Weber Interior Design
Poulsbo • 360-626-4484
janetweberid.com
Janet Weber owns and operates her own interior design business with the goal of creating atmospheres that are unique and well-suited to each client's values, lifestyle and personality. She assists clients in realizing the vision for their homes and commercial spaces by guiding them through each phase of the design process, from the initial space planning to the final selection and placement of accessories. Weber received her bachelor of arts degree from Washington State University and has been working in the industry since 1986. Her professional involvements include Design on Broadway in Everett, Markie Nelson Interior Design in Seattle and Fine Home on Bainbridge Island.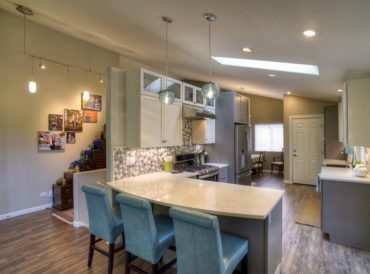 Consumers are starting to crave the deeper, warmer color palettes and natural woods along with the feeling of bringing the serenity of nature indoors. Everybody is looking for calm.
"People are not as attracted to cool colors because it doesn't reflect their mood," Weber says. "They are craving the feeling of a nest, a feeling that is cozy, warm and inviting."
Some specific trends that she sees on the horizon are red and orange furnishings, large botanical prints, velvet and mud cloth. "We will start to see more of the feather motif, and dark-wood finishes will replace white-washed ones. The heavily textured wood effect, also known as cerused wood, will be popular and we will move away from the blond Scandinavian look a bit."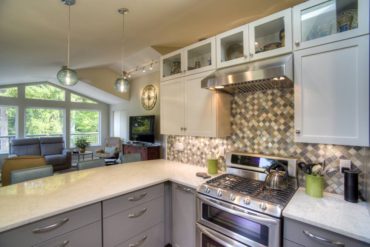 A few trends Weber sees in kitchen design are large single sinks, black stainless appliances, composting and recycling systems, fewer upper cabinets and more open shelving, comfortable seating areas in the kitchen, steam convection ovens, induction cooktops, column refrigerators and freezers and natural wood cabinetry.
"The all-white kitchen is still popular but some homeowners are opting for more warmth with natural wood and warmer tones," she says.
Windows and doors: Expandable/integrated doors are extremely popular. "Replace ordinary patio doors with what appears to be large, floor-length windows. These 'windows' operate like sliding or folding doors to open up large spaces between your interior and exterior," she says. "Transitional living between the inside and the outside is very important to all generations. These doors integrate these two seamlessly together."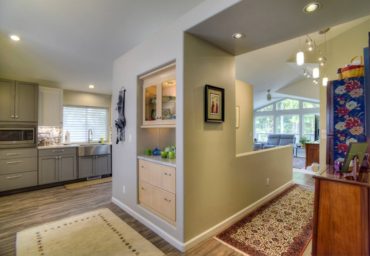 Lighting: LED lighting is expected to make up 75 percent of all lighting by the year 2030. "The retro Edison bulb is still popular but starting to wane a bit in 2018," she says.
Lighting the inside of drawers and cabinets is a trend that we will see more in 2018, and industrial lighting including RLM is still popular. Handcrafted ceramic lights are coming on strong, as well as oversized fixtures and exposed cords.
Finishes: Copper is on its way out being replaced by bronze tones. Mixing metals will become very popular, with mixes of gold, bronze and black being customary. Silver has never really gone away but will be coming on stronger than ever in the later parts of 2018.
Natural materials: "The new thing in natural materials is that they are becoming popular again — the real thing is coming back," Weber says. "That being said, the faux natural materials will never go away. Not only are they less expensive and easier to care for, they simulate the real thing very well. "
Marble is the natural material of choice for 2018. It is also a design motif that is being used in everything from artwork to fabrics and wall coverings.
Tiles and counter surfaces: Tile trends for 2018 tend toward shapes like square, hexagon, rhomboid, rectangle diamond and round.
"A personal favorite of mine are the tiles that mimic fabrics like lace, damask, crepe, linen and tweed," she says. "I also love the patterned Victorian tiles that fit together to make a large pattern on the floor or wall. These encaustic pattered tiles are now being made out of porcelain and ceramic for affordability and durability."
The other big trend will be the extra-large, thin, lightweight tile. "Pressed porcelain is the future," Weber says. "It can be made to look like wood, stone, concrete or any other surface. It can almost eliminate grout lines and create a streamlined contemporary look."
For countertops, quartz and granite are still the kings but granite is starting to be less popular. "I am thinking that concrete might make a comeback, as will tempered-glass countertops," she says.
New materials: Carpeting using plastic fishing nets, countertops using recycled glass and laser-cut linoleum are just a few of the new items hitting the market in 2018.
New technology: Smart refrigerators are coming. "These refrigerators have interior cameras that take photos of the contents. You can access them while shopping so you can tell when stocks are running low," she says. "Future versions will be able to make a list and reorder items as needed."
Other new technology includes touch faucets, which have been used commercially for a long time and are becoming more popular for homes; and servo-drive cabinetry, which allows you to open cabinet doors or drawers with a slight touch or a remote. "A servo-drive trash bin makes a lot of sense when your hands are full of garbage. You can just touch the door and it will open for you," Weber says.
Advice for the novice: "It's fun and exciting to look at new trends and it's wonderful to bring these elements into your home to spruce it up from time to time, but I feel you should fill your home with beautiful things that have meaning to you," she says. "Pieces that you find on your travels or that you just fall in love with. These things will never be out of style for you."
---
Jennifer McLinko
Mise en Place Design
Bremerton • 360-447-8594
miseenplacedesign.com
jennifer [at] miseenplacedesign [dot] com
Jennifer McLinko, MFA, ALLIED MEMBER ASID, is the owner of Mise en Place Design, located in Bremerton. She offers tailored design services that range from concept and space-planning to full-on remodel and new construction.
General trends for 2018 include pops of bold color in fabrics, pillows, drapes and so on; geometric and big graphic patterns in wall coverings and upholstery fabrics; neutral colors for larger items, like sofas and rugs, as well as in wall paint color choices; and use of metallics, gold and brass in particular, as well as matte black in plumbing fixtures, cabinet hardware and lighting.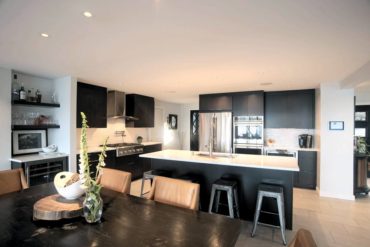 "Granite is out," McLinko says. "Quartz is the most popular countertop choice."
For kitchen, trends include stone sinks, either integrated as part of the countertop or as its own entity, especially in bathrooms.
"[We are] moving away from all-white kitchen cabinets. The trend is now on bleached woods, driftwood finishes and more gray undertones," she says. "Also very popular is navy blue, or variation of, in cabinets and appliances; custom metal hoods in copper, steel and bronze; and high-gloss acrylics in bright colors."
Subway tile, while always a classic, is on its way out. Color, texture and patterns are in.
"Going back to nature for the general aesthetic of the room [is trendy]. Natural materials, stone floors, large windows," she says.
One interesting trend is home bars — even if it's just a bar cart.
Windows and doors: If you are working on a new construction project or are lucky to already have tall ceilings, the trend has been to go big. Windows and doors are getting larger in general, either for aesthetics or for function. For example, opting for 36-inch-wide interior doors or 84-inch-tall exterior doors for ease of moving in between rooms and to emphasize an entrance.
"Another thing I would say is the continued popularity of barn doors but in a wide variety of styles," she says. "'Barn doors' aren't being relegated to the chunky, rustic look anymore but rather becoming more slim-line or with different textures and materials in the center panel."
The trend is to make the doors interesting, which could mean using different door styles rather than the standard six-panel or flat — instead, it may be five panels, glass, different molding and so on. This includes using interesting and different hardware and handles.
Lighting: Some of the popular things in lighting are: tripod floor lamps, Moroccan- and Persian-themed lighting, modern integrated LED types and lights made from raw concrete.
Colors: Greens like emerald green, navy blues, creams or beige, "greige" and driftwood tones, and black are all trending.
Finishes: Gold and brass, matte black, concrete or the look of concrete, textured wall paper or coverings, velvet or suede fabrics and marble.
Natural materials: Stone floors; animal-hide rugs; logs, branches or sticks to make tables; anything recycled, reused or vintage.
Tiles and counter surfaces: Granite is out for counters. "Quartz is the first choice," McLinko says. "Concrete is another popular counter choice."
Tiles are more patterned, textured and colorful. "The style of the layouts is usually more bold, fun and less 'serious' than in the past," she says.
New materials: Concrete tile is not really new but now has lots of new patterns to choose from. Neolith floors and counters — it's a versatile material that is very durable, can come in different thicknesses, and can be used for floors, walls, counters, range hoods and more.
New technology: In general, you're going to see more lighting, sound, home security and temperature controls integrated into a central command center, like an iPad. Also trending will be Bluetooth connecting to your devices (e.g. TV, computer, refrigerator, sound system, security system, etc.).
Advice for the novice: "Have fun," she says. "Design is a creative process so don't be afraid to try something new, interesting, fun or out of your comfort zone."