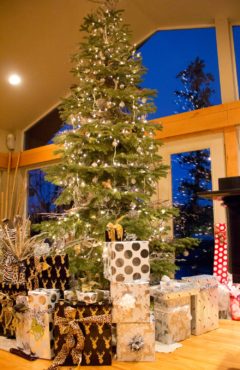 Lisa Stirrett's eyes light with excitement when she talks about the holiday season. "I love Christmas. I love when my boys come home," she says.
As long as she can remember, Stirrett helped her mother decorate their home. Even as a small child, those times are some of her fondest memories.
"Every year, (my husband) Steve and I go to Hubert's to choose our Christmas tree. We pick it out before Thanksgiving. After Thanksgiving, Steve sets it up," she says.
She makes most of her decorations, but she still goes "on the hunt" to find unusual and fun items. Stirrett loves the little animals she tucks into the branches of the 13-foot tree. She calls them "Christmas critters" and uses them most years.
E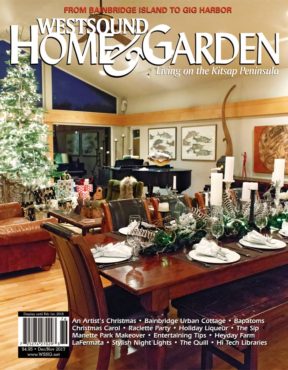 ach year, the tree has a different theme. Her husband and the boys are into hunting, so one year, Stirrett designed a tree with a hunting theme. The feathers used throughout the tree, for the tablescape and for gift-wrapping are from the turkeys they hunted. The gift-wrap is also chosen to complement the theme of the tree.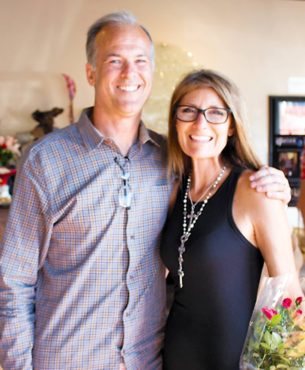 "I gather branches from outside and I've collected ribbons for 30 years. We have some really cool and unique ribbons," she says.
The couple decorate the tree together, over three evenings. Their boys used to decorate with them, but they're grown and have moved, and still come home for Christmas. The stockings on the mantel are the same ones that they've had since the boys were small.
On Christmas Eve, the Stirretts have a close-family dinner, then they all attend Christmas Eve services. For Christmas Day dinner, they host 15 to 20 guests. Stirrett does all her holiday cooking.
"We have family at our Christmas table, in addition to extending dinner invites to others who may not have a place to go," she says.
After New Year's Day, the couple take down the tree, but they enjoy the time and peacefulness of their tree while it is still up.