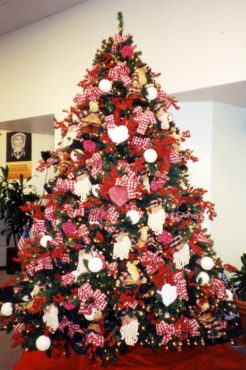 An extraordinary love for Christmas was perhaps written in the stars for local Carol Burk, better known as "Christmas Carol," as even her own December birthday happens during the Christmas season.
"Christmas Carol" is also the name of her residential and business tree-decorating company, which she began 25 years ago.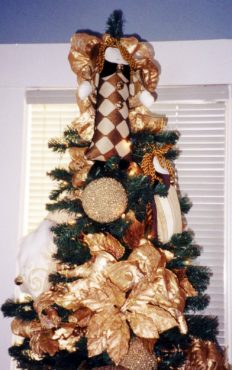 "One of my favorite parts of the job is going into the car dealerships every year to decorate their tree and hearing the salesmen cheer as their faces light up and they say, 'Here comes the Christmas ladies' as we walk through the door. That's really what it's all about — making people happy and lighting up their lives," Burk said.
"Christmas Carol" first earned her nickname as a child from family members as it seemed like a natural fit.
"My favorite moments as a kid where always at Christmas. Going to see Santa, sitting on Santa's lap, cooking and eating good food and bringing family and friends together — I just have always loved Christmas," Burk said.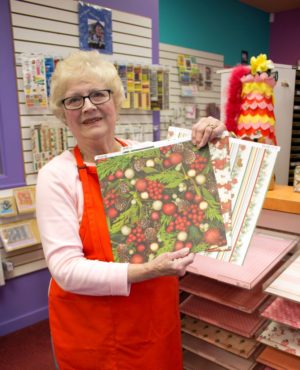 Her passion for decorating trees, however, grew when she joined then executive director of the Harrison Medical Center Foundation, Coreen Haydock, at a Festival of Trees conference in St. Louis. It was during the second year of Harrison's Festival of Trees and at the conference, Burk found a home to express her passion and decided to become the general event chair for Harrison's festival.
"In my 22 years with the festival, I was responsible for decorating 40-45 trees and recruited a lot of my friends to help. We had work parties at my dining room table to fabricate decorations," Burk said.
Since that fateful conference, Burk has been invited to cities across Washington state to help other nonprofits start their own Festival of Trees events. Because of this, she wrote the booklet "How to Start a Festival of Trees" and has given workshops at regional and international conferences.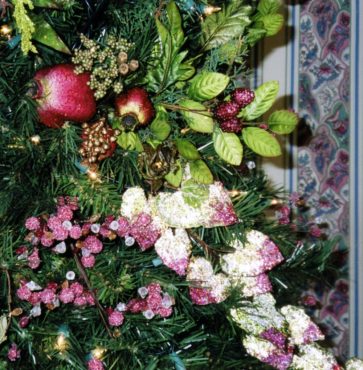 "Christmas tree decorating really captures the true joy of the season for me because it is all about giving and creating something beautiful for others to share, and I love sharing," Burk said.
The professional decorating season usually begins the Monday before Thanksgiving and ends in early December.
"I can visualize things really well and so when I have a new client, I go to their home or place of business and base the theme of the tree on their unique surroundings, such as the color, design schemes of their space, or I just pick something that will work the best for their needs," Burk said.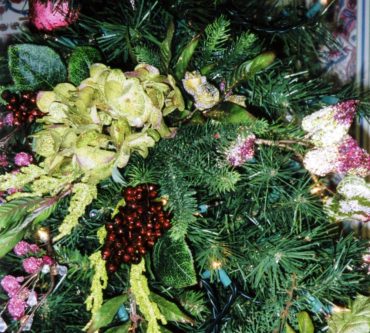 Once the consultation is over, she goes to the drawing board to create two to three specific designs for the client with their budget in mind.
"Budget is very important and I make sure to stick to it," she said.
According to Burk, all ornaments used are of the highest quality and sold to the clients to last a lifespan of up to 15 years.
"We return in January to take everything down and then carefully pack away. We are meticulous when it comes to storing the ornaments. We also only use wire to hang ornaments to ensure they are not broken or stolen," Burk said.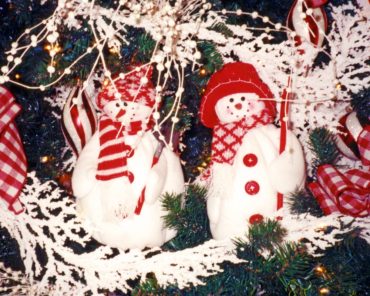 In addition to a custom-made tree, a lot of love is added to the process.
"Christmas is about love and friendship and I put a lot of both into every tree I decorate," Burk said.
She usually hires friends to assist her in the decorating process. "Plus, everyone I hire is nuts about Christmas," she said.
Trees can stand 12 to 14 feet high and decorations will cover the entire tree. The process takes a day to complete.
As for technique, Burk is careful to produce a well-balanced tree by starting with one type of ornament at a time and then moving onto the next. She rotates designs among the dealerships, so clients get a different tree design each year.
"I'm also a perfectionist, so that helps, but I don't really keep to any rules of thumb," she said. "It is mostly experience that guides me, and it is just fun."