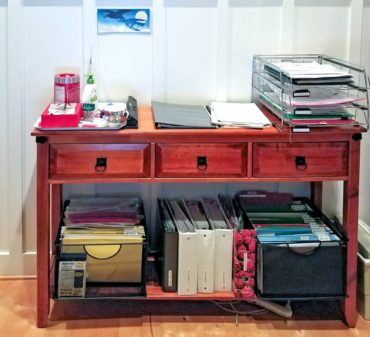 Quick two-question survey. Do you use your dining (or kitchen) table as a workspace? Do you feel just a little bit guilty about it?
A large portion of people will probably have responded yes to one or both of those questions. Why the guilt?
For an answer, let's rewind to the images we saw from the TV shows of the 1950s (which played well into the 1980s and were watched by many generations). Dad comes home, says hello to the kids and perhaps retreats to his study, where he has a big desk and chair and, most importantly, a big door that can be closed. The children are at the kitchen or dining room table doing homework and their mom is in the kitchen.
Let's look at a version of that picture today: Dad is working from home in his office over the garage, mom is working on her laptop on the dining table, and the kids are somewhere doing something on their mobile phones.
And yet, and yet… the images from those 1950s television shows are still imprinted deep in our minds, telling us that the dining table is for family meals, entertaining and perhaps kids doing homework, and that work belongs in an office with a desk and a door. Period.
Another source of guilt comes from out thinking that there is another space in our home that we feel we "should" be using instead.
For example, many modern American homes have a built-in "command center" near the kitchen, with a small desk or counter space big enough for a computer and perhaps some drawers or shelves. Although this area is a good idea in theory, in practice it is more likely to look like this: outdated paperwork stacked on top of an outdated desktop computer no one uses anymore.
If you have extra space, there might be an extra room upstairs or over the garage that seems like it would be a great office — of the "big desk, big chair, big door" model. Unless you need near-seclusion to work or have someone else running the daily household tasks, the room is probably covered in a fine layer of dust, and every time you open the door, you hear the soundtrack to an old Western and see tumbleweeds out of the corner of your eye.
To borrow a term from software development, working from the dining table is an agile solution to meeting the demands of both working from home and running a household.
The dining table has numerous advantages, starting with location, location, location. It is on the main floor of the house, near the kitchen and often within sight or hearing of the front door. Working near the door means that you can monitor who is home, pick up deliveries, let the pet in and out of the house. The advantages of working near the kitchen are pretty obvious: snack time!
The dining table is often the biggest work surface in the house, allowing you to spread out for larger projects. It is often near windows, offering good natural lighting, ventilation and perhaps a view.
Beside fighting the 1950s images of what a dining table should be used for, there is another major challenge to using it as a desk: how to clear it off without making a mess of your work.
Fortunately, this problem can be solved with a good, sturdy buffet table that can be had for around $100. Its slim, 12-inch profile allows it to tuck into even a small dining room, and it is just deep enough to hold your paperwork, laptop, binders and compact filing boxes. Three shallow drawers can hold business cards, check registers and a small ration of office supplies. Simply slide your work on over before you need the table for another purpose.
To own working at the dining table, you only need to do two things: set aside your guilt and set aside $100.