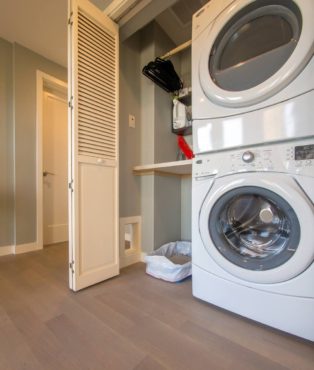 Among the current trends in remodeling and new-home construction are supercharged laundry rooms. Gone are the days when this room was overtly utilitarian, used for the sole purpose of housing the clothes washer and dryer. Today's laundry rooms are multitasking zones that help the homeowner stay on top of chores such as pet grooming, garden activities, crafting, gift wrapping, home office duties, storage and more.
Furthermore, for many homeowners, the laundry room, a.k.a mudroom, is both the first and last space that they see when entering or exiting their home. So if you are itching for a laundry room tailored to your lifestyle, here's some inspiration for your laundry-room transformation.
Purpose: As with any remodel project, success is in the planning. First decide what activities you would like your laundry room to perform. For example:
Laundering clothes (machine washing, hand washing, machine drying, air drying, etc.)
Storing laundry supplies, cleaning supplies, dry goods, pet food, etc.
Pet grooming and feeding
Gift wrapping
Crafting
Gardening — seedling starts, flower arranging or washing veggies from the garden
Creating a butler's pantry or "dirty" kitchen (a place for dishes, food and beverage storage as well as staging area for entertaining, complete with kitchen appliances)
Doing household paperwork (bill paying, scheduling, school papers, etc.)
Staging a landing area for shoes, coats, purses and backpacks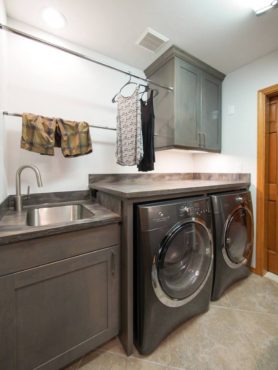 Location: Once the primary criteria for the laundry room have been established, it is time to determine where the laundry room will be located. It is a given that certain considerations will dictate that the laundry room be situated on the entry floor; however, today, more and more laundry rooms are being constructed on the same floor as the majority of the home's bedrooms, or the second floor.
There are many advantages to having laundry facilities closest to the primary source of laundry — bathrooms and bedrooms. However, there are definitely some serious considerations for second-floor (and above) laundry rooms:
1) Can you duct an "overflow" pan for the clothes washer to the exterior of the house, which in some jurisdictions is required by code? Although it is not pretty, it is advisable for a clothes washer to sit inside a "pan" with a drain hole that can be connected to PVC piping and piped to the exterior of the home in the event the clothes washer malfunctions and starts spewing water.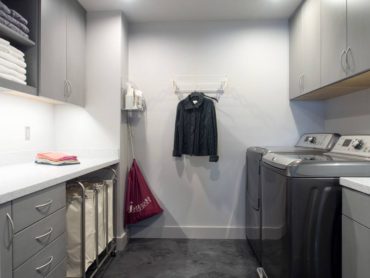 A malfunctioning clothes washer can do a serious amount of damage to sheetrock, cabinetry and flooring in a short period of time, especially when installed on a second floor. If piping to the exterior is not feasible, then using a moisture sensor with an alarm is the next best thing; just realize that if you are not home to hear the alarm, you will not be protected from water damage by this device. (Note: Some washers have built-in sensors and will shut themselves off if moisture is detected on the outside of the machine).
2) Can you duct the dryer to the exterior of the home? One way to alleviate this issue is to incorporate a condensing clothes dryer, which does not require any ducting. Condensing dryers do not "cook" your clothes, so when the clothes are removed from the dryer, they are not hot and staticky — which is what most homeowners are accustomed to, so it will be important to understand the attributes and potential drawbacks to the condensing dryer models.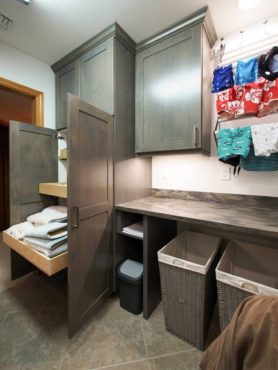 If you don't mind hauling your dirty clothes and linens down to the first floor of the home and your preference is to combine laundry facilities with a "back-door" mudroom entry, then it will be best to locate your laundry room on the first floor, which will naturally facilitate a variety of the activities mentioned above such as food storage, dirty kitchen, etc.
Space: Once you have established what you want to include in the laundry room and where you want the laundry room located, it is time to determine what will logically fit in the space. For example, if you have selected clothes laundering and gardening, along with landing area for shoes, coats, backpacks and purses, you may want to consider front-loading laundry machines that stack.
This will maximize the available counter space for a utility sink and landing for vegetables from the garden, flowers and seedling starts, as well as provide room for a small bench to sit on when putting on and taking off shoes. You may also want hooks above the bench for coats and backpacks. If you want to minimize clutter in your kitchen, consider including a desk or information station in your laundry/mudroom whereby school papers, mail and the like land here rather than on the kitchen counter.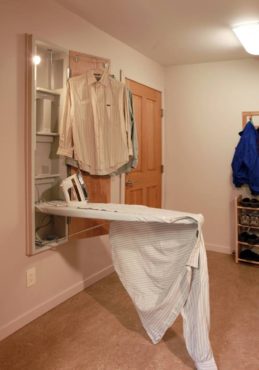 Tips for Choosing Appliances and Materials
Clothes washer — Washers are either top- or front-loading. The advantage of a top loader is for people who craft because they can set the machine to a soak cycle to facilitate yarn and fabric dying, which is not easily done with a front loader. Another attribute is that you can keep the lids closed on the top loader, which is not advisable with a front loader.
Front loaders tend to be more water- and energy-efficient, can be placed on a pedestal for more ergonomic loading, can be stacked to save valuable floor space, have a countertop constructed over them (if not stacked) for folding clothes, etc. and have fewer limitations with respect to how high wall cabinets are installed above the front loader (top loaders need room for the hatch to rest in its full open position).
As to individual features, there are numerous cycles and features to choose from. It all boils down to what best suits your lifestyle. One important feature you will want to incorporate with your clothes washer is access to the water shut-off that does not require moving the machine out of its installed location.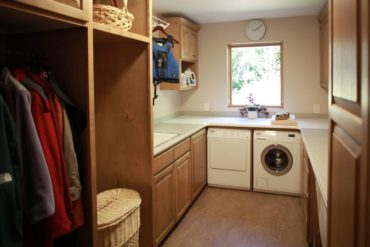 Clothes dryer — Dryers are always front-loading but not always stackable. The most significant innovation in clothes dryers is the condensing dryers mentioned above. When dryers do not need to be vented, there is significantly greater flexibility as to where they can be located.
Ventilation — Many laundry rooms lack ventilation fans. This can result in consistently high humidity in the laundry room, which can lead to mold, mildew and damage to cabinetry and wall finishes. For best results, choose an exhaust fan with a built-in humidistat whereby the fan turns itself on and off based on the registered level of humidity and doesn't require human attention.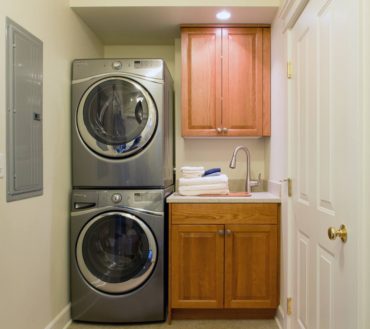 Lighting — Overhead as well as undercabinet light is beneficial for laundry rooms. Insufficient lighting can make a room feel dingy and uninviting, not to mention create eyestrain.
Cabinetry — Thoughtfully laying out the laundry room cabinetry will ensure that you have maximized the storage space. Convenience hardware such as roll-outs, pull-outs and built-in ironing boards provide ergonomic access to items stored in deep cabinets. Stained wood cabinets and thermofoil cabinets will have better durability than painted cabinets in a moist laundry room environment.
Accessories — Drying racks (preferably over a utility sink), wall hooks (for keys, pet leashes, coats, purses, backpacks etc.) and charging stations are great, low-cost, space-saving additions for laundry/mudrooms. Boot warmers that plug in are appreciated by gardeners, hikers and skiers alike for drying wet boots and providing cozy warmth on winter mornings.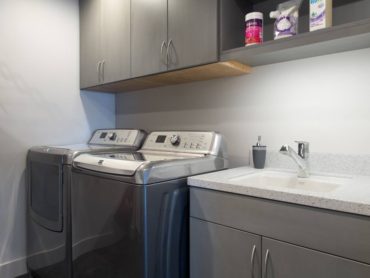 Countertops — For economy, laminate and solid-surface countertops are great choices for laundry rooms. Engineered and quarried stone are also worthy options when the budget is sufficient.
Plumbing fixtures — From washing small pets (and rinsing off small children) to hand-washing laundry and homegrown veggies, or simply rinsing out a paint brush from a home improvement project, deep utility sinks with pull-down faucets are a great feature for any laundry/mudroom. Footbaths, full-stall showers and pet-washing stations can help corral messy people and pet activities.
Flooring — Think durability, low maintenance and slip resistance. Linoleum and tile are your best options.
Windows, doors and skylights — Bringing natural light with windows, glass-paneled doors or skylights can demonstrably improve a laundry room's environment. Careful planning is important to ensure that the doors do not conflict with laundry machines or cabinetry and that windows do not capture valuable wall space for cabinetry.
Many homeowners do not relish the opportunity to do laundry, wash their pets or retrieve cleaning supplies. And can you ever remember a time when a member of your household said, "Meet me in the laundry room"? But all joking aside, given the use frequency and utility of your laundry room (especially if it doubles as a mudroom), doesn't it make sense to try and make it as pleasant and well organized as possible? By doing so, you may be able to complete household chores more quickly and efficiently, leaving you more time to do the things you really want to do.