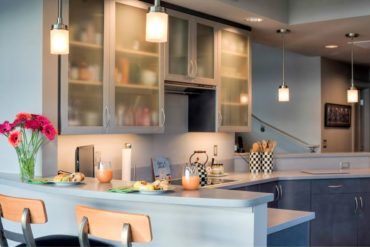 Glass, glass everywhere. From simple drinking glasses to Chihuly chandeliers, the making of utilitarian as well as decorative objets d'art from glass dates back to the middle of third millennium B.C. in areas such as Syria, Mesopotamia and Ancient Egypt. The primary chemical compound comprising glass is silica, the same substance found in a grain of sand. From this simple element springs amazing beauty.
Although brittle, glass is also very sturdy but the real "beauty" of glass is in its ability to transmit, reflect and retract light. These qualities are enhanced by various processes applied to glass — such as acid etching, which gives it a frosted appearance for privacy in shower glass and windows; or cast glass, which is molded into specific shapes for countertops, decorative hardware and more. It is for these very reasons that glass has found its way into many structural and decorative building products.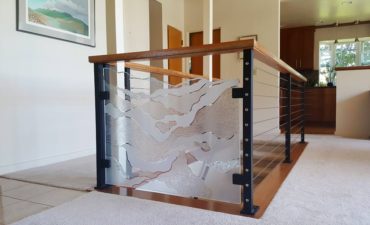 Some of the many ways that glass can enhance the beauty of a home include:
Shower glass and partition walls: Using decorative glass for shower enclosures and water-closet enclosures can provide a more spacious feel than a wall and is beautifully decorative, too.
Custom glass-tile backsplashes, sheet-glass backsplashes and glass countertops: For a completely unique and personalized look, consider glass for a kitchen, bath or wet-bar backsplash.
Glass lighting fixtures: Whether custom or stock, glass-shaded lighting fixtures can add just the right amount of eye candy to any space.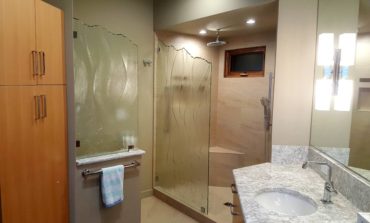 Glass windows and doors: Left to one's imagination, the options can be endless when creating stylized windows and doors with glass. If you are not inclined to create your own work of glass art, there are plenty of stock options that will enhance your home décor.
Glass in furnishings: Glass table tops can add a brilliant pop of color to a room while decorative glass inserts in built-in cabinetry can provide visual interest and a bit of obscurity so that the content of the cabinets does not need to be perfectly arranged.
With so many options for enhancing the beauty of your home with decorative glass, your greatest challenge will be deciding where to best utilize this beautiful material.