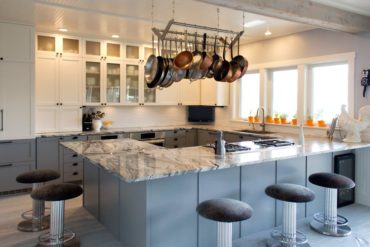 When it comes to interior design, Diana Bennett Wirtz Kingsley wrote the book. Really. An artist and holder of a master's degree in interior design, Kingsley authored "Hand Drafting for Interior Design" during her years of teaching at the Art Institute of Seattle. The book is a popular text in a hundred colleges across the country and abroad.
When not authoring textbooks, she is a whirlwind of creative energy. The artist-author fills her semi-retirement with painting, sewing, cooking and photography, as well as her beautifully visual cooking and commentary blog.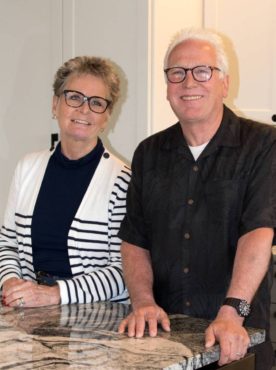 Considering this surplus of interests, Kingsley was just the woman for job when the time came to plan a new residence. As the last of her three sons graduated from Bainbridge High School, the designer started the search for a home site on the Kitsap Peninsula. In 2005, she found just what she was looking for in Kingston.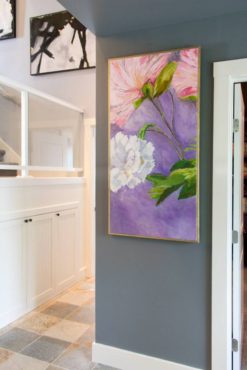 "I had no idea where I wanted to live until I saw this property," she says. "There was the beach and this fabulous view. I just wanted to walk on the sand."
Set on the shore of Apple Tree Cove, the lot looks across broad tide flats to the Kingston Cove Marina and the comings and goings of the Kingston-Edmonds ferry. Flocks of sea birds ride the waves and ospreys float in the sky. Changing weather alternately mists distant docks and glints sunbeams off passing boats. Kingsley was enchanted. She knew she'd found the one.
Kingsley also knew who would design her home. She would. First of all, the house would take advantage of the view over two stories. Deep porches on both levels would be roomy enough for dining and reclining. Finally, the master suite would occupy the entire upper floor.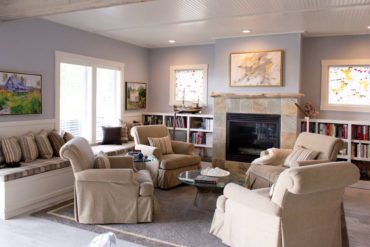 For Kingsley, the design was the easy part. The tough part was acting as her own contractor. The foundation was barely dry before she made a temporary move to California. By the time she returned for a visit, the work was nearly wrapped up. Except some of it wasn't per agreement, including the kitchen appliances.
Disappointed but undeterred, Kingsley moved in and moved on with life. The next few years brought good things, chief among them her future husband, Mike. As the newlyweds settled into the Kingston house, Diana and Mike Kingsley found creative compatibility.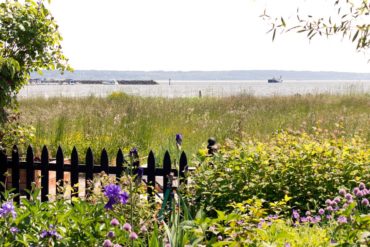 "I design things and my husband makes them happen," she says. "He's very handy."
"So far I have a 2-to-1 ratio of projects desired to projects completed," Mike Kingsley replies, smiling at his indefatigable wife.
Considering the couple's combined talents, what happened next was inevitable. They gutted the house and began a complete remodel.
"We ripped everything out and loaded it in dumpsters," Diana Kingsley recalls.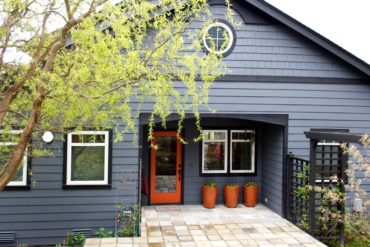 After 12 years in residence, she knew what she wanted to rise from the metaphoric ashes of the original house. She wanted a look that was beachy, low-key and comfortable. Kingsley wanted muted colors to reflect what the eye sees outside Puget Sound windows for more than 300 cloudy days a year. She wanted an understated carbon-gray exterior with orange accents. Mostly, she wanted people to stay out of her kitchen.
Kingsley makes no apologies for being the queen of her kitchen. She loves to cook. She also loves to entertain. An invitation to dinner with the Kingsleys is a recipe for a most appetizing evening. Kingsley needed a kitchen worthy of her talents.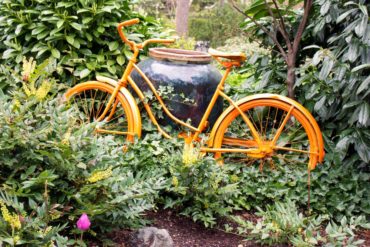 Then the designer had an inspiration. What if her real-life project became a lesson for her students at the art institute? Kingsley invited 30 students to her home to plan 30 individual redesigns. One of the plans was an eye-opener.
"A student suggested getting rid of the kitchen island and making the kitchen u-shaped," she says.
Kingsley realized this new configuration was just what she wanted. It would keep guests from wandering underfoot while she cooked but allow them to keep her company on stools on the far side of the counter.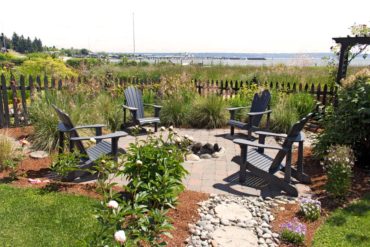 With this as the basis of her new kitchen, Kingsley added view windows and new cabinets, upgraded the appliances and chose new flooring. Her husband saw to it that her dream pot rack became reality. A new color scheme paired soft-gray walls with crisp-white cabinetry. Granite installed by Grandy Marble and Tile of Kingston added visual movement to the otherwise peaceful presentation. The result is a casually elegant cooking center that reads like a sigh of relief at the end of a hectic day.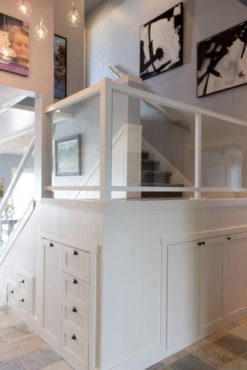 Just off the kitchen, the couple added two small rooms tucked behind roller-mounted barn doors: the bead-boarded utility room and a pantry. The red-and-white pantry highlights Kingsley's evolved sense of order with rows of spices and teas neatly labeled with her husband's label maker, a device that she adores.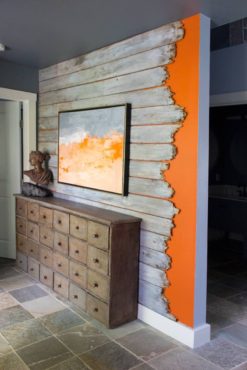 Of course, for a designer, the furnishings are as important as the layout. Kingsley loves the clean, classic lines of the 1970s. Examples of these in the Kingsleys' home are the retro upholstered metal stools that Mike Kingsley had cut down to fit the kitchen counter. The home also boasts a Platner table and see-through Lucite "ghost" chairs. In contrast to these streamlined pieces is Mike's handsome, 1907 Estey grand piano that holds sway in the living room with the good-natured solidity of Winston Churchill at an artist's colony.
Finding the perfect wall art was no problem for Kingsley, a skilled artist whose paintings and drawings are shown and sold at Interiors of Edmonds. Whatever the theme or size needed for her own rooms, she retired to her backyard studio and created it herself. Recently, her works lean toward big, bold abstracts.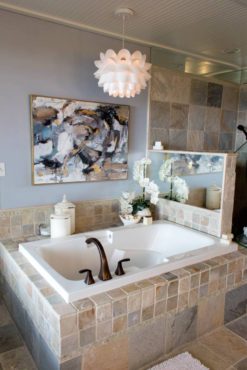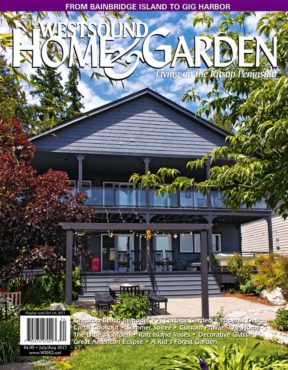 As handy with a sewing machine as a paintbrush, Diana changed out all of the living room fabrics. In the bedrooms, Mike cut the wooden headboard forms and she upholstered them in heavy silk tapestry and made pillows to match.
Both of the Kingsleys are happy in their home at the beach. He enjoys the short walk to the Kingston ferry. She is learning to live retired by the shore of what she describes as a 12-hour-a-day waterfront, meaning there's always something to see, from raccoons and herons to paddle-boarders and that kid who had to leave his boots behind in the calf-deep mud of the tide flat.
As Mike Kingsley points out, their home is a work in progress. Yet, in the hands of a woman who admits she's "too hyper to be a good retiree," there's no doubt it will all come together.
"People ask me, 'How do you get it all done?'" Diana Kingsley says with a shrug. "How do I not?"
To read Diana Bennett Wirtz Kingsley's cooking and commentary blog, go to www.kingstoncovestudio.wordpress.com.