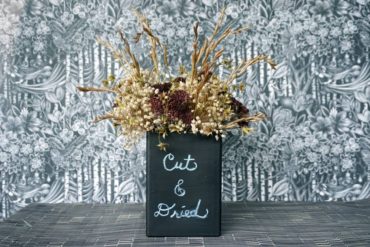 Traditional dried-flower arranging is an art that seeks to capture the beauty, form and color of flowers in their peak of bloom and suspend it in time. This practice uses tools such as glycerin, silica gel, flower presses and microwaves to control the drying for realistic preservation. With these tools, flowers and foliage can last for many years of enjoyment.
Herein is a more current and yet more primitive approach to dried flowers that seeks simply to bring the wonder of nature indoors. The focus is less on the full flower itself, and more on the life cycle and unique forms of plants. Arranging includes not only flowers, but stems, bark, leaves and spent blooms that have opened to release seed. It's about texture, pattern, shape and the juxtaposition of forms and colors.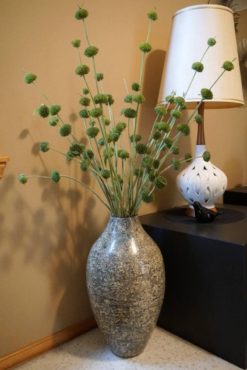 With this modern approach, more effort is spent on the display of items and less on drying with the use of chemicals, though you can incorporate all techniques, depending on time and inclination. Popular decor themes such as "steampunk" and "industrial" incorporate the rustic approach to dried arrangements well.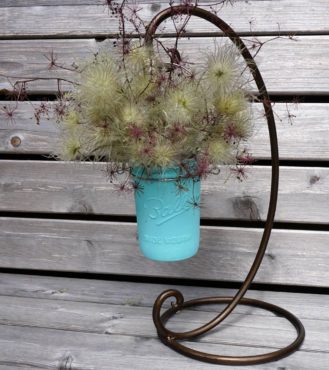 The display idea harkens back to the origin of curio cabinets from the 15th century; "curio" derives from curiosity. The cabinets displayed both natural and manmade objets d'art collected as explorers discovered delights from exotic locale. Such curios featured shelves and drawers of treasurers that ranged from gems to pine cones to iridescent beetles, often displayed in combination with manmade objects like silver, china, carvings, jewelry and glass.
Busy plant lovers can utilize the simplest method of drying plants, which is to hang them upside down in a cool, dark and dry place. However, seed heads, stems and cones are often collected after they have done much of their drying au natural in the garden. Hence, final drying can be done in vases or open-wire shelves with good circulation.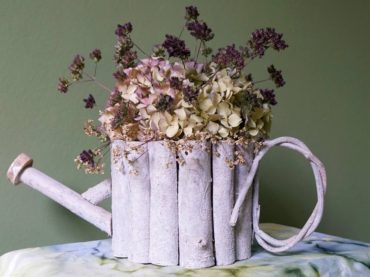 The cool temperatures and dry air help to reduce mold and other types of rot, while the darkness reduces fading of colors. Attics, closets and laundry rooms can be great areas to stash items relatively undisturbed while they dry completely.
Creating Your Own Curio of Dried Treasures
Walk the garden throughout the summer and fall and in the dead of winter — any time you notice a form that strikes you, bring it indoors. Depending on the stage of growth, it may remain intact indoors briefly or enjoyed for many years. That's okay — carpé diem. Like a fresh flower arrangement, enjoyment in the moment is its own reward. Different flowers and plant forms last longer than others with minimal processing, so experimentation is key.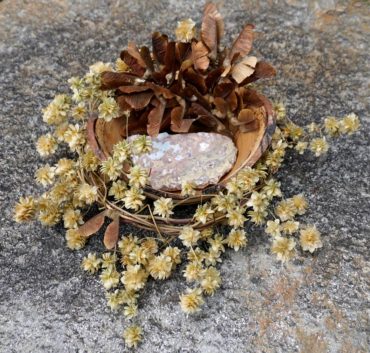 What treasures do you already have on display? Shells or pottery? Choose a favorite item and combine it with dried plants, sticks and stones, glass and grass, brass and branches — you get the picture.
Simple: a shell with a blossom in the opening. Elaborate: an arrangement with many plant species in combination. Creatively repurposing an item into a vessel for a dried arrangement is fun and since no water is needed, it doesn't require a traditional vase. Follow your style and combine what intrigues you.
Plant Choices
There are many garden plants that dry well with minimal effort. In terms of flowers, yarrow (achillea), strawflower (xerochrysum) and hydrangea are some well known examples.
More unusual but equally easy flowers are globe thistle (echinops), sea holly (eryngium) and Jerusalem sage (phlomis). For seeds: cones from Douglas fir or the tiny, wondrous red alder. Cool and unique: maple seeds, columbine (achillea), ornamental grasses. For leaves, the Artemisia family provides ferny texture and silvery color; salal is long-lasting. For stems, deciduous huckleberry and contorted filbert are effortless and engaging.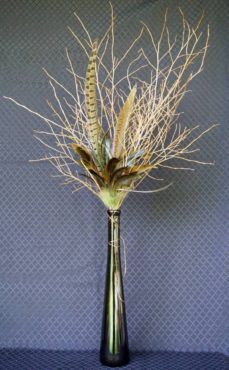 Drying Stages
For most flowers, collecting when they first open is recommended. This will help maintain color and prevent shattering when they dry. For branches, sometimes it's best to cut when green and flexible, and sometimes when woody and brown, depending on the color or bark pattern you are trying to capture.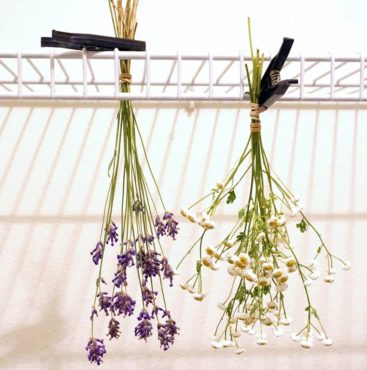 For instance, if collected after leaf drop from plants growing in full sun, deciduous huckleberry branches have a red-purple tint and dormant leaf buds that lend a zigzag pattern to the lines of the branch. Salal leaves collected in late fall and dried indoors simply with the dry air of central heat cure slowly and remain green for months before turning a pleasing brown. If brown is not what you're going for, paint the leaves gold or bronze when fully dry.
Modern Display Materials
Today's trends harken back to textures and forms appreciated in the '70s. Textiles such as macramé, sisal and burlap are popular and combine nicely with dried plants. Metals glitzy new in brassy and rose-gold tones, or chipped and mottled with patina, provide sources of inspiration. Rustic, reclaimed and whitewashed woods are also trending in home decor.
Regardless of your style, it's all about the combinations that please you and putting the variety, intricacy and wonder of nature on display.