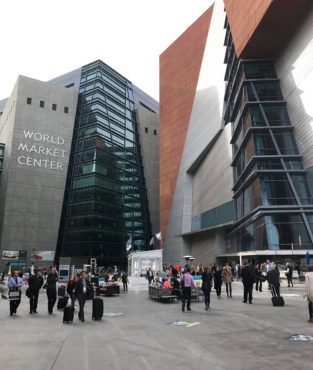 Similar to several metropolitan cities, the city of Las Vegas, Nevada, has a dedicated design center — the World Market Center. What is a bit more unique about the Vegas design center is that it hosts two annual "showcase markets" for launching the latest trends and products in home décor and furnishings, as well as honoring and educating people in the design industry.
The show covers 5 million square feet (in three buildings plus temporary tents) of display space and features nearly 4,000 different product lines. Around 50,000 professionals from the industry attended the Winter Market.
Julie Smith-Vincenti of Nine Muses Media, a company that specializes in trend reporting and product pictorials, was one of the presenters at the Vegas Market. Titled "First Look," her presentation focused on five current home décor and furnishing trends:
Greenery in lighting by Curry & Company

Nourishment: This category represents health and renewal and is headlined by Pantone's color of the year, Greenery. Bright and muted hues of green are used in everything from light fixtures, to wall finishes to furnishing and accessories, and are augmented by organic forms and natural materials like wicker and reclaimed woods.

Midnight Garden: This sultry category is described by Smith-Vincenti as "an evocative palette inspired by an enchanted night sky." Midnight Garden is comprised of deep, deep jewel tones, such as Benjamin Moore's color of the year, Shadow (No. 2117-30) and luminescent metals paired with burnt or reclaimed woods and bold florals.
Artist's Hand: This trend embraces bright and muted pops of colors found in handmade accessories, textiles, fashion and jewelry.
Personal Space: This trend is all about bedrooms and bathrooms and deep relaxation. The colors are purely muted, with grays paired with taupes, lavenders and rose quartz. Similar to Midnight Garden, lustrous metals provide the counterpoint to the soft color palette and textural linens.
Private Oasis: Outdoor furnishings and accessories are everywhere, as consumers try to find peace and solace in their own backyards. PolaRT, with its colorful polymer tables, chairs and couches, along with Fermob, maker of colorful bistro tables and chairs as well as the ultra cool Balad portable LED outdoor light, make backyard living fun and bright.
Additional Observations from the Show
Give me some…metal: Both matte and polished metal furnishings and décor could be found around every corner. From mirror and picture frames, to table bases to objets d'art and more. Magpies unite! Glittery metals in all forms were on display throughout the show.
Get twiggy: Bringing the outdoors in with twigs and tree limbs is a current trend.
Raw and reclaimed: Reclaimed woods and furnishings with "raw" edges could be found throughout the show. One example was the bicycle table from Classic Home's Some-of-a-kind collection that combines reclaimed materials with a functional aesthetic.
White-on-white and gray-on-gray: Monochromatic themes were prevalent in both furnishings and linens.
Tuffeted and riveted: Tuffeted chairs and sofas were displayed throughout the design center, illustrating a tailored but casual trend. Riveted chairs, tables and accessories with an aeronautical vibe were trending for the perfect "man cave."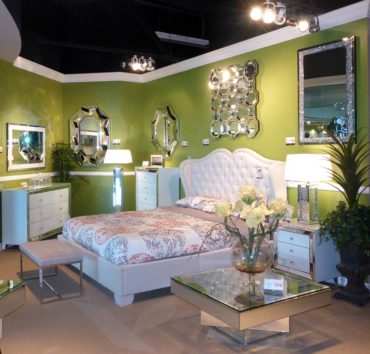 Micro living: From micro apartments, to tiny houses to multipurpose spare rooms, living large in a small space makes multitasking furnishings such as the multipurpose piece by Cabinet Bed of Canada a must. This line is comprised of storage cabinets, a full-sized bed and even a desk surface in some models. Along the same lines is a darling and affordable storage stool by Wenko — lift the seat cushion and you will find a hollow seat base perfect for storing toilet rolls and more.
Trends may come and go but knowing what the market has to offer and how to source items is at the essence of selecting furnishings and décor that is meaningful to you and a complement to your home.