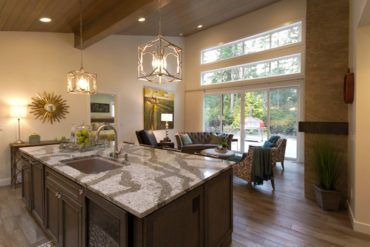 It started as a dare of sorts. A joke. A thought exercise, really. Joe and Judy Gates, owners of Joe Gates Construction of Poulsbo, were daydreaming. What if they built themselves a new home from the ground up? What would it look like? What features would they choose? Most importantly, how big would it be?
This last question was particularly intriguing now that the Gateses were empty nesters. Their current home, a beautiful and stately 3,300 square feet, not only seemed too big, it also demanded time and money to maintain.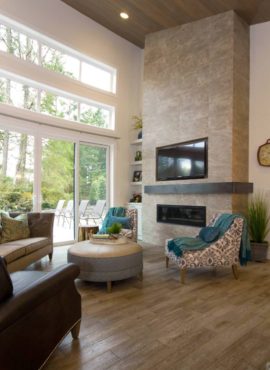 Joe and Judy Gates couldn't help but wonder what life would be like if they weren't tied to a big house. What would it be like to live in a small house? What would they do with the free time and extra money? How small was too small?
Their imaginings were fueled by the recent purchase of a new property. For years, the couple had coveted 1.41 acres on Clear Creek Road that held an abandoned volunteer fire station, perfect to house all the stuff that goes with a construction business. At last, the property came to market, and once Station 74 was established as their new shop, they saw plenty of adjacent space for a house. How convenient to live steps away from the family business.
In the Hands of Fate
Finally, the couple decided to let fate decide. They would put their house on the market; if it sold, they would start designing a new home. A small home.
Sell it did. In four days, they had a full-price offer and — stunned at the abruptness of the sale — were faced with living up to their small-square-footage dreams.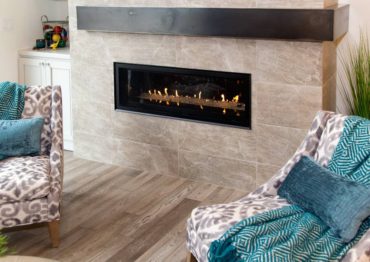 "One day, we were living happily in more than 3,300 square feet over three levels with a walk-in attic and two-car garage," Judy Gates notes. "Suddenly, we were sleeping in an old fire station."
Thus, the couple was motivated to move the project along as quickly as possible. In June, right after the sale of their house, they began to draw up an original design for the pocket-sized house they would call Luxe Petite, or Little Luxury.
"We didn't want some ticky-tacky tiny place," Gates says. "We wanted a really attractive and functional small house. We thought it out down to where the cat box would go."
Home Is Where They Made It
Fortunately, the Gateses were equipped for the challenge. With 28 years in the construction business and more than 400 new homes and 50 major remodel projects to their credit, the couple has years of combined experience in design, both architectural and interior. They'd also built or remodeled six previous homes for their own family. They planned to live in each one only until the "right" house came along.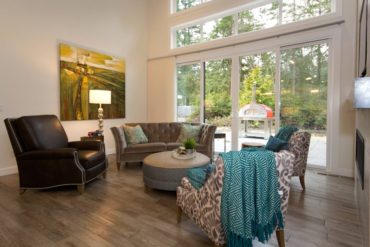 "Joe and I have a similar philosophy about homes," Gates explains. "Yes, there are memories in each, but you take those with you. To us, home is not a particular house, but where we choose to make it."
On Aug. 19, 2016, one month after beginning the design, they broke ground for the new house. Living in an RV parked inside the fire station — with only a restroom, shower room and makeshift kitchen (a hot plate and a microwave) — was a great incentive. The couple worked on their little home every chance they got and completed it in four months, in time for Christmas.
Luxe Petite finished out at 1,138 square feet, all on one level. Gates jokes that house tours are really quick.
"You stand in the center," she says. "You look left; you look right, and you've seen the whole house."
Although that's a bit of an exaggeration, every square foot is made to be used — regularly. This meant that certain features had to be scaled to fit. For example, the couple ended up selling or giving away all but five pieces of the furniture from their former home. After all, their old 8-foot couch would have looked like a whale in a wading pool in the new living room.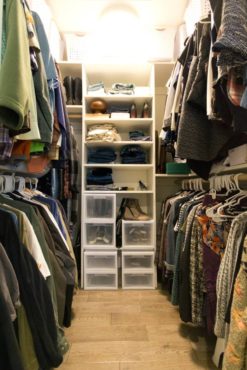 Since the move, Gates has scoured furniture showrooms, thrift shops and import stores for right-sized furnishings. The couch alone, a 78-inch Chesterfield derivative, took two months to find.
Square-Foot Sprawl
Oddly enough, what is now considered a small home was once standard.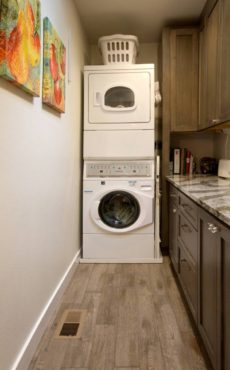 "Twenty years ago, 1,500 to 1,800 square feet was considered a 'move-up' house," Joe Gates recalls. "It was what you bought after a starter home. Now 2,500 to 4,000 is the range we see people wanting."
The secret to a comfortable, condensed home is knowing what's really important to a family. In the Gateses' case, it was the kitchen, because Joe loves to cook. So the kitchen became the entry point and central hub, retaining as much space as it would occupy in a larger house.
One side of the kitchen island doubles as dining space in lieu of an oft-unused dining room. In addition to all the extra storage in the kitchen itself, the Gateses added an inspired butler's pantry. Doubling as the laundry room, the butler's pantry is as lovely as the kitchen, with the same Starmark cabinetry and Cambria natural quartz countertops. This space avoids kitchen clutter by keeping all the countertop appliances accessible, yet hidden away behind closed doors.
Small Houses Come with Options
One big advantage to a little house, the Gateses learned, is that the money saved on square footage can be applied to amenities.
"Big houses can end up stripped down because people run out of money. A small house allows you to splurge," says Judy Gates, pointing out the chilled-beverage center and multiple specialized cupboard pull-outs and roll trays.
Other upgrades include solid-wood interior doors and insulated interior walls (a necessity, she explains, in small homes where sound transmission is a big consideration). Gates solved the above-island lighting dilemma with two lantern-style pendants with crystal accents from Shades of Light. The linear fireplace with TV, which she designed, fills one living room wall and soars the full height of the raised ceiling. Its large tiles and narrowly horizontal hearth give it a modern look, as does the metal mantle, custom fabricated by a local metalsmith.
Efficient, Not Austere
The floorplan is simple. The kitchen is open to the living room. To one side is the tightly organized master suite; to the other is the guest bathroom, Judy Gates' office, and their daughter's bedroom — used when she's home from college.
Yet for all its efficiency, the home doesn't read as tiny. The Gateses skillfully sidestepped claustrophobia with skylights in the kitchen and a high-ceiled living room with a wall of windows. Colors are understated grays, white and touches of teal.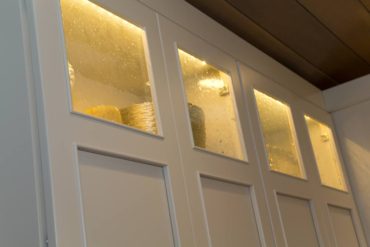 "It's harder to do a ton of color in a small house," Gates observes. "It makes it feel smaller. You have to bring in color in other ways, like in art and accessories. White is new for me."
The color of the walls isn't the only adjustment the couple has had to make. For instance, there's no room for a Costco run. In Luxe Petite, everything has a place. As Judy points out, there's no room to be messy in a small house. But maybe, for Joe and Judy Gates, there's room to find out what else life offers.