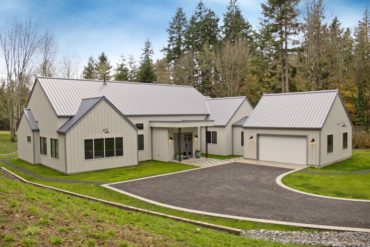 This sleek, contemporary farmhouse challenges ideas of home and takes one on a journey of discovery. The owners are as unusual as their custom home — a corporate couple who traveled the world for business and pleasure and lived in several countries. Their exposure to international cultures and "hotels from $100 a night to $1,000" honed their sophisticated sense of beauty, comfort and efficiency.
Retired and looking for a place to build their "forever home," they searched worldwide before finding the perfect combination of nature, economy and an airport to faraway places where family lives and adventure lies.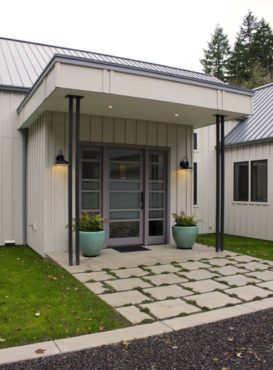 At last, they found Bainbridge Island.
Their other lucky find was a photo of a modern farmhouse on houzz.com that ignited their vision and gave their strong design instincts a direction. The website became a rich source of ideas and images that helped them maintain the integrity of their design. They even went as far as talking to the Texas architect of the houzz.com home about ceiling heights and room sizes.
After moving to Bainbridge, the couple threw themselves into the design/build process and "endless details" with the passion and skills their international jobs had demanded. No detail was too small to wrestle with — "it was our life and delight," one of the homeowners explained.
Next, they needed people. Professional people. Wayne Lamont of Lamont Design became their architect because "he listened to our ideas and never said you can't do that — he always found a way," the homeowner said.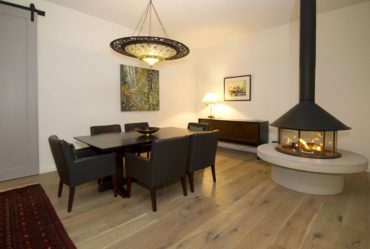 Builder Dave Godbolt of Sentinel Construction came to the table next. Lamont said that Godbolt pushed the envelope on energy efficiency and maintenance solutions. This project was a continual dialogue among all of them, up until the owners moved in.
Technical issues began with the property itself, which demanded a myriad of solutions and yet more professionals to handle water, septic and water runoff. Energy-efficient heating and cooling systems paired with air-tight construction, an encapsulated crawl space and on-demand hot water lowered operating expenses.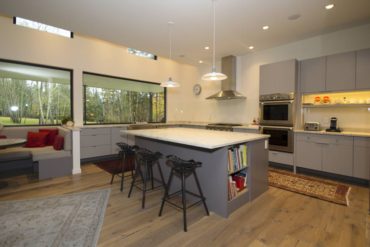 The building is accessible with no steps either into or within the home, and features wide hallways and doors, which "the movers loved." On the exterior, the metal roof and the HardieTrim batten-board siding are practically maintenance-free.
The modern farmhouse style borrows heavily from the sleek international design of the 1930s that stripped buildings of regional details and ornamentation that would say "French," "German," "Oriental" or even "farmhouse." Geometric lines and shapes dominate and edges blur between inside and out. Applied to farmhouses, the most-quintessential shapes are delineated: steep, triangular, metal roofs over solid, cube-like building components. The interiors emphasize rectilinear spaces with galleries connecting other wings.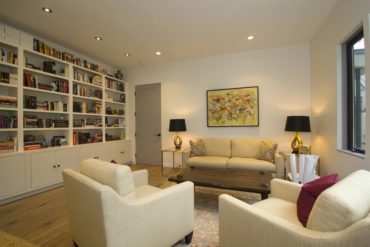 The sense of discovery begins at the black gate, where the front of the home is invisible. A dark-gravel driveway contrasted with sleek, white, concrete borders curves around the muscular building that sits like a bull in the middle of a pasture. Standing on the porch in front of etched glass doors and inside the luminous entry, where no rooms are visible, anticipation builds.
A broad and tall gallery runs behind the entry. Follow it to the left to find a generous office where floor-to-ceiling cabinetry and bookshelves fill a wall opposite the windows. Ah, the windows — so simple, they are barely there. But a closer look at the deep window reveals where creamy-white walls curve into the front half and meet a soft-stone, gray detail that butts up against matte black frames. Nothing stops nature from flowing in like an honored guest.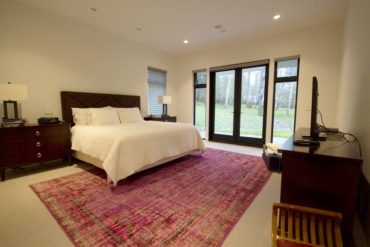 The entire home is painted a warm, creamy white with a subtle shift from matte ceilings to a satin finish on the walls, which are almost without texture. Other than a 3.5-inch-high painted baseboard, there is no trim work either inside or out. Stone-gray painted doors 8 feet tall reach for the 10- to 13-foot-high ceilings. Hallways are a gracious 5 feet wide. Elegant proportions and exquisite finish details abound.
Furniture from the couple's past homes display an international simplicity or a touch of the Orient. Twenty-five area rugs of muted colors and patterns float throughout the house, with an occasional one turned at a whimsical 45-degree angle to break up the space. Regional art from areas where they have lived show an aesthetic toward strong abstract statements.
In the womb-like master bedroom, nature is a companion, too, but mechanical, rolled sheer shades both soften and provide privacy. An upholstered headboard and a bed layered with modern, quilted bedding folded back upon itself as well as simple, stacked pillows create serenity.
A softly lit walk-in closet lies between the master bedroom and the bathroom, which sparkles with glass and mirrors. Rectangular, matte-gray tiles warm the feet and are dead-ringers for stone. One long, floating cabinet houses two sinks with useful ledges on each side before descending into the bowls. Smoked hardware and faucets, and elegant mirror-on-mirrors contrast with the suede finish of honed black-and-white granite countertops. The drawer has a delightful, enameled knob. Both the glassed-in shower and the separate toilet area are as large as small bedrooms. An exterior glass door allows the landscape to lend its texture and color to this refined space.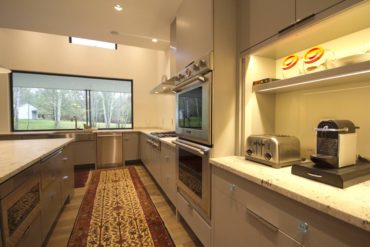 The long, high and wide hallway, suffused with light, turns the trip to the core of the home into a procession. Wide-planked oak floors with extra-long lengths are finished a pale-matte-gray stain and ground the creamy walls. At double barn doors just past the entry, a natural pause occurs. Then, the procession steps into a sweeping room designed for family living, dining and cooking.
At first glance, the spacious room seems shockingly simple. Its only ornamentation is an inverted, conical-shaped Italian chandelier — a delight of hand-painted silk suspended in a wrought-iron rim. Hung by five golden chains passing through a few Murano glass spheres, it is a magical surprise.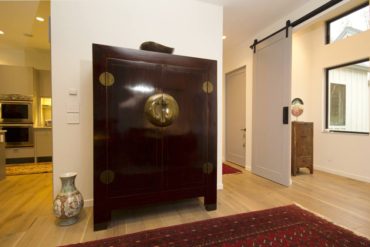 Nearby, the farmhouse hearth translates into a round, glassed-in fireplace sitting on a silky-smooth concrete pedestal. Its hood rises to the ceiling in a shape that reverses the cone of the chandelier. Such unexpected companion pieces — one floating, one grounded.
As the eye flows toward the view, a surprising flood of light beacons it upward. A channel where the ceiling meets the window wall reaches for the sky, bringing celestial light into the room through clerestory windows over the roof of a shady veranda, another farmhouse staple, that runs the length of the room.
Beyond lies a sweeping field of golden grass framing clusters of birch trees with white trunks. Two diagonal lines of light river rocks form dry beds and guide the eye past a small architectural bench to the horizon.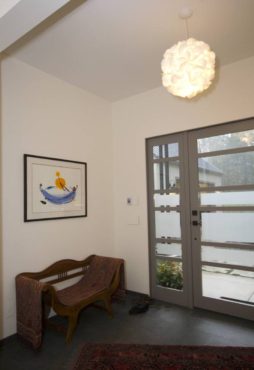 The kitchen counters run uninterrupted into the windows, reaching for the horizon, too. An island of white, honed granite splashed with gray and cocoa floats between the kitchen and living area. Three contemporary, tractor-seat stools are pulled up to the island, accessorizing the giant barn doors that slide on wrought-iron hardware. This hardworking kitchen doesn't skimp on any equipment that fulfills modern expectations. Here, she bakes the cakes and pastries he says are a daily must.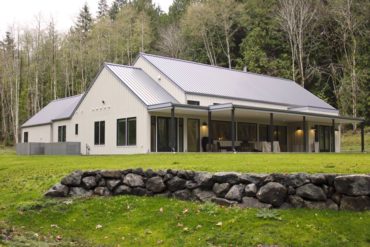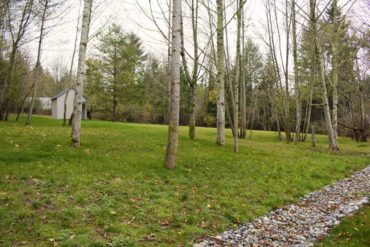 Another spacious gallery running the width of the farmhouse defines the back wing. Nature (again!) frames a small, corner gym. Two bedrooms share a smaller bathroom as elegant as the master's. At one end of the hall lies the veranda; at the other, there is a glimpse of the mudroom.
To make this sophisticated style work, it takes strength of focus and an intense discipline to not stray into superfluous add-ons. Thanks to the owners' vision and a team of professionals, they stayed the course and created an elegant, timeless farmhouse — a forever home.