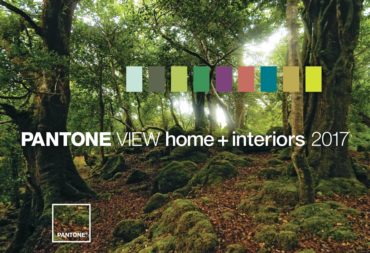 When design decisions are being made, the question inevitably arises about the right color direction to take. What path will make you feel more comfortable in your home environment? The answer is in assessing your aspirations and lifestyle needs and using invigorated color/design palettes that will persuade, engage, enlist and enable new directions.
For ever-divergent tastes and styling influences, there are nine distinctive signposts leading to specific color palettes that will help you to meet the constant challenge of finding the right colors that will work for you. Ranging from color groupings that express a quiet space to those that promise a more adventurous destination, each palette serves as a guideline to finding the appropriate comfort zone within the future forecasts.
Native Instincts
At one point in time, the term "native" applied to a specific indigenous culture. However, style-wise, current and future forecasts point to a homogenous mix of design and color where a piece of Native American pottery is quite compatible with a Turkish kilim carpet or a pre-Columbian artifact. Typically, there are many earthtones included that ground this kind of "ethnically-inspired" palette, including tan, copper, gold and brown. The newest take is to combine those tones with orchid and carmine red juxtaposed against mineral tones such as malachite green, violet quartz and a solid rock gray.
Florabundant
Just as its name implies, Florabundant is filled with the sumptuous beauty of rich floral hues. It is an enticing, lavish and profuse palette, and, mirroring the poetic names of the floral colors, there is an unmistakable drama in the variety of reds from pink to wine, along with orange, deep purple and rich gold. As in most floral arrangements, as well as in natural settings, varying shades of green provide the perfect complementary and ubiquitous background to the more vibrant tones in the palette.
Acquired Taste
In both food and surroundings, an acquired taste means an appreciation for the unusual, the unique or the distinctively different. In terms of color, this means a mixture of colors and textures that are not commonly seen together, yet they create a palette that is subtly luxurious with names like Orange Chiffon, Amberlight, Etruscan Red, Pale Gold, Mulberry and Brandied Melon. Along with those shades, a dove gray and a muted pink are sprinkled with a honeyed ginger for a tempting out-of–the-ordinary piquancy.
Day Dreaming
Today's harried and demanding world, the palette titled Day Dreaming offers a welcome respite and can truly fulfill its literal meaning as a "series of pleasant thoughts that distract attention from the present." The colors that evoke those thoughts are often light and seemingly weightless, as if to relieve the heaviness of day-to-day stresses. Included are the fresh air shades appropriately titled Serenity Blue, Blue Glow, Plein Air and a Nile green that are contrasted by the subtle complexities of Rose Quartz and Yellow Iris. A creamy beige and slightly-off white are the necessary neutrals, while Silver adds a slight shimmer.
Forest Bathing
Another stress-reducing palette is inspired by the Japanese practice of "shinrinyoku" or "forest bathing." Studies have shown that a walk in the forest or, at the very least, surrounding ourselves with greenery, is relaxing, restorative and encourages a healthy lifestyle. Naturally, several shades of green and blue-green are enlisted with names like Willow Bough, Moss, Silt Green and Hydro, while the contrasting purplish and tawny fallen-leaf shades are further highlighted by a jolt of refreshing Acid Lime.
Reminiscence
Reminiscence represents a different kind of walk, this time down memory lane as the concept of repeated history still manages to engage several generations. In this age of rapid-fire digital challenges, this color palette provides a sense of nostalgia and stability to those who feel comforted by its link to the past in traditional shades such as Maritime Blue, Sepia Tint, Dusty Blue, Rattan and Parchment. The modern updates are provided in some unexpected color combinations, such as a murky Martini Olive and Bird's Egg Green, or Sugar Almond and a vibrant Valiant Poppy.
Raw Materials
Raw Materials reflects a palette that symbolizes several movements in color, design and lifestyle. First, there is the continuing dedi?cation to the reusing and repurposing of materials both from nature and industrial resources. Secondly, there is the wellness and health movement that encourages the use of nutritious foods displayed in disarmingly appetizing and artistic ways. Thirdly, the palette offers a selection of colors coming together from disparate areas of design that make for highly creative mixes. Possibilities for combinations include shades of gray with mustard yellow, Faded Denim with Guacamole green, or a taupe called Winter Twig with Argyle Purple and most unexpectedly, Zephyr pink.
Graphic Imprints
The Graphic Imprints palette starts, just as line drawings do, in black and white, often shaded with gray. The use of those basic hues defines the simplicity and strength that has made them classic and never going out of style. Contours, geometric shapes and texture can add interest and dimension; however, it is the use of vivid color that adds impact to the basics. Future forecasts are displaying vibrant tones used as a strong single color story or in patchwork-like compositions. The names themselves tell their colorful story: Blazing Yellow, Dazzling Blue, Prism Pink, Fandango Pink, Opaline Green and Orange Popsicle.
At Ease
At Ease is a palette that is the essence of subtlety, a combination of tonalities that invites harmony and composure into an interior space. There are a variety of ever-popular neutrals, both cool and warm, blended with muted tones, while the colors are adroitly arranged so that they seem effortless. Combinations are equally effortless as their undertones are simpatico. Sea Fog, a lavender gray, fluently joins Orchid Haze and Twilight Mauve while Warm Sand, Zen Blue and Sea Angel, a cooling aqua, seamlessly meld into a comforting composition.