Trends in home design for 2017 run the gamut from simple and strong to bold and reclaimed. Tranquil baths, bold flooring and attention to reusable materials top the list.
Just like in fashion trends, there are… always hot new colors and styles — and it's tempting to feel like you need to revitalize your home every year to keep up. But as any good designer will tell you, trends are simply a guideline for possibilities. The best trend is the one that suits your personality and lifestyle.
We've asked our designers what they see as some returning and emerging trends this year — and for advice on how you can incorporate some of the fresh ideas into your home.
---
Connie LaMont
LaMont Design, Inc.
Poulsbo • 360-779-7227
lamontdesigninc.com
connie [at] lamontdesigninc [dot] com
Connie LaMont has been an interior designer and colorist in the Pacific Northwest since 1993. She holds a bachelor's degree in arts from the University of California in Irvine and a second bachelor's from the Interior Designers Institute in Newport Beach, Calif. LaMont and her architect husband, Wayne, own LaMont Design Inc. in Poulsbo. Some of their joint projects include Austin Towers in Poulsbo and Elkhorn Place in Sequim.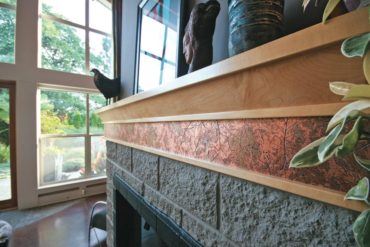 2017 trends: "I've seen that most all of my clients are looking for a happy, fun but calmer lifestyle," Lamont says. "That doesn't mean that 'less is more' but it does mean that whatever is in their home has great impact on their lives. Often, just rearranging furniture or changing the function of a room — like turning your dining room into a library or media room — can give your home new life."
Brick and reclaimed wood has been really hot in 2016 and that will continue. Bringing the look of "old industrial buildings" into your home has been accomplished by installing wood from old pallets and real brick on interior walls.
"I love to pair that with formal crystal chandeliers and plush furniture or old leather chairs and library tables," she says.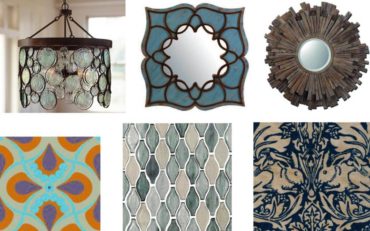 Lighting: Some light fixtures are becoming "functional art" because they are not just beautiful, they also illuminate. For example, wine bottle chandeliers and plumbing pipe fixtures.
New materials: Wallpapers are making a huge comeback. Like William Morris vintage designs or new modern, large-scale patterns. Plumbing pipes are used for drapery hardware, towel bars and hooks in bathrooms and light fixtures throughout homes.
Concrete is still making impact in homes. "I've implemented concrete for hearths, kitchen countertops, vanity countertops, wall panels, and spec'd acid-washed concrete floors, with radiant heat, to give a clean, artistic, yet organic feel within these rooms," she says.
Patterns: Large-scale, geometric designs are trendy. With midcentury design comes sleekness of furnishings but it also creates the need for texture and pattern.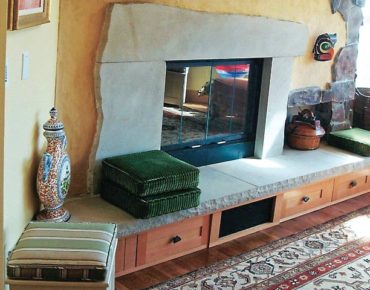 Tiles and glass: Lots of patterns, like quatrefoil, paradigm, medallions.
"I've also been using glass for bar-height countertops with a polished-down 'fire edge' detailing," she says.
Flooring: Luxury plank vinyl is still a very popular flooring material these days. It's extremely durable, and with its popularity, the costs have become very competitive. Luxury plank vinyl can look like aged oak, driftwood, bamboo or Brazilian cherry but it can also look like concrete or slate.
"Actually, any commercial-grade flooring is great, like Marmoleum (which is what is found on the Washington State Ferries), because of its amazing durability and playfulness of pattern," she says.
Technology: Using smart-phone technology to run all parts of your households, like lighting, heating, music, etc. is wonderful.
"You don't have to go to Las Vegas to have technology create moods in your interiors. If you have a smart phone, computer or tablet, you too, can manipulate your interiors to suit your needs," she says.
Advice for the novice: "Being a colorist, I love to experiment with paint," Lamont says. "It's one of the most cost-effective ways to transform any space within your interior or for the exterior of your home."
Don't just think about painting walls — you can paint furniture, light fixtures, doors, trim, even picture frames.
"Have fun! Don't be afraid to step 'outside of the box.' Experiment," she advises.
---
Michele Doyle
MD Design Group
Poulsbo • 360-689-4156
micheleinteriors.com
Michele Doyle founded Michele Interiors, Inc. in 2005 after completing her interior design training at the Seattle Art Institute. She has been successfully serving Kitsap, Jefferson, Pierce and King counties ever since. Fast forward 10 years and her business is now MD Design Group — a team of talented and service-minded collaborators ready to guide clients through the interior design process and getting to the heart of the clients' needs to create spaces that feel natural to them.
2017 trends: The theme is "old made new." We will continue to see upcycling or repurposing and combining these pieces with many different aesthetics for contrast.
"Keeping in the theme of old made new, I'm seeing and using more brass metals for lighting and plumbing — not the polished brass that was popular in the '80s but beautiful, aged-brass fixtures with soft and deep patinas," Doyle says.
Cabinetry is also showing dramatic colors — timeless colors like inky blues, charcoal grays have replaced the "espresso" wood finish and will continue to do so.
"Paired with these warmer metals, they make an amazing statement in the kitchen. But don't fret, the white kitchen will never go out of style," she says.
Scaling down is also the trend. People are trading in their larger homes for smaller ones and tiny homes are cropping up everywhere.
Lighting: LED lighting is becoming more and more the new standard. From flat-panel recessed lighting to minuscule LED light sticks for undercabinets and toekicks, to dramatic pendants and chandeliers — they are energy efficient, dimmable and are offered in warm and cool tones to work with any color palette.
New materials: Ultracompact surfaces like Cosentino's Dekton, so versatile and much more convincing as natural stone for some patterns than quartz for countertops and shower walls. These slabs are large, weigh less than quartz and are easily fabricated. They can also be used for interior and exterior floors.
Patterns: The herringbone, chevron and large-format octagon are coming out in many porcelain tile and commercial vinyl products.
"Again, the 'old made new theme' — even the subway tile has many new dimensions to make it look more updated," she says.
Color: "Whites will always be on point and when paired with stunning contrasting colors like turquoise, black or blue, it's anything but boring," she says.
But darker inky tones for drama are also getting more use. Grays are still the new black but so are slate blues, inky-blues and charcoal blacks.
Flooring: Stranded bamboo is tough and stable. Many reputable manufacturers now have bamboo that comes in a variety of different colors and textures and it doesn't even look like bamboo. Another great flooring trend (and practical) is luxury vinyl tile (or LVT). "The designs have come such a long way in the past two years — it's more convincing than it ever was in mimicking wood or tile and comes in a variety of colors and finishes. It's a breeze to maintain, quiet underfoot, and inexpensive to install. It's a great product for style-conscious pet owners or parents," she says.
Technology: Automation is a major trend. Companies like Lutron are really making it easy to control things like lighting and window coverings from anywhere in the world. These systems can even connect with your home's HVAC, security and entertainment system.
Advice for the novice: Gain visual inspiration to give you a sense of direction.
Think Pinterest. Do you see patterns in what you are drawn to in images? (Dark walls? Fiddle leaf fig trees? Clean-line design? Art? Open concept?) Use these patterns to make your plan.
Paint is the cheapest, easiest, least-risky way to make a huge impact. Also, read "The Life Changing Magic of Tidying Up" to get rid of all that does not "spark joy" in your possession. "This will help to create a space that reflects what you love, what brings you joy," she says.
---
Laurajean Welch
Harrison Street Design
Poulsbo • 360-697-7366
harrisonstdesign.com
Laurajean Welch opened Harrison Street Design in 1996 and has helped hundreds of clients find the right in-home decorating solutions that suit their color and style preferences, existing furnishings, budgets and lifestyles. Prior to starting her own business, Welch worked at a design firm in Bellevue. She also has lent her expertise to two Street of Dreams homes and has managed a design store. Welch currently lives with her husband, Alan, in Old Town Poulsbo and works out of her on-premises design studio.
2017 trends: The trends for 2017 will include upholstered headboards — a luxury staple in most high-end hotels now becoming a must-have for homeowners — as well as bold graphic patterns.
Cork is sill trending. "We are seeing this wonderful material used in side tables and flooring to entire walls for warmth and sound-deadening," she says.
Jewel tones will be popular, especially mixed metal and metallics.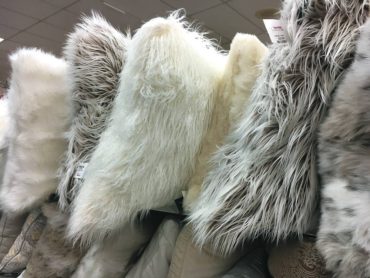 Colors: Look for deep forest green to replace dark navy and midnight blue.
"From master suites to living rooms, we need a place of solace and tranquility — think lush, deep moss," she says.
Patterns: Kilim is a boho-chic fabric used on sofas, pillows and cushions. Check out Pinterest for ideas.
New materials: Fur fabric is making a stunning statement, from pillows to ottomans to lap blankets.
Black stainless steel will start to replace polished stainless steel, hopefully making cleanup a snap.
Technology: Interconnected smart homes are a major trend.
"Isn't it amazing that we have the power to retrieve information and communicate to our homes using a device that fits in our pocket," Welch says.
Flooring: Hexagonal tiles in combination with hardwood floors is a trend previously seen in cafes and restaurants and is now going mainstream and into homes.
Advice for the novice: Stay grounded and start small by narrowing down what you want to accomplish. Then outline your project and budget. Define your design and style choices by looking at Pinterest and magazines.
---
Cate Adams
Arnold's Home Furnishings
Bremerton • 360-377-5582
arnoldshomefurnishings.com
Cate Adams has a degree in art and design from the University of London and has worked in London, Paris and Spain. Adams eventually settled in the Pacific Northwest and approximately 25 years ago. Adams currently serves as an interior designer with Arnold's Home Furnishings. She lives with her husband, Jack, in Silverdale.
2017 trends: Looking forward to 2017, casual style is prominent. "We're seeing neutral upholstery fabrics, used tone on tone or with textures, for a monochromatic look," she says.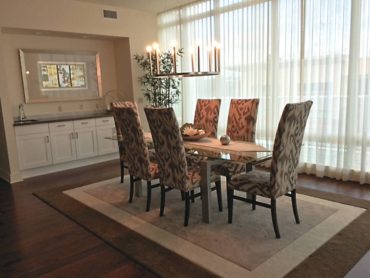 Color: Taupe, gray, charcoal, oatmeal and light brown are all winners. They can stand alone or be spiced up with accent colors in area rugs, pillows, art work and accessories. All shades of blue, to blue green and aqua are huge at the moment.
Splashes of red, gold, orange and black look wonderful with neutrals. "All the markets are showing gold metals replacing brushed nickel," she says. "Customers are giving us mixed reviews on this!"
Flooring: Hard-surface flooring with area rugs are right on trend. Here in the Northwest, woods are very popular but the stain choices are trending toward the grayer tones.
Bedrooms: There's a move to fully upholstered beds, in everything from textures to splashy patterns.
"This gives us a softer, more casual look in the bedroom," she says.
Just about all the wooden bed frames coming on the market have built-in storage. "Finally, that wasted space under the bed put to use," she says.
Technology: Motorization in reclining pieces is taking over. As the baby boomers age, so are their backs and knees. Motors on recliners allow for an infinite number of positions, and the furniture lasts longer as the frame is not constantly being wracked.
"We certainly see very few service calls on these pieces." she says.
Advice to the novice: "Plunge into 2017 and have fun making your home personal, colorful (or not!) and a true reflection of yourself," she advises.
---
Nancy Finneson
DeMane DESIGN, LLC
Gig Harbor • 253-973-8442
demanedesign.com
nancy [at] demanedesign [dot] com
Nancy Finneson, AKBD, CAPS, CLIPP, Allied ASID is an award-winning interior designer and kitchen and bath designer. She attended the Art Institute of Chicago and later received a degree in interior design. She is a certified associate kitchen and bath designer with the National Kitchen and Bath Association, a certified aging in place specialist, certified living in place professional and an allied member of the American Society of Interior Designers. After spending many years in the San Francisco Bay area, Finneson now makes her home on the beautiful Puget Sound. She loves working with people and enriching their lives by helping create spaces that inspire, entertain and function brilliantly. One of her favorite projects has been adopting and creating a room for the new YMCA domestic violence shelter in Tacoma. Recently she was honored with three first-place and one second-place award for design with the prestigious American Society of Interior Design association.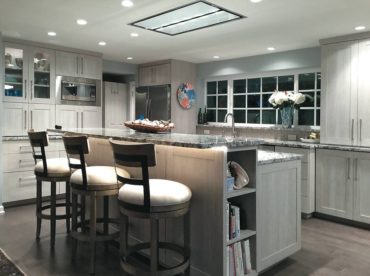 2017 trends: The powder room is now the room to wow. Kitchens and bathrooms are still the most popular rooms in the home to remodel. However, these often small rooms are stepping up with amazing wall effects such as bold tile or statement wallpaper.
Mirrors are unique (no more simple medicine cabinets) — great shapes, backlight with a glow of light or perhaps big and vintage. The sink may be featured in glass or a textured metal. Faucets now offer many different finish options and can be wall hung. Lighting can be a star of these small spaces, with a chandelier or adding toekick lighting that is activated when you enter the room.
"The powder room, whether your style is modern or traditional, is a place to have fun in and make unique," Finneson says.
In the kitchen, white and light gray cabinets and open space is a trend that will continue to be popular.
"Don't make it boring or sterile," she says.
Embrace the open look with less or no upper cabinets. Simple, open shelves are popular due to ease of access and display opportunities. The backsplash is also open for fresh looks: Consider backlit glass, mixed metal or subway tile but with a new texture or oversized.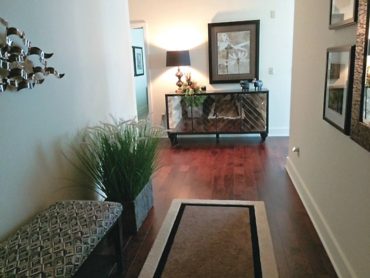 A notable feature that has advanced is the fireplace. Gas inserts and fireplaces are more functional and efficient than ever. They give off better heat and the styles run from modern to traditional. The surrounds and facings vary greatly based on the style desired, but a simple face is very popular with large format tiles. The inserts are changeable too with glass pebbles, beach rocks to different types of wood looks.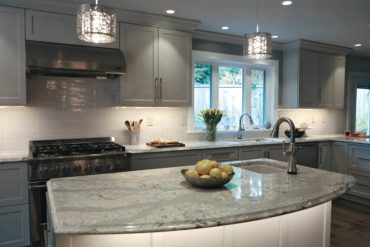 "Fireplaces are in more rooms than ever, including the bath," she says.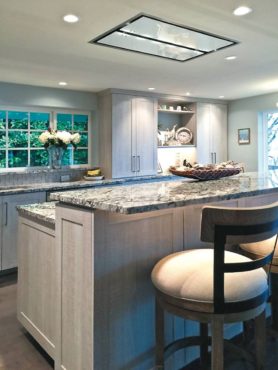 Flooring: A new design technique is "flushed flooring," also known as tile transitioning. It combines tile and hardwood in an interesting way that the two materials meet and blend flush side by side. Traditionally, often a transition strip separated the different sections of flooring materials. This new treatment eliminates segmented spaces.
Technology: In the bathroom, technology can help create a spa. A wireless, removable speaker in your showerhead that is synced to your phone is available and so affordable that you can have it in every bathroom now.
Bathtubs and the basic soak have advanced to hydrotherapy with a touch of a button. The tub can use air, sound and color that massage and relax your body and mind. Vanities can be customized with integrated electrical outlets in drawers and in a shelf that keeps your counter clear and simplifies your morning routine. The smarter toilet is becoming more commonplace in remodels, incorporating a touchless flush or a washlet, flush with features function and design.
Advice for the novice: "Old, new, eclectic — it's your space and don't be afraid to mix things up. Explore and perhaps repurpose a chest — with some paint or hardware, it can now see a new life," she says. "I do caution my clients to have fun but take a step back and look at your space. Being eclectic can be very stylish, but you don't want hodgepodge. When you need assistance to get your desired look, call a designer to help you pull it together."
---
Janet Weber
Janet Weber Interior Design
Poulsbo • 360-626-4484
janetweberid.com
Janet Weber owns and operates her own interior design business with the goal of creating atmospheres that are unique and well-suited to each client's values, lifestyle and personality. She assists clients in realizing the vision for their homes and commercial spaces by guiding them through each phase of the design process, from the initial space planning to the final selection and placement of accessories. Weber received her bachelor of arts degree from Washington State University and has been working in the industry since 1986. Her professional involvements include Design on Broadway in Everett, Markie Nelson Interior Design in Seattle and Fine Home on Bainbridge Island.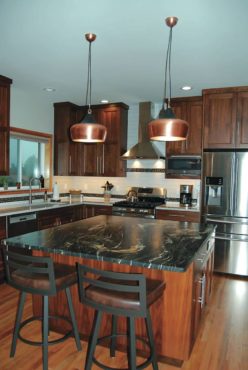 2017 trends: The popularity of the open floor plan will start to wane in 2017. Defined living spaces are returning to the modern home. A more private layout reverting back to enclosed kitchens and separate entertaining areas will become more popular. These areas can be defined by sliding doors or panel systems that allow the spaces to be open or closed depending on the owners' needs.
"Versatility is the key, with modular furniture becoming more and more important as rooms get smaller and more intimate," Weber says.
Configurable furnishings play a larger role for our more nomadic lifestyle. Reading nooks, sunrooms and places to retreat from technology are becoming increasingly important.
"The other trend that I'm excited about is the 'made in America' trend. We are seeing more products that are made right here in the USA becoming popular. People are even paying a bit more for products that are produced locally," she says.
Lighting: Lighting for the coming year will be oversized and make a bold statement. Lighting that is inspired by nature with geometric shapes and triangular patterns will become more popular. Midcentury modern and art deco styling will be on the rise, with clean lines and less fuss. Industrial lighting is still around but it will become more refined.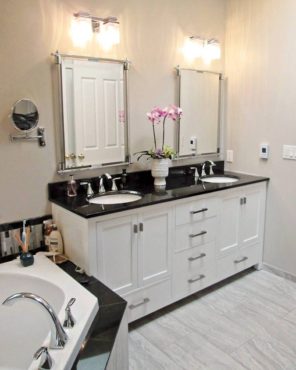 New materials: "I would say that what is old is new again," she says. "Natural materials that are the 'real' thing are making a comeback."
Leather, marble, velvet, wood and brass are all coming on strong in 2017. Organic materials such as rattan, abaca, bamboo and cork will also be popular.
Patterns: Natural inspirations for pattern will be everywhere for the upcoming year. Plant-based motifs will be popular as well as Indian, tribal and animal prints.
Patterns that imitate the look of wood will also be favored. "I recently selected a wall covering with a wood design and used it in a powder room for a stunning effect," she says.
Colors: Gray has finally peaked and warmer tones are on the rise.
"Don't be alarmed, because gray is not going away entirely. It is still a nice neutral, but the market has been saturated with gray for the last couple of years and the trend it changing. We will be moving toward warmer grays and taupe colors," she says.
Jewel tones will be making a comeback with the leading color being emerald green, and earthy colors are on the way in, with terra cotta and lavender leading the way.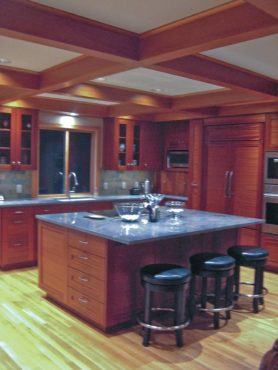 Flooring: One of the more interesting flooring trends is transitional flooring: floors that combine tile and hardwood using organic transitions.
"I have used this technique in the past with pebble tiles but it will be used in the future with other tile shapes," Weber says.
These transitions follow the use of the space. For instance, a hexagon tile being used on a kitchen floor would run under the island bar stools and then mingle with the hardwood flooring in the family room to create this organic transition. Hexagon tiles work well for this transition but it can also be achieved using a chevron or herringbone pattern.
Hardwood flooring will always be popular, especially in the Pacific Northwest. The trend will be toward wide and long plank flooring with a low sheen finish. The combination of different sized planks is also becoming popular. Distinctive finishes on hardwood flooring will continue to be popular. Hand and wire scrapping give your hardwood floor a vintage look and help with upkeep.
Luxury vinyl tile is still an emerging category of flooring that combines the high-end look of hardwood or stone with the durability of vinyl.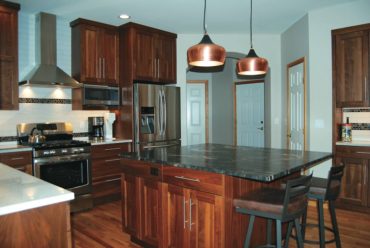 Technology: Aging in place is becoming a huge segment of the interior design world. With new technology, seniors are able to stay in their home longer. Sensors can monitor everything from vital signs to fall detection, and can even be embedded in chairs and incorporate biosensors to measure basic vital signs.
Advice for the novice: Don't overclutter a space. Use larger accessories and artwork to create some focal points in your home; however, only have one main focal point in a room.
"I like to find one item and design around that item," she says. "For instance, I often find a pillow that I love and use that for inspiration. I usually make up a small 'color board' when I am shopping for clients. I take a simple manila file folder and attach paint colors, fabrics, tile samples and anything else that is an important element in the space. I take this shopping with me so I can match the new items I am shopping for with the existing colors in the space."