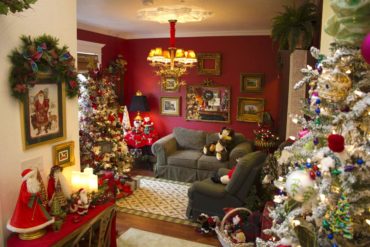 Lana Decker's love of Christmas began when she was in high school. Over the years, she's amassed quite a large collection of ornaments, santas, trees… so much so, that the collections have taken over the Deckers' three-car garage. At last count, she had over 200 banker boxes full of Christmas decór.
A few years ago, Decker organized each box by theme, such as tartan, red, green, jewel-tone, Santas, etc. Each box is numbered with a detailed inventory of every item inside along with digital color pictures. All this information is stored on a computer program for quick reference. When she decides on a theme, she only has to look at the pictures on the computer and find the corresponding box. Then the work (or fun) begins.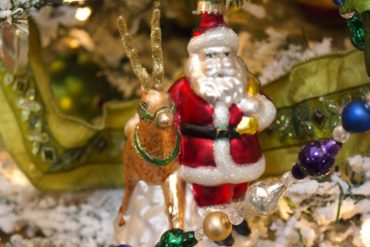 She dedicates more than a month to Christmas decorating. There are three main trees and the themes change each year. The items that come off the shelves in her home to make room for Christmas go into the emptied banker boxes to minimize storage.
Decker notes, "None of this would be possible if it weren't for my husband (Bob's) help and support. He puts up the trees, moves boxes, critiques my work and keeps me organized."
People ask her why she does this year after year. She replies, "Christmas and the feeling it evokes gives me such pleasure. And, I like to think it has the same effect on those who visit."
Touring the Deckers' Christmas pageantry was truly a pleasure.
Now, here's how Bob and Lana Keep it straight…