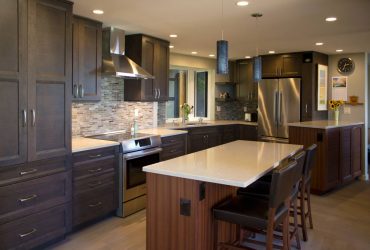 An unassuming house perched on a hillside turns out to be anything but unassuming. Behind a cobbled entrance and craftsman door lies a leafy view that sweeps to the shimmering Puget Sound and snowy Cascade peaks. Throw in the ever-changing sky and cityscape on the far shore, and the view marks this a home worth an extensive makeover.
Small steps lead to big changes in life and remodels. For instance, Kris (with a K) met Chris (with a C) at a party. The meeting went well. So well, in fact, that her tiny master bedroom suite required a serious overhaul to accommodate two lives becoming one.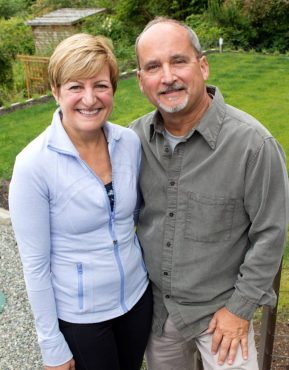 The two, now known as "K/Cris Squared," met the design-build team of Molly McCabe and Clive Pardy of A Kitchen That Works LLC at another party. The casual meeting led to Kris and Chris* happily jumping on A Kitchen That Works' waiting list for construction.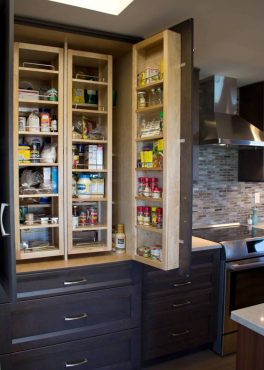 When McCabe came to check out their situation, as she passed the tiny kitchen on the way to the bedroom, Kris mentioned she might want new cabinets. McCabe, an expert in kitchen design, showed them the kitchen's potential for a complete update. By the end of that visit, Chris and Kris had a completely new vision for their entire home.
While the couple were on the wait list, McCabe guided them on a new adventure selecting tiles, countertops, appliances and cabinetry. The process was augmented by their cache of images collected through their extensive travel and experience with cultures, architecture and art. McCabe listened closely, sorted their finds, filled in the gaps, and led them to results that reflect both of them — what they love and how they live.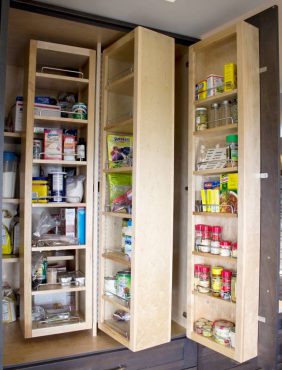 The simple master suite remodel turned to a tear-down/rebuild project. Architect Christopher Gutsche (yes, another Chris!) joined the team to define the structural work for the master suite, creating a tasteful addition on a critical slope that blends beautifully with the rest of the home. Water damage in the kitchen and guest bath, uneven floors, a difficult septic system design and poor drainage were among the many challenges.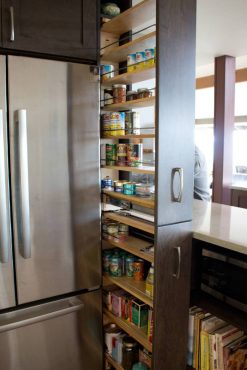 The new septic system required a retaining wall that turned a scrubby slope into a lovely, flat, grassy lawn. The renewed deck outlined with benches and cable railings opened up the view from the interior of the house and stands ready for entertaining. A shift in the roofline gave the home more presence and bathed the new bedroom with natural light. And the teeny, tiny guest bathroom complete with a shower turned into an unexpected jewel after a last-minute decision to update it.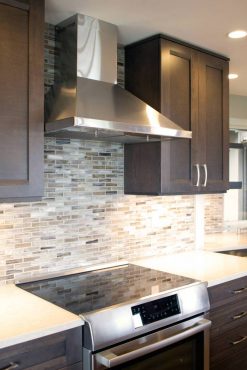 And, oh, surprise, surprise! They decided on a total kitchen remodel.
Removal of a closet between the dining room and kitchen made a huge impact. Suddenly, the fabulous view added its magic as it lit up the dark, cramped kitchen.
Waist-high sapele wood cabinets define the intersection of the entry, kitchen and dining room. The warm wood, repeated in the kitchen's island, contrasts with the cherry cabinets, stained with a smoky finish. The line of cabinetry is broken up with brushed stainless appliances in the kitchen's expanded floor plan. A recycled-glass-tiled backsplash in soft mocha, fawn and blue rises from cream-colored quartz countertops. Quarter-sawn oak floors were custom-stained and oiled to complement the backsplash.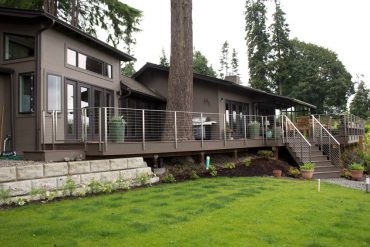 Nothing appears harsh. Matte surfaces are accented with a glimmer of brushed nickel hardware and a few unexpected crystal knobs. The eye roams at a slow pace, delighting in the contrast between the active exterior view and the restful interiors.
The kitchen is a dream come true for Kris and Chris, who cook and entertain their circle of friends on a regular basis. Counter and storage space abound, with a built-in buffet, a pullout pantry, a wine rack and a shelf for cookbooks. Undercabinet, wall and overhead lighting warm the atmosphere.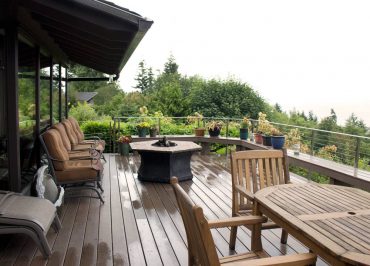 In juxtaposition to the masterful use of woods, painted doors and trim run like cream through the home, creating a sense of unity and sophistication. Other colors are as soft and muted as those found on a Northwest beach on a misty morn: silvery stone, rock gray, fawn and sand.
Beyond the kitchen, a discrete door belies the luxury of the master suite reminiscent of an elegant spa hotel. An east-facing window wall welcomes sun, moon and stars in the ever-present view. A south window and west-facing transoms filter light and air through the room all day. A large, built-in cabinet with shelves with granite countertops and small crystal knobs provides storage and display space for found objects and family photos. A chunky, architectural bed stands against one wall, solid and inviting. Under foot, the plush carpet softens the whole.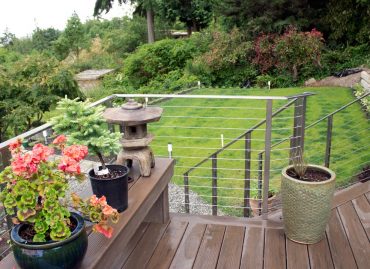 Walking through the closet, the couple are practically dancing — it's three times more space than they previously had. The flooring is cream, barefoot-soft carpet tiles. Accessible bins, pant racks and rods surround the wall and a sparkling light-track sits like a crown. In the closet island is a hidden, foldout ironing board.
The luxurious, sophisticated bathroom itself is enough to do a happy-dance over. Near the linen cabinet, a glassed-in shower lined in monochromatic porcelain tiles with narrow stripes of beach-glass colored tiles nods to the home's coastal location.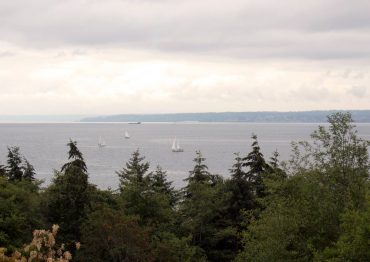 A free-standing, architectural bathtub is set against the dramatic landscape. Wall sconces and tiles surrounding the tub and window share a simple wave motif. Hickory cabinets topped with sinks set in fawn quartz counters are more akin to furniture than cabinetry.
Fingerling Italian marble sits in the floor tile like an inset area rug. The walls painted a subdued blue-green refer to the shower's beach-glass stripe and lift the subtle tones that exude the serenity of natural beauty.
A year after construction began, the home proves that change can be wonderful in remodels and life. On their new lawn with their lovely view as backdrop, Chris and Kris were recently married surrounded by family and friends — and a home designed for the best of life.
* Last names withheld for privacy reasons.