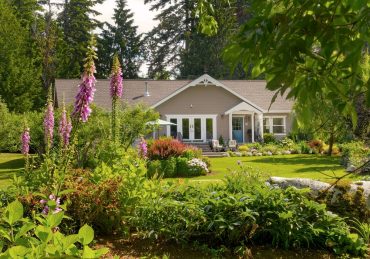 Tires crunching a tidy, graveled driveway announce one's arrival to Roy and Barbara Wilson's Skunk Bay home. It lies just beyond the waterside hamlet of Hansville and is nestled on about 5 acres just above the bay. Apples lay at the feet of their expansive lawn, welcoming deer who may happen to saunter by and in hopes of keeping them away from the acres of flowers.
From the couple's English garden, a stained-cement walk meanders gracefully beside the front of their home and follows a gentle arc to the backyard. The border beds — with soft, curving lines — are full of blue, white and pink, and punctuated with splashes of bright orange and yellow. Flowers of every kind fill the landscape; hydrangeas and rhododendron anchor each area, with a colorful myriad of everything from nasturtiums to gladiolas woven throughout. It's amazing to think the Wilsons have only lived here just a year.
"We'd been looking for a while," Barbara explains.
Not unlike many others, the Wilsons wanted to downsize. They were drawn to the Hansville area and had specific needs: a seamless, indoor-outdoor living space to accommodate their two passions, dogs and gardens.
They raise Cavalier King Charles spaniels together, forming a stewardship that includes authoring key definitive works on this delightful breed. Barbara, true to her British heritage and coupled with her years raised next door to Buchart Gardens in Victoria, Canada, is an avid gardener in the classic English country tradition.
As they drove in for the first time, Barbara felt they found their new home. "I told Roy, simply, 'I want this place.' It was love at first sight."
The people who initially cleared the land and built the home didn't realize it, but they had set the stage for a delightful English garden.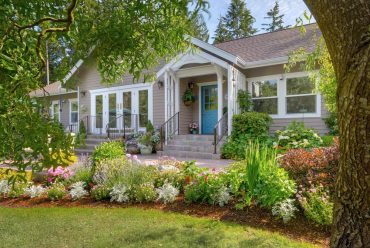 "The bones were right there in front of me," Barbara says, still amazed at their good fortune. "A large lawn and not one but two greenhouses. It kept me busy, planting and nurturing flowers, all winter long."
English gardens have not changed much over the centuries; their enduring charm dates back to houses or castles where the unused land surrounding a dwelling was often meant to keep cattle or deer. The flower beds line walkways, surround outdoor rooms and provide colorful, expansive islands amid a grassy meadow beyond the manor house. Barbara immediately recognized the opportunity before her.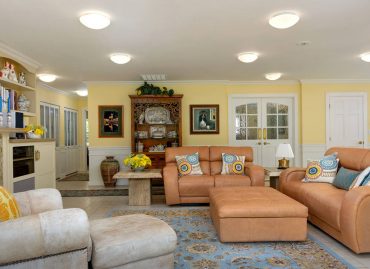 It was love at first sight for Roy and Barbara, as well. Roy was a stage and screen actor who'd made a conscious choice to include a dog in his very busy life. "I went to the library and created a spreadsheet of dog breeds and their characteristics, and the Cavalier kept coming up," he says.
Along the way, he learned of Barbara's work as a steward of the breed. After an acting career spanning more than 40 years and with ailing parents, Roy decided to retire. Barbara was two years a widow and busy continuing the tradition, set by her and her late husband, of raising top quality Cavalier King Charles spaniels. Roy attended a show and watched her win another best-in-show ribbon. During a quiet moment following the announcement of her win, Roy approached her to introduce himself.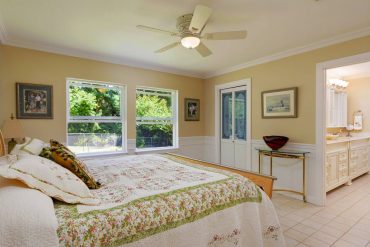 "I knew right away I would marry Barbara," Roy says with a meaningful smile. "And less than 24 hours later, I proposed."
Their families didn't know what to make of their hurricane-force love affair. The couple waited only four weeks to be married by Roy's father, a Methodist minister who served the Bremerton community for many years.
Form Follows Function
Similar to how couples blend lives as newlyweds, inside their new home there was a bit of work ahead in order to welcome the dogs and create an effortless transition to and from the garden. The couple called upon Connie LaMont, who had designed their former home in Seabeck. They knew she would help them polish and perfect what was already a well-designed structure and landscape.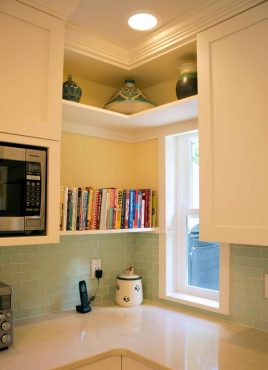 First on their list was the fireplace in the main living room. It was transformed from a pot-bellied stove, holding center stage, to an insert nestled between custom built-in cabinets on an interior wall. Now, there is plenty of space to tuck away loose items while adding an expansive feel to the room.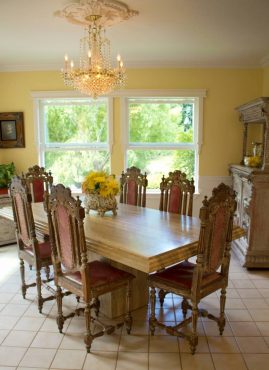 Windows along the north-facing wall were replaced by French doors yawning out onto the patio. As if punctuating the true north feel, a compass is inlaid and serves as a key focal point of the outdoor space.
To welcome both four- or two-legged family members, the couple kept the cream-colored ceramic tile flooring throughout the main living areas. With such a seamless feel, it eliminates worry about what may be on feet or paws coming through the welcoming arms of the French doors from the patio.
"But, we gave on having our laundry room inside the main house," Barbara says.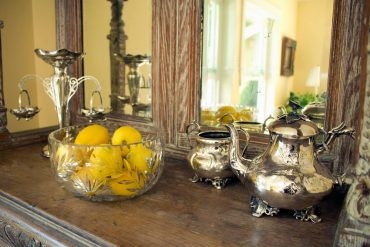 "The dogs live with us; their kennels are in what used to be the laundry area," Roy says, pointing to a set of frosted glass doors. Located just beyond the main living space, this area can be easily used for tucking the dogs away when need be. The laundry is now in the garage building, just steps off the front porch.
Calm and Serene
"Our life is definitely not calm," Barbara says with a laugh.
Between the puppies and the plantings, it is a toss-up what keeps the couple hustling more, and is probably based on the season or a new litter of puppies.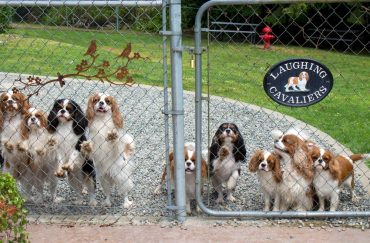 "Connie LaMont knows us so well and made sure that the home is calm and serene because we certainly appreciate it," Barbara says.
LaMont ensured their last home featured a beautiful, red-hued kitchen. Yet, this one would be in sea-glass blue, cream, dove gray and butter yellow.
"Barbara asked whether she should start painting the kitchen red, and I just showed her an ethereal, pastel color palette," LaMont remembers with a smile. A mixture of confidence and kindness plays on her face; she knows the Wilsons are grateful for her knack of balancing artistic translation with thoughtful design sense.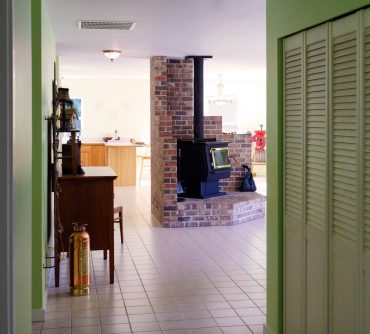 Throw a Spanner in the Works
Both Barbara Wilson and LaMont are daughters of engineers and speak the same language in terms of construction. And, LaMont delights the Wilsons with an eclectic surprise. Color is her passion in design aesthetics and her specialty is to create uniquely colorful features with every project.
"Connie's MO (modus operandi) says, 'You'll do this and you'll do that,' which are things we already planned for and agree on explicitly," Barbara says. "Then she throws a spanner in the works and the front door will be bright blue," she adds, using the colloquial English term "spanner" as if that is the only way to explain it.
That bright-blue door serves as a perfect gateway, complementing both the hydrangea-filled gardens and the kitchen. Inside and out, one feels LaMont's love of color and its use in connecting these highly regarded living spaces.
Making Space for Cherished Pieces
Beach-glass-blue subway tile in the kitchen frames the windows and sets off the quartz countertops, featuring ribbons of that same blue flowing amid serene gray and crème. Soft yellow floats along the walls from kitchen to dining to living room and serves as a fitting host to heirloom dining and living room furniture, allowing them to serve in the spotlight.
"These have been handed down from mother to daughter since the early 1800s," Barbara says.
The chairs and sideboard traveled from England to Victoria and now, to this home. Amid the couple's downsizing, these pieces are thoughtfully displayed, along with other small collections featured here and there. Porcelain spaniels dot the built-in shelves; a collection of paintings lines the walls. In the kitchen, small groups of pitchers and cookbooks gather in spaces that seem made just for them.
Those who have blended lives by marrying after 30 know that the decision of what to keep and what to shed is not undertaken lightly. The Wilsons have not only blended well, with LaMont's help, they have showcased those cherished items beautifully.
Honoring Good Luck
"From the moment we met, it was as if we'd known each other all our lives," Roy says.
Over the past 15 years, the couple has done much together. They have traveled, cared for Roy's parents before their passing, shared a love of their dogs, and are now enjoying the English gardens that are Barbara's passion.
"I was 52 and Roy, 53 when we met and our families about fell over when we said we were getting married after knowing each other only 24 hours," Barbara says. "We have been so very lucky."
And, to honor this good luck, they have also created a cherished retreat to enjoy every minute of it together.