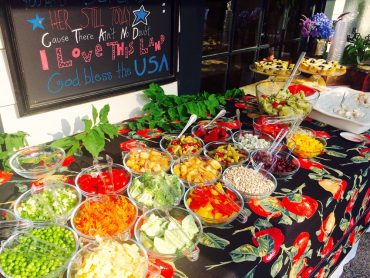 When you live in the beautiful Pacific Northwest, you learn to take full advantage of the often-fleeting warm summer days — and nights — including outdoor dining as often as possible. En- plein-air dining is easy and fun, and you don't need to speak French!
Whether preparing for a weeknight meal or a party for 20, enjoying food in the great outdoors is a seasonal joy in the West Sound. Food tastes better outside, don't you think? Oui oui!
Bringing color and fun to any plein-air dining experience is easy, too. So enjoy a quiet outdoor dinner for two or invite all your friends for a sunset supper. Here are some ideas to help make it magnifique.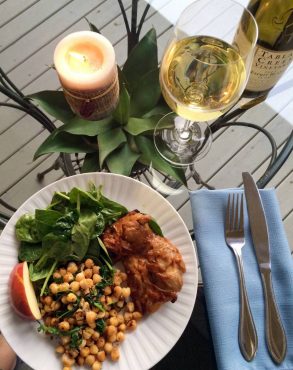 Keep It Simple
When the sun is shining, the food should be fresh and simple. When developing your menu plan, consider using ready-made foods from your local deli, interspersed with homemade dishes from your own kitchen.
Choose menu items that can be prepared in advance and require little last-minute preparation. Cold poached salmon can be made a day ahead. Barbecue ribs can be made a day ahead and reheated in the oven. Try a cold soup such as gazpacho, even tastier when made a day ahead. Serve a variety of salads buffet style and iced tea in mason jars.
Recruit a Helper
If you are expecting a crowd, such as when the book club meets around the pool, recruit a family member or friend to help prepare and serve so you can enjoy your company and your event.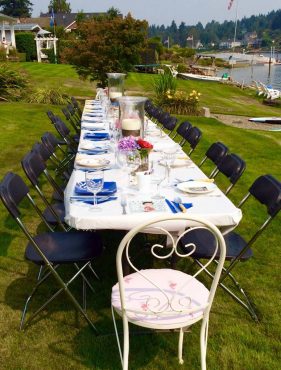 Keep It Local
When entertaining out-of-town guests, create a menu that highlights something uniquely local, such as whole Dungeness crab dinner and crab fritters. Visitors are usually interested in learning about local delicacies that they may not have available in their own hometowns.
And local, seasonal ingredients always taste better. Add fresh corn on the cob and gin and tonic — and a perfect summer meal is done.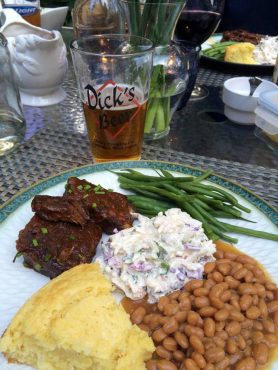 Make It Fun
Add fun elements to your meal, such as lobster bibs, coloring crayons with paper table covers or name games to help your guests get to know each other. Use a blackboard to display your menu and welcome your guests. Diners will find the fun elements a way to laugh and engage with other guests over dinner.
Use Place Cards for a Group
Planning ahead where your guests will sit brings new friends together. Without place cards, guests will usually gravitate to people they know, eliminating the opportunity for building new relationships.
Use a Theme and Color
Use a theme such as a tiki bar or beach and seashells, or use bright spots of seasonal color in your tablescape. This acknowledges and celebrates the summer season and brings joy and cheer to the table.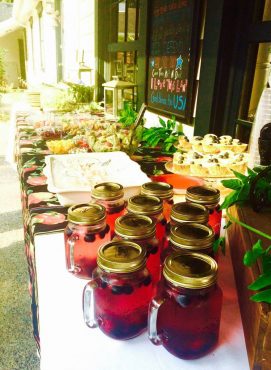 Have a Plan B
If the schizophrenic Puget Sound weather does not cooperate, don't panic. Have a plan B up your sleeve, such as a canopy cover for an unexpected thundershower.
Keep Your Pantry Stocked
A weeknight romantic sunset dinner is easy when you keep items in your pantry and freezer that can be enjoyed in 30 minutes or less, such as precooked barbecue ribs, shrimp, cornbread and coleslaw, cheese and crackers, wine and beer. Keep a variety of colorful paper or cloth napkins on hand and be ready to add a splash of summer color even on short notice.
Mismatch Your Dishes
Try using a variety of dishes instead of having everything match. Mismatched dishes create color and texture on the table, as well as make a great conversation piece. Layering the dishes also creates depth and interest on the table. And don't be afraid to be bold with colors and mix and match.
Plein-air dining is fun and festive and will always bring rave reviews from your guests, whether you are entertaining for two or 20. Enjoy the Pacific Northwest summer this year and get outside and eat.
Bon apetit!