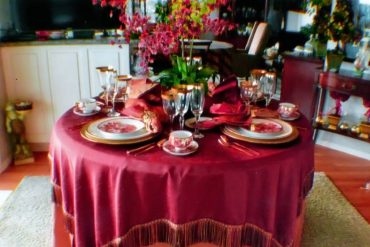 As we have in the past, WestSound Magazine magazine received an abundance of creative tablescapes. The choices were all wonderful — but our tablescape judges, Teri Hern and Linna Lawrence, made the difficult decisions!
Thank you to all who took the time to submit their tablescapes. And thank you to our judges for their time and expertise.
Congratulations to our winners: Sandy Ruffo, Betty Jacobson and Felix Garza on their creations of beautiful tables.
---
First Place — Japanese Inspiration
"This is a table inspired for Japanese friends who visit us periodically. During his business career, my husband traveled extensively in Japan and met many wonderful individuals. He so enjoyed their hospitality, the serenity of their gardens and experiencing all that Japan has to offer.
"This table captures a combination of some American glitz, as well as the use of traditional Kutani, hand-painted Japanese plates, cups and saucers."
Tablescape by: Sandy Ruffo, Gig Harbor
---
Second Place — Northwest Waterfront Living
"The tide is out, the table is set… and now is the time to enjoy family and friends! Northwest waterfront living offers casual elegance and our table setting reflects the natural bounty of the Hood Canal beach.
"To us, the dining experience is not only about the invitation list, but about making our guests feel welcome and relaxed. Our table presentation offers color, texture and visual stimulation — which, in turn, leads to hours of fun and interesting conversation."
Tablescape by: Betty Jacobson, Tahuya
---
Third Place — Summer Place
"This colorful, fun table setting was a thank you dinner for some dear friends who helped out in planning a fundraiser.
"My tablescape was inspired by the bright, vivid colors of the summer season. I started with a colorful aqua shag mat as my base. I used a neutral, cheetah print plate, a tinted glass charger with a white embroidered place mat combined with playful flatware to create our whimsical table setting. This colorful table was complete with fresh African daisies and fragrant hyacinth plants potted in bright yellow pots."
Tablescape by: Felix Garza, Bremerton
---