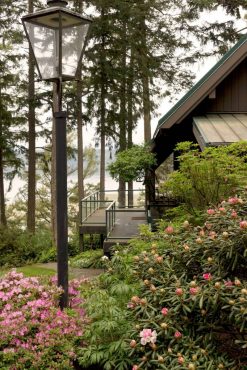 Stand on the deck and listen. It's not exactly silent; there's plenty to hear. There's the chirp of birds and the rustle of the breeze in the trees. Crows bicker and an occasional heron squawks as it glides by. Underlying it all is the faint sound of waves from the beach far below. It is, however, startlingly quiet by 21st-century standards. Where's the ambient noise of civilization you've come to expect?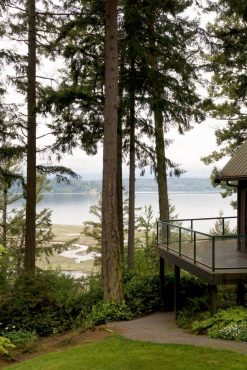 Now consider the view: a peek through the trunks of mature Douglas firs to an unspoiled spit below. The distant shore appears unpopulated in the low evening light. Suddenly you've traveled back a hundred years: no airplanes, no road traffic, no machinery or electronic devices. There are no dogs barking and no music from the neighbors. In the long interval between the occasional jet or passing watercraft, you can imagine Kitsap County as it once was, a place of salmon runs and endless shellfish beds, with densely canopied forests darkening the enormous trunks beneath.
No wonder Joan Martin loves it here. Twenty years ago, she pulled up stakes (and her plants) in Mercer Island and headed to the relative wilds of the extreme northern tip of the Kitsap Peninsula. The home she chose was a modest two-story built in the mid-1980s. The dark-accented interior was already becoming dated, but oh — the view!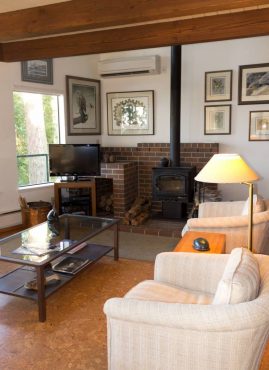 From the home's southern windows, Martin can see all the way to the Hood Canal Bridge. Port Ludlow, directly across the water, is frequently wreathed in red-and-gold sunsets. The occasional submarine slips by. Wildlife from otters and bears to eagles and osprey have visited her little piece of heaven. Her only regret is that the neighborhood eagles have not yet chosen one of her wind-gnarled firs for their eyrie.
With a wild kingdom to the front of her home, Martin opted for a hands-on backyard. Her longtime love of plants and plant collecting resulted in a garden of botanical delights. Hers is no humdrum gaggle of bulk-buy plants from the big-box store. Oh, no.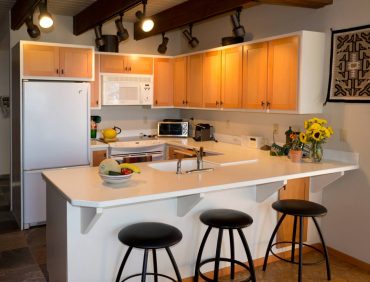 Her collection began in the 1980s when she volunteered at the Washington Park Arboretum in Seattle. From her work there, as well as her friendship with Ken Gambrill, curator of the Rhododendron Species Foundation, Martin amassed a collection of species rhodies. With Gambrill, she toured Europe, Russia and even Latvia, exchanging plants with other botanists. When Martin moved to Hansville, more than 80 percent of her Mercer Island garden came with her.
In Hansville, her garden continued to grow. A friendship with Kelly Dodson of Far Reaches Farm in Port Townsend continued Martin's interest in species peonies, of which she now has nearly a dozen different kinds, blooming in swathes of brilliant pink or white each spring. Add to this terrestrial orchids, Pacific Coast iris, a rare Concordia oak and many other uncommon ornamentals, and it's a garden worthy of a plant enthusiast's tour.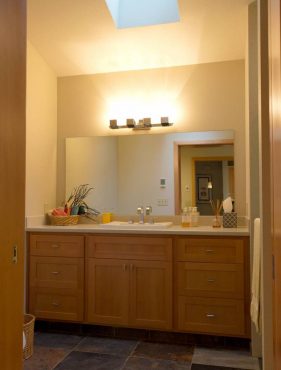 "My plants all have meaning for me," Martin says. "I know where they're from and who they're from, and they all come with a memory."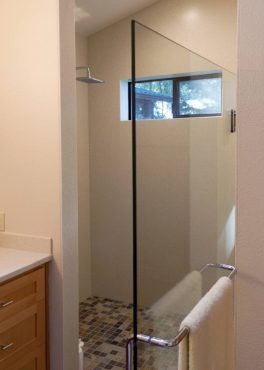 Between the wild and the woodland garden lies Martin's home on the bank overlooking the mouth of Hood Canal. However, it nearly didn't remain her home. A few years back, she had a tough decision to make. While still living in the house, Martin purchased another property just down the shore where she built what she thought of as her ideal home. Sitting on a spit, the new house had 10-foot windows and amazing views. Once again, Martin had begun to move her garden when she realized her heart was with the first house.
"It was just too nice to leave," she says. So she replanted her rhodies and settled in to stay — for good.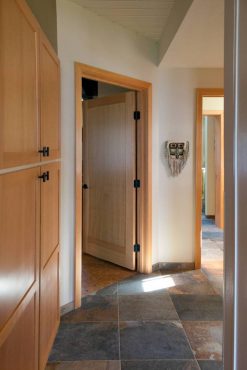 Nice, yes — but Martin and her house weren't a perfect fit. The setting was sublime but the home needed a bit of tweaking. For one, the only bedroom and the laundry were on the upper floor. Martin didn't want to be forced to move if a future disability made stairs problematic. Also, the house begged to be brought into the new millennium. It was full of dark woods, dated carpeting and dim corners.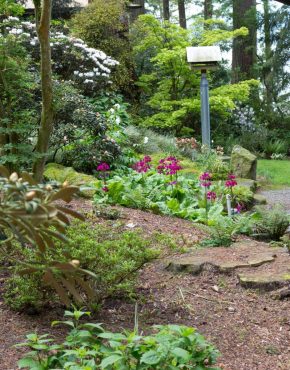 So she turned to David Godbolt of Sentinel Construction. Godbolt, who had done projects for her in the past, knew just what Martin was looking for.
"It was a pretty straight-forward job," he says. "The goal was to allow her to live on the main floor and continue to stay in her home. The final product needed to look as if it was all one piece to begin with. I think we accomplished that."
First, he popped the entire east wall out 8 feet. The additional square footage allowed the office to be expanded into a large, comfortable, sky-lit space, ready to take its place as a ground-floor bedroom as needed.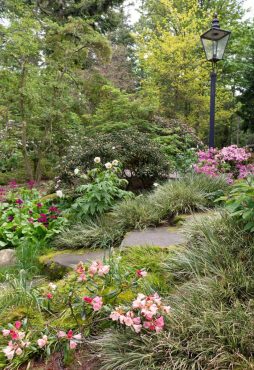 Next, the entry was enlarged to be wheelchair accessible. Phoenix Design Art Glass of Kingston etched the Native American-themed window for the new, 3-foot-wide entry door. The laundry was moved from upstairs to just off the entry. The main floor bathroom was widened, refinished and modernized with a curbless, solid-surface shower and heated tile floor. Finally, interior doors throughout the home were all changed over to the 3-foot width.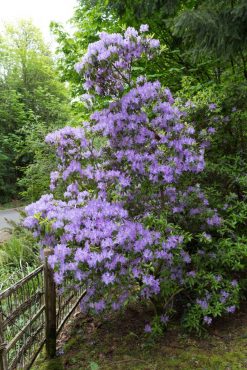 Now it was time to light up Martin's life with a brighter interior. Ceiling beams were left dark but the car decking between was painted off-white. Cork floors replaced the dark, plank flooring and old carpeting (a square of which was retained as a rug for Bogey, the Shih tzu). Every room benefitted from new fir doors, cabinetry and trim. To keep things simple — and beautiful — Martin chose to keep and repaint the face frames of the existing kitchen cabinets and replace the dated cabinet doors with naturally finished fir.
Her neighborhood is known for its frequent and extended power outages. Since the fun of living by flashlight has pretty much worn off for Martin, her trusty woodstove was joined by an on-demand generator system. Everyday lighting was addressed as well, chasing away the shadows and highlighting her collection of North American Native and wildlife art, acquired across the Northwest all the way to the Canadian Arctic.
Finally, Martin has her forever home. Appealing and unfussy, it's everything she'd hoped.
"I'm not interested in fancy," she explains. "I wanted solid quality. I don't like bric-a-brac. I picked easy, simple detail. It's restful."
Godbolt gives a lot of the credit to the businesses he brought in on the project.
"Using quality subcontractors makes things much easier. The job went very smoothly," he says.
Now bright, safe and functional, the home can be enjoyed by Martin for years to come. It may be Northwest wild on the outside but inside it's pure modern comfort.