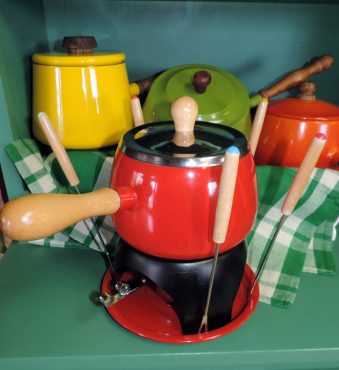 As wanted as pigs in a sunflower field, as fleeting as floaters from a dandelion puff and as obsolete as the weekly milk delivery, midcentury enamelware kitchen items have more or less vanished from today's scene — except for decorative candy tins that overwhelm thrift shop shelves and recycle bins.
Decorative-metal stove-burner covers and TV trays have long since played a role in contemporary living standards. Many modern stoves have smooth, continuous surfaces, and informal social serving is accommodated by kitchen islands.
For years, I have been writing about and filming vintage Pyrex and kitchen items, kicking aside the enamelware. That was until curiosity got the best of me, and I took a good, long look. "Oh my, this stuff is kind of pretty," I said to myself.
A little investigation on the subject proved overwhelming — a road too long, actually.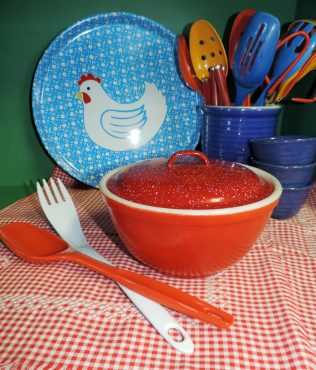 Vitreous enamel is also called porcelain enamel. The term "enamel" is most often restricted to work on metal. The stuff goes back to the Byzantine era. The vitreous enamel process and products scream history at its best. How about a decorative, painted enamel dish, Limoges, mid-16th century, attributed to Jean de Court, from the Waddesdon Bequest? The ancient Greeks, Celts, Georgians and Chinese also used enamel on metal products.
The key ingredient of vitreous enamel is a highly friable form of glass called frit. Frit is typically an alkali borosilicate chemical with a thermal expansion and glass temperature suitable for coating steel.
Since the 19th century, the enamel term also applies to industrial materials and many metal consumer objects such as sinks and cooking vessels.
My concern became enamelware household items from the 1950s, spanning to the '80s. I did three main things: hitting the thrift shops, checking out new productions and interviewing folks. Bremerton draws a lot of diverse visitors from all over the world and many of them stop in my art gallery.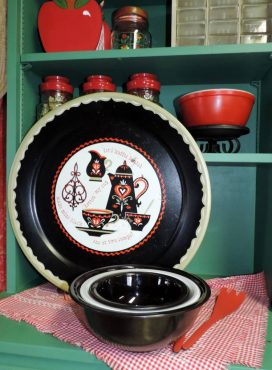 At social events, friends would look at me strangely as I would ask a group, "Anyone here use or have old enamelware?" The answer was usually an unexplained "no."
Decorative midcentury enamelware would include oval or round serving trays, TV trays, pots with matching lids, bowls, signs, camping dishes, decorative candy/cookie boxes and other related vessels. These old items are usually considered too obsolete to keep, too large to store and not worth much. It isn't like one's sentimental salt and pepper shaker collection that doesn't take up much room in the attic's storage corner.
Many folks mentioned not keeping old enamelware because they didn't find the items to be attractive with their current kitchen décor'— and why save something the kids won't want.
Antique enamelware can be worth something. Enameling is an old and wisely adapted technology, for most of its history it was mainly used in jewelry and decorative art. The new production era after World War II produced inexpensive items to satisfy the demand for kitchen enamelware items. Remember, back then there were no microwaves, so metal pitchers and bowls were cute and economically practical.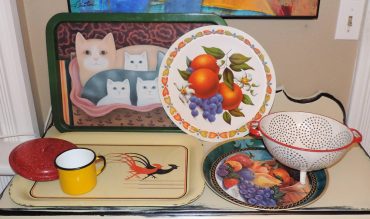 With the introduction of microwaves, nonstick pots and pans and the popularity of glass, the practical need for enamelware diminished. Today enamelware kitchen items are still produced. A few people I talked to were hesitant to use nonstick pans, preferring glass, iron skillets and enamelware.
Question now is, where is the old, midcentury stuff and how much is it worth?
For years, I have seen the piles of the enamelware trays in all shapes and sizes. Some thrift shops would pay people to take the stuff. Kidding, of course. Or maybe not.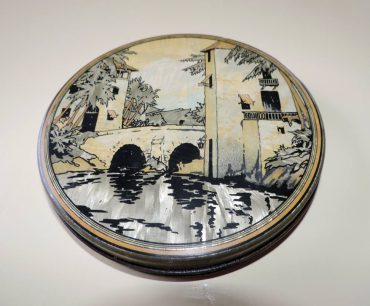 Also easy to find were old stove-burner covers. Contemporary covers have a rolled up lip around the outside edge. The older ones are a bit thicker metal and have no rolled-up edge.
The pots and pans caught me off-guard, the decorative ones with color or decorative lids and bright white inside. They were everywhere and folks were practically giving them away. For product analysis and photo shoots, I began buying old enamelware items. For a couple of dollars, I could buy an elaborately designed pot.
One day, I picked up a heavy, gorgeous, 4-quart pot with lid at Faith in Action in Belfair. It was a Kingsbury Japan Cookware with Dogwood design on the pot and on the lid. The beauty knocked me over, and it was only $15. Now I took a good look at the other pieces that I had accumulated, like three various-size pots with lids and with different outside patterns. I love this stuff, and I told myself I'm going to collect enamelware for my own kitchen.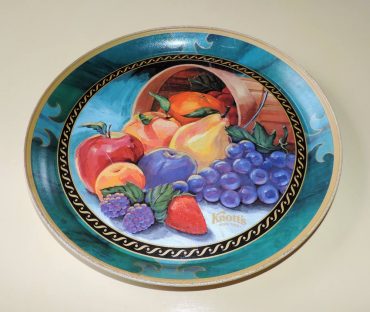 Alas, feast or famine came into play. For a while, I could find none. A worker at Faith in Action said that they will see nothing for a long time and then like magic, old enamelware pieces roll in.
Recently, I went to St. Vincent de Paul Thrift Shop in Bremerton. There were two decorative cooking pots with decorative lids, a paisley pink and light-blue design. Pantone announced a pale pink and pale blue to be the new up-and coming-trend. I told myself I'd think about them, figuring that no one would want them. When I went back to get them — gone.
In fact, those cute enamelware kitchen items are hardly found anymore. Lynn Reed, a gal in the antique mall business in Arizona, agreed that finding good-condition enamelware is feast or famine, sometimes one finds a lot, sometimes not.
These former landfill cloggers seem to be gaining a tiny bit of respect these days. Even the bright-floral, metal TV trays are joining the parade of popular collectibles. Old enamelware comeback? I think so.