Organizing Culprit No. 1:
The Filing Cabinet
The No. 1 organizing fail is the one you'd least expect: the filing cabinet. That's right. For anyone except the most organized people, filing cabinets are where papers go to die.
This unorthodox view comes from years of working with client paperwork — the most important and useful of which is out on the desk or on an open shelf. When opening the filing cabinet, the client almost always says, "I don't even know what's in there. It's been years since I've opened it." And indeed, the papers are inevitably outdated and neglected.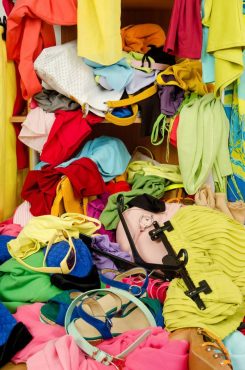 How can it be that the most-popular and self-evident organizing tool is also one of the least effective? Several reasons. First, people often buy cheap filing cabinets with drawers that don't fully open and wobbly metal rails that don't allow hanging files to slide back and forth smoothly, making them frustrating to use.
Second, there is something about the metallic clank of shutting a file cabinet drawer that feels, well, like closing one of those drawers in the morgue. Enough said.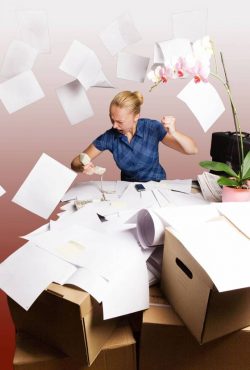 As if that weren't enough, cheap file cabinets can even be prone to topple over if more than one drawer is extended. Commercial models have a failsafe to prevent that from happening.
So, what's the alternative?
For one, open filing solutions, such as a metal-mesh file box that is portable, stackable and stable; allows all files to be seen; and once pulled out, allows the files to be replaced easily.
If you are visual and need to see all of your stuff, you can get creative with piles and paperweights. Gallon-size zipper bags are also an inexpensive, see-through and portable way to wrangle piles into something more manageable.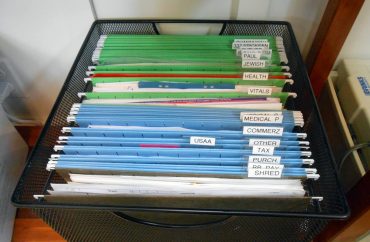 Organizing Culprit No. 2:
Most Shoe Racks
Any shoe rack that is not open, sturdy and flat — i.e. that looks like a miniature wooden bookcase for shoes — will cause you nothing but trouble.
Forget about anything with slanted shelves — shoes always fall off.
Forget about over-the-door bags. Who wants to take their shoes off and put them on the wall? Shoes belong near the floor. It is the natural order of things.
And forget about those funny metal racks with the loops you are supposed to put into the toes of your shoes — have you ever tried getting your shoes off one of those?
Organizing Culprit No. 3:
Organizing Products
Usually the more specific an organizing purpose a product has, the less likely it is to get used. Let's put it this way: People who are naturally organized aren't taken in by these products because they've already worked out a solution or they have the discipline and focus to use these elaborate organizers.
For the rest of us, these "organizing tools" usually end up as just one more piece of useless clutter — with the added guilt of not having been used, making them almost impossible to give up.
The best organizing tools are your trashcan and recycling bin. After that come your donation bags. Fill them up and get them out.
Don't forget the second part of that sentence — people often fill up bags that end up piling up inside the house and making more clutter.
Stickies, Sharpies and a label maker are also great tools. Stackable, see-through plastic boxes with lids in various sizes will always get used.
Keep this in mind: The goal is to get more things out of the house than into the house. If you find yourself using your organizing project as an excuse to buy more stuff, you're on the wrong track.