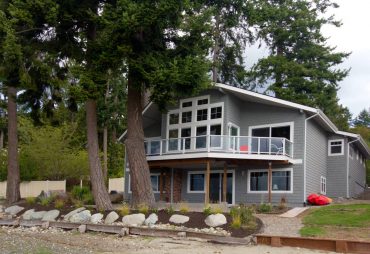 Leaving a home of 37 years can never be called an easy task but Don and Maureen Todd ran into major challenges even before they packed a single box. Their plan of finding a buildable waterfront lot turned into a series of disappointments, even with Don's expertise as a former real estate agent. They made offers on three lots but the feasibility studies with the county scared them off each time.
Frustrated over land prospects, they searched for older waterfront homes, finally finding a 1970s house that screamed "remodel me." The basic structure was sound, the low-bank beach mere yards from the back door, and as luck would have it, in a delightful neighborhood of warm people. Both Todds rave about the sustaining welcome their neighbors extended them, helping see them through a two-year "exile" of living on the ground floor of their completely gutted remodel.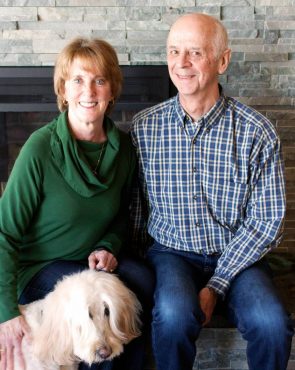 The couple contacted Connie LaMont of LaMont Design who worked with them before. She took one look at the scope of the project and said, "You have to talk to Wayne."
Wayne LaMont is an architect — and Connie's husband. Although Don didn't see the need for an architect, he says, "Connie is emphatic when it comes to doing the right thing — and that's a good thing."
Wayne and Connie LaMont listened to the Todds' dream for their home and got busy. Wayne's 3D drawings helped Don see their vision and give him the courage to move forward. Wayne took what he called a "sad, closed-in house" firmly in hand, and pushed and pulled it to its new destiny — one that "has exceeded our imagination," Don says.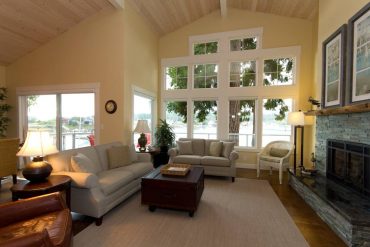 He changed rooflines, added clerestory windows with meaty trim, shingle-sided it and painted it a seacoast gray with crisp-white trim. Adding a two-car garage defined an entry porch Maureen longed for and Don installed the sprinkler system and native landscaping designed by Susan Calhoun. Slowly, a beautiful coastal cottage, grounded in historical details, took shape.
The foyer's filtered light comes from clerestory windows. On the left, a hand-crafted stairway descends. But, straight ahead, a far wall of stacked windows framing the view of bay and sky demands attention. Tall, rectangular windows topped with smaller, square windows turn each pane into a frame for nature's art in a room that dances with light.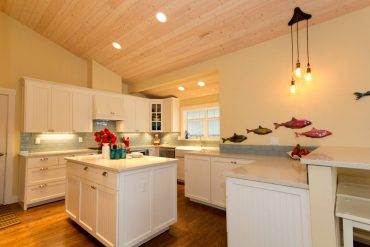 Connie said that the couple wanted "intimacy, openness and oxygen." Indeed. This spacious room is the full expression of that desire.
The ceiling soars high enough to fill the home with light but not as high as to feel abandoned in the bottom of a box. Covered with whitewashed tongue-and-groove pine, the peaked ceilings lift the kitchen, dining and living room, entry and master bedroom with the buoyancy of air. Amazingly, Don and Maureen installed these steep ceilings themselves -— a testimony to their years of marriage.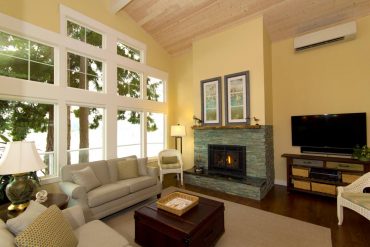 An unexpected delight sits on the stacked slate fireplace, a magical hearth crafted by Laurie Smith of Advanced Concrete Artisans. Taking shells from their beach, small rocks and dyes, she created a concrete hearth that evokes memories of a starry, starry night on a summer beach. Above, a curvy, live-edged cedar mantle contrasts beautifully with the hearth and stone. Wrapped in a creamy buttery color, this is a luscious room.
The living room flows seamlessly into the dining room. A hutch full of family treasures, some from Ireland, stands alongside a dining table that is a treasure itself — made of recycled, wooden slats with deep, smooth grooves. The dining room is a delightful backdrop for a whimsical school of glass fish swimming across the wall from the kitchen.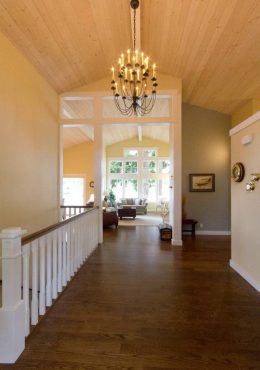 The kitchen — deep sigh. A new alcove houses the country sink, adding a water view. Creamy-white counters flow forever. A Wolf stove reigns with sassy red knobs, backed by soft blue tiles that make a counterpoint to the crisp-white cabinets. There is a lovely island — neither too big, nor too small — and enough storage to keep at bay all the riff-raff that can overtake counters.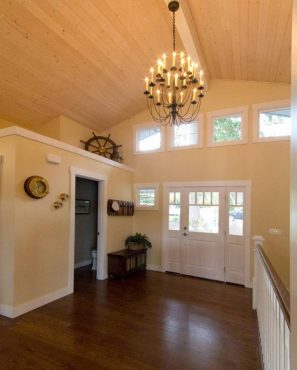 Don hired regional workmen for framing, siding, tile work, building the deceptively simple staircase and making the oh, so serene, white cabinetry in the kitchen and baths. Besides the ceiling and garden projects, the Todds demolished and hauled, worked side-by-side with the carpenter to frame and install multiple windows, installed the interior finish trim and painted inside and out.
Connie's sleight of hand with color, tile and stone created subtle shifts from room to room. Gentle, unexpected paint changes enhanced the coastal artwork Don and Maureen collected over the years. Connie's design of an irregularly edged backsplash lifts the master bathroom to the extraordinary. Brian Shorten of Stonehenge took on its installation.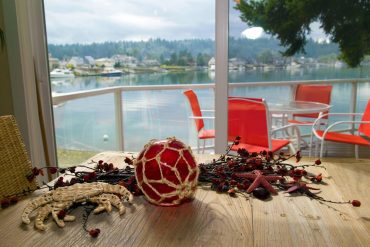 The comfy furniture came from the Todds' old home but Connie LaMont says it looks "more at home here" than there. An umber-brown oak floor runs throughout the home, grounding the soft color scheme of buttery yellow, sedge green and misty blue.
Maureen, a master organizer, keeps personal effects at hand but out of sight. Closets look staged. Doodads are nonexistent. Thanks to her restrained hand, the stripped-down interiors allow nature to fill the home as art, and the light and air to bring a serenity and calm that invite the mind and body to rest.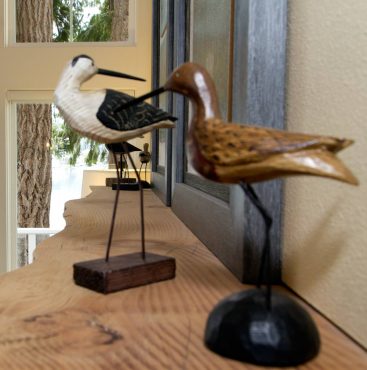 The LaMonts were delighted at the rare chance to work together.
"I pinch myself that we ended up with a home as beautiful as this one. And, getting to share the adventure with Maureen, my lifelong love — life is good," Don says.
In design and life, "simple" may be the most difficult of all intended results to achieve. This was not a simple project. Clearly, Don and Maureen Todd and Wayne and Connie LaMont, working as a collaborative team, each wielded their expertise with a maturity of vision and a singularity of purpose. The respect and good-humor they share among themselves matches the harmony and ease of this perfect and simple coastal cottage.