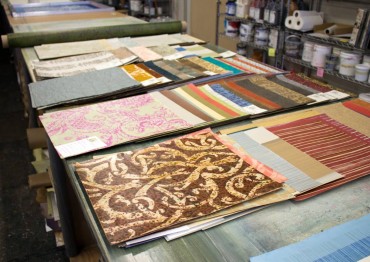 Entering the SJW Studios production workroom is like peeking into Santa's workshop — seeing the wonderment of projects in all stages of completion, samples, paints, glazes, and moulding pastes, Venetian plaster, multiple hanging samples and job orders. Alluring wallcoverings.
SJW Studios was founded by Steve Jensen and John Williams in 1981 in Seattle on Capitol Hill. Aaron Miller, current owner of SJW Studios, attended the Art Institute in Seattle. After a brief stint with an interior design firm, Miller was recruited by SJW Studios as a business manager in 1999.
Three years ago, Miller bought out SJW Studios and proceeded to move the business to Port Orchard.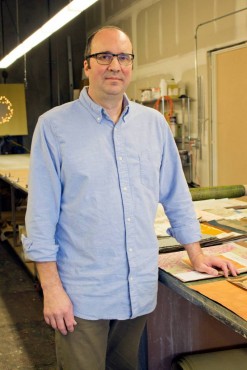 "We moved from a dark, windowless basement to a large, light and open space," he says, joking.
Kathryn Scott also worked at SJW Studios as a specialty painter. She previously had a business in California as a decorative artist, with experience in multiple mediums. She has her own line of wallpaper marketed through SJW.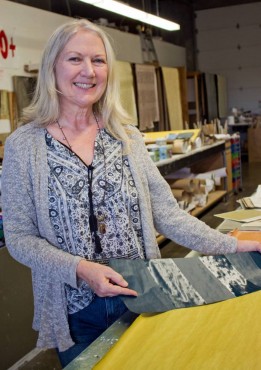 Exceptional artistry and handcraftsmanship are the hallmark of SJW's success. Handmade, hand-painted, hand-silkscreened — luxurious imagery — that's the unique and old-school process SJW offers. All orders are custom and created on 9- to 22-foot panels. An average order is 12 panels.
Scott loves the process, digging deeply into her creativity to match colors. She is a master at color blending, and bringing an idea to fruition and final product is its own reward. If a client is enamored with a design but fancies another color, Scott can make that wallpaper dream come true.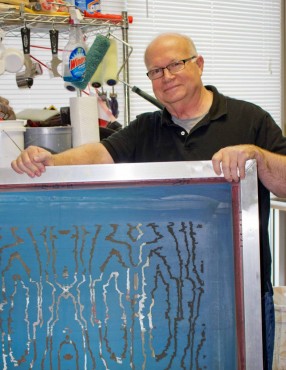 Miller also enjoys the creative process and has learned much after purchasing the company. He previously managed, not created. He likes working with a small staff and the hands-on atmosphere, as well as getting messy and learning techniques from Scott. He is often in wonderment at the beautiful wallcoverings they have created in their wallpapers.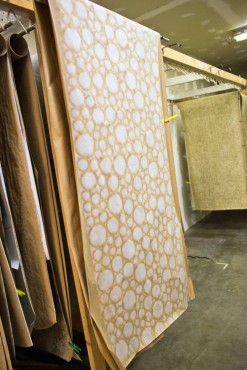 Two months ago, Kris Capps came on board. Capps retired from Mercedes-Benz. He considers himself a "support staff," pitching in everywhere so Miller and Scott can focus on designing and creating new wallpapers.
Many of the wallpaper designs are traditional, and some are given a 21st century twist with high-intensity hues and bold, magical colors. SJW believes it's the details that make all the difference — whether it's infusing a room with excitement or taking you to a place where sophistication rules. From crisp and classic to utterly charming, from Parisian flourishes to lustrous neutrals, from textures to time-honored classics, there is a glorious wallpaper that speaks to you.
The SJW Studios line is sampled at designer showrooms in places such as Washington, D.C., Chicago, Florida, Atlanta, Dallas, Houston, Denver, San Francisco and London. Independent sales reps represent the line in Seattle and Los Angeles.