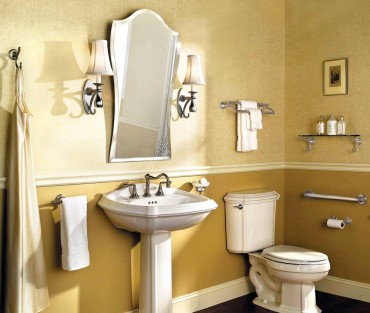 Want to take your bathroom from good to great with minimal effort? Adding decorative hardware can not only boost your bathroom's style quotient but also provide much appreciated functionality and storage.
There are many products and places to install decorative hardware. Several hardware manufacturers offer a full complement of items within a single style, or you can mix and match to achieve the right look.
It is helpful to plan for hardware pieces by installing "blocking" behind the sheet rock (installing blocks of wood between framing studs so that anchoring screws are drilled into something substantial) or by having a sufficient quantity of "molly bolts" on hand.
Whether the overall style of your bathroom is traditional, contemporary or eclectic, your ultimate hardware selection will be predicated on your budget, your finish preference and the sizes available.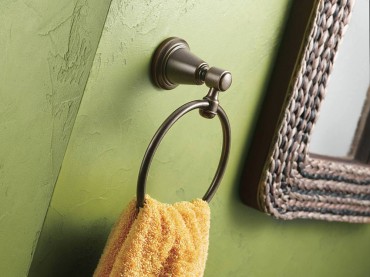 Towel Bars and Rings
Towel bars for full-sized bath towels come in a variety of lengths typically ranging from 12 to 36 inches, with 18 inches (one towel) and 24 inches (two towels tri-folded) being the most common. Bars are available as single or double wall-hung, while others may be floor stands or wall-mounted with an integral "hotel" shelf.
Towel rings are best suited to hand towels and are designed as either open or closed. They can be mounted on a wall or the side of a cabinet, or they can be freestanding on a counter.
Grab Bars
Long gone are the days of the institutional-looking grab bar. In fact, many styles today are doing dual duty. Even if you think you are not ready for grab bars, when renovating, consider installing the blocking for one while the walls are open — if the need should arise unexpectedly, it will be a simple matter to install the bars.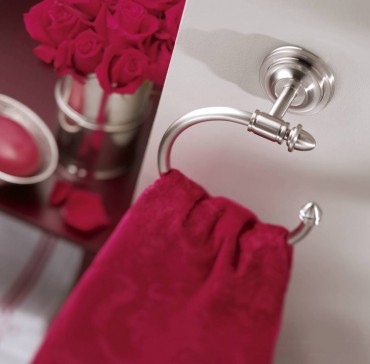 Optimal location will depend on the layout of the bathroom but by the toilet and in the shower/bath are two common locations. The orientation of vertical vs. horizontal will be predicated on location and wall space. Regardless, the bar should be centered approximately 36 inches above the finished floor.
Shower and Bathtub Accessories
When showers and tubs are located on an exterior wall, it is best to consider wall-mounted shampoo/soap shelves and baskets so as to minimize compromising the insulation on the outer wall. Be they tile, metal or plastic, shelves and caddies can provide a variety of storage options.
Built-in shower seats can be integrated into the tub/shower surround, mounted to the wall or freestanding. Integrated seats can do dual duty as a convenient landing space for shampoo and soap as well as a person's foot while shaving legs in the shower.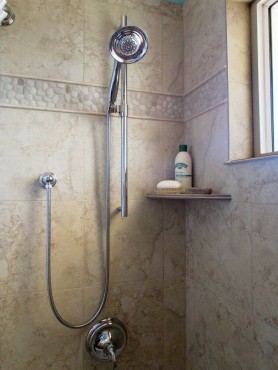 It is advisable to install a handheld shower head next to a seat for ease of bathing while recovering from medical procedures or simply overdoing it in the garden. Fold-up and freestanding seats are best for small showers.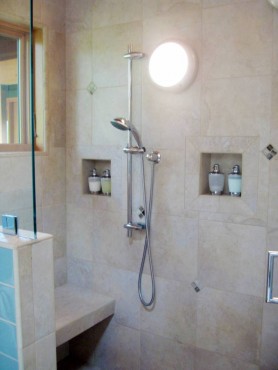 Shower curtain rods are available in various configurations including straight, curved and double. Curved rods are great for small enclosures, providing bathers with a bit more elbow room when showering. Double shower rods and two-sided shower curtain rings provide space for a decorative shower curtain and a liner curtain, with plenty of breathing space minimizing the opportunity for mildew growth.
Rods are either tension-mounted or hard-mounted. The installation type will be dictated by the tools you own (drilling through tile takes a power screwdriver with a diamond drill bit) and whether you own or rent the home.
Miscellaneous Decorative Bathroom Hardware
Most homeowners are very particular about the style of toilet-tissue holder installed in their bathroom and their selection is often based on their preference for the "over or under" orientation of the tissue roll. With the variety of wall- or cabinet-mounted, recessed or freestanding tissue holders on the market today, homeowners are guaranteed to have numerous decorative options.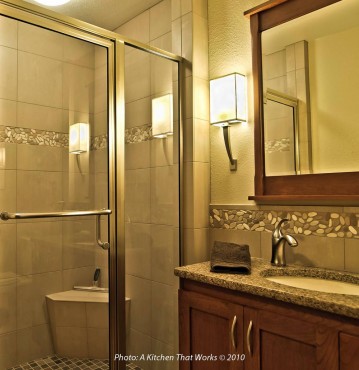 Don't like the spring-loaded spindle found in many tissue holders that shoots across the room when you are trying to refill the tissue? Try a pivoting tissue holder such as the Eastlake by Moen. The Kubic by Ginger is a "twofer," with a shelf above the tissue roll providing a landing space for hygiene products, eye glasses and other essentials. Freestanding models like the Civio freestanding toilet tissue and brush in stainless by Zack is another example of a twofer and is ideal for small bathrooms.
Robe hooks are suited to robes, clothes as well as towels. They are a simple yet elegant way to add "storage" to any bathroom. The biggest challenge will be deciding if you want one hook, two hooks or more on a single base and whether they need to pivot — such as the Kubic from Ginger.
Most toilets come with a chrome trip lever from the factory that may not provide quite the right look when all the hardware finishes are brushed nickel or oil-rubbed bronze. To remedy this, matching decorative trip levers are available from many manufacturers.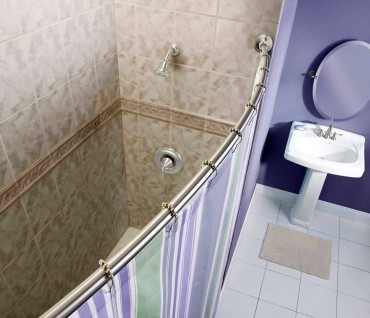 Decorative shelves can provide much-needed storage space as well as a nice decorative element to a bathroom. Models such as the Porto two-tiered shelf include an integral towel bar.
No element can detract from the look of a beautiful bathroom quite like a white, plastic toilet-bowl brush purchased at a drug store. Never fear — decorative toilet-bowl brushes are here. Be they wall-mounted like the Civio in stainless steel by Zach or the freestanding Civio, with a bit of sleuthing, you can find attractive brushes to complement most bathroom decors.
Countertop Accessories
Soap dispensers and dishes can help keep bathroom maintenance to a minimum while providing a decorative element to the sink counter and the shower. It is important to periodically rinse out a soap pump to ensure long-term functioning. Invisia by Health Craft has integrated a grab bar around a soap dish.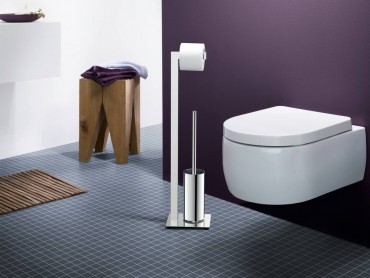 Tissue and cotton-ball boxes, like soap dispensers, can lend a beautifully coordinated look and luxury-hotel feel to a bathroom's décor.
Hairdryer holders are a wonderful accessory for people with hectic morning routines who need their grooming tools at the ready.
Decorative trays lend a sense of elegance to most bathrooms and are a beautiful way to display unique perfume bottles and to corral jewelry.
The beauty of decorative bathroom hardware is that just a few pieces can create a big visual impact as well as convenience. Working with a professional designer or plumbing/hardware showroom associate can open your eyes to the best products for your project while reducing your search time by a significant margin.