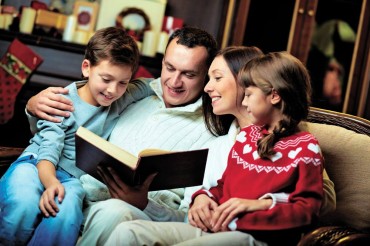 For children all ages, there's no more magical time of year than Christmas. There are twinkling trees, glistening snowflakes (maybe), flying reindeer, tree decorating, favorite Christmas music and baked cookies that make the whole house smell like a childhood memory. And don't forget pretty presents wrapped in bows!
But what can we do with the family that really makes the season bright, brings smiles and laughter, and reconnects us to what matters most?
Here are some suggestions that maybe will make Christmas… well, Christmas.
1. Take the time to think about the things that really mean the most to you and your family. Sit down and brainstorm with them what they love doing the most during and around Christmas. Is it the quiet moments with close family? Is it reaching out and reconnecting with family or long-lost friends? Hearing the Christmas story? Make a short list of what the season really means to your family.
2. Start an advent calendar, which will set the mood. Let this be your inspiration for the entire month of December. (You can buy an advent calendar at the store or make one out of a piece of cardboard, with little doors cut in it for a piece of favorite candy.)
3. Set up an activity box and focus on things to do for other people in your lives. But make it small, simple gestures like donating old clothes, bringing cards and wreaths to a nursing home, or taking food to a food bank. A good deed is a great antidote to the December "gimme" or "I want."
4. Ask everyone in the family to choose one person on your Christmas card list and create the card for that person. Children can cut out a Christmas tree shape from green construction paper and glue it to a blank card. Let the kids dip their fingers in different colored poster paints to create fingerprints of ornaments and lights. Or use a blue card and make fingerprints of snow.
5. Have the family find their favorite Christmas mementos and share why those are special to them. Decorate your home with love — and it will be beautiful.
6. Schedule story time one night a week. Try gathering the whole family and reviving the age-old tradition of reading or telling Christmas stories.
Turn off the TV. Set the mood with of cups of cocoa or popcorn and a cozy fire or warm candlelight. Then take turns sharing the stories you love from Christmases past, like "The Christmas Story" or "How the Grinch Stole Christmas."
7. Go hear or take part in some live music. Check your local paper to see what's going on in your town. Host an annual caroling party for other families with kids. Drive around to visit older folks and sing carols for others. You can make copies of Christmas songs so everyone can sing and know the words. Afterwards, enjoy hot cocoa and cookies back at your house. These activities build good memories and bring joy to others.
8. Let the kids create the wrapping paper to make gifts really special. Spread a roll of "kraft" paper out on the floor. Let the kids have fun with stamps, markers, stickers and stencils.
9. Write to Santa. Santa has gone digital. At emailsanta.com, kids can send him a virtual letter. And he will write back.
10. Involve your children in helping cook and making the Christmas goodies. We have to admit Christmas has been a holiday of food extremes, so get a cookbook like my "Cooking Around the World with Grandma" (available at amazon.com) and make some new memories. Cook a meal together and invite your child's best friend to dinner. If there is one tradition that is a sure recipe for holiday happiness, it's food. Whatever you're making will be special and will build warm, homemade memories.