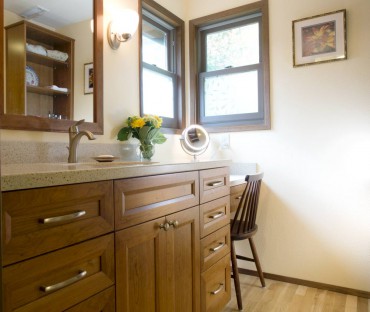 Does the look of your kitchen or bathroom cabinets leave you feeling ho-hum? With just the turn of a screwdriver, you can give your cabinetry a whole new appearance simply by updating the hardware.
It is important to understand the basics of selecting just the right hardware. The following is a recommendation of the steps you can take to make your hardware selection process quick and efficient.
STEP 1: Start your decision process by determining the best size of hardware for the application. The search for the right style of hardware will be quickly narrowed by hardware size availability.
If you are replacing existing hardware, you will want to measure the existing drill holes to make sure the new hardware will cover existing holes. The measurement is taken from center of the drill hole. You will often see cabinet-pull sizing defined as "5-1/16 inches c-c," which means the distance between the drill holes is 5-1/16 inches center to center.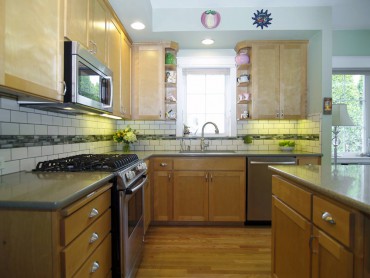 If working with new cabinets, you will want to consider scale and size. For example, a 15-inch-wide drawer goes best with a 3-inch c-c pull rather than a 5-1/16-inch c-c pull.
STEP 2: Determine what type of hardware you prefer. Knobs, pulls (sometimes referred to as D-pull), cup pulls, drop pulls or cabinet latches are among the choices — or even a mix.
There is no right or wrong here. Many people like knobs on doors and pulls on drawers, while others who have arthritis or tennis elbow prefer pulls because they require less manual dexterity to use compared to knobs. Avid cooks tend to prefer pulls because they can open doors and drawers with just one clean finger when the rest of their fingers may be dirty.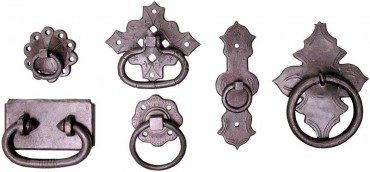 Drop pulls lend themselves to a very traditional or old-world furniture look, while cup pulls and cabinet latches lend themselves to a craftsman style (they are also good at hiding drill holes from previous hardware).
STEP 3: Decide on the hardware finish — such as polished chrome, brushed satin nickel, stainless steel, oil-rubbed bronze or art glass. The finish you select can make a bold statement (think bling) or a subtle one — the sky is the limit.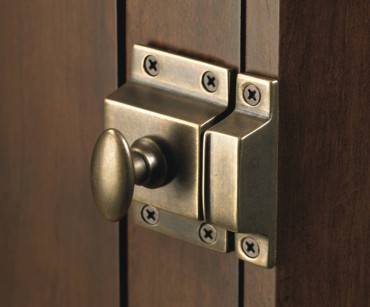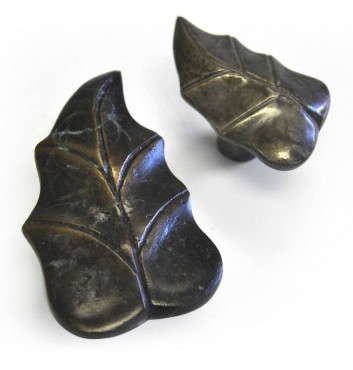 The material, degree of detail and uniqueness of any hardware will impact the price, with hardware pieces ranging from just a few dollars to upwards of $75 each. Therefore it is a good idea to set your hardware budget before you start your selection process. Despite the variety of finish options, not all styles come in all finishes, and it is important to use finish as a search criteria when viewing manufacturers' websites or product catalogs.
STEP 4: Consider what hardware style appeals to you or would be right for your home — traditional, transitional, contemporary, rustic, eclectic, whimsical. When selecting a style, think of the styling of the room's cabinetry, faucetry or lighting and try to match "lines" in the hardware that are most like those of the other materials.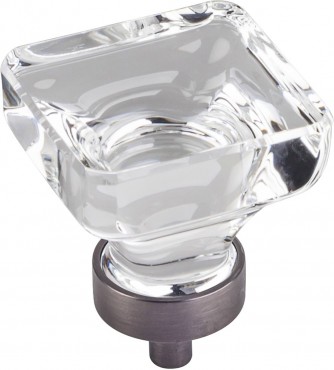 STEP 5: Think about other coordinated hardware. Most cabinet hardware styles are designed to be standalone pieces. However, it is possible to step up the finished look of some cabinet hardware pieces with back plates and coordinated decorative hardware such as appliance pulls, towel bars, robe hooks, towel rings etc.
Before you purchase cabinetry hardware for an entire room, it is a good idea to buy a sample piece to try out. Some manufacturers sell samples at a discount so it pays to inquire.
Once you purchase the sample, test it out. Hold it up to a cabinet door or drawer and make sure your fingers can comfortably grasp the knob or pull. Is there enough projection on the knob or pull to get your fingers comfortably under it? Is the back edge of the pull rough or smooth? Can members of your household who have large hands or thick fingers adequately grasp the knob? Does the hardware feel solid in your hand or is it lightweight, meaning it is hollow? If the hardware is hollow, it is more likely that the threading on the screw holes will strip out over time.
Simple updates such as new cabinet hardware, paint and lighting can transform a room in time for the holidays without breaking the bank. So what are you waiting for? Get out the screwdriver and get to work!