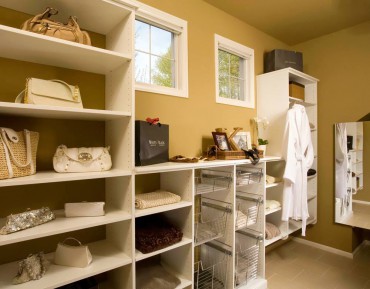 "It looks like a bomb went off in my closet!"
This is how many homeowners describe their closets. Is it too many clothes and shoes or is it lack of organization?
Honestly, it is typically a bit of both. Although designers and residential contractors can't usually help their clients with the quantity of closet content, they can help with the organization. A well-organized closet can save you time (and money — think of all the clothes you don't need to buy if you can see the ones you already own!), not to mention bringing a sense of calm to the start of each day.
Closets come in two basic flavors: reach-in and walk-in.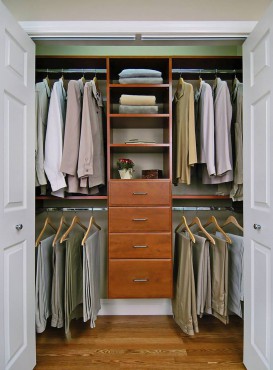 Reach-in closets have a door with a typical back-to-front depth of 24 inches, allowing users to "reach in" to select their desired items. Reach-ins are best suited to single and double hanging storage with shoe storage on the floor, but there are additional storage options as noted below.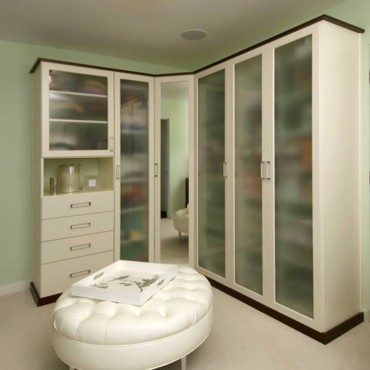 With reach-in closets, it is important to remember accessibility or lack thereof. It is essential to ensure that drawers and roll-out baskets will clear the door frame. Additionally, it is common to install a shelf above the hanging racks — the shelf should be no more than 14 inches deep to ensure accessibility from the door frame (header) to the shelf.
Walk-in closets have sufficient space for the user to walk into the room to select the desired items. Walk-in closets come in a variety of shapes and sizes; therefore, creative planning will ensure that every inch of space is maximized and storage optimized with the wonderful array of storage accessories that are available today.
There are five basic steps to any closet organization or renovation project.
Step 1: Purge any unwanted clothes, shoes and accessories.
Step 2: Take linear measurements in inches of the various categories of wardrobe items that have survived the purge (a horizontal measurement for short/long hanging items and shoes, and a vertical measurement for folded clothes; handbags, socks and intimate apparel are a bit of a free-for-all).
Step 3: Measure the width, depth and ceiling height of the closet. Measure the height and width of all doors and windows and plot their locations.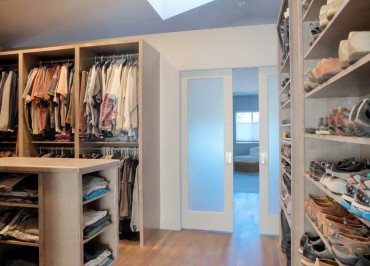 Step 4: Determine what your style is — casual or formal. Casual would be full-access closet rods, cubbies and open shelving while formal would have most or all items behind doors and in drawers.
Step 5: Consider the convenience hardware that will allow you to maximize your closet space and your storage.
Storage Options
Rods: The traditional hanging rod now has innovative variations including tension rods, pull-down rods (allowing you to make the most of high ceilings and accessibility for wheelchair users), lighted rods that illuminate your best threads, to the drycleaner style, residential revolving rack by Dynamic Systems.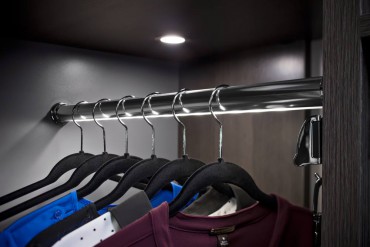 Once only available in chrome or wood, rods now come in several finishes including satin nickel, oil-rubbed bronze and more.
When planning hanging space, consider how many linear inches are required for long hanging as well as short hanging and how short hanging can be stacked depending on ceiling height. If you find you have more pants/skirts and shirts than suits and dresses, then double hanging rods will optimize your closet space.
Shelving and cubbies: Whether you are utilizing straight shelves or cubbies, you have a variety of affordable storage options with shelving. Shelves are best utilized for folded jeans/shorts, T-shirts, sweaters and shoes.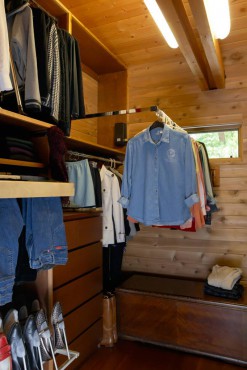 Baskets and drawers: If neatness is not your thing, consider utilizing simple wicker baskets, plastic boxes, wire pull-out baskets or drawer systems for folded clothes storage. Wire baskets with cloth linings and drawers (be they free-standing dressers or built-in, pull-out basket systems) are also good for storing intimate apparel and hard-to-coral items such as socks.
Pant racks: Built-in pant racks help keep pants and trousers wrinkle-free, provide good display while making the most of tight closet space.
Shoe racks: Shoes can be stored on flat shelves, angled fenced shelves or racks (vertical or horizontal). The vertical storage option can make good use of awkward corners while providing optimal viewing. Angled shelves provide A class viewing but take up a significant space relative to other shoe-storage options. Alternatively, shoes and boots can be stored on the floor.
Closet island: Depending on your storage needs, a closet island can be configured with open shelves or drawers. The island top can be utilized for folding clothes, jewelry trees or a landing surface for wallets, keys and personal information devices.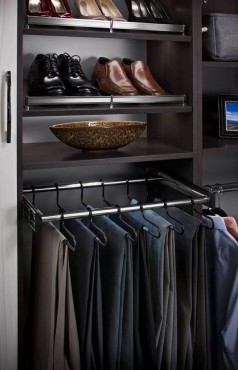 Careful planning of the island will ensure that there are adequate isles all around the closet island. Incorporating an electrical receptacle can provide charging power for PIDs.
Accessories
Valet bar: A retractable, metal bar that may be pulled out for hanging dry cleaning or assembling outfits. It is typically mounted on the side of a closet panel or shelving unit.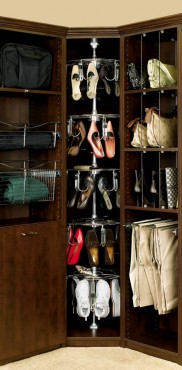 Tie/belt/scarf rack: A retractable bar with loops or hooks to hang ties, belts or scarfs separately. It is typically mounted on the side of a closet panel or shelving unit.
Laundry hamper: Whether you choose a free-standing basket or a pull-out laundry bin, it is always a good idea to include a hamper in the closet (space providing).
Ironing board: A built-in board is handy for touching up wrinkled garments. It is vitally important that there is enough space for it to stand alongside the board as well to have a receptacle available nearby for plugging in the iron.
Hooks: Hooks can be handy, decorative and cost-effective. They are also an excellent means for utilizing those last inches of wall space for hanging a robe, dry cleaning bag, etc.
Jewelry: Jewelry drawers lined in dark-colored felt can help set off cherished jewelry items. Alternatively, shelf or cubbie space for a free-standing jewelry box may be just the ticket.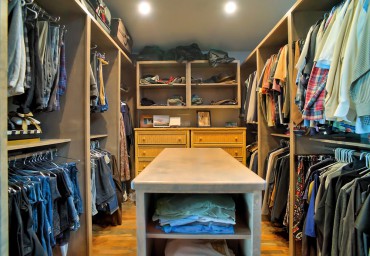 Mirror: A convenient location for a full-length mirror is very important but often overlooked. If wall space is at a premium, consider the side of a closet panel or a pull-out model such as the one offered by Rev-a-shelf.
Things to Remember
Closets are constructed in one of two ways: hanging systems and floor-based systems.
Hanging systems are characterized by panels and shelving that are hung on the walls with hanging strips or suspension rails that are anchored into the framing studs in the wall. The attributes of this style include ease of installation (provided the wall studs are where you need them to be) and accuracy of measurements, which are not as crucial as they are with the floor-based installation.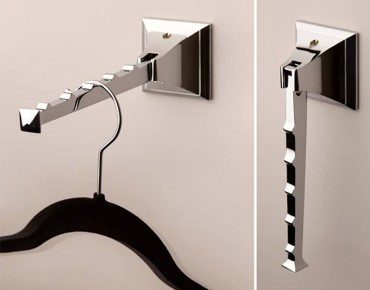 The drawbacks of a hanging system is the potential difficulty in finding adequate anchoring studs and inability to install alongside a pocket door. Additionally, the panels should not be expected to support drawers or shelving in excess of 16-inches deep because the weight could potentially pull the panels from their anchors.
The attributes of a floor-based system is that it is flexible (hanging bars, shelves, drawers and accessories can be added or removed at any time), it is sturdier because the floor carries most of the weight of the panels and accessories, and it has a more finished or tailored look.
The drawback of a floor-mounted system is that it takes more material to construct and therefore it is more expensive than hanging systems. Assuming a closet has an 8-foot ceiling and straight walls, a closet renovation will likely cost between $100 and $150 per linear foot. The cost is predicated on the construction style, construction materials (particle board vs. plywood) and the storage accessories selected.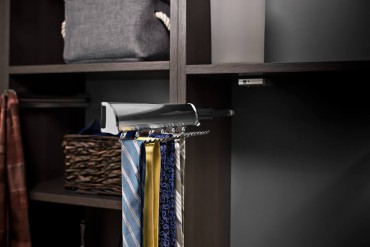 Standard Closet Component Placements and Dimensions
(All measurements are in inches)
Double hanging rods: 41 and 83
Medium hanging rods: 55
Long hanging rods: 67
Shelving and cubbies for folded clothing: optimum 15 deep by 15 wide
Shelving and cubbies for shoes: optimum is 12 deep by 8-10 wide (women's shoes vs. men's shoes) by 6-8 high (depending on heal height)
Tie rack: 41 or 79
Belt rack: 50-55
A well-organized and outfitted closet is all for not if it is not properly illuminated. There are very specific code requirements, due to safety concerns, for closet lighting, so consult with a licensed electrician or general contractor when selecting the lighting for a closet.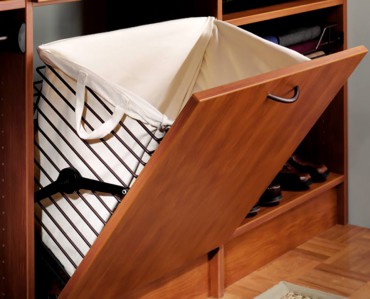 Space allowing, it is always a good idea to provide seating in any room, including closets. This allows the occupant to be seated to put socks or shoes on or to take a few minutes off the feet between clothing changes. Make-up tables are also a much-appreciated addition to a walk-in closet.
It takes careful planning, precise measurements and a realistic budget to make the most out of any closet space. Depending on the complexity of your project and your skillset, you can design and build your own with off-the-shelf components. If you feel that your needs are beyond your skills, then working with a professional designer, cabinet maker or contractor who is experienced in closet design can save you time and money.
Whichever route you choose, you are sure to enjoy the simplicity that a well-organized closet can bring to your everyday life.