Things under foot not noticed, things everywhere that no attention is paid to, things taken for granted that could easily be kicked aside, thrown in the trash or lay dormant on a back shelf — we're talking about old jars.
A kitchen jar is defined as a relatively small item that holds something, but a closer look would prove it to be extremely interesting and more complicated than expected.
An item to hold something? That could also be a bottle, carafe, decanter, jug, juicer, vase or canister. Most can take a guess at the differences but what do scholars say? And so I began a strange pursuit of definition, product analysis and availability. Jars.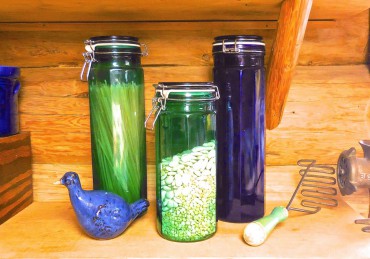 A jar is a rigid container with a wide opening. A bottle is a rigid container with a neck narrower than the body. A decanter is a vessel without a stopper used for holding a liquid and for decanting (gently pouring off). A carafe is a bottle without handles for serving drinks. A jug can be in various forms, holds liquid and commonly has a handle. A vase is a hollow vessel higher than it is wide. Simple definitions seem to overlap.
With years of dealing in the subject of midcentury kitchen items, I was aware that definitions could change with time and technology. I used current online Wikipedia and a 1959 American College Encyclopedia. There were only a few differences. The 1959 encyclopedia referred to these as "vessels" whereas Wikipedia referred to them as "containers" and included the word "plastic."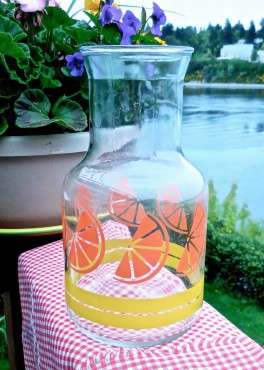 Plastic! Out of curiosity, I went to the Belfair Safeway store and interviewed manager Don Welander, who had been in the grocery business for 30 years. He showed me through the product isles where once glass jars are now plastic. Most obvious to me were the juice jars, almost all plastic now, whereas there were many jelly jars still made of glass.
Don said that some years back, Coke brought back the tall single glass soda bottle, but that did not last long and soon, back to plastic.
It just so happened I personally had tons of these things, not really aware of having most of them: kitchen jars holding pasta and rice, boxes of canning jars in the pump house, cute cookie jars, jars filled with art supplies, jars holding food supplies like peanut butter and pretty vintage jars just for decoration.
I gathered them up (not duplicating) and brought them to my Bremerton art gallery for display. A few puzzled friends threw in some too, seemingly glad to get rid of them. Then I began hitting thrift shops, purchasing the cheap cuties and adding them to the herd. This way, I could get public opinion and information.
In the jar section at Bremerton's Goodwill, I met the person stacking and replenishing the shelves.
"Do you get many jars donated?" I asked her. She said that in her opinion, it was the most active section. "The jars never stop rolling in," she said.
The mass of old jars I displayed in the gallery drew immediate attention. The sign read, "Not for sale. Comments welcome."
First was a visitor from California, quick to share a story about jelly jars. "It was a long time ago. I collected short jelly jars, each with different cartoon characters on them," she said.
Next a young gal shared fond memories of her grandfather's workshop, where shelf after shelf was lined with jars filled with assorted nails, screws and whatnot.
Weeks went by, and stories piled up, many folks recognizing some of the tall old jars as ones originally sold holding coffee or Tang.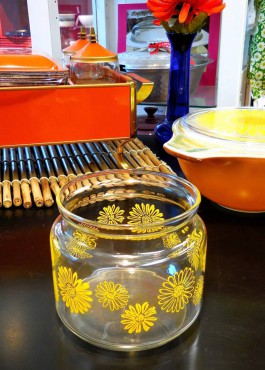 Why are there so many old jars? Fifty years ago, many food jars were designed for reuse — recycled for utilitarian use and repurposing. Millions of those gems are still around, some even hitting the antique market. Today, we may recycle but those jars are usually directed to recycle bins for making future glass products.
Another reason there are so many around is that hardly anyone wants them. In a throw-away society where imported kitchen products are so cheap, buying new is too easy. Also with a minimalist interior living trend and many people downsizing, saving anything is a negative.
There is another trend on the horizon though, which is taking a second look at old things that were made in the United States. Besides the loyalty factor, there is a reliability of product factor.
These jars are kind of cute. Done taking pictures and displaying, so before I pack them up to take to Faith in Action Thrift Shop in Belfair, I am going to bring a few more home.