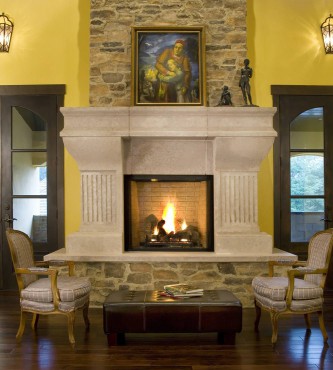 Be it physical or psychological, sitting around a fire has the innate ability to warm your body and your soul. Whether you are toasting marshmallows outside, taking shelter from a winter storm inside or just looking for a bit of cozy ambiance, choosing just the "right" fireplace depends on "installability," cost, available fuel sources, maintenance requirements, desired heat output as well as aesthetic appearance.
Fireplaces can be installed inside a home or outside on a patio or deck. Therefore, the first decision is where the fireplace will be located, inside or outside. For reasons of safety, outdoor fireplaces cannot be installed indoors and indoor fireplaces cannot be installed outdoors.
There are four basic categories of indoor residential fireplaces:
Traditional: Fireplaces can be wood burning, natural gas, propane or a combination of gas and wood and require direct venting. Traditional masonry fireplaces vent through a chimney rather than a stove pipe; however, more modern units are often vented directly through the exterior wall of a home via a double-walled duct pipe.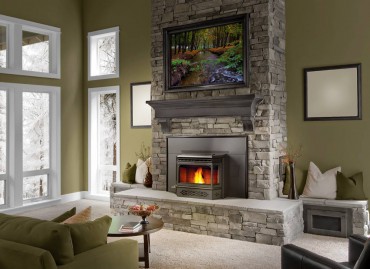 Traditional fireplaces are best designed and installed in new construction and can be expected to provide heat (especially during a power outage) while offering a wonderful aesthetic. It is possible to retrofit a wood-burning fireplace to a gas fireplace, provided there is a code-compliant means of plumbing in the gas line. One common complaint about traditional fireplaces is that they can draw heat out of a home when not in use.
Inserts: These units are great for retrofits and remodels where an existing firebox and chimney exist. Inserts use either wood, bio-fuel (pellet) or gas/propane. Similar to a stove, inserts are installed into a firebox in an existing fireplace and are vented through the existing chimney.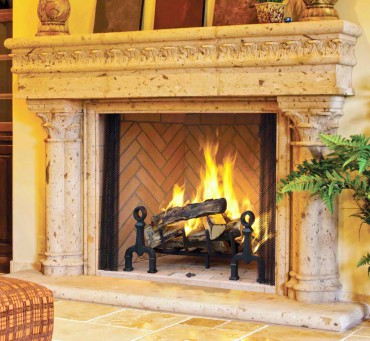 Inserts direct the heat from the firebox to the room rather than being absorbed by the masonry structure, rendering them a better heat producer than a traditional fireplace. A decorative faceplate covers the gap between the original fireplace firebox and the insert box. Take note: Some inserts are strictly for décor and do not actually provide heat.
Ventless: These units are ideal for retrofits and remodels where no masonry firebox exists. Ventless fireplaces operate on natural gas, propane or gel fuel and typically run at lower Btus than fireplace inserts, hence they are suitable only for zoned auxiliary heating.
Ventless fireplaces derive their oxygen from the room they are located in, which raises concerns about carbon monoxide poisoning. As a result, some states do not allow ventless fireplaces.
Stoves: Stoves are typically freestanding and can be fueled by natural gas, propane, wood, pellets or electricity. They must be vented either out of the top of the unit or through the back of the unit to the exterior of the home. They are relatively easy to install, operate and maintain while producing a high level of heat (with the exception of electric models). If they're properly maintained, you can enjoy the sight of a crackling fire through the glass doors.
Stoves have three primary shortcomings: The styling is generally traditional/farmhouse, with very few contemporary or transitional options; and there are clearance requirements from combustible surfaces, meaning that the units protrude into a room, unlike a fireplace that can be built flush with a wall. Unlike gas or pellet stoves, which have electronic thermostats to regulate the temperature output, the heat output from wood stoves is much harder to regulate.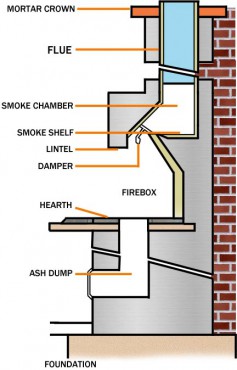 One of the primary benefits of stoves is the ability to use them during a power outage. Make sure that units with electronic ignition have battery backups for proper ignition during a power outage.
Outdoor Fireplaces
Outdoor fireplaces complement backyard entertaining, effectively expanding a home's "living space." Much like indoor fireplaces, outdoor ones can be fueled by wood, natural gas, propane or gel fuel.
Built-in models can be single-sided or double-sided, "see-through" models and can be a traditional masonry installation, a direct-vent installation, a ventless installation or a freestanding "firepit" style unit. Regardless of the type of installation, it is important to select models made to withstand the elements in your climate zone and to provide an adequate buffer between the fireplace and combustible surfaces and foliage.
Pros and Cons of Fuel Sources
Fireplaces are built to burn wood, bio-fuel (pellets), natural gas, propane or gel fuel (ethanol and alcohol), with a few models running strictly on electricity.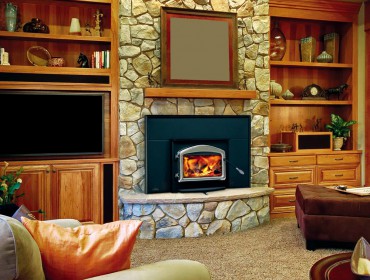 Wood can be a cost-effective source while providing the most authentic ambiance. However, wood has the highest care and maintenance requirements, poses the greatest safety risks, and is the most challenging to regulate in terms of temperature compared to other fuels.
Pellets are a cost-effective and environmentally effective fuel source that has lower installation requirements and better temperature-regulating qualities than wood-burning units but has high-maintenance requirements.
Natural gas and propane are low-maintenance options, have fewer installation requirements than wood and are easy to regulate with regards to temperature. But propane can be a relatively expensive fuel source in some areas.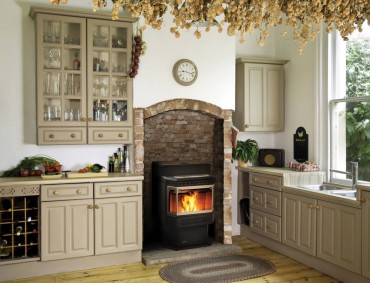 Fireplaces that burn gel fuel such as ethanol or alcohol are purely decorative, are typically freestanding with no ventilation requirements and are not intended to be a heat source. Because the ethanol is bottled in small canisters, ethanol fireplaces are very portable.
Electric fireplaces can be built-in or freestanding with no direct venting; all that is needed is proximity to an electrical outlet. They can provide auxiliary heat but at significantly lower rate of efficiency than the aforementioned fuels. The maintenance requirements are minimal; however, the ambiance factor is also significantly lower than other fuel types.
Working with an experienced fireplace specialist can be very beneficial when it comes to selecting the right features and accessories for your fireplace such as:
Size of the fireplace with respect to desired heat output
Proper clearance between the unit and combustible materials
Decorative doors, grates and face frames
Logs (gas units), tempered glass and faux rocks
Decorative fire boxes
Blowers (for maximum heat distribution)
Thermostats and remote controls
Adding a fireplace or woodstove to your current home or simply updating one that you currently have will offer years of enjoyment, improve your home's resale value and provide heat during a potential power outage or natural disaster. So what are you waiting for — except maybe marshmallows.