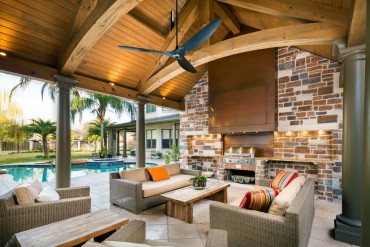 Unlike a chandelier or a stunning kitchen tile backsplash, ceiling fans go mostly overlooked by visitors and occupants of a home. Although fans can be decorative, their primary purpose is utilitarian, hence they are rarely noticed until they are needed or wanted.
Ceiling fans can be useful in bedrooms, living rooms, family rooms, home offices, covered patios/decks and even kitchens (if the ceiling is sufficiently high). When run in the forward position (counterclockwise), they can bring soothing indoor breezes on hot humid days, making the air temperature feel 7-8 degrees lower than it actually is due to the "wind chill" effect (evaporation).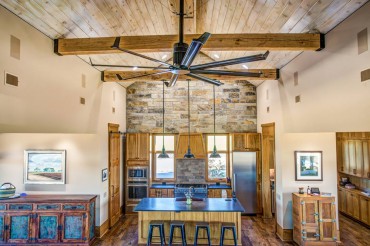 Fans can also help circulate air in winter, when windows and doors tend to be shut tight, causing air to stagnate (another way to address this is with a whole-house fan system but note that type of system is suitable for new construction, not necessarily remodeling). Running the ceiling fan in reverse (clockwise) pushes heated air down from the ceiling to the occupants below, providing better heat distribution in a room.
Fans are comprised of seven primary parts, with many manufacturers offering mix-and-match options for the decorative elements, such as the housing and the blades. Some manufacturers sell their fans complete and ready to install while other sell components separately.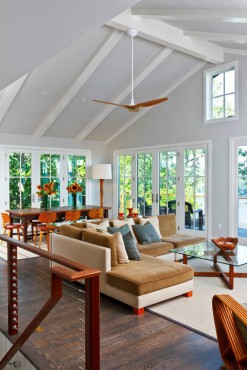 1) The mounting hardware adheres to the ceiling and is attached to the j-box or power source for the fan.
2) Down rods connect the mounting hardware to the motor and come in various lengths. It is common to order multiples of a single rod length for high ceilings to provide some flexibility for mounting height.
3) The housing for the motor, which is typically a decorative feature. The housing is either die-cast (providing the best finish appearance and quietest operation) or stamped (found on more budget-priced models). Some models have lights built into the housing.
4) Fan blades are both decorative and functional. The blades are generally fabricated either from real wood or from particle board and should have a pitch of approximately 14 degrees for optimal air movement. The number of blades is not indicative of the fan's ability to move air.
5) The motor size is one of the most important factors in determining the quality of a ceiling fan. Undersized motors will often hum and click, and generally do not come with a warranty. Ceiling fan motors are housed either in a die-cast or stamped steel body. Die cast provides the most reliable performance, followed by large stamped steel, medium stamped steel and small stamped steel housing (most commonly found at big-box stores).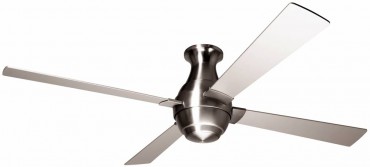 6) A built-in light can give a fan a dual purpose. Consider models that accept either compact fluorescent or LED bulbs to minimize frequency of changing the bulb.
7) Fan controls can be as simple as a pull chain or as high-tech as a wireless remote. Make sure you factor in how your fan will be controlled — chain, wall switch or remote — before you buy your fan.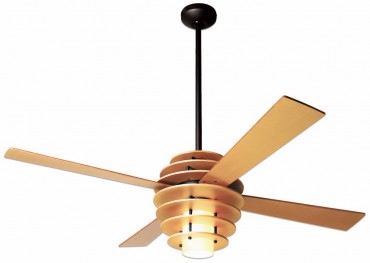 The trick to getting the most out of a ceiling fan is threefold:
Sizing the fan with respect to the size of the room (ceiling heights over 8 feet will have some impact on size). A general rule of thumb is 30-inch blade span for a 55-square-foot room, 36-inch blade span for a 51- to 100-square-foot room, 42-inch blade span for a 101- to 200-square-foot room, 52-inch blade span for a 201- to 400-square-foot room and 54-inch or more for rooms over 400 square feet, or more than one fan of a smaller size.
Sizing the motor to the volume of the room, and
Mounting the fan at an appropriate height. A proper installation will provide at least 8 inches between the top of the fan motor and the ceiling, at least 7 feet between the blades and the finished floor and at least 18 inches from the nearest wall or cabinet. A typical ceiling fan weighs 25 pounds or more and vibrates while in use. Therefore it is important to connect the fan to a metal junction box rather than a standard plastic one to ensure the fan stays firmly in place.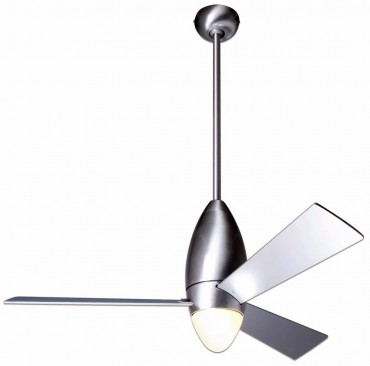 Bits and Bobs
Fans are rated by UL for installation indoors, in damp areas and wet locations. Never install an indoor fan in an outdoor location even if the area is fully covered.
If your ceiling is sloped, look for "ball and socket" mounting hardware.
When purchasing a fan, it is best to work with a lighting specialist with fan knowledge to ensure you are getting all the requisite parts.
Warranties vary quite a bit, ranging from covering just the motor to the entire fan; check the warranty before you purchase.
Ceiling fans can enhance a room's décor while providing comfort and light to the room's occupants, and even lower heating/cooling bills if used judiciously. With all the models to choose from, finding the right fan for your space will be an exercise in determining your budget, identifying the appropriate size and selecting just the right finish for your style.