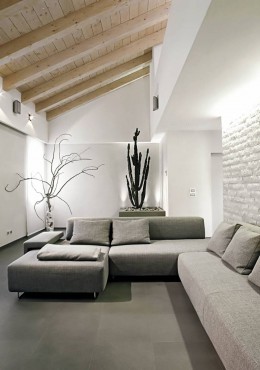 Trends in home design for 2015 run the gamut from simple and strong to bold and reclaimed. Tranquil baths, bold flooring and attention to reusable materials top the list.
Trends in home design are similar to trends in fashion. There are always hot new colors and styles — and it's tempting to feel like you need to revolutionize your home every year to keep up.
But as any good designer will tell you, trends are simply a guideline for possibilities.
The best trend is the one that suits your personality and lifestyle.
We've asked our designers what they see as some returning and emerging trends this year — and for advice on how you can incorporate some of the fresh ideas into your home.
---
Alinda Morris
Habitations Interior Design
Gig Harbor • 253-579-8431
habitationsinteriordesign.com
Alinda Morris opened her firm, Habitations Interior Design, in 2006. After working out of her home for several years, she opened an office in downtown Gig Harbor. Morris is a nationally published, award-winning design professional, with an accredited degree in interior design. In addition to Morris' versatility — ranging from minimalist restraint to traditional chic — clients find her passion for design an exciting process. According to a local builder, one aspect that sets Morris apart is her ability to "value-engineer" extremely well, effectively achieving the "million-dollar look" on a budget.
Fusion of Styles and Materials
Alinda Morris sees a new trend in a fusion of styles, materials and decoration patterns.
"Current trends in interior design emphasize incorporating the unexpected into your design; industrial chic encompasses all of these elements and is a great trend for anyone inspired by the mix of warm woods with cool metals," she says.
Lighting fixtures are a great opportunity to do this because they can add industrial or natural elements into your space without having to redo everything in the room.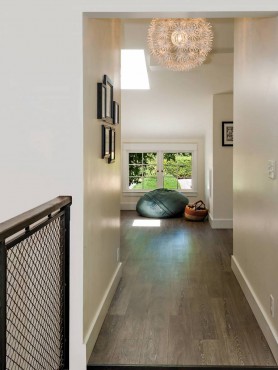 Natural elements, neutral colors and rustic textures will also be trending. You can transform a room by adding a subtle touch of unexpected texture on wall surfaces, such as a metallic grass cloth wallpaper.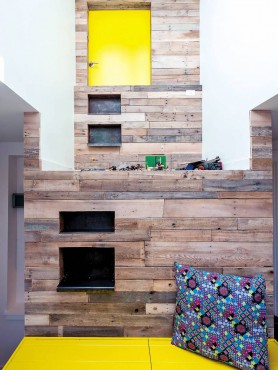 Color: Unrestrained nontraditional neutrals such as a muted teal or steel-blue grays are emerging. They provide a wonderful backdrop for vibrant coordinating hues in art and accessories. Plums and violets will also be working their way into the mix. On the other end of the spectrum, white and gold could not be any hotter right now. White kitchens are sophisticated and timeless. Crisp, coastal white remains the most popular color in kitchen cabinetry.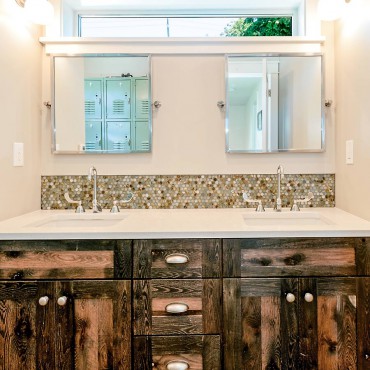 Materials: Reclaimed or salvaged wood, in planks or slabs with live edges, will continue to be popular. Industrial chic is everywhere and wood is an essential component in the aesthetic. Engineered stone has become more popular than granite due to its durability and its maintenance-free reputation.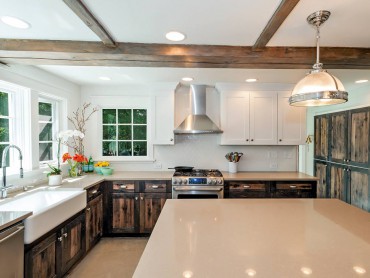 Technology: Smart-home technology will become more mainstream. Home security systems, thermostats and sound systems can all be operated from a tablet or your smart phone. Programmable thermostats in showers are popular because they allow customizable comfort for multiple users. Appliances are becoming more sophisticated.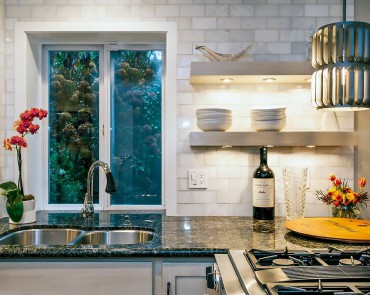 Eco-friendly: Morris sees manufacturers accommodating the growing demand for affordable and innovative sustainable products. One example is paint, specifically Benjamin Moore's new Natura line of zero-VOC paints. This patented waterborne colorant system has 3,500 colors and virtually no odor. "People are taking sustainability to entire new levels, such as green wall design and vertical indoor gardens," she says.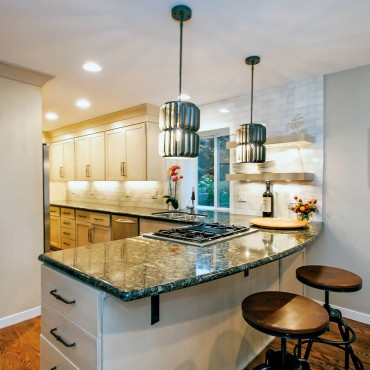 Flooring: Manufacturers are also responding to consumers' desire for low-maintenance products for busy lifestyles. Ceramic and luxury vinyl tile that replicates wood is a great example. Incorporating interesting patterns — like chevron and herringbone — in tile and wood is a fresh, beautiful reinterpretation of a classic.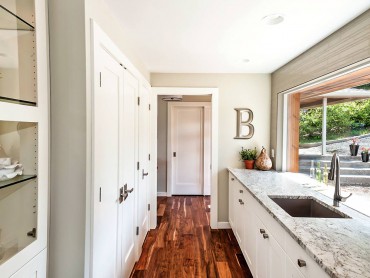 To the novice; Morris recommends organizing the projects by creating a list of objectives and prioritizing them according to the areas of greatest concern. Know your strengths and weaknesses, she suggests. If you love to paint, then paint. But remember: A two-hour paint consultation with a professional could save you hundreds (or even thousands) of dollars in the long run.
A few other tips: Symmetrical furniture arrangements work best for formal rooms while asymmetrical arrangements make a room feel more casual. Don't forget scale. When developing a color scheme for an interior space, incorporate three colors, then repeat the color motif. When decorating a particular room, divide the colors into percentages: 60 percent of a dominant color, 30 percent secondary color and 10 percent accent color. This works for wall color, upholstery and furniture and accessories.
---
Nancy Finneson
DeMane DESIGN, LLC
Gig Harbor • 253-973-8442
demanedesign.com
nancy [at] demanedesign [dot] com
Nancy Finneson grew up in Connecticut, a stone's throw from New York City. She attended the Art Institute of Chicago and later received a degree in interior design. She is a certified Associate Kitchen and Bath Designer (AKBD) with the National Kitchen and Bath Association (NKBA). After spending many years in the San Francisco Bay area, Finneson now makes her home on beautiful Puget Sound. She loves working with people and enriching their lives by helping to create spaces that inspire, entertain and function brilliantly. One of her favorite projects has been adopting and creating a room for the new YWCA domestic violence shelter in Tacoma.
Spa Baths, graphics and technology
Nancy Finneson notes that bathrooms are now spas. "Homeowners want a custom designed place where they start and end their day in a tranquil setting," she says.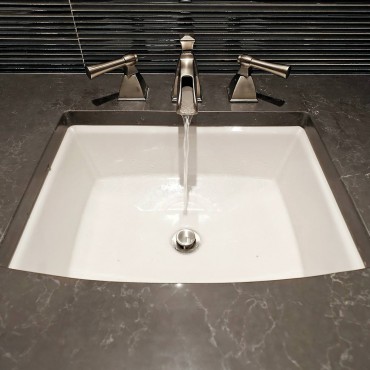 For example, showers have benches and custom niches to hold their goodies, body sprays or even add a steam shower to the pampered setting. Freestanding bathtubs are classic and have replaced whirlpools with tub decks. Heated floors are common place; they're also in the master closet space.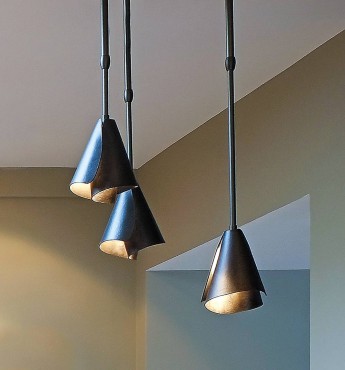 A trend that continues to grow is accessible spaces for multiple generations. "I'm designing more spaces for homeowners who want to live in their home as long as possible or families that encompass three generations. Universal design is in every room of the house," she says.
Outdoor rooms are also trending. More homeowners are adding usable space outside. They add footage to the footprint of a house. Whether it's a covered deck or a gazebo, people love being close to nature to entertain and enjoy the view. There are great appliances and materials now that can weather the storm.
Patterns: Graphics have a big presence. Big, bold patterns can be seen in mixed media. Use them and have fun, Finneson says — in drapes, shades, pillows or an accent chair, even on the floor. "The hexagon tile you knew in your mother's bathroom is now fresh and updated to a larger, metro oblong hexagon," she says.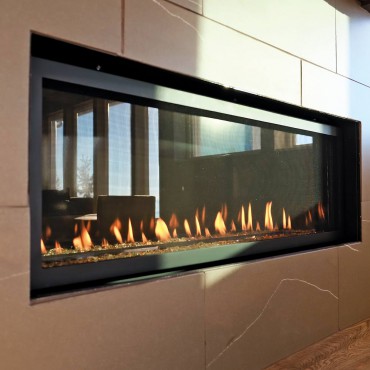 Technology: Technology is in your closet. An organized closet can be enhanced with some innovative products: a lighted rod to see what you have or a drop-down pole so you can reach a second tier of hanging clothes. Mirrors that hide, slide in pockets and pull forward for viewing are nice for tight spaces.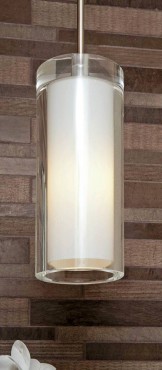 "Touchless faucets are one of my favorite upgrades for any kitchen. Depending on the model, just a tap or wave of your hand will start and stop the flow of water," Finneson says. "They're easy to use with messy hands and save water too. An added benefit is that they are also great if you forget to turn the water off."
Flooring: There are many new, larger tiles in flooring, which means less grout lines and less maintenance for homeowners. "I love the new porcelains and vinyl tiles that look like wood planks. They are so fabulous for areas that have heavy or wet traffic," she says.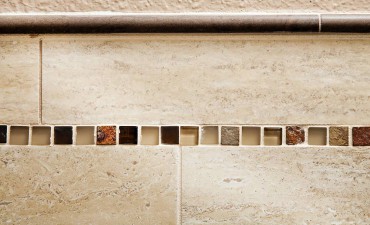 For the novice: Finneson's advice is to not be afraid to accessorize but make the accessories matter. "Your accessories should be personal and relate to your interest and aesthetic. Make sure that your shelves are not filled with clutter; there needs to be some negative space around your treasured items. A few select items always look stylish," she says.
Other tips: Use mirrors in the right location — big ones can lean against the wall or cut glass and artfully framed ones can add interest to a hall or entry. Think about what is reflecting in the mirror: Opposite a water view, a mirror can allow that view to be appreciated from the opposite angle.
---
Connie LaMont
LaMont Design, Inc.
Poulsbo • 360-779-7227
lamontdesigninc.com
connie [at] lamontdesigninc [dot] com
Connie LaMont has been an interior designer and colorist in the Pacific Northwest since 1993. She holds a bachelor's degree in arts from the University of California in Irvine and a second bachelor's from the Interior Designers Institute in Newport Beach, Calif. LaMont and her architect husband, Wayne, own LaMont Design Inc. in Poulsbo. Some of their joint projects include Austin Towers in Poulsbo and Elkhorn Place in Sequim.
Simple Designs and strong lines
Connie LaMont says the trend she sees for 2015 is strength with simple designs, strong lines and bold statements, as well as embracing your personal history.
"Our homes can tell the story of who we are and who we are becoming, as well as where we are from and where we are wanting to go. If you surround yourselves with the things that you love and things that give you joy, I believe then that you've accomplished creating the most nourishing and empowering home possible," she says.
Simple designs can come from leather or textured upholstery, as well as unembellished furniture like open bookcases.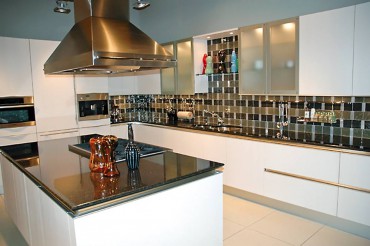 Strong lines can come from sleek (non-overstuffed) upholstered furniture, as well as sleek metal tables, bookcases and storage units that have been combined with glass or wood. Strong lines can also come from exposed beams and trusses or open kitchen shelving with mostly white or clear kitchen and dining room accessories.
Bold statements can be made with wall colors or with large-scale patterns in the drapes, area rugs, artwork or furnishings. The trick is to choose just one element to make that bold statement.
Embracing of personal history can be evident in the refurbishing of heirloom furniture. It can also be brought into interiors with inherited artwork, lighting and dishware, not just with family photos. "An 'old-fashioned' typewriter or collection of 'old-fashioned' cameras or calculators is a treasure for some, and can also become an art form for others," LaMont says.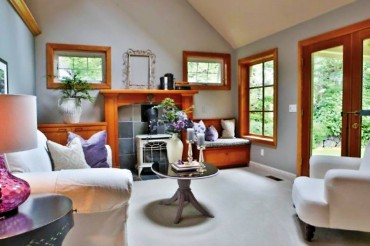 Color: LaMont combines a lot more grays and neutrals into the color palettes, even though we live in a region that is often times considered gray. "With every color walkthrough that I do, I continue to layer colors within each space and implement what I term 'forcing a shadow.' If you think for a moment about shadows, they always fall away from you visually, and in order to have a shadow, there must be a 'light source.' So, as I use the tool of trompe l'oeil (to trick the eye), I continue to manipulate the deeper colors to produce that 'forced shadow' and create the sense of a larger space, while also creating the sense of more light within the rooms," she says.
Patterns: Large-scale fretwork or damask has continued to be a fashion favorite and a sophisticated pattern on everything from window treatments to area rugs.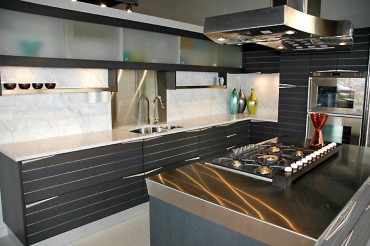 Flooring: Luxury vinyl is really "hot" these days. It's been around for a long time but it has been called commercial vinyl. "I've used it for years on residential projects as well as commercial ones because of its durability. Now manufacturers are creating even more styles to choose from," she says. For example, every species of hardwood that can be installed in lengths, like real hardwood flooring. They also have the look of concrete or natural stone in all sorts of patterns and colors.
To the novice: LaMont's advice is to start out in one room with a simple design scheme. Paint one wall a deeper tone of color than what's on the other walls (or choose a delicious gray) to make that room change its geometry, and you'll see that room also becoming full of more light. Then see if there is something from your own history that you can pay homage to, and give it a new purpose within your life — turn it into the art within that room. Focusing on a simple design concept can sometimes produce a "stronger" interior statement.
---
Laurajean Welch
Harrison Street Design
Poulsbo • 360-697-7366
harrisonstdesign.com
Laurajean Welch opened Harrison Street Design in 1996 and has helped hundreds of clients find the right in-home decorating solutions that suit their color and style preferences, existing furnishings, budgets and lifestyles. Prior to starting her own business, Welch worked at a design firm in Bellevue. She also has lent her expertise to two Street of Dreams homes and has managed a design store. Welch currently lives with her husband, Alan, in Old Town Poulsbo and works out of her on-premises design studio.
Mixing the old and the new
Laurajean Welch thinks 2015 will be a fusion of styles and materials — mixing the old and the new, the reclaimed and repurposed. Another trend is merging the indoors into the outdoors.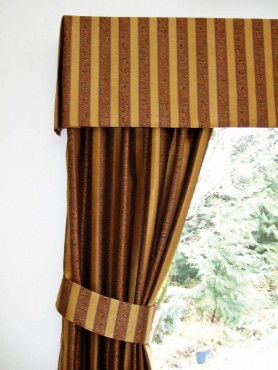 Clean and contemporary interiors are still dominating, with industrial chic still strong.
Patterns: Look for geometric shapes such as circles, squares and rectangles. Also trendy are wood grains scored onto ceramic, towels and carpet.
Ethnic prints are still popular, as are polka dots and pretty blue florals.
Color: Pantone's color for 2015 is Marsala, a subtle color with embracing warmth; an earthy red wine color — dusty pomegranate. Benjamin Moore's color is Guilford Green, a historic tone of silvery green.
Flooring: Trends that Welch sees include large-format tiles, luxury vinyl, bamboo, sisal and cork, reclaimed historic woods. Also trendy are textured floors that mimic wood, brick and concrete.
Other trends for 2015 include the return of highly polished brass in materials and the continued use of motorized drapery and shades that have smart-phone accessibility.
For the novice: Welch's advice is to start by determining which room you want to update, then break it down into small decisions. Ask yourself questions such as: Do the walls need repainting? Will I change the floors? Are the window treatment outdated? Does all the furniture work?
"Stay calm and enjoy the ride," she says.
---
Janet Weber
Janet Weber Interior Design
Poulsbo • 360-626-4484
janetweberid.com
Janet Weber owns and operates her own interior design business with the goal of creating atmospheres that are unique and well-suited to each client's values, lifestyle and personality. She assists clients in realizing the vision for their homes and commercial spaces by guiding them through each phase of the design process, from the initial space planning to the final selection and placement of accessories. Weber received her bachelor of arts degree from Washington State University and has been working in the industry since 1986. Her professional involvements include Design on Broadway in Everett, Markie Nelson Interior Design in Seattle and Fine Home on Bainbridge Island.
Vintage, contemporary and industrial
Janet Weber expects to see a fusion of styles between vintage, contemporary and industrial.
One trend she especially loves is wood paneling "with a 2015 twist." The wood is raw or reclaimed and has different depths for each piece of wood to create its own textured wall. This same look can be achieved with a plethora of porcelain tiles that look like every style of wood imaginable. "These tiles look so realistic that it's hard for anyone tell them apart from the real thing," she says.
Steam punk is a new trend, inspired by the literary and artistic genre representing Victorian and industrial styles but with more whimsy. The industrial-looking fixtures with exposed cages, wires and gears take us back to the steam-engine days. These light fixtures often are in a spherical shape that will be popular.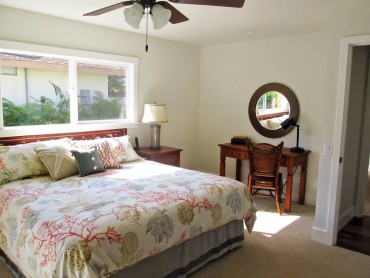 Wallcovering is continuing to make a strong comeback, especially elaborate 18th and 19th century documented floral designs. Metal is another important element. "We are leaving our fascination with chrome behind us and moving toward brass, burnished gold, bronze and copper. Warm metals are the future," Weber says.
Color: Pantone's color of the year, Marsala, is a brownish-red tone and is very warm and inviting. But gray is still the hottest neutral color for 2015.
Other favorite color choices will be blue, especially the deep Mediterranean blue of the sea; retro colors from the '60s in pale gold, burnt orange and olive green; pastel shades of mauve, aqua, lavender and soft orange (inspired by the '80s); and black and white with a pop of a bold color like red is always in fashion.
"There is a trend toward pairing masculine and feminine colors together, for instance, using purple, pink, cream and khaki together in a space, or slate gray and teal with dark wood," Weber says.
Patterns: Ethnic influence will be very strong, inspired by Native American, Ikat, Aztec and Kelim designs. Classic tartan and paisley designs are also making a big comeback.
"I am still in love with the chevron and herringbone patterns and I think they will still be popular in the coming years," she says. "Other patterns to look for will be geometric designs with gold accents; Byzantine patterns and animal prints are still in vogue."
Technology: She expects to see more solar panels, electric car outlets in the garage, and systems that can be controlled with the smart phone — lights, shading, temperature, security, audio-visual and even door bells. "There are smart refrigerators on the horizon that can detect your food getting old or if you're out of ice cream or coffee and even reorder these items for you," she says.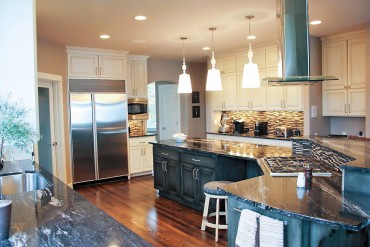 Eco-friendly: Weber is fascinated with shipping container buildings. "I have seen amazing homes and even apartment buildings made out of discarded and unwanted shipping containers. This is the ultimate in recycling," she says.
Other trends are countertops made of 100 percent postconsumer recycled paper, recycled glass and stone countertops, and linoleum products. An interesting new product are tiles made from formaldehyde-free plywood and have a magnetic mounting system so you can take it with you when you leave. "It is a startup company called Moonish that I think will be a big hit in 2015," she says.
Advice to the novice: Look in magazines (like this one) and books to find decorating styles that you are drawn to. "The nice thing about 2015 is that there really are no rules," she says. "Your interior needs to coordinate but not match with your architecture and existing pieces. Have fun and love everything you purchase."
---
Cate Adams
Arnold's Home Furnishings
Bremerton • 360-377-5582
arnoldshomefurnishings.com
Cate Adams has a degree in art and design from the University of London and has worked in London, Paris and Spain. Adams eventually settled in the Pacific Northwest and approximately 25 years ago founded The Decorating Source, a design service in Kitsap County offering consultations as well as products. She also has worked at Hood Canal Interiors in Belfair. Adams currently serves as an interior designer with Arnold's Home Furnishings. She lives with her husband, Jack, in Silverdale.
Traditional, shabby chic and industrial
Smaller pieces are still in demand as the baby boomers downsize, according to Cate Adams. She especially sees demand for power motion recliners as knees and shoulders age and people have more trouble with mechanical springs and levers.
"We are seeing much larger accessories, and art pieces are bold. Gone are the days of matching furniture pieces and lamps," she says.
"I'm looking for something odd and interesting" are words Adams hears often.
Trend include the pairing of industrial and shabby chic pieces with more traditional styles.
Related to colors, one trend is neutral shades of browns and tans going toward grays.
"We're seeing lots of smoke and charcoal — even here in the Northwest," she says. Blues are also reemerging in cobalt and navy colors, while teal and turquoise continue to dominate.